If you prefer to see Taipei's attractions from the convenience of a tour bus, there are sightseeing buses that will stop at most of Taipei's top tourist attractions and popular areas.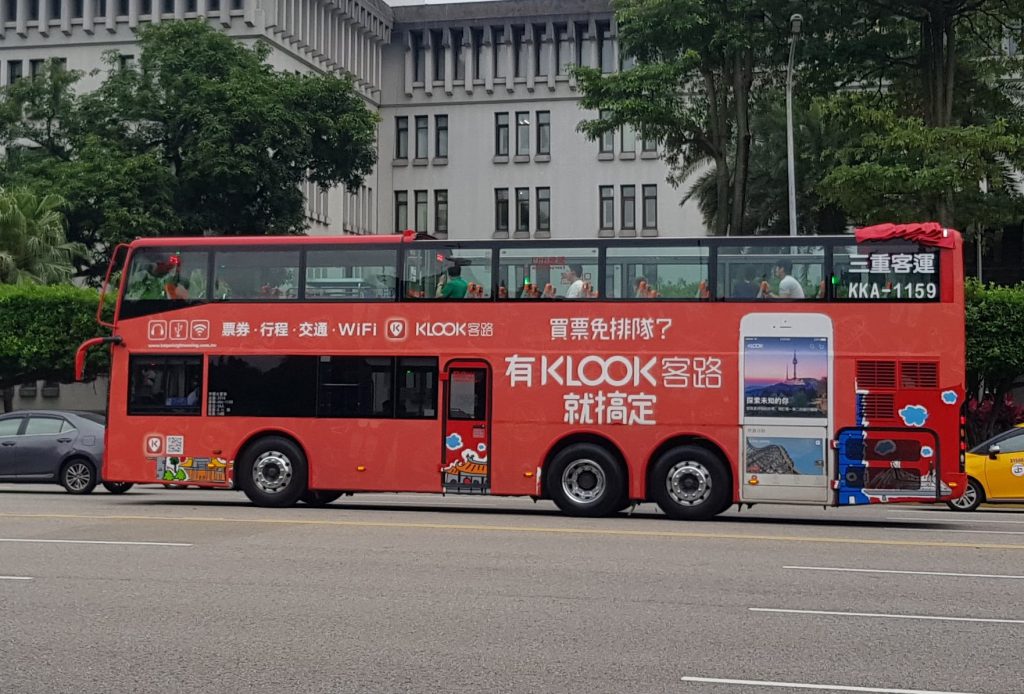 ---
Sightseeing Bus Routes
There are two routes available, either Red or Blue. Your ticket will be valid for both routes.
The Red route will stay within central Taipei and travels in an anticlockwise direction only.
The Blue route is a good option if you wish to visit the National Palace Museum without needing to take a taxi. Buses will travel both north and south on this route, so ensure you take the correct bus each time.
I have posts on many of the attractions that the sightseeing bus stops at (or very close to).
Click here to see all the Sightseeing Bus attractions on my website
---
Sightseeing Bus Times
Route
Times
Frequency
Journey Time
Red
From 09:10 until 18:40 (from Taipei Main Station Exit 4)
Every 40 mins (between 09:10 and 16:30).
Then every 30 mins (between 16:30 and 22:00)
60 to 70 minutes
Blue
From 09:00 until 16:20 (from Taipei Main Station Exit 4)
Every 40 mins
70 to 80 minutes
The sightseeing buses have a very useful service that lets you view the next arrival times (in real time) for each stop on both routes:
Click here to see the next arrivals on the RED route
Click here to see the next arrivals on the BLUE route

Ensure to select the appropriate direction of travel for the Blue route
You can alter the language to English
Sightseeing Bus Cost
You can purchase tickets for a sightseeing bus online. They will send you your e-ticket via email (note that if you're using an iPhone you should use Safari browser to complete transaction).
It's also possible for pay for the bus using cash, credit, or your Easycard before you board.
The pricing is as follows:
24 hour pass: NT$600
48 hour pass: NT$1,000
Daytime pass (09:10-18:00): NT$500
4 hour pass (valid from 09:10-20:00): NT$300
Children aged between 6 and 12 (inclusive) are charged half price with valid identification card.
Children under age 6 can ride for free with a valid identification card. Every adult can take up to 2 children free of charge.
To save money, you could purchase tickets on Klook. They have two ticket types available:
9 hour pass: NT$500
24 hour pass: NT$540
There's really no point in buying the 9 hour pass for NT$40 less, unless you're very limited for time.
You can also get Sightseeing Bus tickets as part of the Klook Fun Pass. This also includes tickets to some of the attractions the buses visit, including the Taipei 101 Observatory, the National Palace Museum, and the Chiang Kai-Shek Shilin Residence.
---
Useful Information
Bus interval times will generally be around 40 minutes for most locations
Only some sightseeing buses are open-top
Free audio guides are available in 5 languages including English
All buses have free Wi-Fi on board
You are not permitted to smoke or eat on the buses
Either of the 24-hour passes are the best value. I would recommend first using it for the Red route during the evening. Then on the next day take the Blue route and make the National Palace and then Shilin Residence your final two stops. After the Shilin Residence, you could walk to the Shilin Night Market (10 minutes away) when it opens and take the MRT back to the city.
---