If you're coming to Taipei to see many of the top attractions, a Taipei Fun Pass is a great option.
Click link to go to the appropriate section on this page.
What is a Taipei Fun Pass?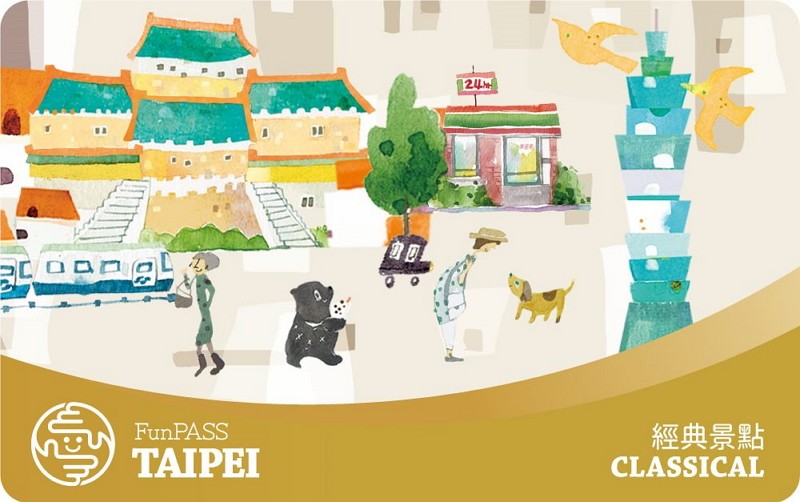 A Taipei Fun Pass is a contactless smartcard with four variations, offering free entry to many top attractions both in and around Taipei.
Two of the Fun Pass types include free use of public transport, which include the tourist shuttle buses that travel to attractions outside of Taipei.
All of them also include discounts for many shops, restaurants and other attractions.
---
Taipei Fun Pass Types
The four types of Fun Pass are:
Unlimited – Free entry to 25 top attractions and free public transport (MRT, city buses and tourist shuttle buses)
Exploring – Free entry to 23 attractions; can be used as Easycard
Classic – Free entry to 3 attractions; can be used as Easycard
Transport – Free use of MRT, city buses and tourist shuttle buses
The main differences between the Unlimited and Exploring Fun Passes, are the Unlimited gives you free entry to Taipei 101 Observation deck, National Palace Museum, Maokong Gondola, and free use of public transport. The Exploring Pass has none of these.
These can be purchased for use during a fixed number of days:
It is currently cheaper to purchase Fun Passes directly from their website. You can save NT$300 per fun pass this way!
| | | | | |
| --- | --- | --- | --- | --- |
| Length | Unltd | Exp | Cla | Trans |
| 1 Day | NT$1,500 | – | – | NT$180 (NT$350*) |
| 2 Days | NT$1,900 | NT$650 | – | NT$310 |
| 3 Days | NT$2,200 | NT$850 | – | NT$440 |
| 4 Days | – | NT$1,050 | – | – |
| 5 Days | – | – | – | NT$700 |
| 14 Days | – | – | NT$950 | – |
* Includes Maokong Gondola Cable Car rides
Taipei Fun Passes can be purchased from Klook and picked up at Taoyuan Airport Terminal 1 or 2. See this post for locations of Klook booths at both terminals.
Unlimited Fun Pass
The Unlimited Fun Pass does offer substantial savings if you intend to visit most of the attractions available (see below for complete list). If you were to visit every attraction, it could save you over NT$5,000 ($150).
Exploring Fun Pass
The Exploring Fun Pass doesn't include many of the top attractions, such as Taipei 101 or the National Palace Museum. This is preferable if you have kids or you intend to visit museums/art galleries. Potential savings with this are over NT$2,500.
Transport Fun Pass
I would only recommend the Transport Fun Pass if you plan on travelling a lot, while also making use of the Tourist Shuttle Buses. However, you can also include tickets for the Maokong Gondola with the 1 day pass, which does save you extra.
Otherwise, getting an Easycard will work out cheaper.
Only 1 or 2 day Transport Fun Passes can be purchased via Klook.
If you want to order 3 or 5 day travel fun passes, you'll need to get them from here.
Classic Fun Pass
I would not recommend the Classic Fun Pass. You can instead purchase a Taipei 101 Observatory + National Palace Museum Combo Ticket for only NT$820 (and purchase an Easycard separately) for less.
---
Taipei Fun Pass Attractions
The attractions that can be used for each card type are listed below. I've separated them into 3 sections for each area:
Taipei City – Found in the centre or within a few stops, and easily accessible by bus or MRT
New Taipei City – Accessible by MRT but outside of the city. All these are located in the northern Tamsui and Beitou districts of New Taipei City
Outside Taipei – Only accessible by the Tourist Shuttle Buses. See this section for more information
Click here to see all my Fun Pass posts or click a link below to see the individual posts
Taipei City
New Taipei City
* Also requires a ferry ride to Bali District from Tamsui
Outside Taipei
Attraction
Bus Route
Original
Price (NT$)
Unltd
Exp
Yehliu Geopark
Crown North Coast
80
Y
Y
Gold Museum
Gold Fulong
80
Y
Y
Juming Museum
Crown North Coast
80
Y
Y
Heping Island
Coastal Keelung
350
Y
Y
Sky Lantern Police Station
Muzha– Pingxi
150
Y
Y
National Museum of Marine Science & Technology
Coastal Keelung
200
Y
Y
* Located in the south of Taiwan
---
Other Discounts
All of the Fun Passes will also get you discounts or free items for certain purchases.
The types of places that have these deals include:
Restaurants
Gift shops
Massages & Spas
Museums & Theatre
Hotels
Click here for a list/map of the stores participating in this scheme
---
Tourist Shuttle Buses
If you purchase either the Unlimited or Travel Fun Passes, you'll get unlimited rides on the tourist shuttle buses that travel to the north and north-east of Taiwan.
The shuttle buses have several other destinations on each route. Most of these are scenic areas, including waterfalls and Yangmingshan National Park.
Tourist Shuttle Bus Routes
The bus routes for the five tourist shuttle buses valid for the Taipei Fun Pass are:
Click a link to find out more about each Shuttle Bus route
The Beitou – Zhuzihu route travels the shortest distance (to Yangmingshan National Park), so it's a good option if you want to see the rural side of Taiwan without travelling very far.
Note that for the Gold Fulong and Coastal Keelung bus routes, you will need to take a train first to either Keelung Train Station or Ruifang Train Station. Alternatively, you could take the Crown North Coast route from Tamsui MRT to Yehliu Geopark, and take a local bus or taxi to Waimushan (it's about a 15 minute journey from the Geopark).
You could also take the Gold Fulong and Coastal Keelung routes in one trip, since their start and end locations are close to each other.
---
Useful Information
Download this very useful PDF file, with information about each attraction, suggested itineraries and maps
Taipei Fun Passes ordered on Klook can be picked up in both terminals at Taoyuan airport. See this section of my Transport Guide for locations
Taipei Fun Passes are valid for the number of days after first use. E.g. a 2-day fun pass will be valid on the first day of use and the next day until midnight. So make sure you first use it early in the day!
The following attractions require you to redeem your admission pass prior to entry, otherwise you will be double-charged!

Maokong Gondola
Miramar Entertainment Park
Taipei Zoo
Heping Island Park
National Museum of Marine Science & Technology
Customer service:

Email: taipeifunpass@fontrip.com.tw
Phone: 03-5910052
Visit my Essential and Top Pick posts for the places I strongly recommend visiting.
---
Klook Pass Taipei
Klook have their own version of a Fun Pass that is more flexible than the Taipei Fun Pass.
There are several options to choose from, including many attractions that aren't on the standard Fun Passes.
Additionally, the Klook Fun Pass is very flexible, giving you 30 days to activate your pass after you have purchased it, then once activated, you will have a further 30 days in which to visit the attractions.
Attractions on this Fun Pass not found on the Taipei Fun Passes include:
Taipei Double Decker Sightseeing Bus
Leofoo Village Theme Park
i-Ride Taipei Flying Cinema Experience Center
Beitou Spring City Resort Hot Springs Experience
There are up to 21 attractions available which you can change depending on your preference. You can also add the Jiufen One Day Tour to this, which includes round-trip coach seats to the beautiful Jiufen township on the north coast.
---
Conclusion – Which Should You Buy?
Now of course, choosing the right Fun Pass for you is largely dependent on your circumstances.
If this is your first visit to Taipei, then you cannot go wrong with the Unlimited version, although I wouldn't recommend getting the 1 day option, since you won't have time to see most of the pricier attractions in a single day. The 2 or 3 days options are much better value-for-money.
If you are visiting Taipei for a week or more, then the Klook Pass is the best option since it's valid for 30 days after activation. If you're intending on taking the sightseeing buses, you can also purchase the optional extra for this with the Klook Pass.
If you want to keep your options open, then the Travel Fun Pass is the most flexible.
If this is not your first visit to Taipei, then the Exploring Fun Pass offers good value to see some less popular attractions.
I've also created some detailed guides on the following: