Overview
The capital city of Taiwan, Taipei is a city that's often overlooked by travellers touring the Asian region, but it's one that definitely deserves a visit.
A haven for food, with many Night Markets packed with delicious food stalls, it also has unmissable attractions such as the beautiful Taipei 101, the Chiang Kai-shek Memorial Hall, and has the largest collection of ancient Chinese artefacts in the world, located within the National Palace Museum.
The city of Taipei, where the main bulk of the attractions are, is just a few kilometres across, so you don't need to travel far to experience most things. The MRT (underground system) also extends further to New Taipei City (which is actually the county where Taipei resides), so you can easily escape the confounds of the main city to experience more rural parts.
What are Taiwanese People Like?
Taipei is the safest capital city I have ever visited. In the two years I've lived here, I've never encountered any trouble. The people here are generally warm, friendly and helpful.
Even though Taiwan's population are of Chinese ethnicity, they actually bear a closer resemblance to their neighbour Japan. Much like the Japanese, many Taiwanese people are reserved and courteous, and will go out of their way to help you.
Is English Spoken in Taiwan?
Chinese is the most widely spoken language in Taiwan, although the further south you go, they'll tend to speak more Taiwanese.
English is taught in most schools, and there are many cram schools dedicated to teaching English. The younger population have a better grasp of English than the older generation.
Local restaurants and shops will often not speak much English but larger shops and restaurant chains will usually be able to understand English.
Almost all signs are translated to English however, and their underground system (MRT) is all translated, as are the announcements on the MRT and buses.
How Crowded is Taipei?
Taipei has a population of around 2.7 million people.
It's a busy city, especially during commuting times and on weekends but it doesn't get nearly as crowded as places such as Hong Kong.
Taipei Main Station gets especially busy during peak times, so expect to queue for trains here, and expect to be crammed into carriages.
There are many parks and other more peaceful areas you can use to escape from the busy streets.
Air Pollution in Taipei
For a capital city, the pollution in Taipei isn't too bad.
My girlfriend is generally very sensitive to high levels of pollution, and suffers in Hong Kong. In Taipei however, she is fine, and the air never looks or smells bad.
Plugs In Taiwan
Taiwan uses the same plug sockets as the US and Canada: 110V, 60Hz AC.
If you are travelling from Europe, Australia or Southeast Asia, you'll need to bring or buy an adaptor.
The following plugs are used: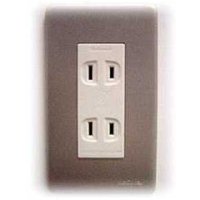 You'll only need an adaptor for Type A, as these will also fit into Type B (but not the other way round).
Visa Requirements for Taiwan
If you are travelling from North America, most of Europe, Australia, New Zealand or Japan, you will get 90 days visa free.
For other countries, visit the Wikipedia Visa page for Taiwan.
You'll need to complete an arrival form before you go through the security check. You should be given one during your incoming flight but forms are available at the airport.
If you leave and re-enter Taiwan, your visa will start again from scratch, so you'll get 90 more days if coming from the above countries.
Just like with most countries, your passport must have at least 6 months before it expires, and you will need proof of an outbound flight from Taiwan.
Getting Around in Taipei
Airports
There are two airports close to Taipei
Taoyuan Airport
Songshan Airport
The main airport, Taoyuan, is located a few miles from the city centre but both terminals are connected via the Airport Express to Taipei Main Station.
The second smaller airport, Songshan is much closer to the city centre. It is connected to the underground system and takes only 10 minutes to reach the city (20 minutes to Taipei Main Station).
Please visit our Public Transportation section for a comprehensive guide.
City
Taipei has a few options for getting around, including:
MRT (underground system)
Buses
Taxis
YouBikes
Sightseeing Bus
The best way to get around Taipei is to use the MRT system.
Please visit our Public Transportation section for a comprehensive guide.
Outside Taipei
If you desire to travel outside of Taipei, maybe to see another city or to see the beautiful scenic areas in Taiwan, you have a few options.
Firstly, the MRT system does extend to Xinbeitou and Danshui. Both of these beautiful districts are a few miles north of Taipei and are worth visiting.
If you want to travel to another city down the west coast, the quickest and most convenient way to do so if via the Taiwan High Speed Rail (HSR).
Taipei also has a number of Tourist Shuttle Buses which travel from various locations in Taipei. These visit beautiful areas such as Yangmingshan National Park and Juifen, and also visit a few very nice attractions. See the Taipei Fun Pass post for more details.
SIM Cards and Network coverage
Taipei has very good network coverage and has very fast connection speeds.
Your best option is to purchase a pre-paid SIM card directly from either airport. There are deals in the city but they're generally not as good and harder to find.
See our Pre-paid SIM Card page for a full comparison of all SIM Cards in Taipei.
Cash and Credit Cards in Taipei
You'll need to purchase some local currency, the New Taiwan Dollar (NT$100 is approximately USD$3.23).
If you're unable to obtain some prior to your trip, you can get some at either airport, although like most airports, you'll end up paying slightly more. Alternatively, you can exchange money from one of the many Bank of Taiwan branches (note that banks in Taipei generally close at 15:30) for a more favourable rate.
The cost of living in Taipei isn't too expensive for a capital city (much cheaper than Hong Kong and Singapore), and you'll be expected to spend between NT$4,000 – 5,000 per person, including mid-range accommodation, per day.
Credit cards are accepted at malls and larger restaurants, but local places (and night markets obviously) will require cash.
There are many cash machines around the city and in most convenience stores.
Weather in Taipei
December to March
The coldest time of year, this period can also be very wet. When the sun is out, the temperature is actually very pleasant (mid 20s Celsius) but when it rains the temperature can drop to single figures. If you're here for a few days, you may be lucky and not see rain but equally it could rain for most of the time.
April to May / October to November
Spring and Autumn period can vary from very hot to quite chilly. One day you'll find it quite humid, while other days you'll need a jumper or coat. If you can't bear the intense heat of the summer, these months are probably your best bet as they can be very nice. You can also expect extended periods of rain.
June to September
Being in a subtropical climate, Taipei can get very hot and humid in the summer, with temperatures in the low 40s not out of the question. There can also be spells of rain lasting days.
There's also a risk of typhoons, with generally 5 or 6 each year. The eye of the storm will pass in a few hours, but during this time you'll be stranded in your hotel, and most places will close down for a day or sometimes two days.
How Long to Stay in Taipei
If you just intend a quick visit to see the main attractions, then 3 or 4 days would be ample.
If you can afford more time, and maybe incorporate a day trip or two, then 1 week would be enough but there's plenty to see here for a much longer stay.
Which Places to Visit in Taipei
For quick visits, I've created an Essentials Guide, listing all the must-see attractions.
If your stay is longer, you can also see my Top Picks to go alongside the essential attractions.
Alternatively, try one of my routes, taking you around places of interest in and around the Taipei area.
I'll also be adding some of the best day trips from Taipei.
You will find many of the attractions are closed on Mondays, including some enclosures at Taipei Zoo.
Where to Eat in Taipei
Night Markets are your best bet to experience some traditional food and snacks.
If you want to experience slightly more refined Taiwanese food, then their very popular Din Tai Fung should definitely be on your list.
If your taste is more Western, then you can dine at one of the many American restaurants in Taipei.
Please visit the Eat pages for a full list of my favourite places to eat in Taipei.
Taiwan Tourist Tax Rebate
Taipei has more shopping malls than any other city I've ever been to. There are dozens scattered throughout the city, especially in the Xinyi district. See our guide to Taipei's Best Shopping Malls.
If you spend over NT$2,000 on shopping at any one time, you are eligible for a 5% VAT tax rebate.
General Tips for Taipei
There are three items you should probably never be without.
Umbrella
Mosquito Spray
Easycard
Even when it isn't raining, the Sun's rays can often be too much to bear and you can easily be caught out by a sudden rain shower out of nowhere.
Taipei isn't short on Mosquitoes, even during the winter months, so Mosquito Spray is essential!
An Easycard is incredibly useful to get around, and can even be used to purchase goods from many shops.
During the summer months, you'll also need sunscreen (and sunglasses)!