Taipei is blessed with a very good public transportation system, with a number of options to choose from, and great connectivity to both airports.
Within Taipei, you'll find yourself using the MRT system the vast majority of the time – it's clean, reliable and above all, very cheap!
If you're looking to travel to another city, or to more rural areas, then the Taiwan High Speed Rail is the quickest and best option.
Transport Passes
One thing I would strongly recommend before using any public transport in Taiwan is to get a transport pass.
Firstly, an EasyCard is an extremely handy contactless smartcard that is accepted on most types of public transportation, and can even be used to purchase goods at convenience stores and shops. Furthermore, you can get discounted travel on the MRT system in Taipei.
This costs only NT$100, but you'll also need to add credit to use it. These can be purchased from Taoyuan airport, or if you're coming from Songshan airport, you can get one from a machine in the Songshan airport MRT station (see Songshan section below for a photo of the machine).
You can also purchase these from Klook, and can get a SIM card bundle that also comes with an EasyCard for an extra saving.
A good alternative to an EasyCard is the Taipei Fun Pass.
There are actually four variants of the fun pass:
Unlimited – Free entry to many top attractions and free public transport
Exploring – Free entry to many attractions (but not top attractions like Taipei 101). This can be used as an Easycard
Classic – Free entry to 3 attractions, can be used as an Easycard
Transport – Free use of MRT, city buses and tourist shuttle buses
If you're coming to Taipei for the first time, and intend on visiting most of the top attractions, then the Unlimited fun pass does offer great value, as you'll also get free MRT and city bus travel. They're valid for between 1 and 3 days (depending on the one you buy).
If you prefer to keep your options open, then the Transport fun pass will give you free use of the MRT and city buses for either 1 or 2 days, plus you could add on the Maokong Gondola too, which is a fantastic cable car ride into the mountains that's right next to Taipei Zoo.
---
Airports
Taoyuan Airport
Taoyuan airport (TPE) is Taiwan's main international airport and is located a few miles west of Taipei. It has two terminals, both of which are connected to Taipei Main Station by the Taoyuan Airport MRT (Airport Express).
For details and maps of all services, shops and booths, take a look at the Taoyuan Airport PDF guide.
---
Taoyuan Airport MRT
The Taoyuan Airport MRT (sometimes called the Airport Express) is the best way to travel to the city from Taoyuan Airport.
The Airport MRT is the most comfortable and quickest way to travel between Taoyuan Airport and Taipei Main Station, with trains running every 15 minutes and taking only 35 minutes to travel in either direction.
A single fare (no returns available) costs only NT$160. Tokens can be purchased at the entrance to the airport MRT, otherwise you can pay with an EasyCard (see my Taoyuan Airport MRT post for locations of these).
You can also purchase a token for cheaper on Klook beforehand, and even get a return for an extra saving.
When returning to Taoyuan Airport at the end of your trip, there is a very handy Early Check-In facility at Taipei Main Station which allows you to check in to your flight and even leave your checked-in luggage there. This is restricted to certain airlines however, which I've detailed in my post below.
Note that there is a commuter train that runs on the same line as the express train, so ensure you take the express train as they're much quicker yet the cost is exactly the same. Read my full guide below for further details about this and departure times.
---
Airport Bus
The Airport Express is much quicker and more convenient than taking the bus, so I would only recommend taking a bus if your flight arrives late in the day.
The Airport Bus runs 24/7 and connects both Taoyuan Airport terminals to Taipei Main Station.
Terminal 1: B1 Arrivals Zone
Terminal 2: At the northeast arcade of the 1st floor Arrivals lobby.
Bus stations at both terminals are within 5 minutes walk of the arrivals halls.
There are a few buses that take you to different destinations but the 24 hour bus is the 1819 to Taipei Main Station.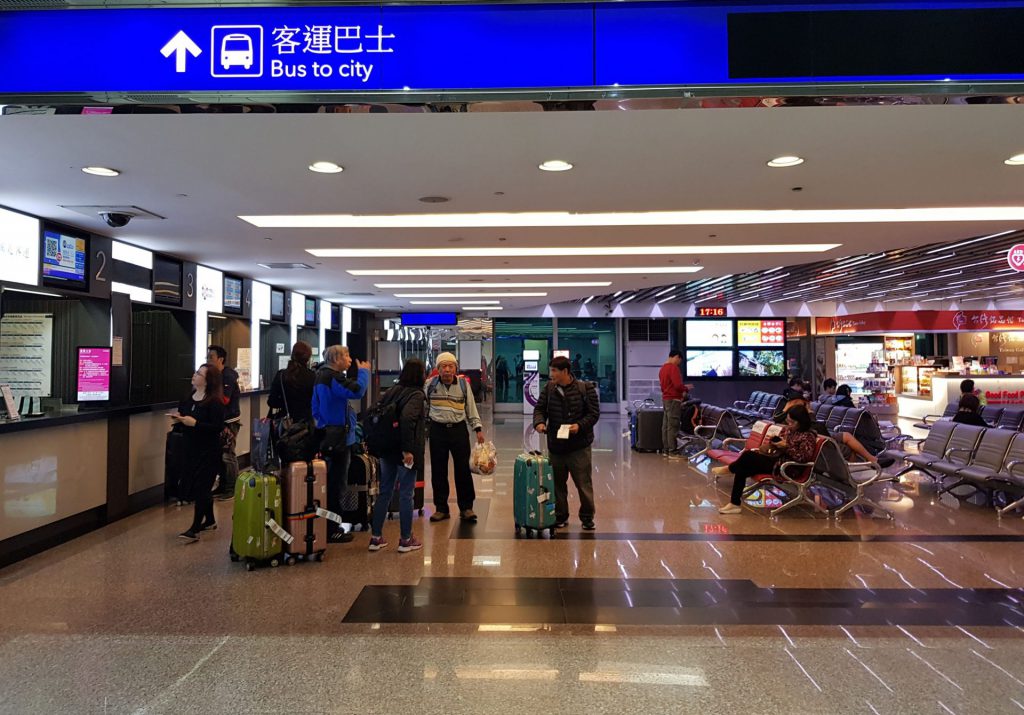 Cost and Times
The bus runs 24 hours a day every 15 or 20 minutes and takes approximately 55 minutes to reach Taipei Main Station.
The airport bus costs NT$125 for a single journey. You will need to purchase a ticket from the correct ticketing booth (just look out for 1819 bus on the signs above the booths).
---
Songshan Airport
Songshan airport (TSA) is smaller than Taoyuan but is located much closer to the city. Although it has two terminals, only terminal 1 is used for international flights.
It does have far fewer services than Taoyuan. If you need to purchase a SIM card, your only option here is a Chunghwa Telecom SIM (see SIM Card page for details).
For details and maps of all services, shops and booths, take a look at the Songshan Airport passegner guide.
---
Songshan Airport to Taipei
Songshan Airport is located just three stops from the centre of Taipei on the brown line of the MRT.
Should you wish to travel to Taipei Main Station, you can change at Zhongxiao Fuxing and take the blue line in the Dingpu direction. The journey time from Songshan airport to Taipei Main Station is approximately 25 minutes.
You can purchase single tickets to your desired destination, however it's better to get an EasyCard first, as these offer discounted travel.
You can purchase one from a machine located just outside the MRT entrance.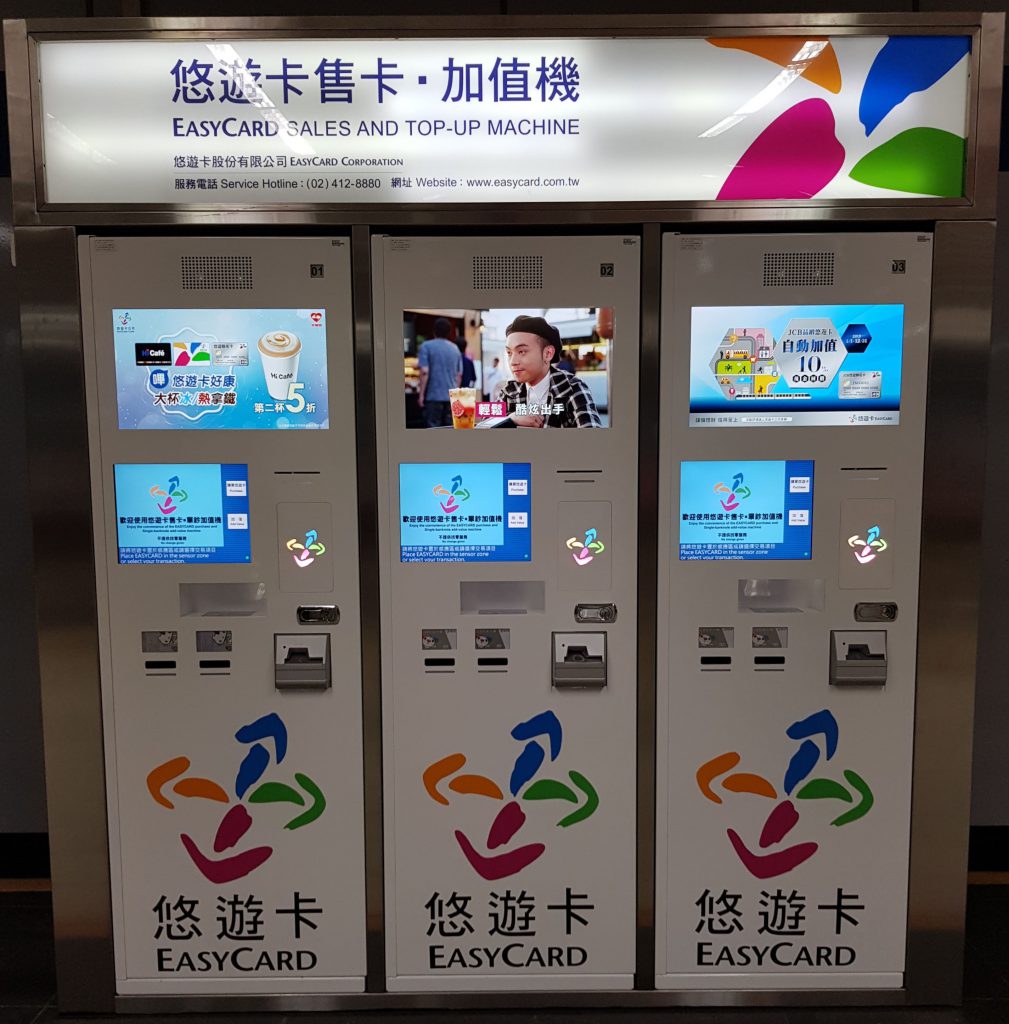 I would also recommend getting a SIM card at the airport. Your only option at Songshan airport is a Chunghwa Telecom SIM, although these are generally the best. See SIM Cards page for more info.
---
Taipei to Songshan Airport
You simply need to make your way to the brown line and travel north to the Songshan Airport MRT station. The airport is a 5 minute walk from here.
Any money left on your Easycard can be refunded at the MRT information desk immediately after leaving the MRT station.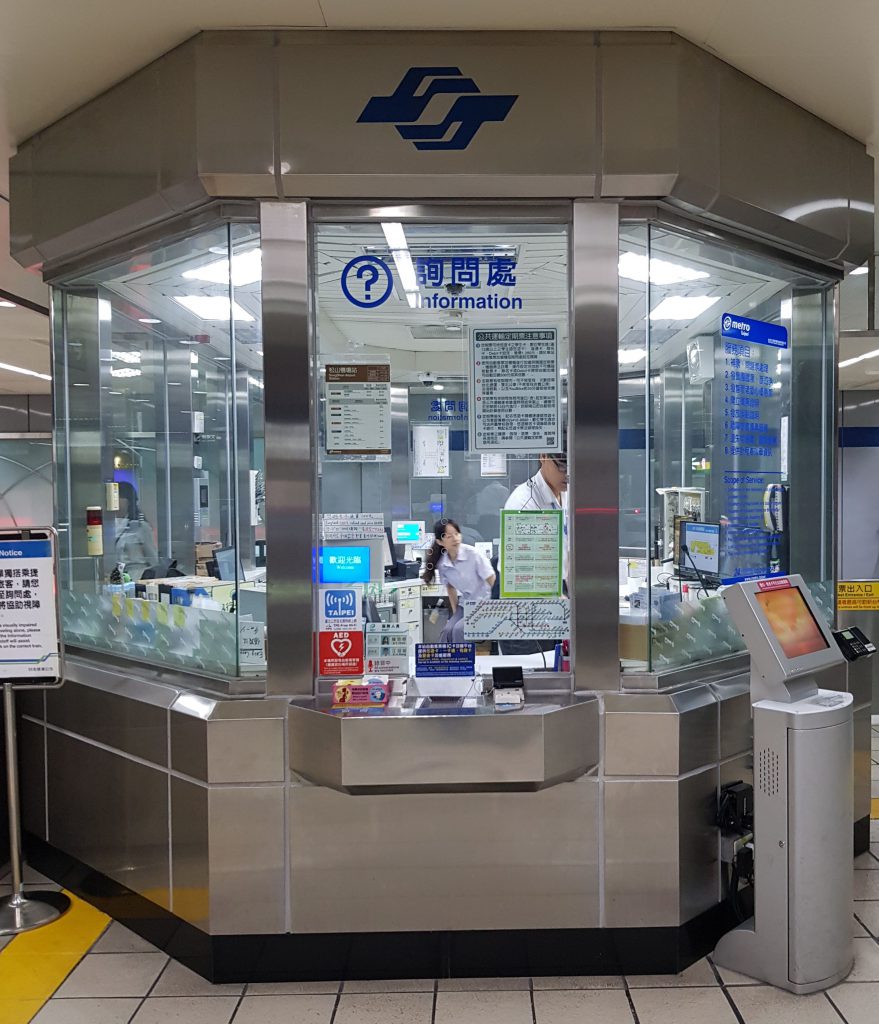 Check to see if your flight is on time from their flight departure web page.
---
City
Taipei MRT
The underground MRT system, otherwise know as the Taipei Metro, is the best way to get around Taipei.
I would honestly say that the Taipei Metro is the best underground system I've ever used, being clean, reliable, efficient and easy to use. Signs and announcements are in English too.
Above all, it is also very cheap, with most journeys costing only $NT20 (about US$0.66).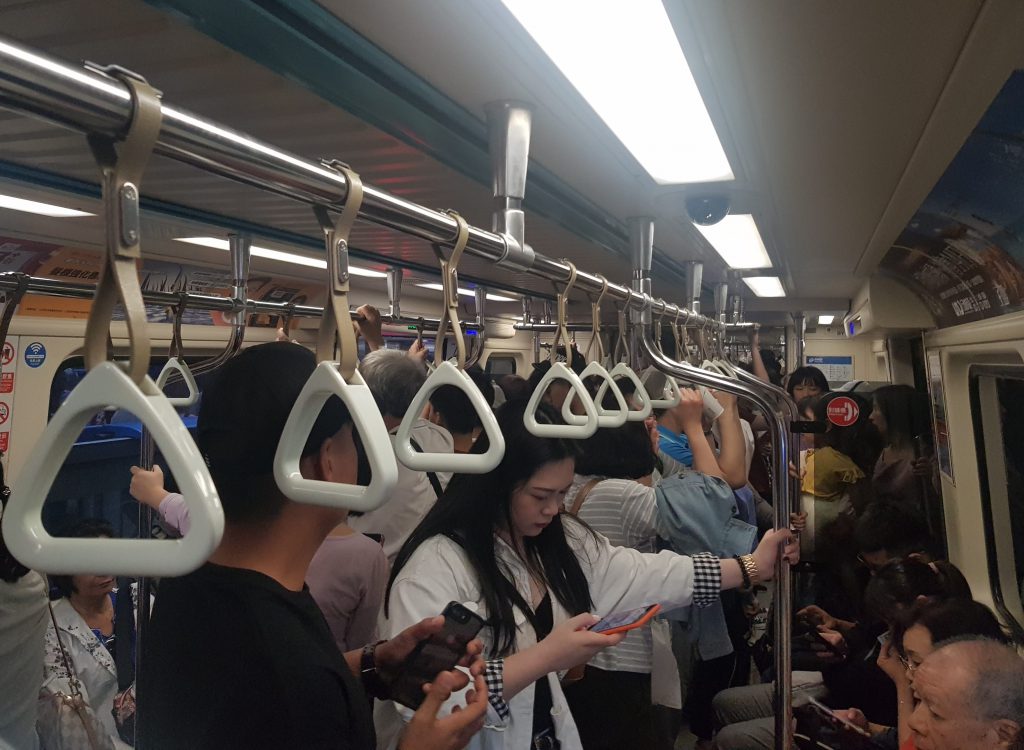 All of Taipei's main attractions, with the exception of the National Palace Museum, are easily accessible via the MRT. These include Taipei Zoo and the Maokong Gondola, which are located outside of the city centre.
The MRT also allows for easy access to more rural areas such as Beitou, known for its hot springs, and Danshui, known for its beautiful sunsets.
The only downside to using the MRT is that is can become busy during peak periods, but nothing like the chaos seen in places such as Hong Hong.
I've listed all the attractions that can be found on each of the 6 MRT lines in my post below.
---
City Buses
City buses are another good option to travel in Taipei.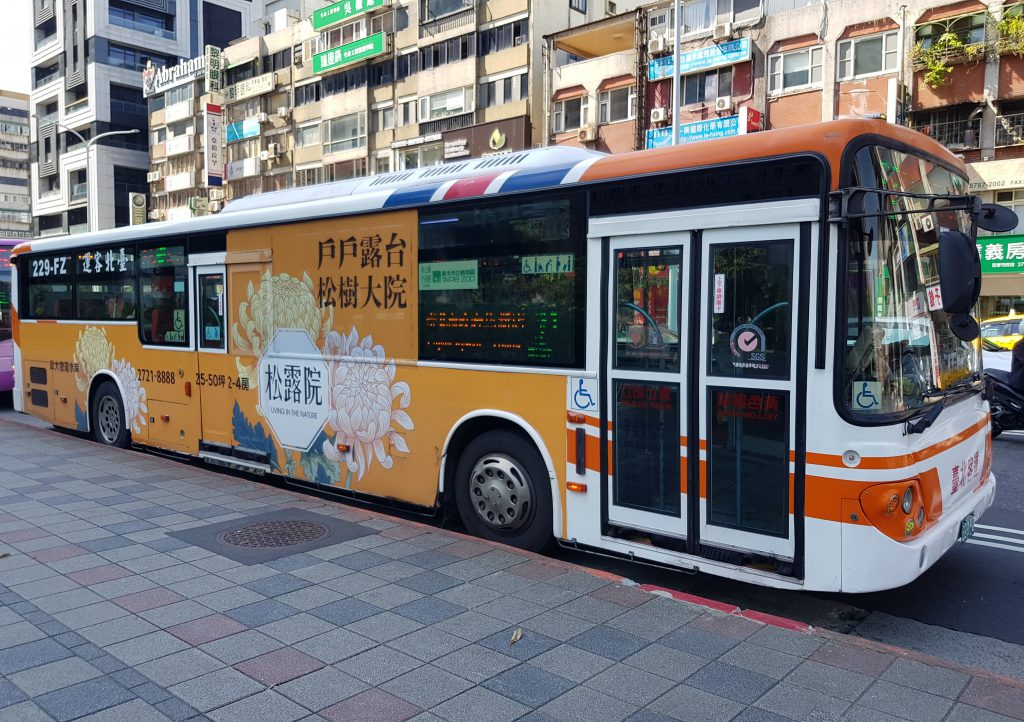 Generally it's faster to take the MRT, but on occasion you'll find it more convenient to take the bus, and there a few attractions that aren't located near an MRT station.
Although you can pay for rides with cash, it's much more convenient to use an Easycard on buses.
The City Buses have recently changed the way you pay from them. Previously, you needed to pay either when boarding or leaving, but this proved to be confusing. They have since simplified payment, so now you always need to tap your Easycard when boarding and leaving.
Cost
Most of the time, you'll only need to pay the lowest amount of NT$15.
If you are travelling further afield, say to the National Palace Museum, then you may need to pay NT$30 or up to NT$45.
Useful Information
Much like the MRT, all notices and announcements have English
You should also try to avoid sitting in the dark blue seating
You can get on and off a bus from either the front or back door
The best way to determine your route when taking buses is to use Google Maps.
---
YouBikes
YouBikes are a great way to get around Taipei if you're feeling active.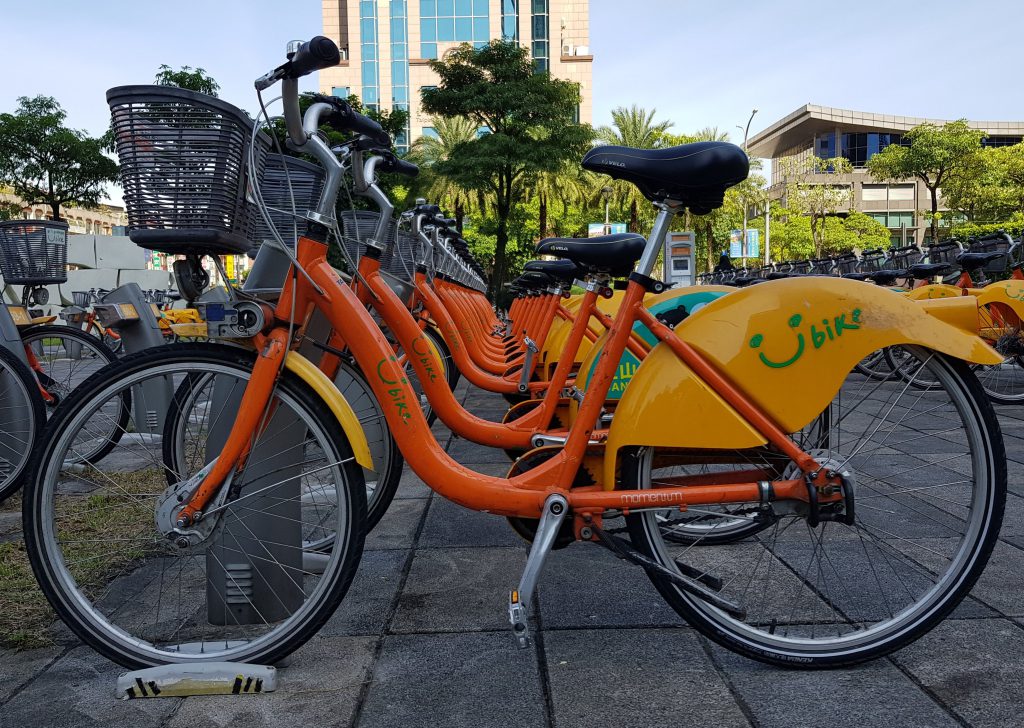 With hundreds of YouBike stations, and thousands of bikes available, this is a nice option if you want to explore the city at a more personal level. Bike lanes can be found on most major roads, and even extend all the up to Danshui in the north.
The first 30 minutes of rental costs only NT$5, then NT$10 per 30 minutes for the next 4 hours. There are also discounts if you hire a bike within 60 minutes of using the MRT or city bus.
To rent a YouBike, you will need two things:
For further details on how to rent these, please visit my post below.
---
Sightseeing Buses
Sightseeing Buses are the most convenient way to see many of the main attractions and areas in Taipei.
There are just 2 routes:
The blue route circles around central Taipei, and has around 20 stops located close to top attractions such as Taipei 101 and Chiang-Kai Shek Memorial Hall, and buzzing areas like Yongkang Street, Ximending and the Xinyi Shopping District.
The red route travels north, with the final destination being the National Place Museum, but also goes past the largest night market in Taiwan, Shilin Night Market.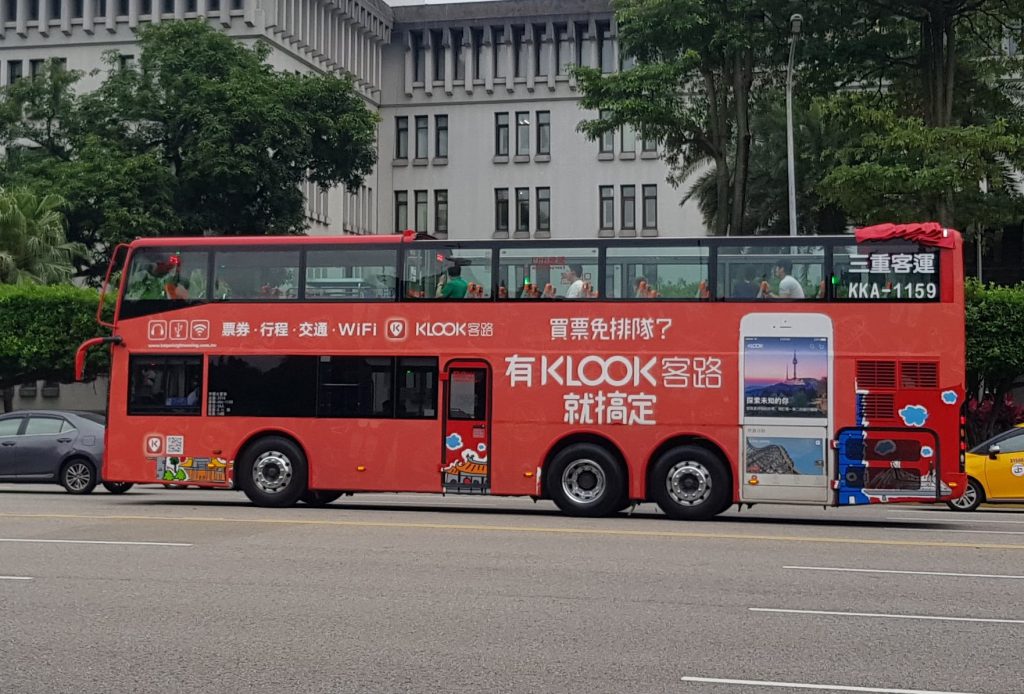 For full details of the pricing and routes, please read my detailed guide below.
Tickets for the sightseeing bus can also be purchased on Klook for an extra saving.
---
Taxis and Uber
Uber has recently been reinstated to operate in Taipei, so you can book one via their app as you normally would.
Taxis are everywhere in Taipei, so you won't find it difficult to flag one down. Driver's though probably won't speak English, so you'll need to have Google Maps at hand to show them your destination.
Price
First 1.25km will cost NT$70, with every additional 200m charged at NT$5.
The fares will rise during late nights/early mornings.
---
Walking in Taipei City
If you enjoy walking, Taipei has a few locations where you'll find many attractions and places to eat in close proximity of each other.
Be aware that bicycles and sometimes scooters will use pavements, so always be vigilant.
I have devised a few nice walks on my Routes page, which are probably best taken during the cooler months.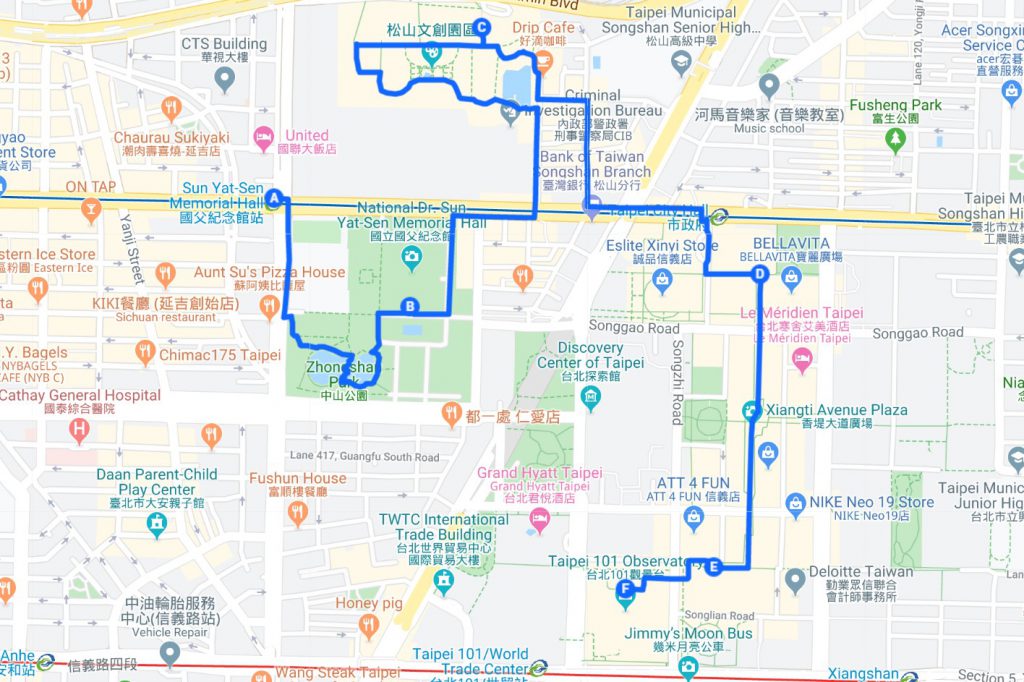 I've also created a post on the best areas to walk in Taipei.
---
Outside Taipei
Taiwan High Speed Rail (THSR)
The Taiwan High Speed Rail service is the best way to travel outside of Taipei.
With just two lines (Northbound and Southbound), it travels to every major city on the West side of the island, reaching as far south as Kaohsiung in under 100 minutes.
There are free shuttle buses that will take you from every THSR station into each city, and Tourist Shuttle buses near most stations should you want to visit more scenic locations such as the beautiful Sun Moon Lake or the exquisite mountainous region of Alishan.
Furthermore, the THSR has some excellent deals for foreign travellers, to encourage tourists to see as much of the island as possible. Read my post below to find out more.
---