Whether you're visiting Taiwan for a short trip, or choosing to emigrate here, the increasingly useful EasyCard is an essential purchase.
Click link to go to the appropriate section on this page.
The Taiwanese government have introduced an incentive scheme to attract more tourists. They're giving handouts of NT$5,000 ($165) to 500,000 tourists from May 2023.
What is an EasyCard?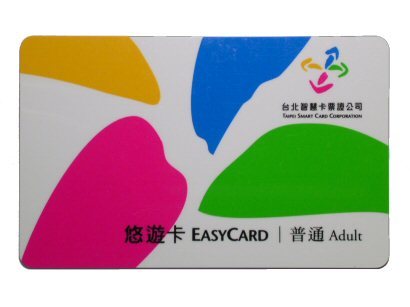 An EasyCard is a contactless smartcard you can top-up with money and can be used on most types of transportation. Many places also accept EasyCard for purchasing goods.
It is commonly referred to as the 'yoyo' card by Taiwanese.
---
Where Can an EasyCard be Used?
Within Taipei
An EasyCard can be used on the following types of transportation:
In Taiwan
Look out for the EasyCard symbol at these places to confirm if they are accepted.
Place
Notes
Convenience Stores / Shops
All convenience stores & over 10,000 retail outlets throughout Taiwan.
Purchases of up to NT$1,000
Taiwan High Speed Rail
Only co-branded bank EasyCards can be used, and only for non-reserved seating
Taiwan Railways
10% discount if travelling less than 70km
Intercity Coaches
Tourist Shuttle Buses
Ferry Services
Some Ferry services only
Taxis
Some Taxis only
Kaohsiung MRT
15% discount with EasyCard
Taichung MRT
Ride free for 10 kilometres. Taichung MRT is bus service
Lockers in MRT stations
Museums / Art Galleries
Sports Centre Gyms
Vending Machines
Car Parks
---
Click Here to Read my Comprehensive Guide to Taipei
---
EasyCard Purchase
An EasyCard can be purchased from:
Airport MRT Service Desks
MRT Stations
Convenience Stores
Airport MRT Service Desks
Taoyuan Airport
You can purchase these from one of the Taoyuan Airport MRT service booths in either terminal. Visit the following section on the Public Transport page for locations.
You could also order an EasyCard from Klook and pick it up at either airport terminal (see SIM Card Klook section for locations). These can also be purchased with either NT$200 or NT$400 credit included, and you can currently purchase an EasyCard and SIM card together for an extra saving.
Songshan Airport
Songshan Airport does not have an MRT service booth. However, you can purchase an EasyCard from a machine directly before the MRT turnstiles (see below).
MRT Stations
Most MRT stations have machines you can purchase an EasyCard from.
Note that there are also machines used solely for topping up, so make sure you find the ones pictured below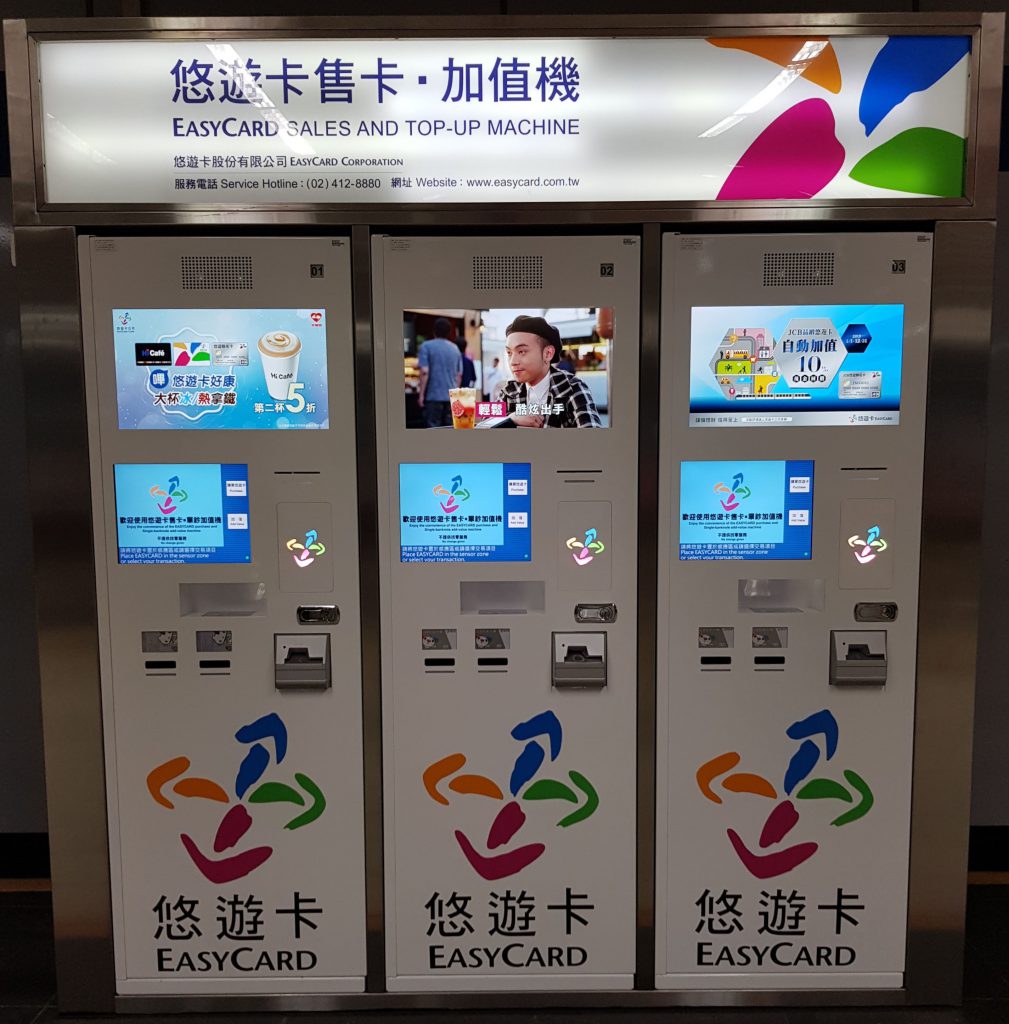 You only need to insert a NT$100 note to purchase one from here, but you'll need to add credit to use on the MRT. No change is given here so ensure you don't insert a larger note!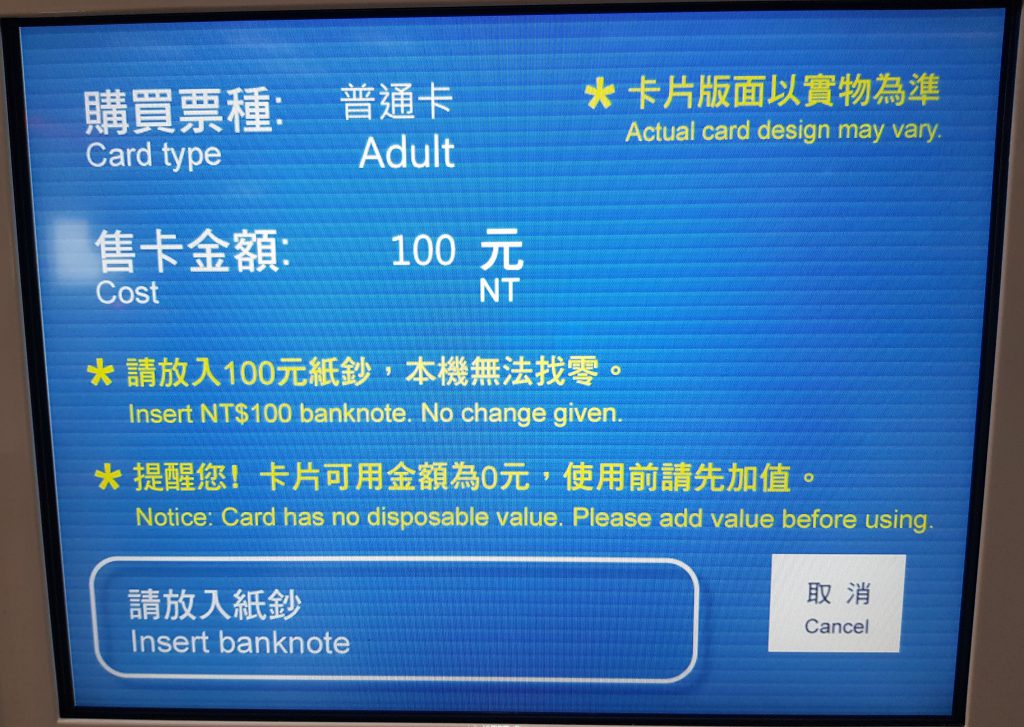 Convenience Stores
Otherwise, you can purchase them from convenience stores, including:
7-11
Family Mart
Hi-Life
OK Mart
These normally have EasyCards on display near the counter. Just choose your favourite design and pay for it.
---
---
EasyCard Price
An EasyCard costs NT$500 (about USD$16), but that includes NT$400 to spend on the card, with the remaining NT$100 non-refundable.
If you purchase an EasyCard from a machine (see above), they will only cost you NT$100 but won't come pre-filled with any credit.
If you're in Taipei for an extended period, you could purchase an All Pass. This gives you unlimited travel for 30 days and costs NT$1,280. It can be added to your EasyCard from the top-up machines.
---
---
EasyCard Top Up
An EasyCard can be topped up at:
MRT Stations
Convenience Stores
Note that you are allowed to go NT$60 in credit on your EasyCard. This is taken from the deposit held on the card.
MRT Stations
All MRT stations are equipped with top-up machines.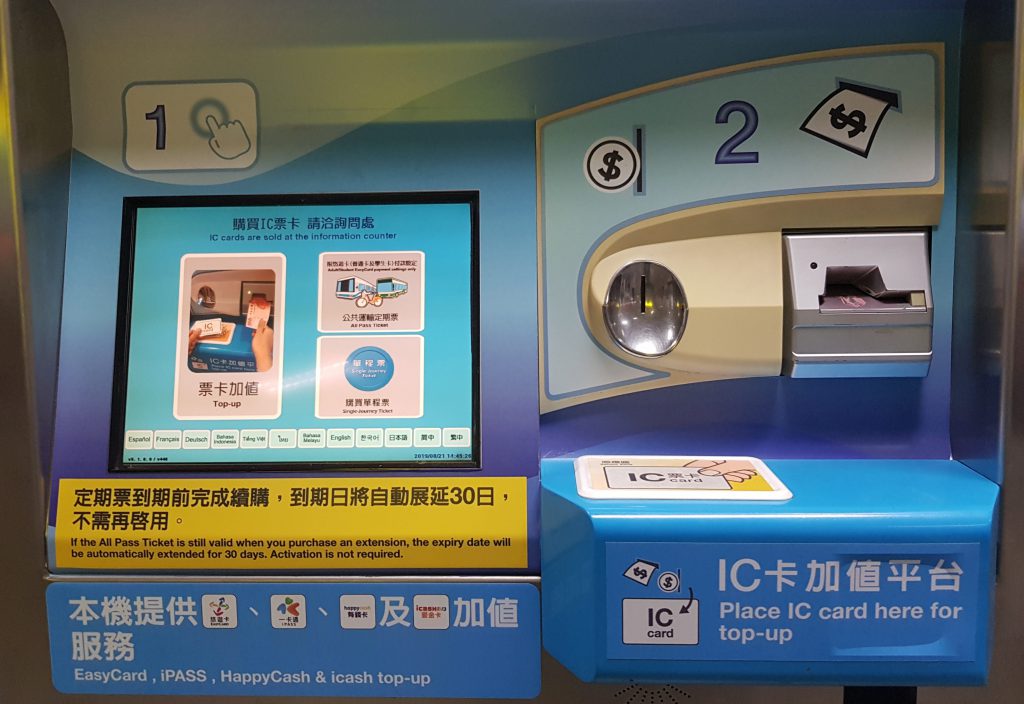 You simply have to place your EasyCard on the pad, insert your money, and then tap the Next and Confirm buttons on the screen.
Topping up can be done with notes or coins. If you have a lot of loose change, this is a good place to lighten your pockets.
If you only have large notes and need change, you can also top it up at one of the MRT Information Desks (see Refund section below for picture).
An EasyCard cannot be topped up with a credit or debit card.
Convenience Stores
Convenience Stores are another simple way to top up your EasyCard. Just ask the person behind the counter to add money to your card. You can just point to the money and the card if they don't speak English and they will understand this.
---
EasyCard Refund
Any remaining credit on your EasyCard can be refunded at Information Desks within MRT stations. They will only refund up to NT$3,000 and will charge a NT$20 fee.
The initial NT$100 cost of purchasing your EasyCard is now non-refundable
Your best option is simply to spend any remaining credit you have on your EasyCard at a convenience store before you leave.
However, if you still have a lot of credit remaining, you can get a refund at either airport – take it to the Information Desk immediately after exiting the MRT at either airport.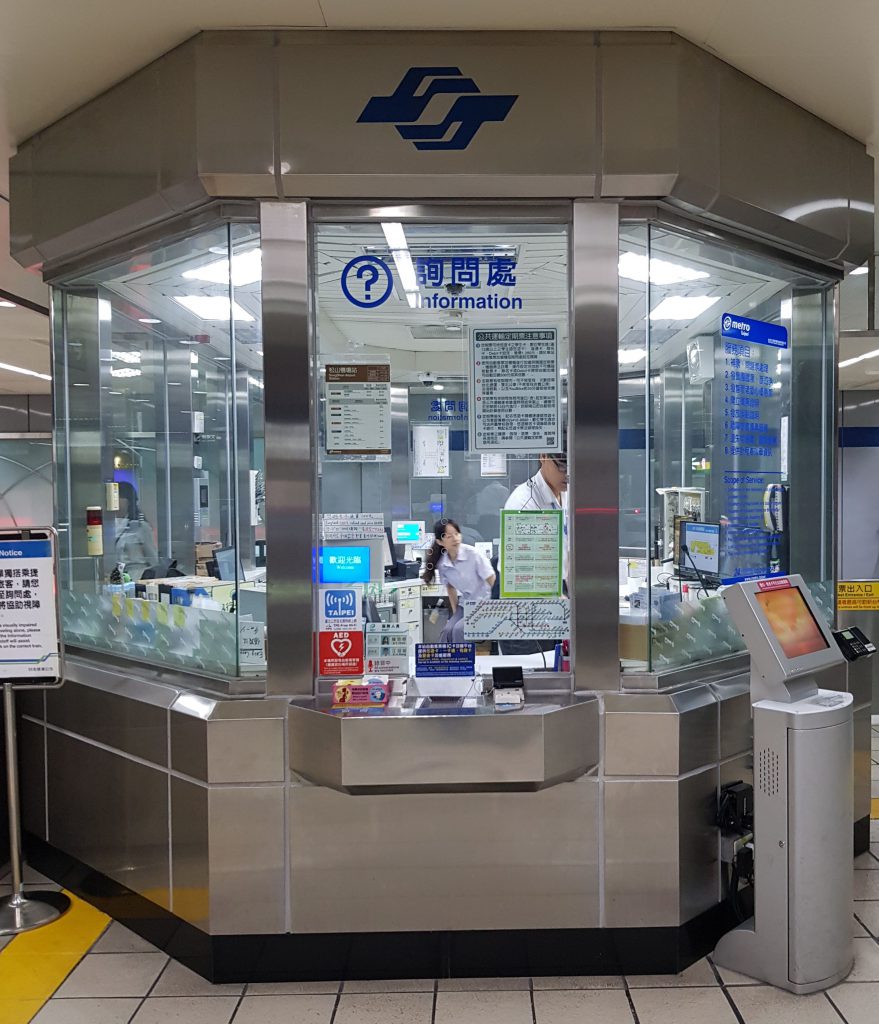 If you're travelling to Taoyuan airport, you also have the option of refunding the credit on your EasyCard at the Taoyuan Airport MRT service booth. See the following section on the Taoyuan Airport MRT page for locations and opening hours of the booths at both terminals.
---
EasyCard vs Fun Pass
Instead of purchasing an EasyCard, you could get a Taipei Fun Pass.
The Unlimited and Transport variants include free travel on the MRT and City Buses, and also include free use of the Tourist Shuttle Buses (which the EasyCard doesn't).
The Classic and Exploring Fun Passes can also be used as an EasyCard.
So, which is better?
I would only recommend getting a Transport Fun Pass if you are going to be travelling

a lot

. The 5 day version is the best value, which works out at NT$147 per day. This equates to about 8 short/medium trips on the MRT with an EasyCard.
The Unlimited Fun Pass, which includes travel and free entry to a number of attractions, is definitely worth the money if you plan to visit many of them.
It really does depend on your circumstances, but I hope I've given you enough to make an informed choice!
---
I've also created some detailed guides on the following: