The Taiwan High Speed Rail (THSR) service is only for those who want to travel outside of Taipei. Opened in 2007, it travels almost the entire length of Taiwan (220 miles) at speeds in excess of 185 mph.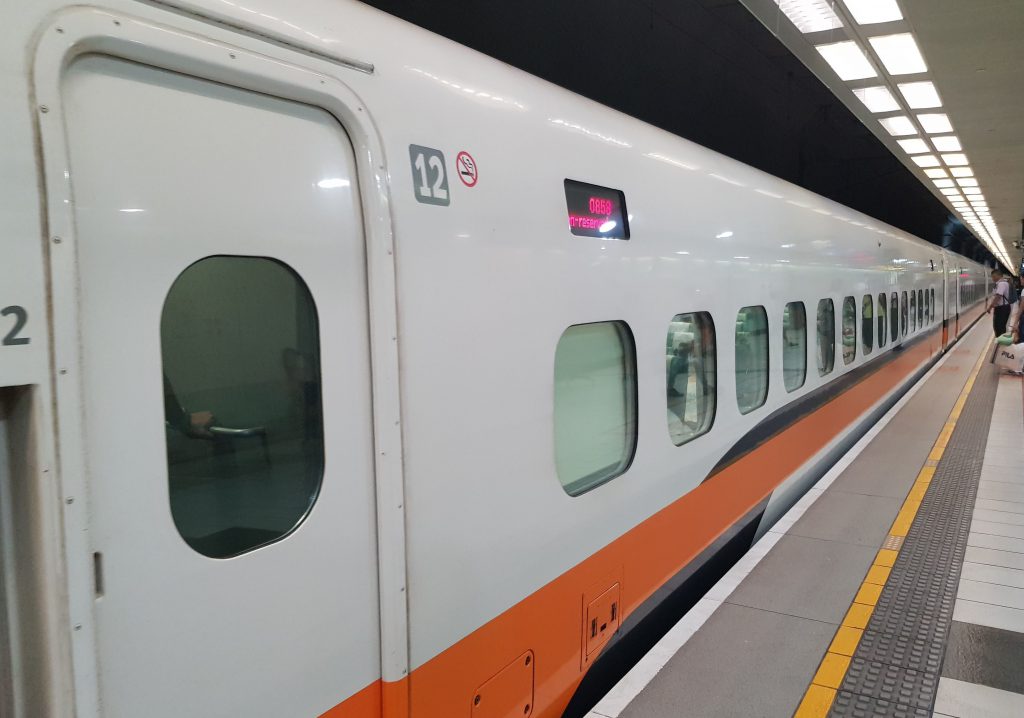 THSR Route
The high speed rail runs down the west coast of Taiwan, from Taipei in the north to Kaohsiung in the south, in under 100 minutes.
Trains generally run from 06:00 – 24:00 in intervals ranging from a few minutes to an hour (depending on the time of day). Unless you are catching a train at night, you won't need to wait long for a train.
The high speed rail trains are always on time.
There are only two lines – Northbound and Southbound – so you simply need to ensure you choose the right direction before boarding – and a total of 12 stations, 3 of which are in Taipei – Nangang, Taipei Main Station and Banqiao.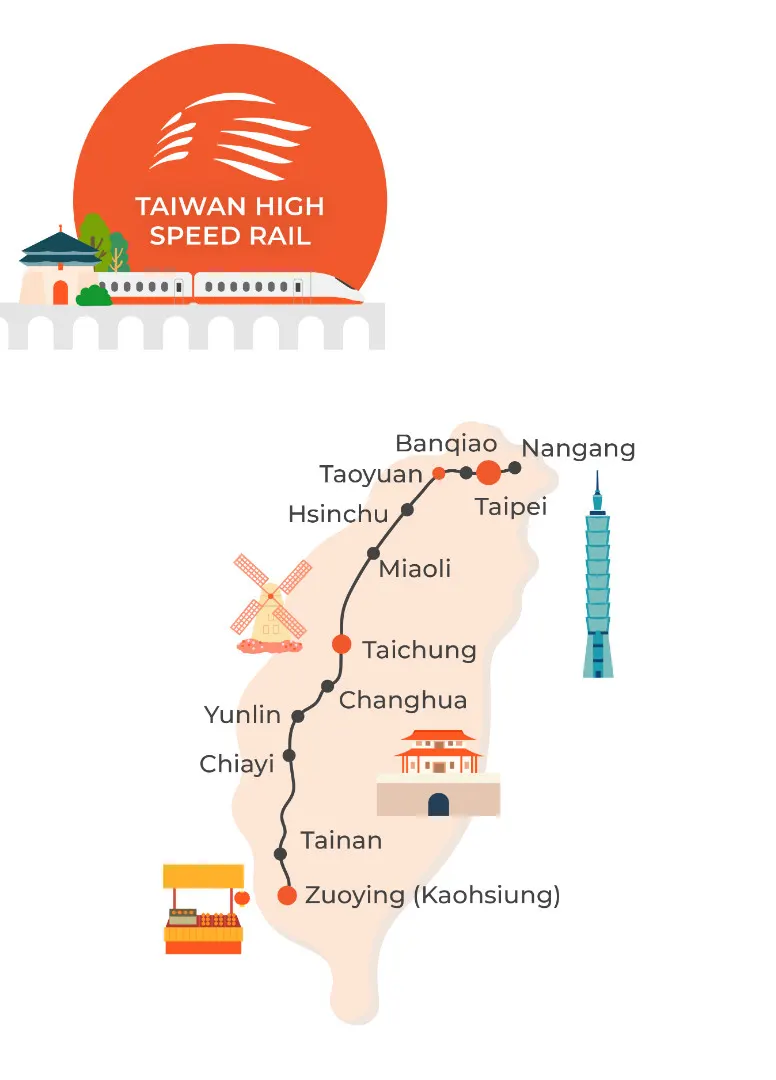 For a more detailed look at the THSR route, visit the Destinations section below.
---
Carriages
THSR trains have 12 carriages:
1 Business Class (carriage 6)
11 Standard Class

Carriage 7 has wheelchair spaces
Carriages 10 – 12 are for non-reserved seating
The seats are comfortable with ample leg room, plus they recline and even rotate 180 degrees to facilitate passengers travelling in a group.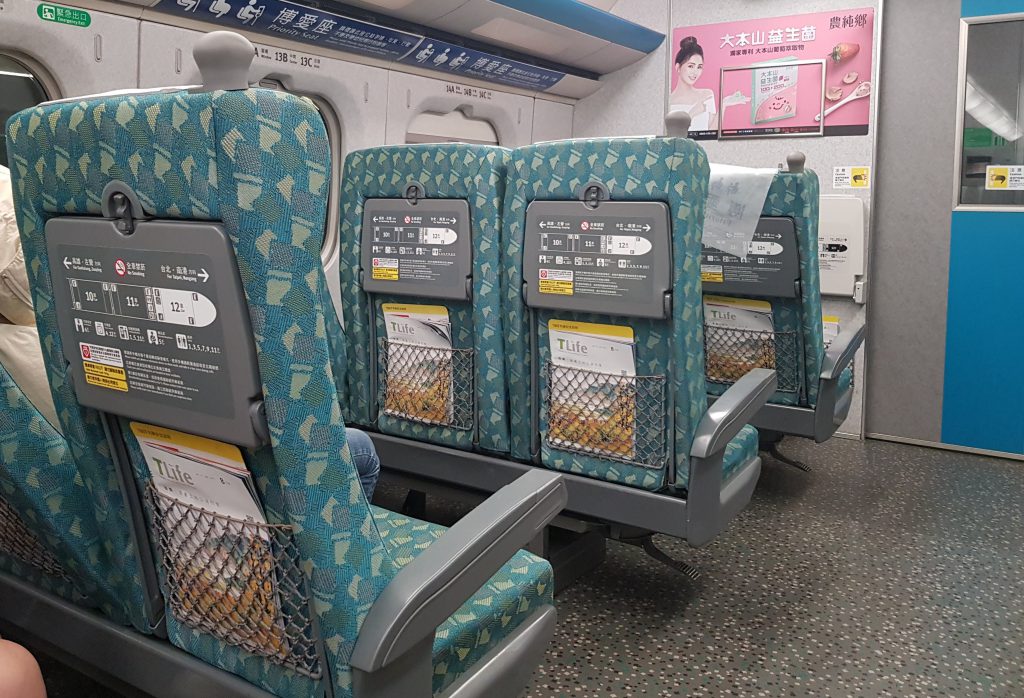 The Business Class carriage has more comfortable seating and fewer seats, whilst also giving passengers extra leg room. Additionally, there are complimentary drinks and cakes, a complimentary newspaper (in English if you require), with plug sockets, headphones and lights by each seat.
Toilets are in all odd-numbered carriages, and there are vending machines in some carriages selling drinks and snacks.
There are some great discounts for foreign travellers if ordering online (jump to discounts).
---
THSR Ticket Types
There are 3 classes of tickets you can purchase:
Standard Class (with reserved seat)
Standard Class (without reserved seat)
Business Class
If you choose not to reserve a seat in standard class, you can take your chances in the unreserved carriages (10 – 12) but if you find all the seats taken, you'll need to stand.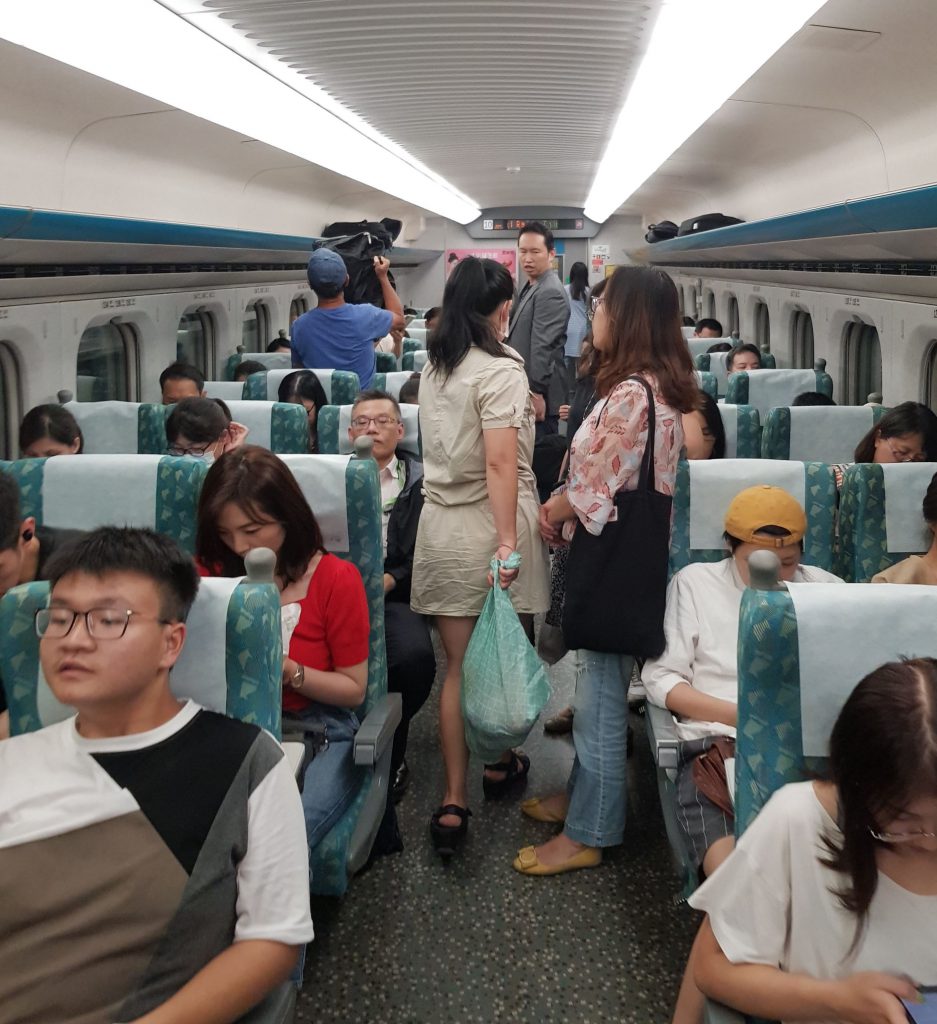 It is cheaper this way, but if you're travelling for a while, it's preferable to reserve one. The price difference between the two are between 3% – 5% depending on how far you travel.
The ticket will have the arrival and destination stations and times, along with the car and seat number. Obviously if you are reserving a seat, you must catch a specific train.
If you're not reserving a seat, then you can catch any train for a specific date.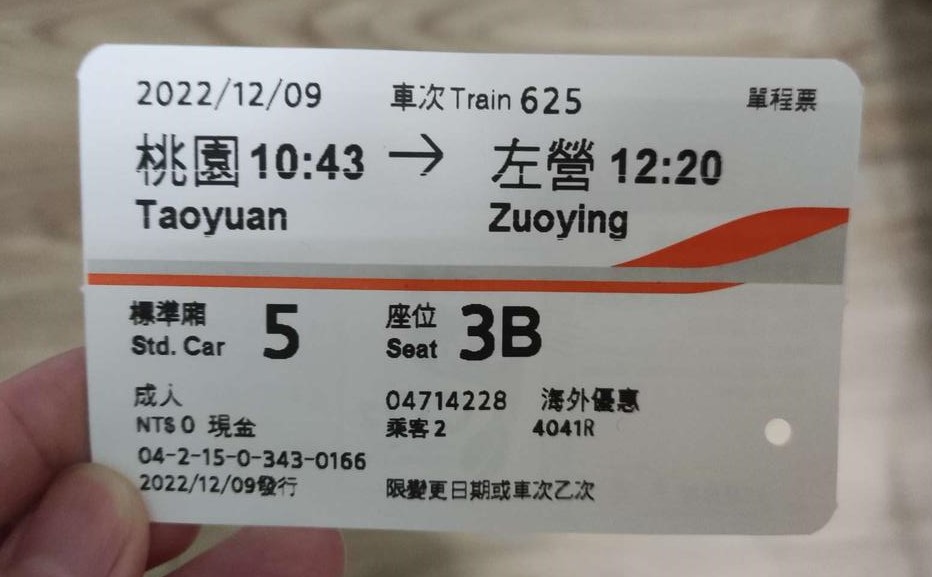 ---
Prices
Early-Bird Tickets
Early-bird tickets are available if you are willing to book ahead. These can be booked between 5 and 30 days in advance.
Discounts of 35%, 20% and 10% are available for early-bird tickets, although these will not be offered on peak-time trains. Once the 35% tickets get sold, then the 20% tickets will become available and so on until all the discounted tickets are sold out..
35% discount tickets usually get snapped up on the first available booking day so you need to be very quick for these.
Early-bird tickets are applicable to standard adult reserved seating only.
Child Concessions
Children under the age of 6 years can travel for free, only if they do not require an extra seat.
Otherwise, children under 12 years can travel with a 50% discount (if your child is 12 years, you will need to pay the full fare).
There is a limit of 2 children per paying adult for these concessions, and you may be required to show proof of their age if they are above a certain height.
Fares From Taipei Main Station
All prices in New Taiwan Dollars (NT$300 is approximately US$10)
Station
Standard
Standard
(Klook Price)
Standard
(non-reserved)
Child
Business
Taoyuan
160
128
155
80
440
Hsinchu
290
232
280
145
640
Miaoli
430
344
415
215
850
Taichung
700
560
675
350
1,250
Changhua
820
656
795
410
1,430
Yunlin
930
744
900
465
1,600
Chiayi
1,080
864
1,045
540
1,820
Tainan
1,350
1,080
1,305
675
2,230
Kaohsiung
1,490
1,192
1,445
745
2,440
Click here for a full pricing matrix between every station

Click here to use the THSR fare-finder website
---
How to Buy High Speed Rail Tickets
There are a few ways you can purchase THSR tickets:
Purchase on Klook
This is by far the best option if you hold a Non-Taiwanese passport and are visiting Taiwan for less than 180 days.
One-way ticket between any two THSR stations
2 or 3 day tourist passes
5 day joint train pass
Klook are currently selling buy-one-get-one-free for one-way tickets, which is an excellent deal if you're travelling as a pair. This is a limited offer so grab it while you can!
You can also reserve seats for all tickets purchased on Klook
The one way ticket will give you a 20% discount on a single ticket. You must select your departure and destination stations when purchasing the ticket.
The 2 and 3 day tourist passes will give you unlimited THSR travel, ideal if you want to do a tour of the major cities in Taiwan, or if you want to make use of the Tourist Shuttle Buses that depart from many THSR stations (see the Destinations section below for further details of these).
The 3 day pass must be used over 3 consecutive days.
The 2 day pass is more flexible, allowing you to travel within 7 days of each other.
You must specify the date of your first journey when purchasing either of these.
Prices
| | | |
| --- | --- | --- |
| | 3 Day | 2 Day |
| Adult | NT$2,199 | NT$2,499 |
| Child | NT$1,099 | NT$1,250 |
The 5 day joint ticket will give you use of both the THSR and TRA (Taiwan Rail). The TRA rail service travels to the centre and east of Taiwan, which are where the most rural, mountainous and scenic areas are located.
There are two types of ticket you can go for
Standard gives you reserved seats on THSR only
Express will get you reserved seats on both THSR and TRA
Note that you can only use the THSR service for 2 out of the 5 days with this deal.
Prices
| | Standard | Express |
| --- | --- | --- |
| Adult | NT$2,800 | NT$3,600 |
| Child | NT$1,400 | NT$1,800 |
After you have purchased a ticket from Klook, you will need to take your printed voucher or e-ticket to one of the THSR Service Desks to reserve seats.

Alternatively, visit this website and enter your redemption code and passport number to reserve them
Ticket Counter
These are located near the THSR entrances. It's pot-luck as to whether the person serving you will be able to speak English however. I find it preferable to use a Ticket Vending Machine instead.
You will need to tell them the departure date and station, then the arrival date and station if you're booking a return ticket, and also if you want to reserve seats.
You can pay by card or cash.
Ticket Vending Machine
These can by found near the THSR entrances and also within the MRT near the stations.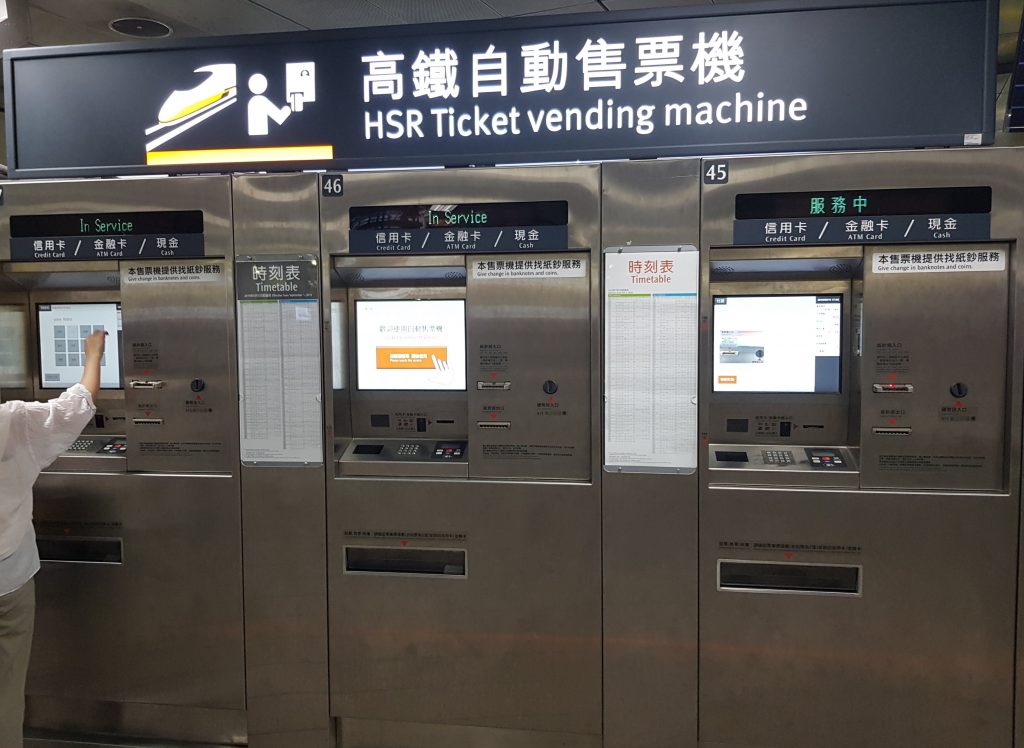 I've added a step-by-step guide for purchasing tickets from these machines:
Note that some machines have trouble accepting cash payments. Just move to another machine and try again, or alternatively use your credit/debit card.
High Speed Rail Website
You can book tickets directly from the THSR website. English language can be selected from the top-right.
You can also see if there are early-bird tickets still available using this method.
High Speed Rail App
Download the Taiwan High Speed ​​Rail T Express Mobile Ticketing Service App (Android / iOS).
Select the Booking tab and enter all the required information.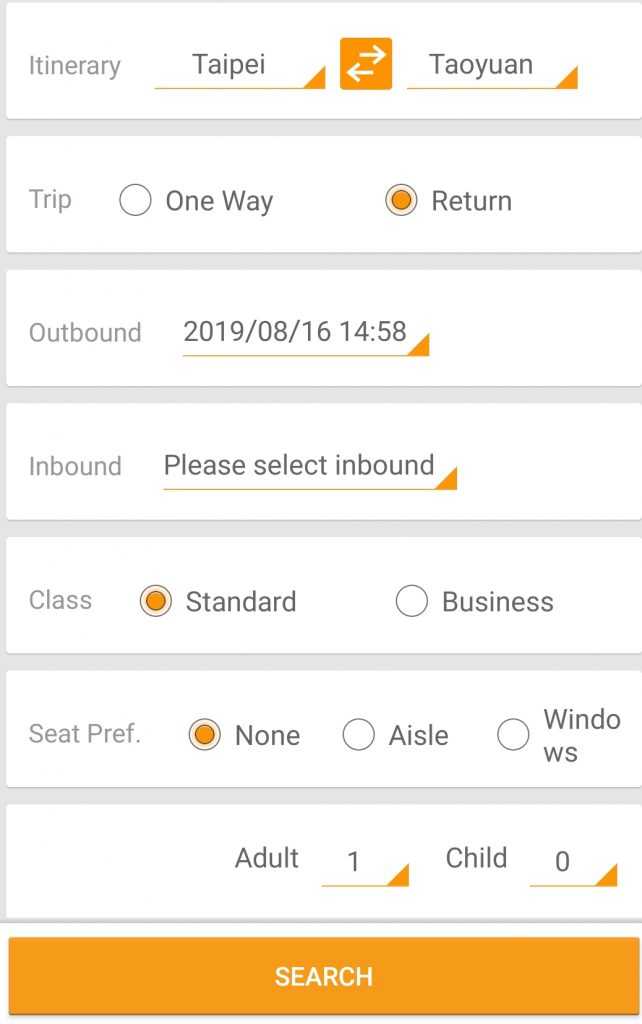 Tap Search and select the desired outbound journey, then the return journey if needed. You'll then need to enter contact information, including passport number and email address or phone number.
After you enter the payment details, you can choose to either collect your tickets from a ticket vending machine or service booth, or use an e-ticket directly on your phone (this option is better).
Convenience Stores
All convenience stores in Taiwan are equipped with machines where you can purchase THSR tickets from. However, these machines are in Chinese only.
---
Destinations
These are the main stations on the THSR route. I've included attractions and destinations that can be reached by the Tourist Shuttle Buses (TSB) which depart from most THSR stations. These will take you many top attractions around each county. The cost of these vary but they're around NT$100 – NT$300 per trip.
For more information about using these, please read this section of my public transportation post.
There are also free shuttle buses that will take you from most THSR stations to the city centre. These are free for anyone with THSR tickets (so ensure you don't throw the stubs away!).
Click here for information about each station, including all the ways to travel from stations (TRA, TSB, buses, car hire, taxis) and locker availability.
Travel time from Taipei Main Station in brackets
Hsinchu (32 minutes)
Hsinchu is the oldest city in northern Taiwan. Hsinchu County is home to the largest Hakka (aboriginal) community in Taiwan. If you wish to try some delicious Hakka food or rice wine, I would recommend trying it here or in Miaoli.
Although the THSR station is located a few miles from the city, there is a free shuttle-bus service every 20 minutes.
Alternatively, there are two Tourist Shuttle buses that depart from the THSR station:
| | |
| --- | --- |
| TSB Route | Attractions |
| Lions Head Mountain Route | Green World Ecological Farm, Beipu Old Street, Lion's Head Mountain Scenic Area |
| Guanwu Route | Ruanqiao Painted Village, Wufeng Qingquan Scenic Area, Sheipa Leisure Farm, Guanwu Forest Recreation Area, Guanwu Villa |
Click links for route, timetable and pricing
Miaoli (41 minutes)
If you're visiting Taiwan during spring, I would strongly recommend visiting Miaoli County. The fields and trees be covered in beautiful blossom, and Miaoli has the perfect climate for cultivating strawberries during these months. The Dahu Strawberry Culture Park pays homage to the humble strawberry, where you can pick your own, and eat almost anything strawberry related.
Unfortunately, the TSB doesn't travel to Dahu, so you would require a private vehicle or taxi. However, the Lion's Head Mountain Scenic Area is on the TSB and is a great place for hiking (which is also accessible from Hsinchu).
There is one Tourist Shuttle Bus that departs from Zhunan Station, which is a 15 minute bus ride from the THSR station:
| | |
| --- | --- |
| TSB Route | Attractions |
| Nanzhuang Route | Gueijhuling Longmenkou (Quahua Temple), Lion's Head Mountain Historic Trail, Sanwan Toufen Backyard Garden (Dou Huan Ping), Miaoli Motor Transportation (Toufen Station), Shang Shun World Northern Miaoli Art Center |
Taichung (52 minutes)
Taichung has seen considerable growth in recent years, and is now the second largest city in Taiwan. Although the city doesn't have a underground system, it does have buses which are efficient and punctual. Easycard is accepted on these.
There is also a Tourist Shuttle Bus service that will take you through many of the city's main attractions. This departs from Taichung Train Station, which is a 20 minute bus ride from the THSR station.
| | |
| --- | --- |
| TSB Route | Attractions |
| Taichung Midtown Bus Loop | Taichung Prefectural Hall, Dadun Cultural Center, Fine Arts Art Garden, National Taiwan Museum of Fine Arts, Shenji New Village, Calligraphy Greenway, National Museum of Natural Science, Zhongshan Hall, Yizhong Shopping District, Taichung Park, and Empire Sugar Factory |
There is another TSB that leaves from the THSR station, that will take you to one of the largest and most beautiful lakes in Taiwan – Sun Moon Lake. From there you can also take a cable car ride to visit the Formosan Aboriginal Culture Village, hire a bike to ride, or take a ride on one of the many boats.
Changhua (64 minutes)
Surrounded by mountains on three sides, Changhua is a great area to visit if you enjoy hiking and temples.
There are two Tourist Shuttle buses that depart from the THSR station:
| | |
| --- | --- |
| TSB Route | Attractions |
| Southern Changhua Route | Tianzhong Cat Village, Beidou Old Street, Lanyard Paradise, Evins's Color Fun Gallery, Iced Rice Dumpling Invention Hall, Changhua Souvenir Center, Taiwan Rice Castle, Xizhou Park Wanjing Art Garden |
| Qingshuiyan Route | Shetou Qingshuiyan Hot Spring Campsite, Qingshuiyan Temple, Loho Sock Museum/taiwan Glove Museum, Fu Jin Railway Museum, Shetou Train Station, The Soxlink Functional Wear Tourism Factory |
Yunlin (70 minutes)
Much like Changhua, Yunlin County is one of the more rural areas of western Taiwan, with an abundance of temples and scenic areas.
There is a Tourist Shuttle bus that departs from the THSR station that will take you to some of the best temples in the area, along with the Glove Puppetry Museum:
| | |
| --- | --- |
| TSB Route | Attractions |
| Beigang Huwei Route | Yunlin Glove Puppetry Museum, Beigang Wude Temple, Beigang Chaotian Temple, Kouhu Visitor Center, Santiaolun Haicing Temple, Wutiaogang Anxi Temple, Mailiao Kongfan Temple |
Chiayi (79 minutes)
Chiayi is the best place to travel to the scenic mountain area of Alishan.
Alishan is the most popular national park in Taiwan, and boasts Taiwan's tallest mountain and waterfall.
You can catch a bus or train to Alishan, journey times are approximately 2.5 hours and 2 hours respectively. Both depart near the THSR station in Chiayi. The train journey is especially recommended – the Alishan mountain railway narrow-gauge line has remained largely the same since pre-war times.
The trains only depart 3 times a day in the mornings. Click here for times. Only two buses depart each day, between 10:00 and 11:30.
Alternatively, there is also a Tourist Shuttle bus that departs from the THSR station:
| | |
| --- | --- |
| TSB Route | Attractions |
| Alishan Route A | Wufeng Temple, Chukou Visitor Center, Love Prairie, Chukou, Longmei, Xiding, Longtou, Shizhuo, Shizi Community, Alishan |
Tainan (88 minutes)
Tainan city is the oldest city in Taiwan and was the country's first capital. With a perfect blend of old and new, there is so much history is crammed into every part of the city. Tainan boasts over 500 exquisite buddist and Taoist temples, including the Luerman Matsu Temple.
There is a free shuttle bus that will take you from the THSR station to the city centre. Public transportation isn't great in Tainan however, so you should use taxis or hire a moped instead.
Alternatively, there is a Tourist Shuttle Bus available to take you around many of the city's hotspots from the North and South train stations in the city.
| | |
| --- | --- |
| TSB Route | Attractions |
| 88 Tainan Loop Route | Confucius Temple, Museum Of Taiwan Literature, Tainan Art Museum, Hayashi Department Store, Koxigan Ancestral Shrine, Chihkan Tower, Simen Rd.&youai St., Siaosimen (Tayih Landis Hotel), Yonghua Bus Station, Jhongjheng Rd.& Hai-an Rd., Shennong St., Li-ren Elementary School, Gongyuan N. Rd. |
Kaohsiung (97 minutes)
Kaohsiung is the third largest city and the largest port city in Taiwan. Like Taipei, it has it's own underground MRT system which also accepts Easycard. It's also a great city to cycle around, with many dedicated cycle paths.
Being in the south of Taiwan, it has a sub-tropical climate, so it's preferable to visit Kaohsiung (and Tainan for that matter) outside of summer months.
If you want to get up-close-and-personal with hundreds of Formosan Macaques, then Monkey Mountain is a fantastic hike where you'll also be rewarded with some awesome views.
Kaohsiung also has some of the best night markets in the country, including the Liuhe Night Market.
There is a Tourist Shuttle Bus that will take you to Kenting in the south, where you can enjoy the beautiful beaches and soak up the sun. This leaves from the THSR Station and takes around 2 hours.
You can also buy Kenting Express tickets on Klook for a more favourable rate:
---