Oye Punjabi is a small Indian restaurant found in the Dunhua area of Taipei which packs a punch when it comes to authentic Indian flavours and spices.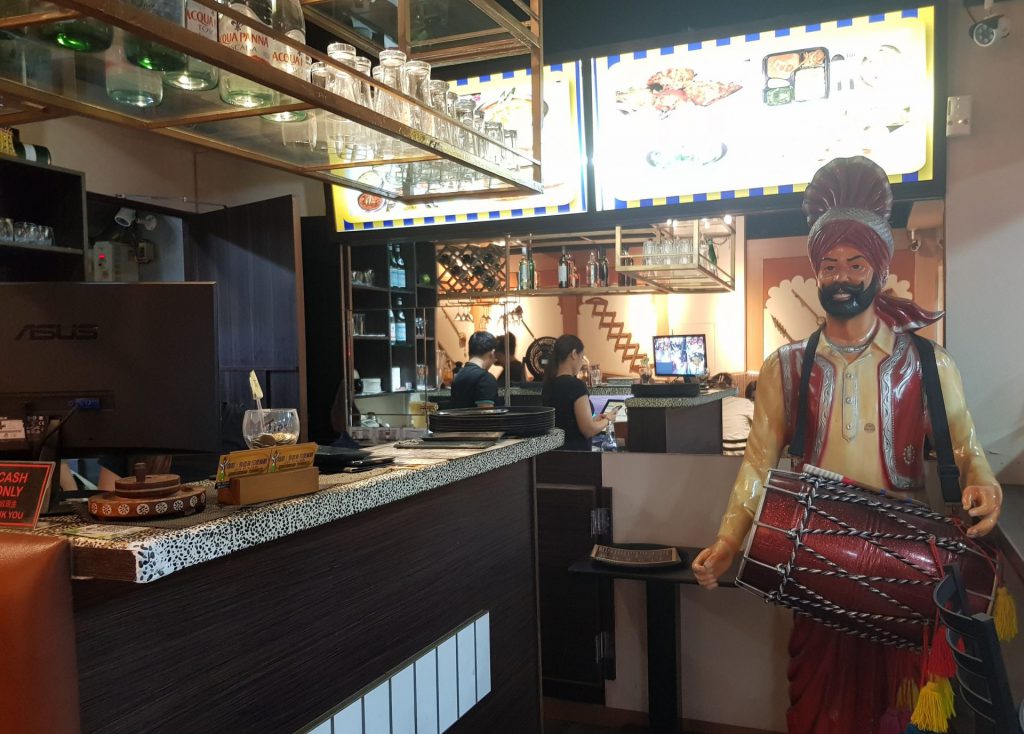 Like all the best Indian restaurants found in this city, it's run by Indian expats who have a desire to share their beloved cuisine with the rest of the world.
Oye Punjabi only has enough room for 20 diners or so but we luckily booked ahead to ensure a seat. The staff are very attentive, and will ensure you have a good variety of dishes and will even choose a suitable level of spiciness for you.
Their menu is by no means huge, but there's a good range of curries, kebabs, vegetables, sides and rice/bread.
To start, we chose the Machli Tikka, a tandoori fish marinade with chilli, cumin & coriander.
The fish was flake-in-the-mouth soft and the marinade was a beautiful mix of spices. It was very spicy, but in a good way. Good job we ordered a Mango Lassi to keep the heat at bay! Silky smooth and very mango-ey.
I was extremely happy to see they had a couple of Dal dishes too, as I love lentils, and Indian restaurants always seem to do them justice. The Yellow Dal Tadka was everything I hoped for. Warm and comforting, the lentils were soft but not overcooked. I could have just eaten a huge bowl of this, but we had a curry to get through.
Many of the curries here are fish-based, and since we had this as a starter, we chose the Butter Chicken Curry. It was creamy and aromatic, and the Garlic Naan we chose was probably the best naan bread I've had in Taipei. I sometimes find them too crispy and thin here, but this one was soft and perfect for dunking.
One of the side dishes which Oye Punjabi has quite a reputation for are their Samosas. Although they're quite expensive, costing NT$180 for two pieces, you'll understand why once they're served.
Probably the largest samosas we've ever had, they looked more like Cornish Pasties! Filled with potato and vegetables, and with a thick pastry-like skin, they were delicious.
Apart from Lassi drinks, Oye Punjabi has only one type of beer, but has a number of whiskey's you can purchase by glass – they even cater to alcoholics, as these can be purchased by the bottle?!
I wouldn't say Oye Punjabi is the cheapest restaurant in the world, with most main course dishes costing between NT$310 and NT$380. We thoroughly enjoyed our meal however, and we will be returning to try some of the side dishes next time (along with another helping of their delicious daals).
Pros
Attentive service
Authentic Indian dishes
Price: $$$
Level of English: Excellent (English on menu)
Traveller Tips
Ringing ahead is advised. The owner does speak good English so it shouldn't be an issue
Oye Punjabi Location
Closest MRT: Zhongxiao Dunhua (blue line – exit 2)
Located Nearby
If you have found the information on this page helpful, please take a minute to share this post by clicking one of the links below. Your support would be greatly appreciated :)