The Taoyuan Airport MRT – sometimes known as the Airport Express – is the quickest way to travel between Taoyuan Airport and Taipei Main Station.
The express trains run from both terminals every 15 minutes, and take approximately 36 minutes to travel in either direction.
The trains are very comfortable and have free 4G WiFi available and USB charging ports.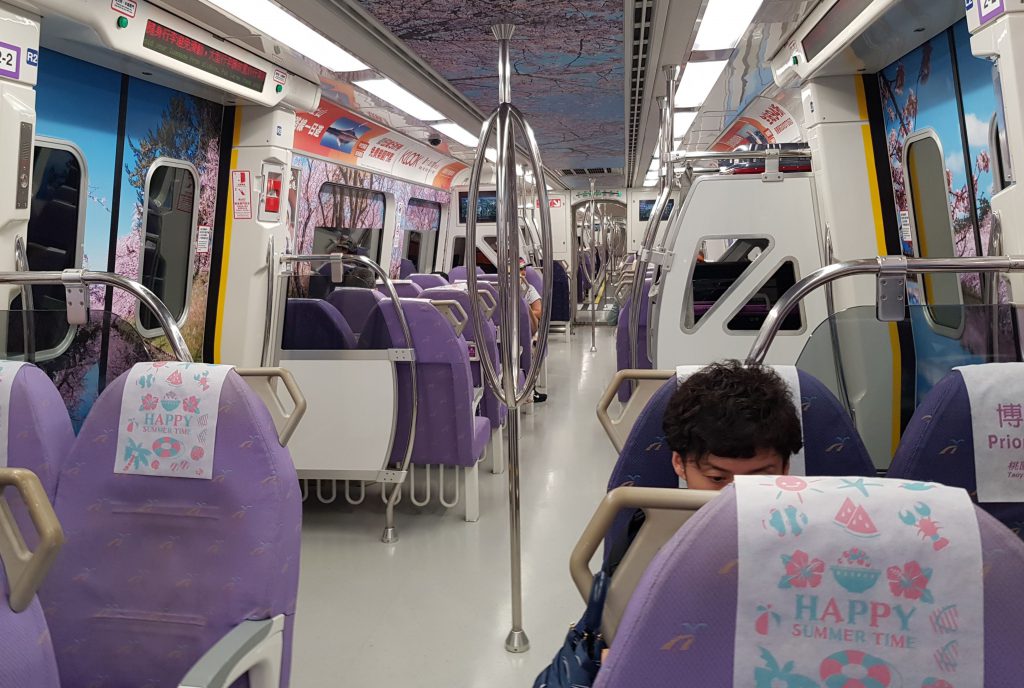 The Taiwanese government have just introduced an incentive scheme to attract more tourists. They're giving handouts of NT$5,000 ($165) to 500,000 tourists from May 2023.
Cost
A single fare (no returns available) will cost NT$160.
Tokens can be purchased from machines or the information booth directly before the MRT turnstiles. Both these only accept cash payments.
Alternatively, you can pay for the Airport MRT with an Easycard for the same price as a token (see General Tips section for more info).
You can save money if you purchase a token on Klook beforehand, where you can also get a return ticket for a better saving (valid for 60 days).
Klook Prices
One-way ticket: NT$140
Return ticket: NT$268
These are currently 20% extra off, priced at NT$120 / NT$240 respectively, plus you get some free shopping vouchers
---
Click Here to Read my Comprehensive Guide to Taipei
---
Taoyuan Airport to Taipei Main
The Taoyuan Airport MRT station is easy to find from both terminals as it's well signed and is just a 10 minute walk from either Arrival hall.
Just follow the purple signs for the 'Taoyuan Airport MRT', which is located 2 levels down from the arrival halls.
Express Train Times
The express trains will depart from Taoyuan Airport every 15 minutes from 05:55, with the last train departing at 22:58.
Terminal 1 – 00:13 / 00:28 / 00:43 / 00:58 minutes past each hour
Terminal 2 – 00:10 / 00:25 / 00:40 / 00:55 minutes past each hour
Note that there is also a commuter train service that runs on the same line as the Taoyuan Airport MRT. This takes around 1 hour and is less comfortable, so it's preferable to take the express service.
The Express trains will have a purple stripe along the side (and purple seating), whereas the commuter trains will be blue.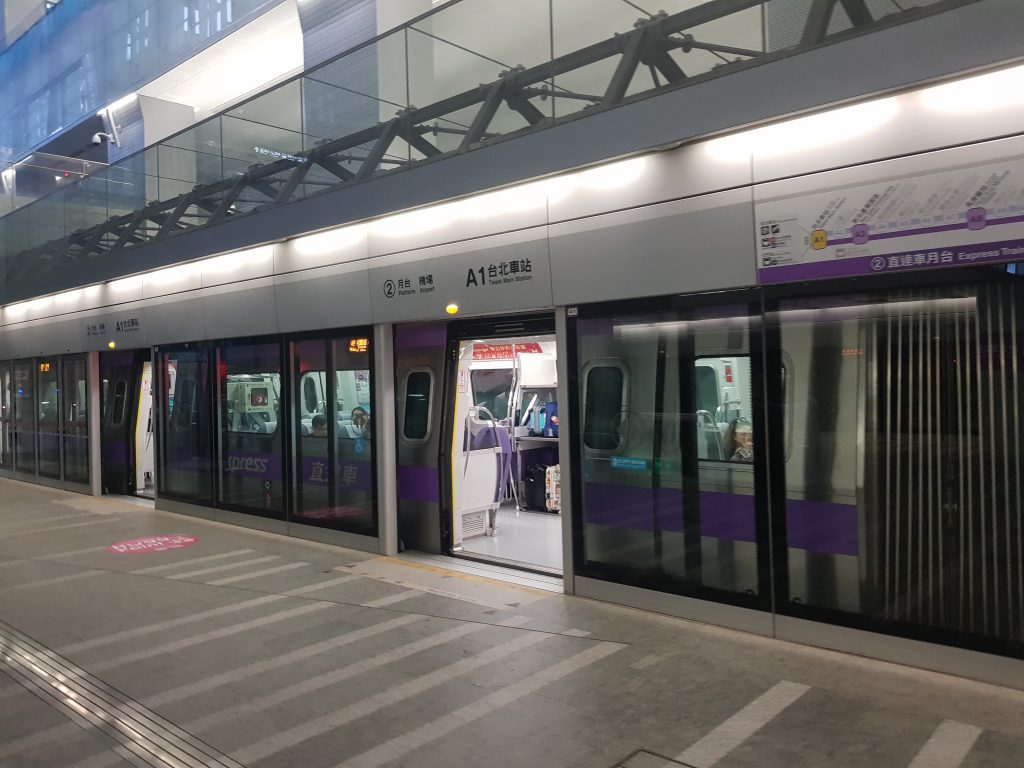 General Tips
Before you take the express train to the city, I would advise getting the following:
Easycard
An Easycard is the most convenient way to pay for the Taoyuan Airport MRT, and you'll want one if you're using the city MRT afterwards (it offers a 20% discount for all rides).
In both terminals, the Taoyuan Airport MRT service booth will sell Easycards, and can be found immediately after the final customs check, in the arrival halls.
You can also return your Easycard here at the end of your trip for a refund.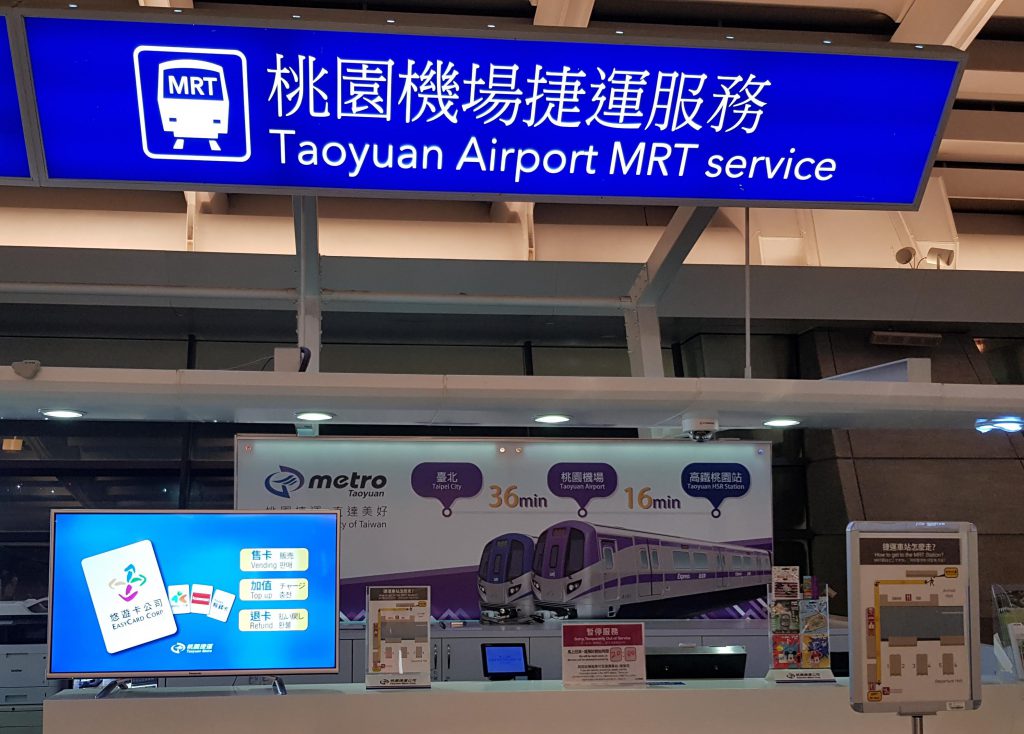 Terminal 1
Terminal 2
These are open from 08:00 – 21:30.
If you arrive outsides of these times, you will need to buy a token just before the entrance of the Taoyuan Airport MRT station.
You can later purchase an Easycard from any of the other locations on the Easycard page.
Taiwan SIM Card
The SIM card deals at the airports are generally much better than those in the city, so I would recommend you purchase one before you travel to Taipei.
The SIM card booths will close between 22:00 and 00:00 depending on the booth. If you arrive outside of these times, you'll need to purchase one from the city.
---
---
Taipei Main to Taoyuan Airport
When heading back to the airport after your holiday, you'll need to get to the Taoyuan Airport MRT near Taipei Main Station.
Taipei Main is a huge place, so it could take you 15-20 minutes to walk there. If you're in a hurry, I would recommend getting a taxi instead, as it will take you directly to the Airport MRT station.
Be aware that the train service to Taoyuan will either be signed:
Taoyuan Airport MRT
Airport Express
Both the signs will have a purple train symbol:

Again, you can use your Easycard to pay for the express service, otherwise you can purchase a token from one of the machines in the area.
Taipei Main to Taoyuan Airport Times
The express train will depart from Taipei Main station every 15 minutes from 06:00, with the last train departing at 23:00.
In other words, they'll depart 00:00 / 00:15 / 00:30 / 00:45 minutes past each hour.
Try to catch the express train rather than the commuter train, as they are much faster and more comfortable.
---
---
Taipei Main Station In-Town Check-In Facility
The Taoyuan Airport MRT station at Taipei Main also has an In-Town Check-In facility for certain airlines. This very handy facility allows you to check-in early for your flight, plus you can leave your checked-in luggage here.
This is located on B1 directly above the Taoyuan Airport MRT station and will be signed In-Town Check-In Area.
You need to be here at least 3 hours before departure to take advantage of it.
The airlines that support this Check-In facility are:
China Airlines
EVA Airways
Cathay Pacific Airways
AirAsia
The check-in facility is only available between 06:00 and 21:30.
If you have any purchased goods requiring a Tax Refund, there is a refund desk very close by
---
General Tips when Travelling back to Airport
All trains will stop off at both terminals – Terminal 1 first. Make sure you know which Terminal you are travelling to.
When you arrive at Taoyuan Airport, don't forget to return your Easycard to the Information Desk for a refund.
You can also use the tax refund desk to claim any rebates on large purchases you've made during your stay. There is a tax refund booth at both terminals, and there's also one near the Taoyuan Airport MRT station at Taipei Main. See this post for locations and more details.
Check to see if your flight is on time from their flight departure web page
---
Other Ways to Travel Between Taoyuan Airport and Taipei
If your flight arrives or departs outside of the Airport Express operating hours, you have a couple of options:
Airport Express Bus
Taxi/Uber
For more information about the 24 hour Airport Express Bus, please visit this section of the Public Transport page.
A taxi will normally set you back between NT$1,000–1,200 and will take about 45 minutes to travel between Taipei Main Station and Taoyuan Airport (depending on the traffic).
You can easily arrange a taxi at either terminal in Taoyuan Airport.
Alternatively, there will be loads of Uber drivers waiting near the airport. Their prices will generally be 15% less than taxis.
---
Useful Information
Free Wifi is available at both the Airport MRT stations and on the trains. You will get 30 minutes use, but you can simply connect again if your time runs out. The WiFi names for each are:
There are 2 other stops for the express train between the airport terminals and Taipei Main Station (purple line). The commuter train has several other stops and therefore much slower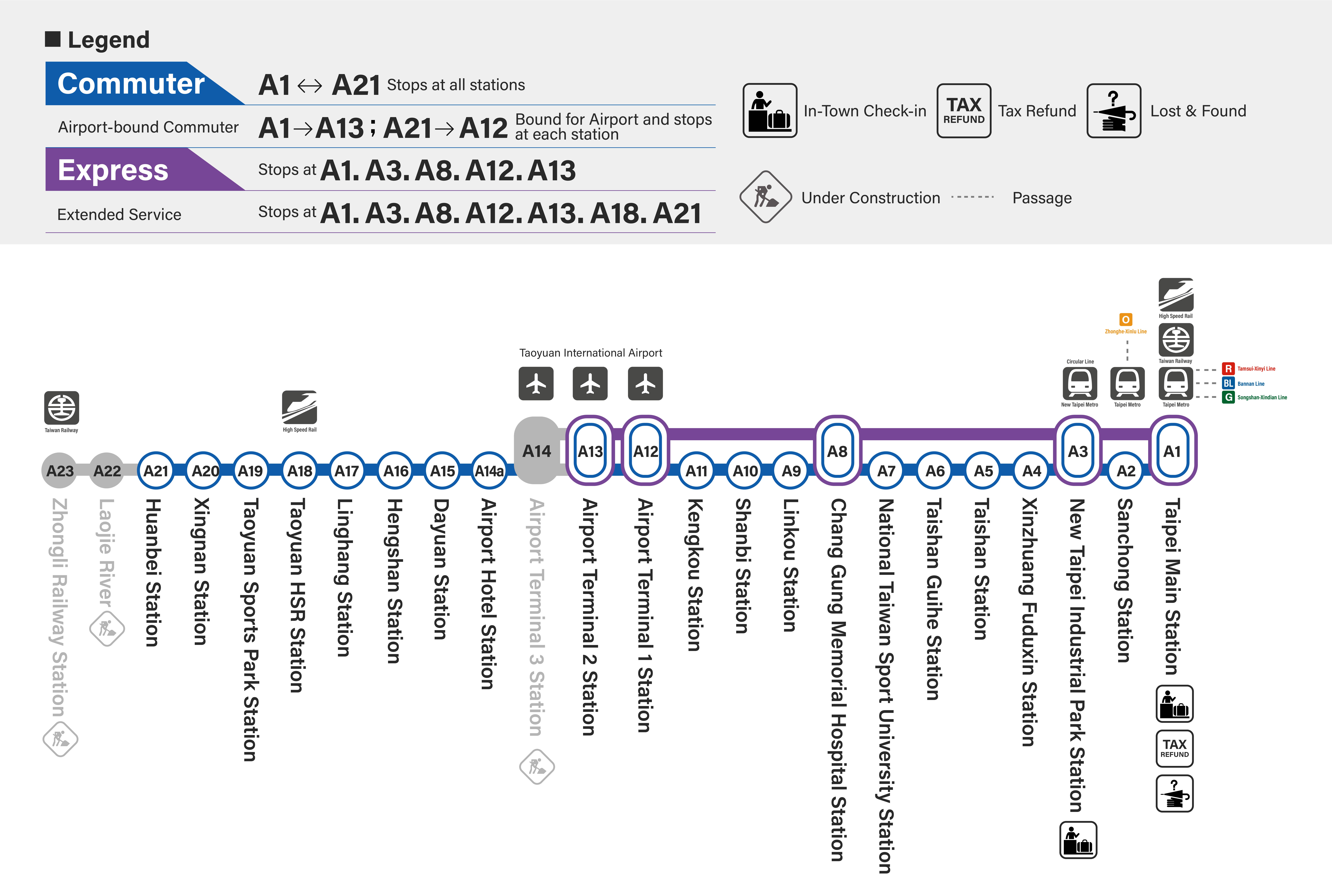 There are luggage racks in all train carriages
USB charging plugs can be found in the arm rests of all seats on the express trains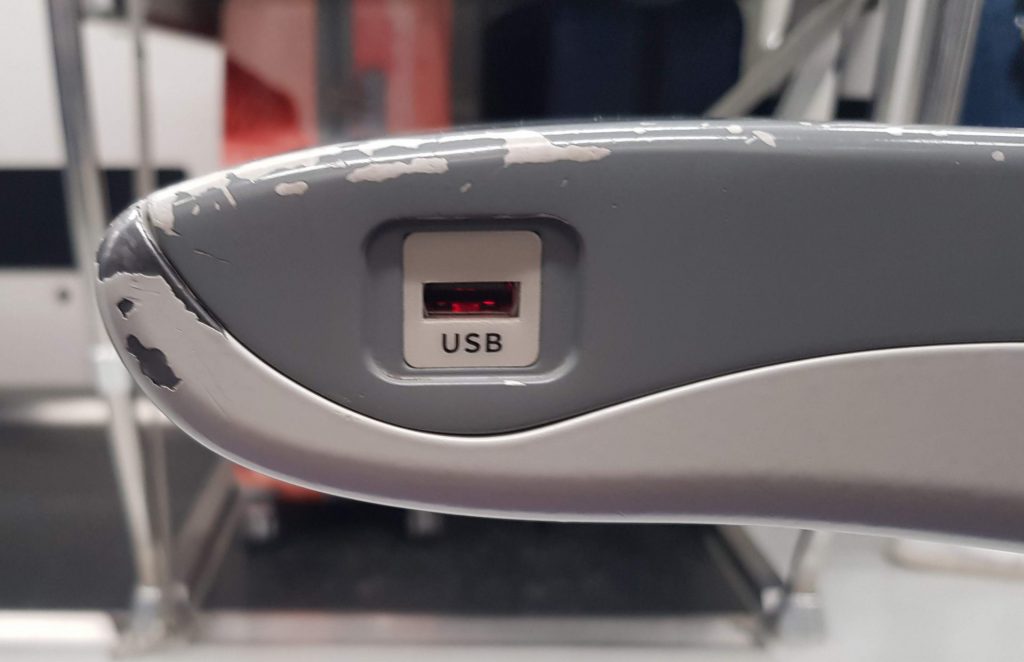 ---
If you have found the information on this page helpful, please take a minute to share this post. Your support would be greatly appreciated :)