One of the oldest night markets in Taipei, Raohe Night Market is probably the best one to visit if your primary objective is being fed.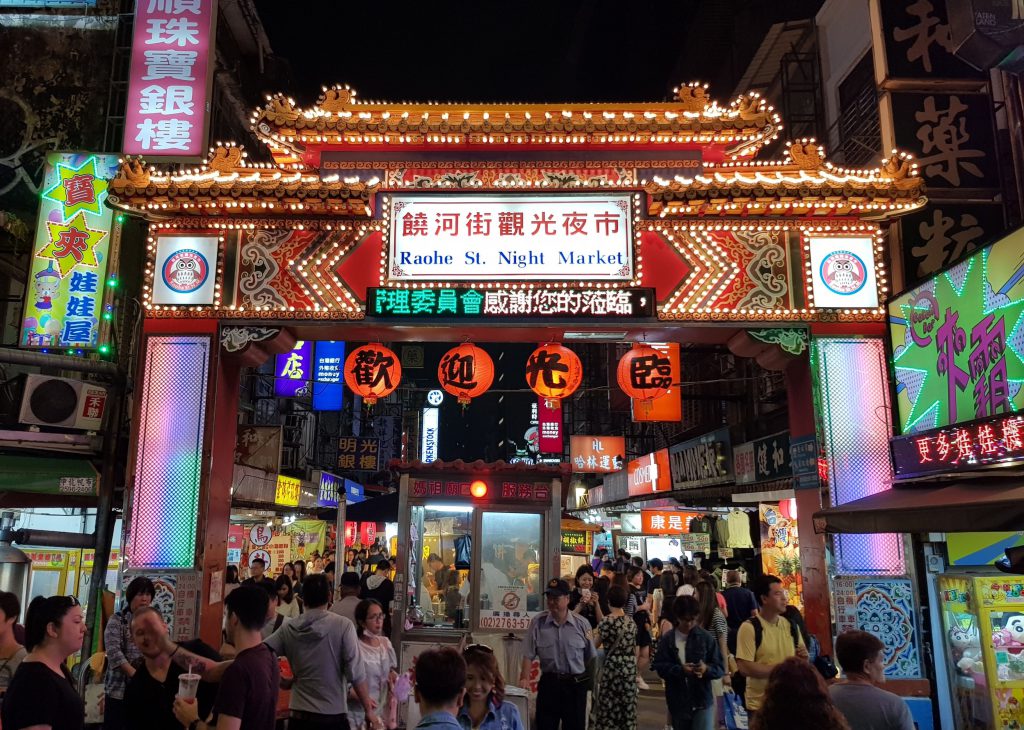 Conveniently located next to the Songshan MRT station at the eastern end of the green line, it spans an 800m long road and side-streets, and is adjacent to the Keelung river.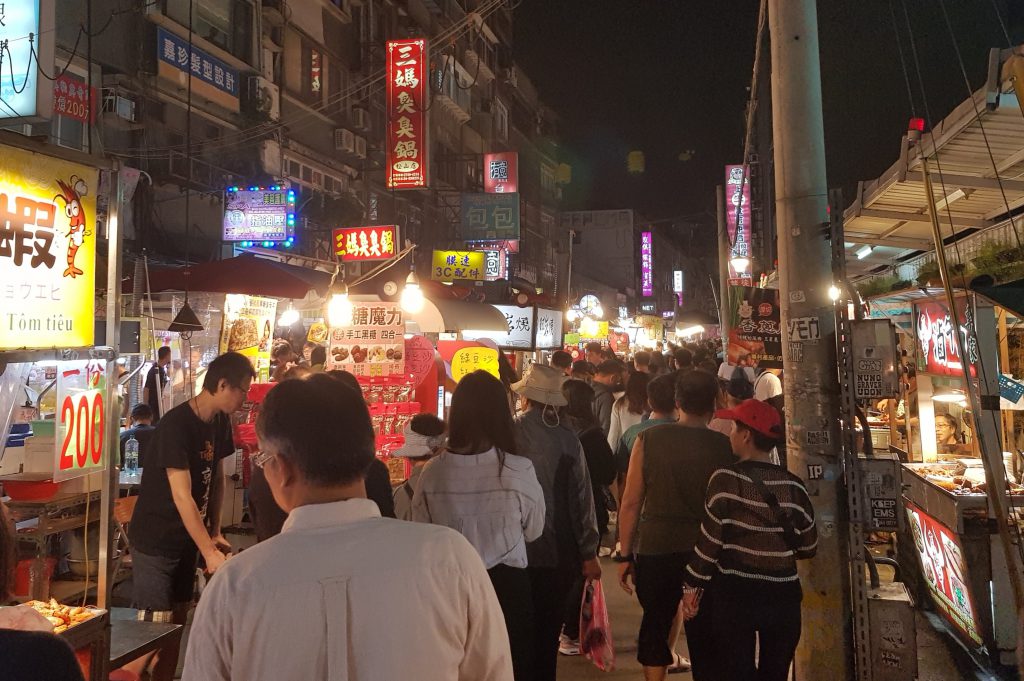 I would argue that Raohe Night Market has a wider selection of food stalls than Shilin. Almost everything you can find at Shilin you can find here – and then some.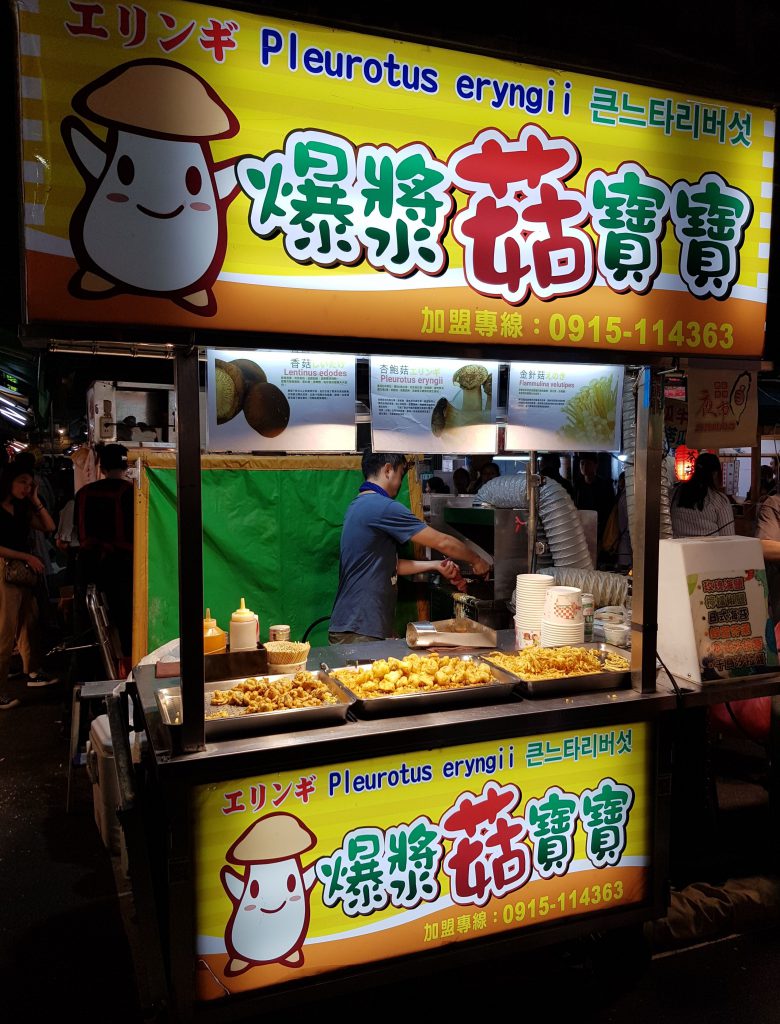 The official Michelin guide even recommends five stalls here, including Fuzhou Black Pepper Bun, located next to the main entrance and almost always with a large queue outside. Delicious buns filled with pork and spiced with black pepper.
These are all of the food stands recommended by the Michelin Guide. Four of these are recognised in the Bib Gourmand category, a special award for high quality yet cheap dishes.
| | | |
| --- | --- | --- |
| | Name | Description |
| Bib | A Kuo Lu Wei | Luwei style duck wings, crispy intestines, and baby corn |
| Bib | Beef Noodles and Beef Entrails Soup | Exactly as it sounds. Side dishes are also highly recommended here |
| Bib | Chen Tung Pork Ribs Medicinal Herbs Soup | Herbal soup that contains pork ribs |
| Bib | Fuzhou Black Pepper Bun | Black pepper bun filled with pork and spring onion |
| | Mochi Baby | Sweet gooey Japanese rice cakes with choice of fillings |
Colours match those on the map below
---
---
As per all night markets, it's the stalls with the queues that you should take note of. You'll find other stalls selling the imitations of their grub, but they will always be inferior. There is another black pepper bun stall right next to this one but always go to the original as it's worth the wait!
Another tasty snack to try is the potato pancakes, filled with cheese, ham, shrimp and an egg yolk. Topped with salad cream, crispy fish flakes and a side of wasabi. They're surprisingly light.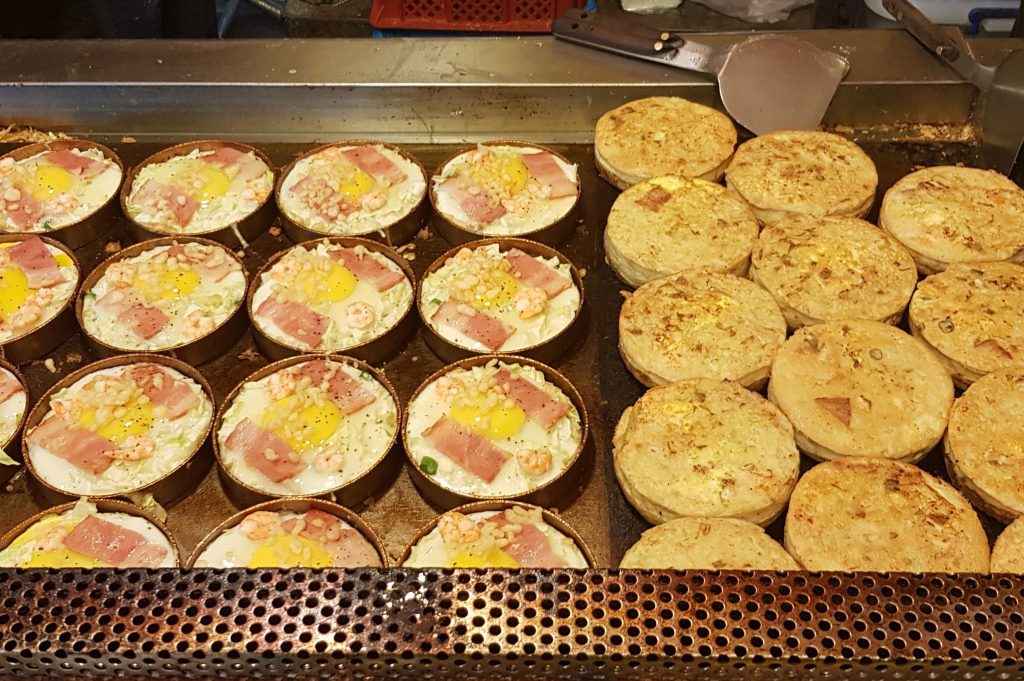 One of our favourites at Raohe Night Market is the battered shrimp, with a choice of sauces including sweet chilli and more traditional Taiwanese sauces.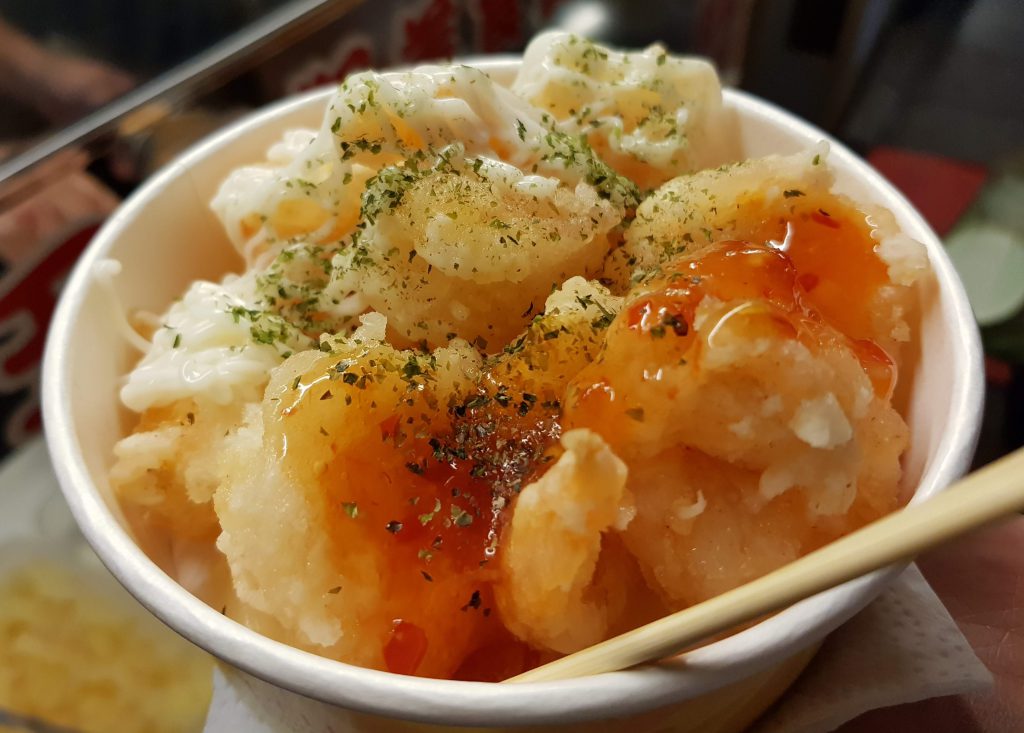 Food from other Asian countries is well represented here too. The very Japanese Okonomiyaki, known as the Japanese Pizza in America, it's more like a savoury pancake filled with cabbage and a choice of meat.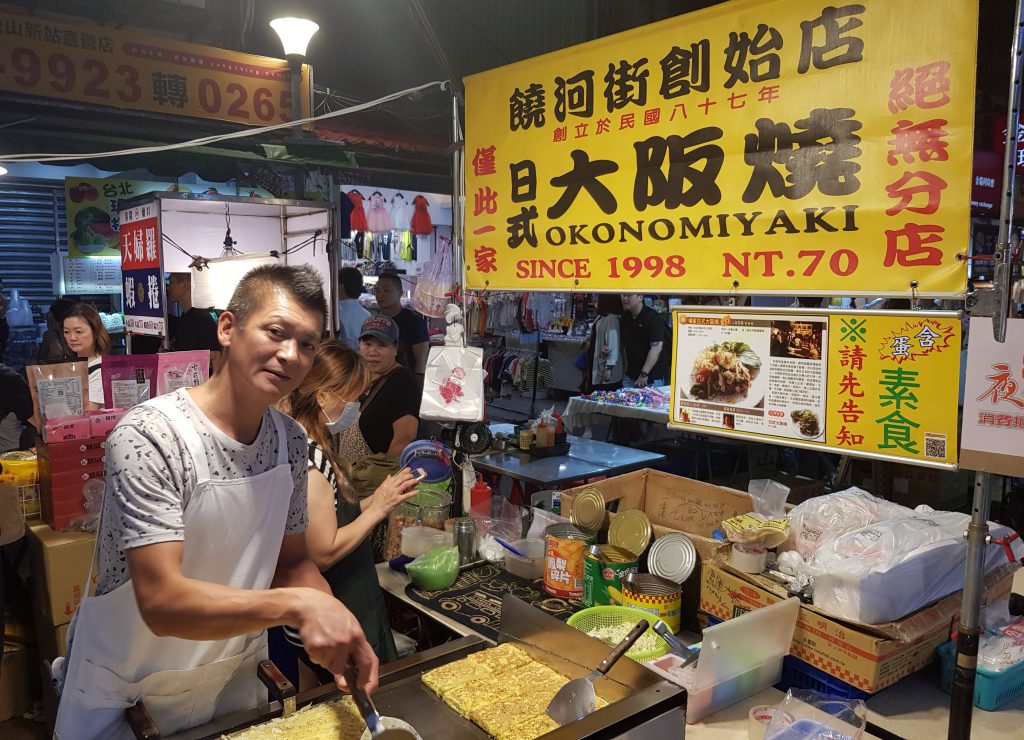 To wash your food down, there are dozens of drinks stands selling the usual favourites such as bubble teas and watermelon juices, to the more unusual cactus juice.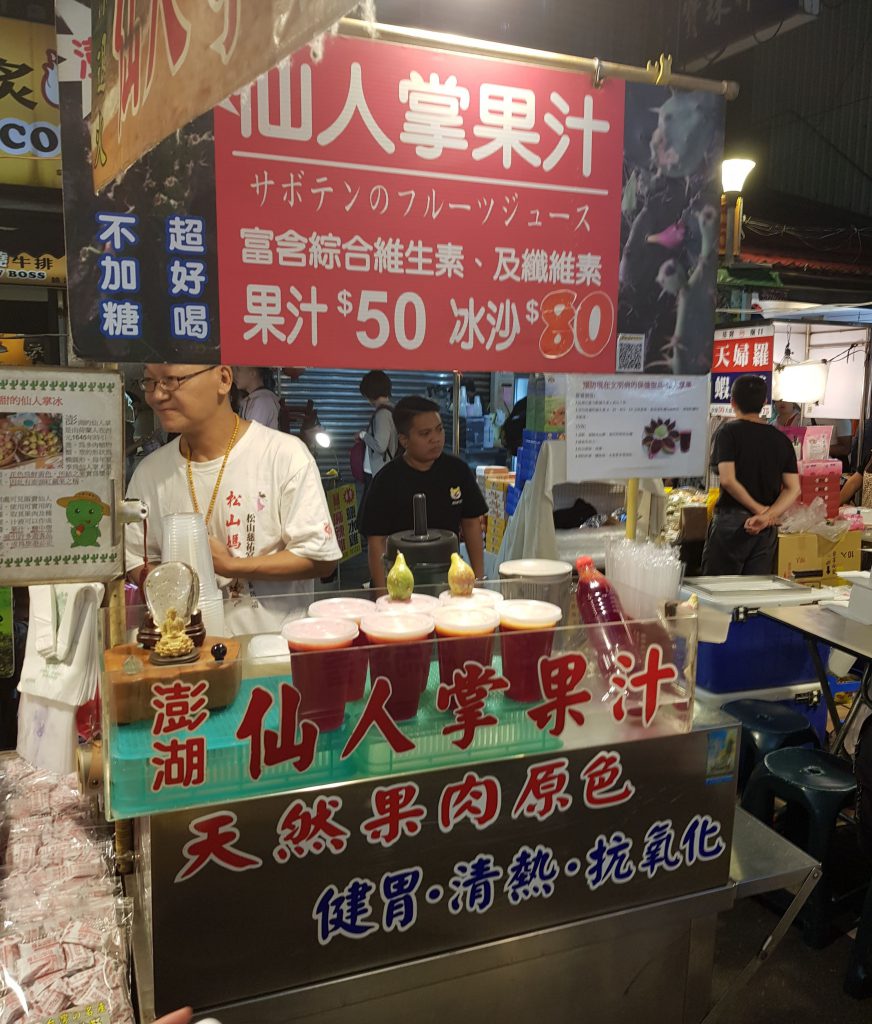 A night market wouldn't be complete without a shaved ice place. There's a great one here towards the west of the market on the south side. Many varieties of shaved here can be found here, including some with the traditional Taiwanese 'pudding'.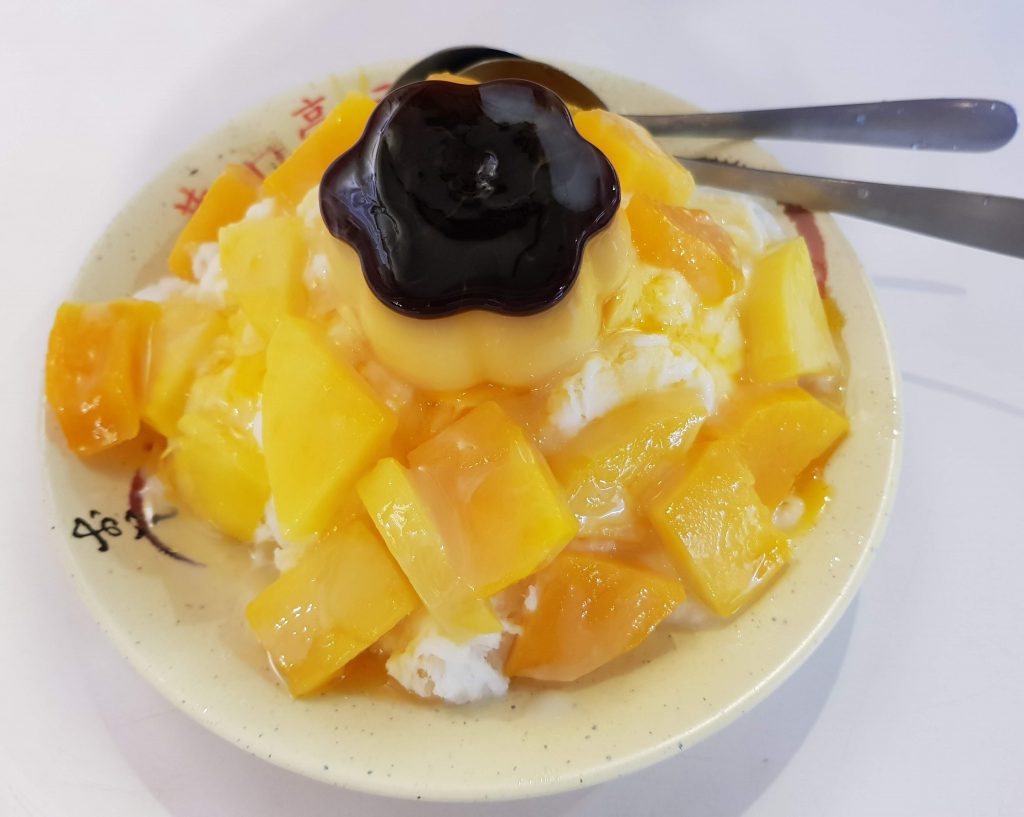 There are gift shops and other more unusual places, such as the fortune telling canaries or places you can fish for small sea creatures to take them home.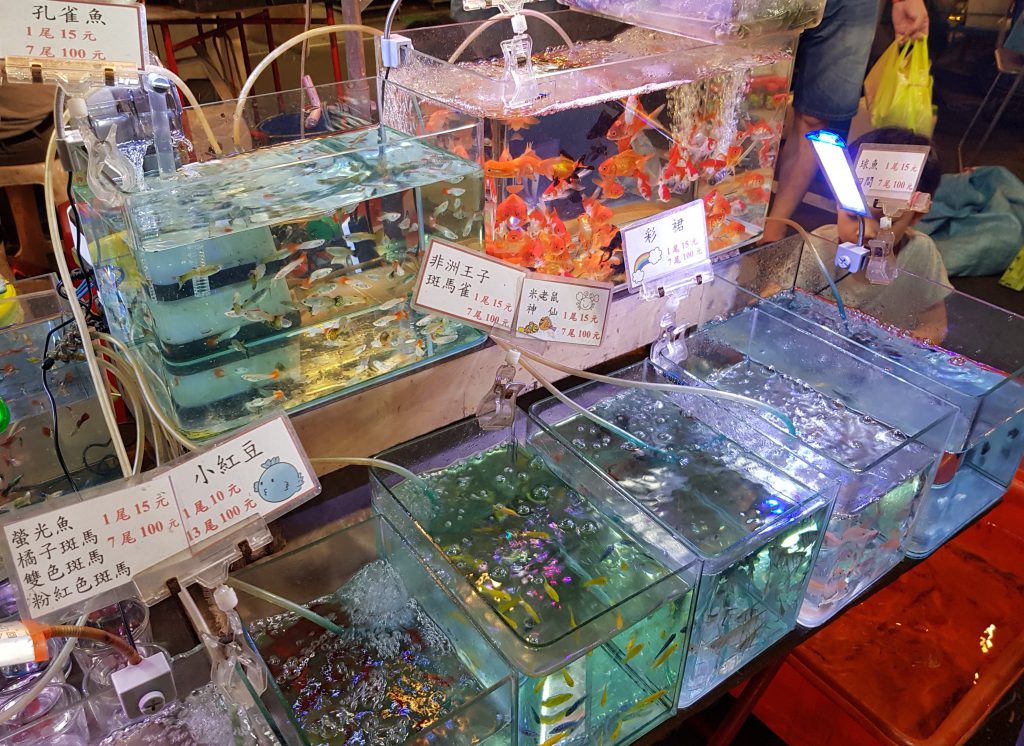 At the east-end of Raohe Night Market is Songshan Ciyou Temple, one of the most ornate and beautiful temples in Taipei.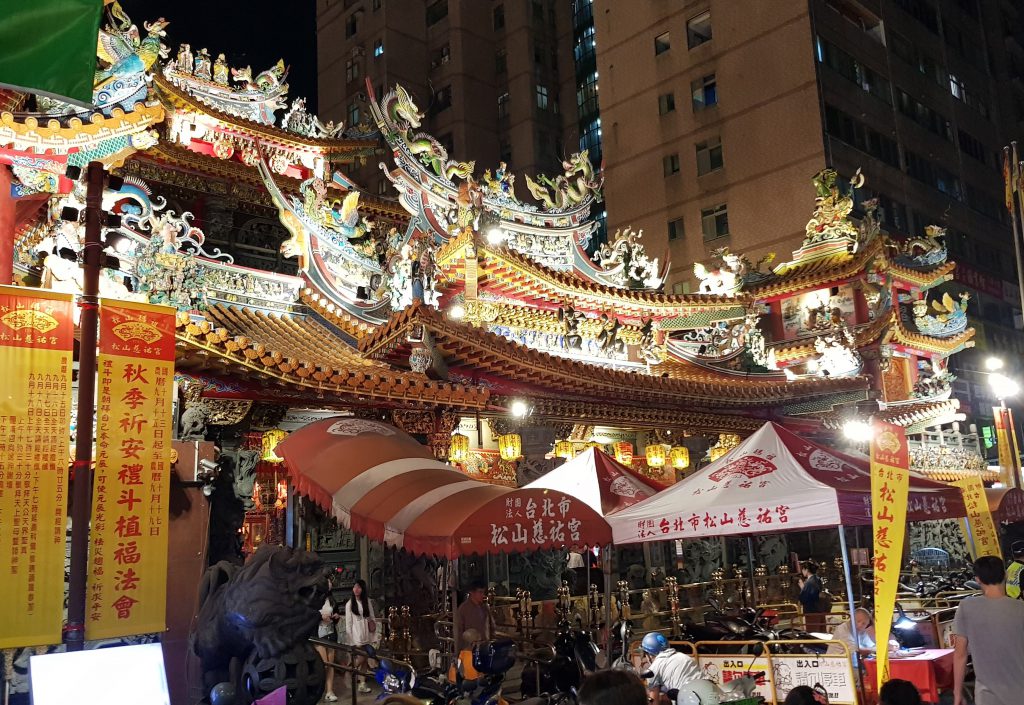 Raohe Night Market, while not having the wow factor or size as Shilin is still a great market to visit, especially if you want to try a variety of different but delicious food items.
Pros
Best night market for foodies
Close to MRT station and river
Traveller Tips
Bring some tissues with you as you'll no doubt get your fingers messy
Raohe Night Market Location
Closest MRT: Songshan Station (green line – exit 1)
If you have found the information on this page helpful, please take a minute to share this post by clicking one of the links below. Your support would be greatly appreciated :)