The Sugar Pea Cafe's tag line is "Wholesome, Seasonal, Simple Cuisine", which perfectly encapsulates what this cafe/restaurant is about.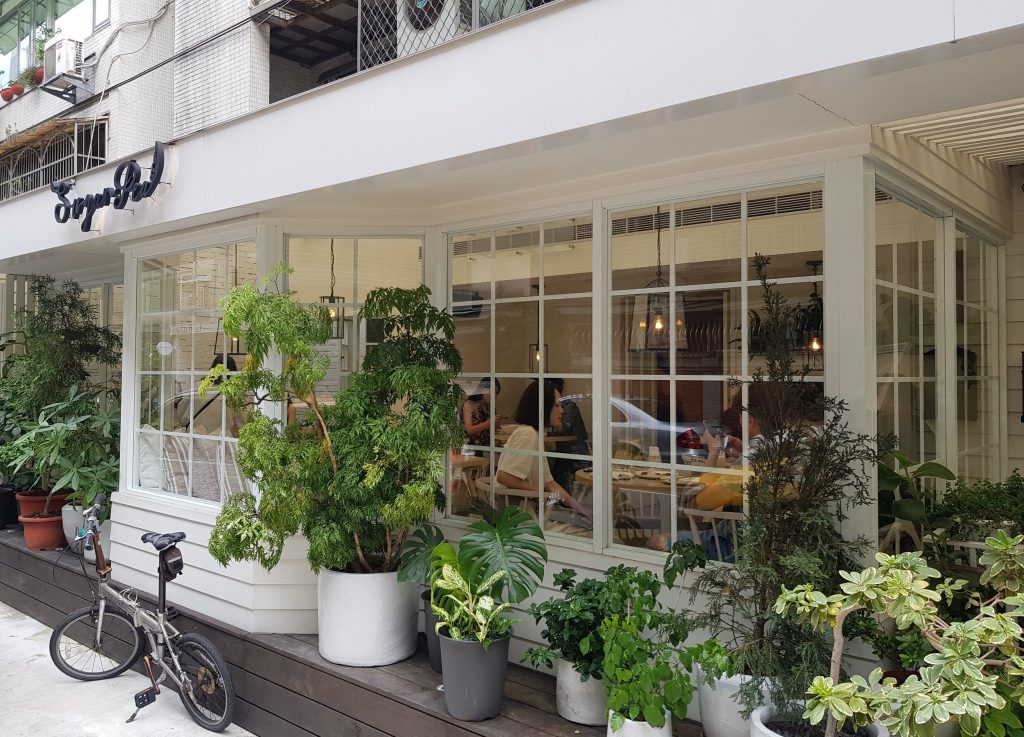 Serving seasonal salads and bowls of goodness with rice, quinoa, grains or legumes as their base, the dishes are healthy and fresh without compromising on the taste.
Although they have a couple of dishes geared towards evening meals, most of them are aimed at brunch time – which is when they are most busy, so it's advised to book ahead.
Sugar Pea Cafe have a nice selection of market bowls. With a base of rice, grains and legumes, they're topped off with vegetables and sauces. Some come with fish or meat, or you can choose to add these.
The Korean Pork Bowl (which is similar to a bibimbap) included marinated pork bulgogi, lots of crunchy vegetables, and a sunny-side egg and optional chilli paste to give the dish an extra kick. It was divine.
While there are only two salad dishes on their menu, the Avocado and Shrimp Salad, which was their take on a Caesar salad, looked too good to ignore. With homemade garlic croutons and creamy parmesan, the avocado was so soft and delicious and it was another dish to savour.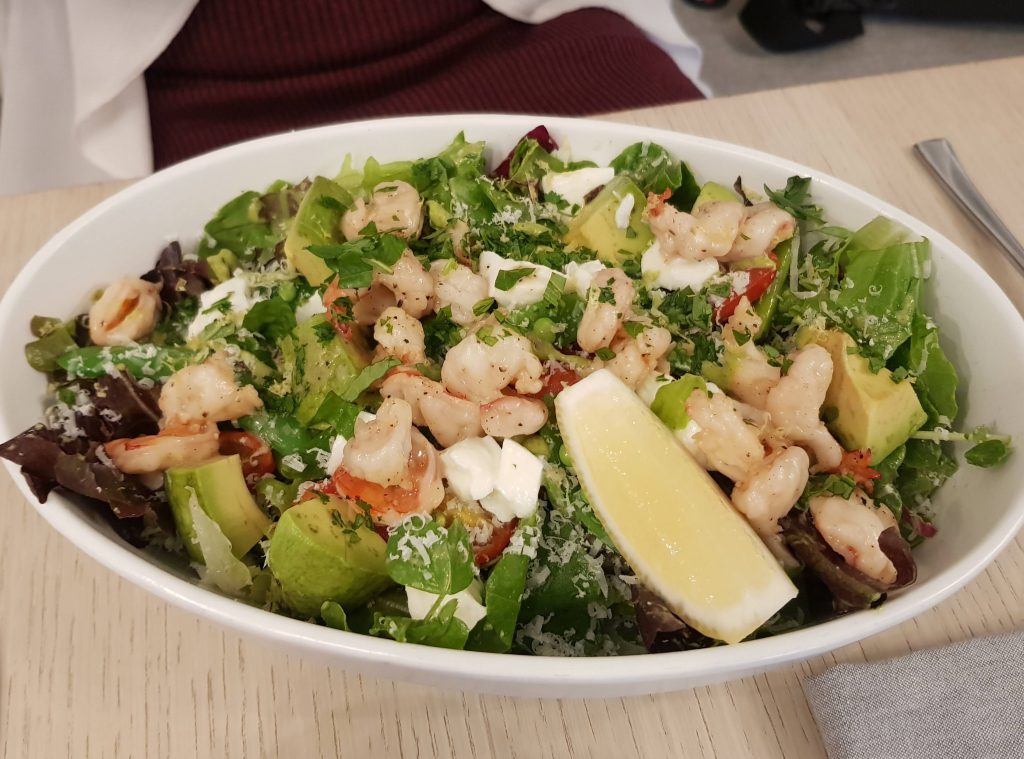 Sugar Pea Cafes brunch menu has recently seen the addition of another great sounding dish. The Smoked Salmon & Spinach Frittata, an Italian omelette with capers, feta, red onion and dill.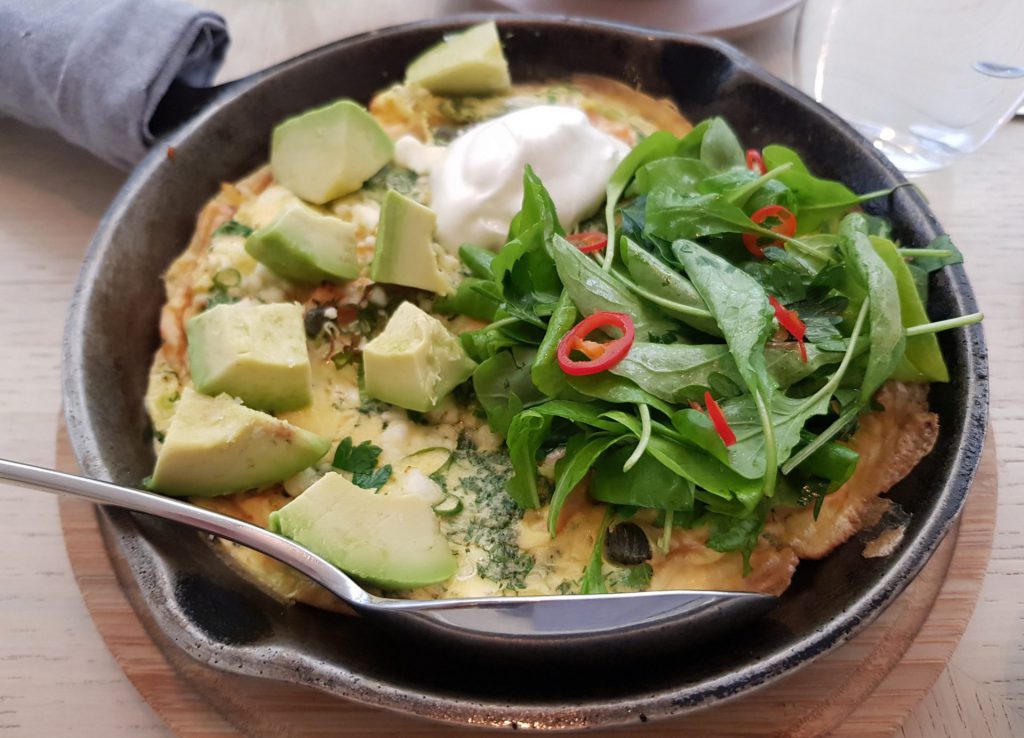 Avocado can also be added for an extra NT$60. Seeing as we love it here, we had to add it.
Another recent addition to their market bowls section is the Pomodoro Shrimp Pasta. With cherry tomatoes, spinach and basil, with toppings of prosciutto breadcrumbs, parmesan and chili. The falafel pasta, combined with the lovely tomato sauce and everything else, was heaven. It looked the part too.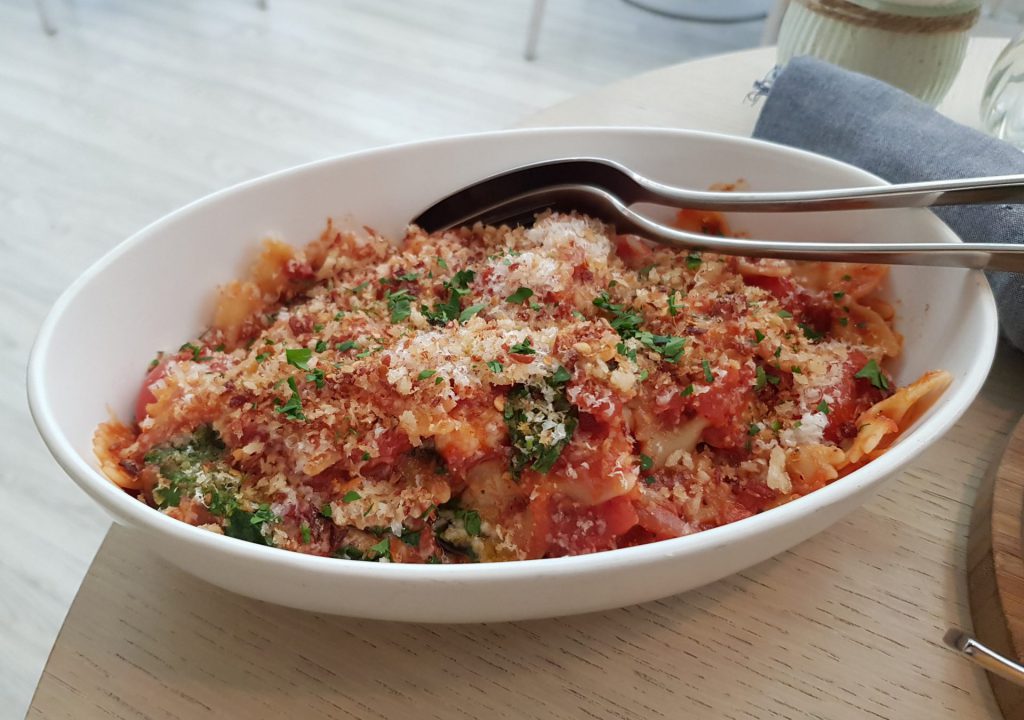 Sugar Pea Cafe have a couple of sweet brunch options also. Two types of pancakes, including Blueberry Pancakes – with a blueberry lemon compote, vanilla whipped mascarpone and maple syrup. Another very elegant plate of food, and another great tasting dish.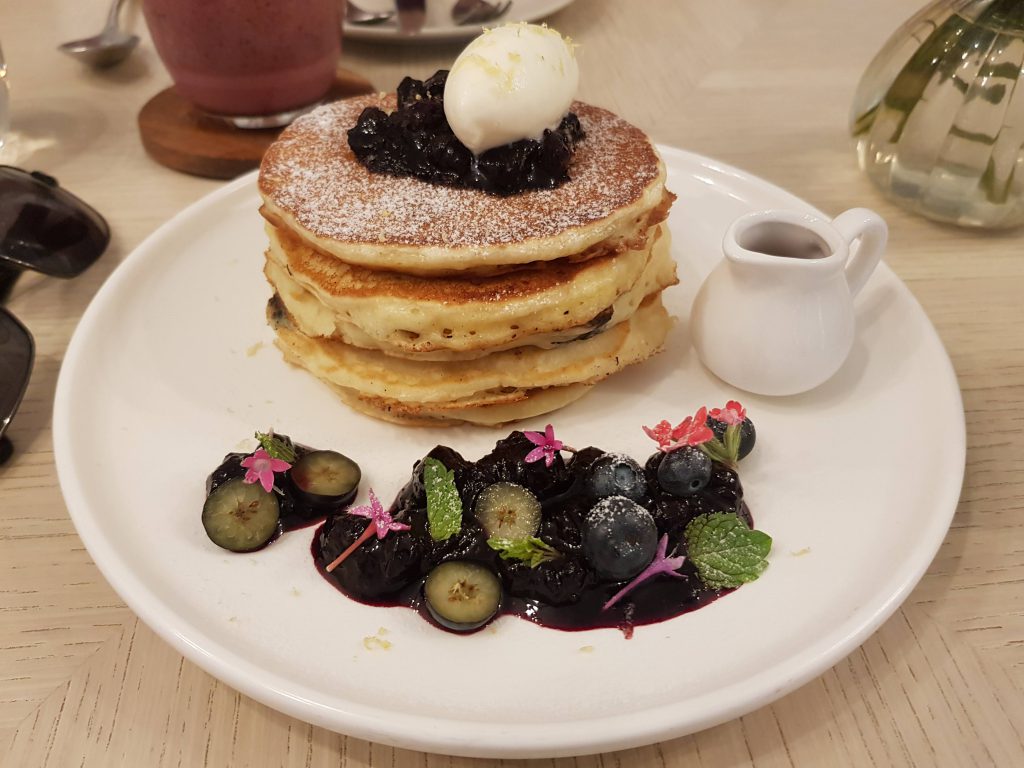 I have to give a special mention to the smoothie drinks at Sugar Pea Cafe.
The Green Piña Colada, with pineapple, spinach, coconut milk, lime, and the Tea Berry, with mixed berries, earl grey, house made yogurt and honey. Vibrant colours, silky smooth textures and a fruit taste-sensation.
Aside from their delicious food and drinks, another enticing selling point of Sugar Pea Cafe is their lovely conservatory. Located at the front of the building, it's a wonderful place to eat, although there is only room for 4 or 5 tables in here.
The rear room is much larger, and although it's no match for the conservatory, it's still a very pleasant environment to dine in.
Prices at Sugar Pea Cafe are on the expensive side, with two meal and two drinks costing upwards of NT$1,300 (with the 10% service fee) but, like they say, you get what you pay for.
One of my Top Picks!
Pros
Food tastes as good as it looks
Lovely place to dine in
Cons
Away from all the attractions
Price: $$$
Level of English: Excellent (English on menu)
Traveller Tips
Definitely advisable to book ahead at the weekend but can easily do so from here.
Location
Closest MRT: Xinyi Anhe (red line – exit 1)
Located Nearby
If you have found the information on this page helpful, please take a minute to share this post by clicking one of the links below. Your support would be greatly appreciated :)