Situated right between the Sun Yat-sen Memorial Hall, Songshan Cultural Park and the Xinyi Shopping District, Hive is ideally located to enjoy a great meal anytime of the day.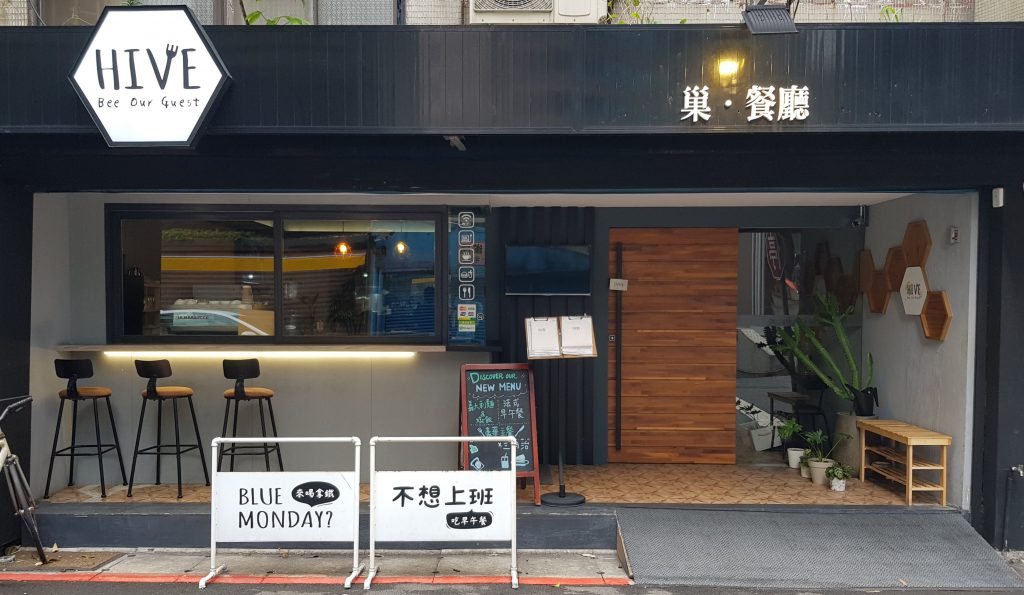 Serving brunches, lunches and dinners, we decided to check out their brunch deals. Our first visit to Hive resulted in a failure, as it was a weekend morning and they were full to the brim. This time, we booked a table from their Facebook page.
However, they didn't see the booking but fortunately we only needed to wait 10 minutes to be seated.
Not the best of starts, but the restaurant is a vibrant and modern place, and the service was prompt and unfussy.
Their lunch and brunch menus are served at the same time, so you can choose pasta or risotto dishes along with sandwiches and brunch.
I quite liked the look of their Bacon, Jamon and Confit Handmade Sausage. The description was in Chinese but my girlfriend was able to translate. Bread, a roast potato and cheesy mash is included. All brunches come with a choice of eggs too, scrambled or fried.
Presentation couldn't be faulted, and it tasted pretty great too, especially the cheesy mash, which was so silky and smooth. I wasn't too keen on the sausage however.
My girlfriend chose one of the sandwiches, the Smoked Salmon and Guacamole (which was mashed avocado). This came in a baguette with chips and greens.
Another highly creative dish, and the presentation was again top notch. Both the avocado and salmon were very good and the only thing she didn't really enjoy was the bread, as it was quite tough.
If you order any main, they will knock NT$35 off a drink. We chose the Brown Sugar Latte and Fresh Juice. Both were very nice.
Their dinner menu does have a lot of the same items on it as the lunch one, with many of the same pasta and risotto dishes, plus some extra main courses.
Since the positives far outweighed the negatives, we will endeavour to sample their dinner menu at some point.
We will bee back (I had to get a pun in here somewhere!).
Pros
Beautifully presented dishes
Cons
Didn't see my booking on Facebook
Price: $$$
Level of English: Low (Some English on menu)
Traveller Tips
Lunch/Brunch: 10:30 – 15:00
Dinner: 17:00 – 21:00
NT$35 off any drink when ordering a main
Hive Location
Closest MRT: City Hall Station (blue line – exit 2)
Related Posts
If you have found the information on this page helpful, please take a minute to share this post by clicking one of the links below. Your support would be greatly appreciated :)