Out of all the American restaurant chains in Taipei, Texas Roadhouse was one I'd yet to experience. Having been fortunate to have worked in Texas for while, I can safely say that the steaks there were the best I've tried anywhere in the world, so I was eager to see if the steaks here could compete.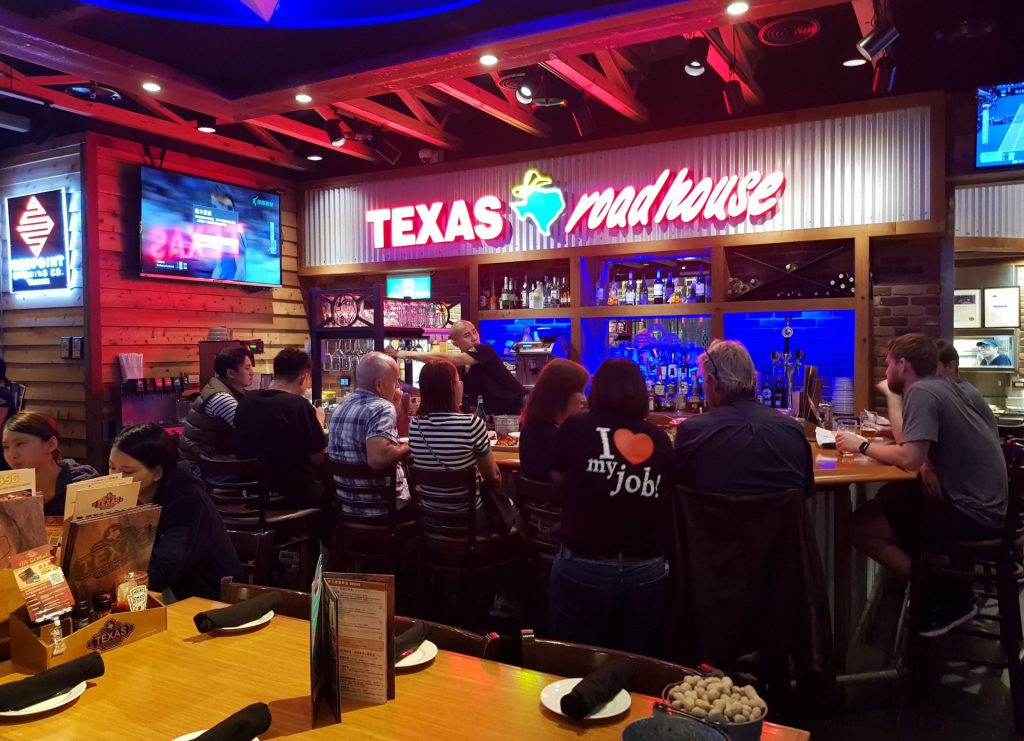 There are two branches of Texas Roadhouse in Taipei. One in Songshan, not too far from the airport there, while the other is conveniently located in the Xinyi Shopping Centre in the Breeze Songgao mall (3F). This was the one I decided to try.
Songshan

Xinyi
It's an impressive looking and inviting dining area, and the staff all love their job apparently (as stated on the back of all their shirts). Actually, the guy who served me was friendly and enthusiastic, so I'll give them the benefit of the doubt.
Upon entering, there's a fridge displaying all the cuts of meat they sell. I have to say they looked like nice slabs of beef, so my anticipation levels went a notch or two higher.
When you're seated, they'll give you a bowl of brioche-like bread and a large bucket of peanuts. The bread was still warm and quite delicious.
Texas Roadhouse don't just sell steaks, burgers and ribs. Their menu is very large, comprising of salads, fish dishes, pasta, chicken, sides and some tasty looking deserts. However, it was the steak I was here for, and the sirloin I saw in the fridge looked the best in my eyes so that's what I went for.
I'm not a big eater, so I opted for 6oz Sirloin Steak cooked medium. What came out looked very appetising indeed!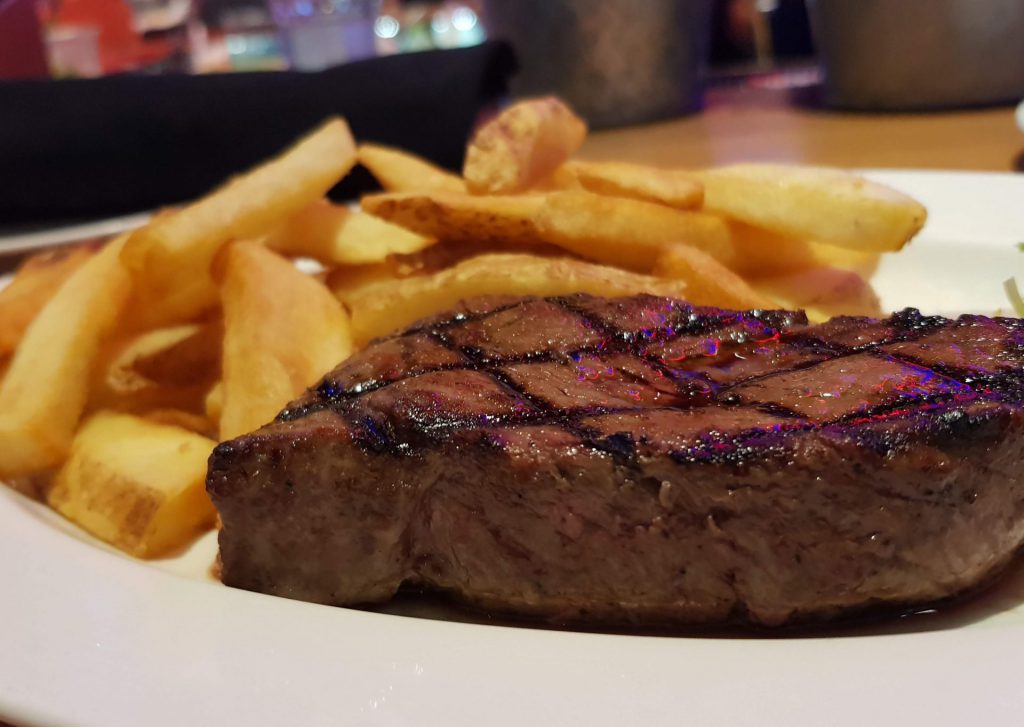 You can also choose two side dishes, of which I chose the Chips and Creamed Corn.
The steak was just to my liking, cooked exactly the way I like it – still pink but no blood. I haven't had many steaks in Taipei, but this one was the juiciest, most succulent and tastiest piece I've had here – by a mile.
The chips and corn were also on the money.
I was going to order a nice cool beer, as they have both American and Taiwan draft ales (Redpoint) on tap. That was until I saw the Margaritas. They do a classic size, and frozen ones too, but I went for the non-frozen Classic Texas-Size Margarita.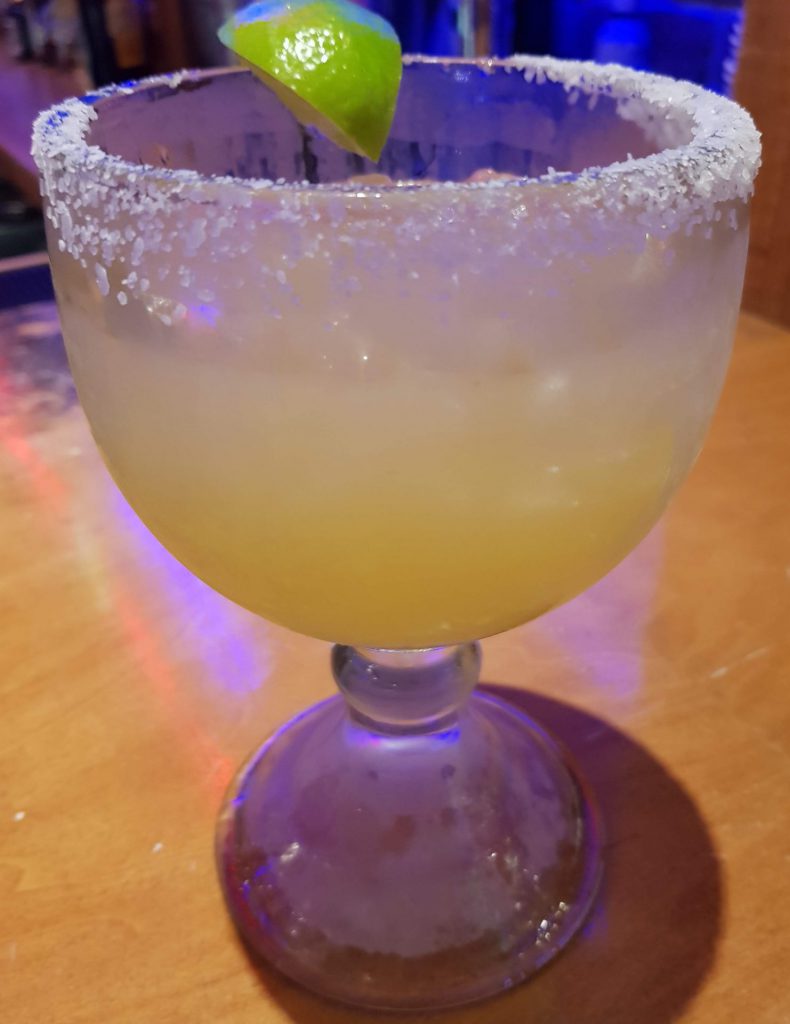 I think it contained three shots of tequila, plenty of salt around the rim, and was a very good cocktail which got me suitably drunk.
Everything came to just over NT$1,000, which wasn't too bad, although if you go for the larger steaks you could end up paying a small fortune.
All-in-all, I had a quite excellent meal and drink at Texas Roadhouse, so I will be returning, maybe to try their value lunch menu.
Menu
For their full menu, visit the menu page on their website.
Lunch Menu
Available Monday – Friday from 11:00 – 17:00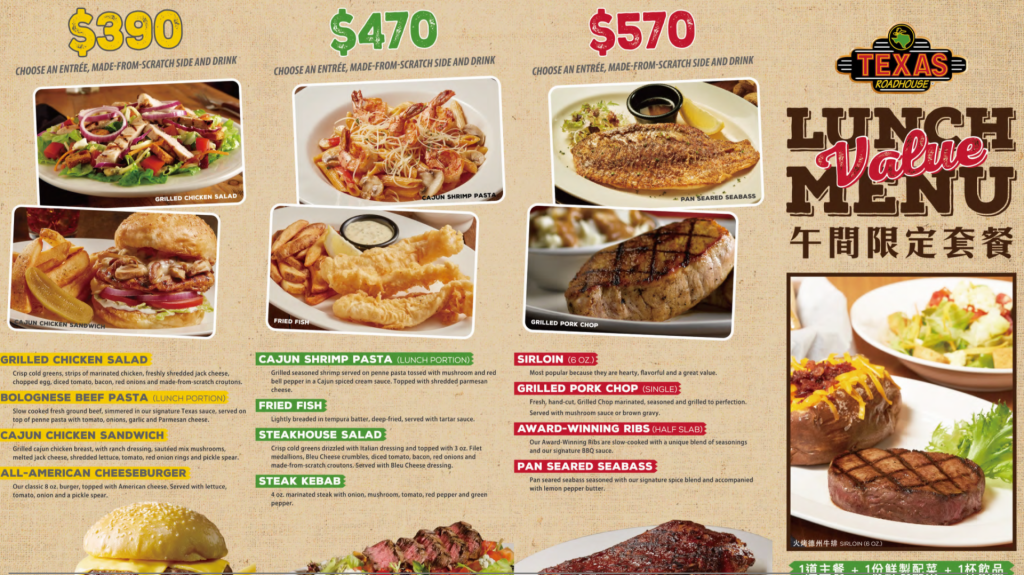 Pros
Amazing steaks
Fantastic Margaritas
Nice dining area
Price: $$$
Level of English: Excellent (English on menu)
Traveller Tips
Texas Roadhouse has a good value extended lunch menu from 11:00 – 17:00 each weekday. You can choose a main, side dish and drink from NT$390 (see menu section).
Texas Roadhouse Locations
Xinyi Songgao Branch
Closest MRT: City Hall (blue line – exit 3)
Floor 3 of Breeze Songgao
Songshan Branch
Closest MRT: Zhongshan Junior High School (brown line – exit 1)
If you have found the information on this page helpful, please take a minute to share this post by clicking one of the links below. Your support would be greatly appreciated :)