It's approaching that time of year again. Christmas is drawing closer, and Taipei chooses to celebrate the festive season by lighting up parts of the city.
There are 5 main areas in Taipei (and New Taipei City) where you will be able to view the Christmas Lights from mid November until early January.
---
Banqiao
New Taipei's lights extravaganza returns for another festive holiday season. Christmasland in New Taipei City graces Banqiao's Citizen's Square. This year will have themes from the popular Marvel, Disney and Pixar franchises, but the beloved Christmas bears from years past make an appearance as well.
Christmasland's installations run along the walkways and plazas from Banqiao to the next MRT station, Fuzhong, about 1 kilometer away. The main events take place in Citizen's Square, a sprawling plaza in front of New Taipei City Hall itself.
Here's what's new this year:
Banqiao Station Front: The front of the station hosts a "fairy woodland" Christmas market, with snacks, drinks, and games for visitors to enjoy. With a fairy-tale castle as the centrepiece, the square also features light-up seesaws, a small garden maze for children, and rides on a gingerbread train.
Citizen's Square: The main light display takes place in Citizen's Square, where a five-minute light show is projected onto City Hall itself. Starting at 17:30, the light show runs every half hour and features a laser and lights show accompanied by classic Disney songs. The square is filled with more vendors, games, and plenty of sparkling lights. The centerpiece is a four-storey Christmas tree, complete with a train running around the perimeter.
Overpasses: The New Taipei City Hall area is connected by a series of eight pedestrian bridges which cross all the major intersections, making the event extremely walkable. The overpasses are covered in colored lights, making for dazzling photo ops.
Department stores: Banqiao is a shopper's paradise, with Mega City, Far Eastern, and Global Mall department stores all decked out for the occasion. Global Mall's Instagram-worthy setups – located near the newly opened circular line station – make for fun portraits, while outside Mega City are carnival rides for kids to enjoy.
Fuzhong: Banqiao's "East District in miniature," Fuzhong is an up and coming trendy shopping area, and it too gets in on the Christmas fun. Christmas-themed art installations illuminate the area, making it festive and bright.
Other special events will also take place here, such as singing contests. The German Christmas Market that can be found at the Expo Park (see below) will also be coming here from 15th to 17th December.
It does get very busy at the Christmasland Light Festival, especially over weekends. Weekday nights are best for avoiding crowds.
Masks are strongly recommended for this event.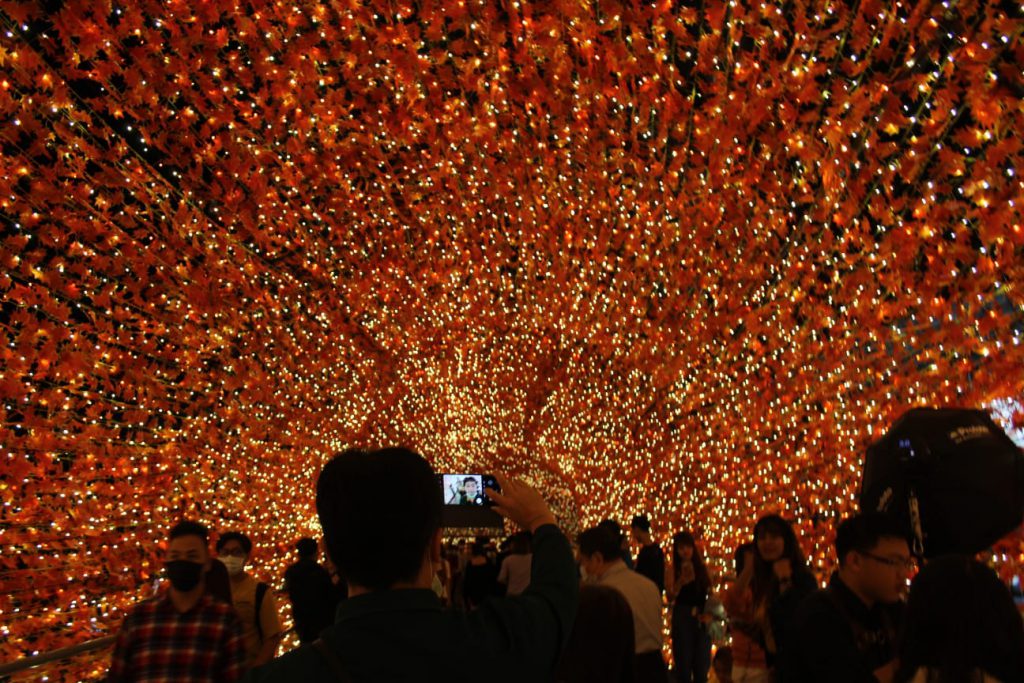 Website
2023 Dates
17th November until 1st January
German Christmas Market here between 15th and 17th December.
If you're just going for the lights, the show starts at 17:30 and ends around 21:30.
The station front market and parts of Citizen's Square open from 11 AM.
Christmas Lights Location
Banqiao Citizen Square and surrounding areas
Closest MRT: Banqiao (blue line – exit 2)
---
---
Xinyi Shopping District
The Xinyi Shopping District usually looks quite special at night, so with the addition of the Christmas lights it looks extra special. As with previous years, a large part of the district is lit up with festive lights and there's a huge tree in Xiangti Avenue Plaza.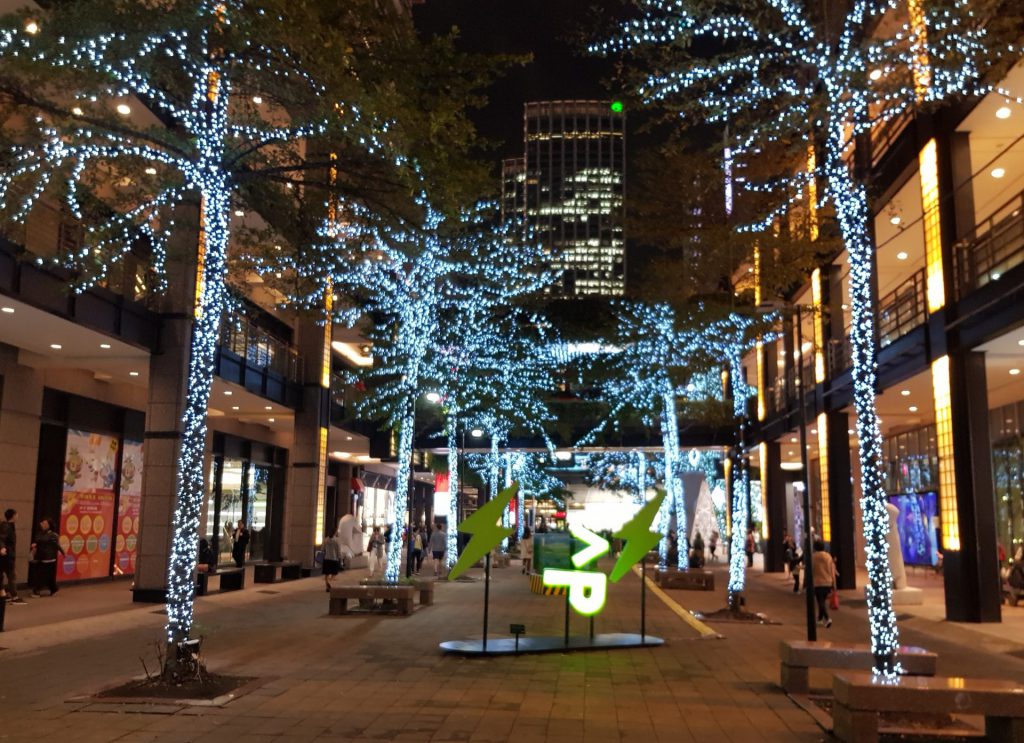 The annual New Year's Eve fireworks extravaganza will be taking place as usual around Taipei 101 to mark the beginning of the Gregorian New Year. With concerts and markets around the area will help make this yet another awesome event.
2023 Dates
Main Lights
Mid November until early January
Taipei 101 Fireworks
New Years Eve
Christmas Lights Location
Xinyi Shopping District, including Uni-UStyle mall and Taipei 101 Mall
Closest MRT: City Hall (blue line – exit 2)
---
Expo Park
The Taipei Expo Park, located in the Yuanshan district of Taipei, will this year be hosting a German Christmas market. For only 3 days in early December, there will be German-style food and beverages, including German-style sausages, BBQ, beer and mulled wine.
Stalls will sell German branded goods and there will be many activities taking place, and plenty for kids to do.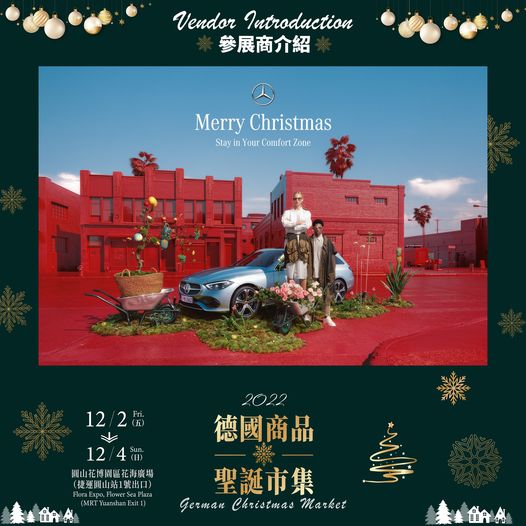 Website
2023 Dates
01 – 03 December
11:00 – 21:00
Christmas Market Location
Taipei Expo Park
Closest MRT: Yuanshan (red line – exit 1)
---
Nanxi
The Nanxi area of Taipei, located by the Zhonshan MRT station, this year features a large number of impressive light displays.
When you leave the MRT station at exit 4, you can walk north above the metro mall all the way to the Shuanglian MRT station to see the lights. There is also a small market in the square where the Christmas tree is, selling some nice handmade crafts (only on weekends).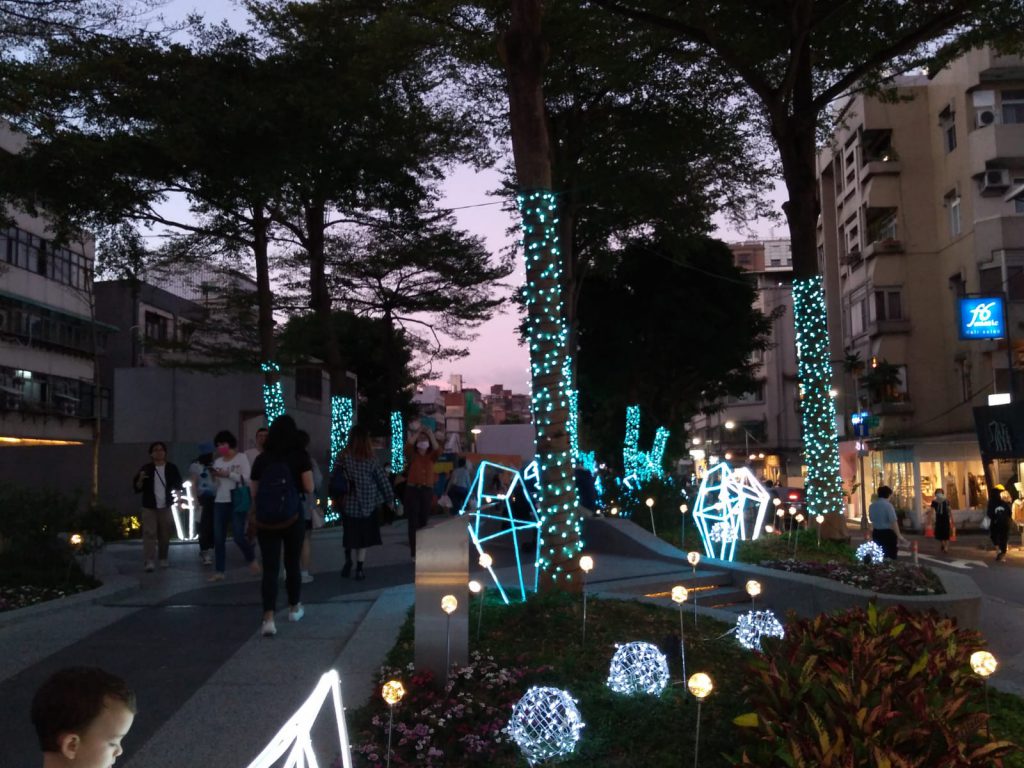 Website
N/A
2023 Dates
Late November until early January
Christmas Lights Location
Nanxi
Closest MRT: Zhongshan (red line – exit 4)
---
Danshui
If you don't mind travelling further afield, then Danshui, in the northern part of New Taipei City, has some great Christmas light displays.
Mainly found within Danshui Old Street and along the riverbank, there are many fantastic displays, including a light tunnel and the old locomotive not far from the MRT station being lit up in a festive display.
I'm unsure of the exact dates these will be lit up, but the 2018 lights were from mid November until January.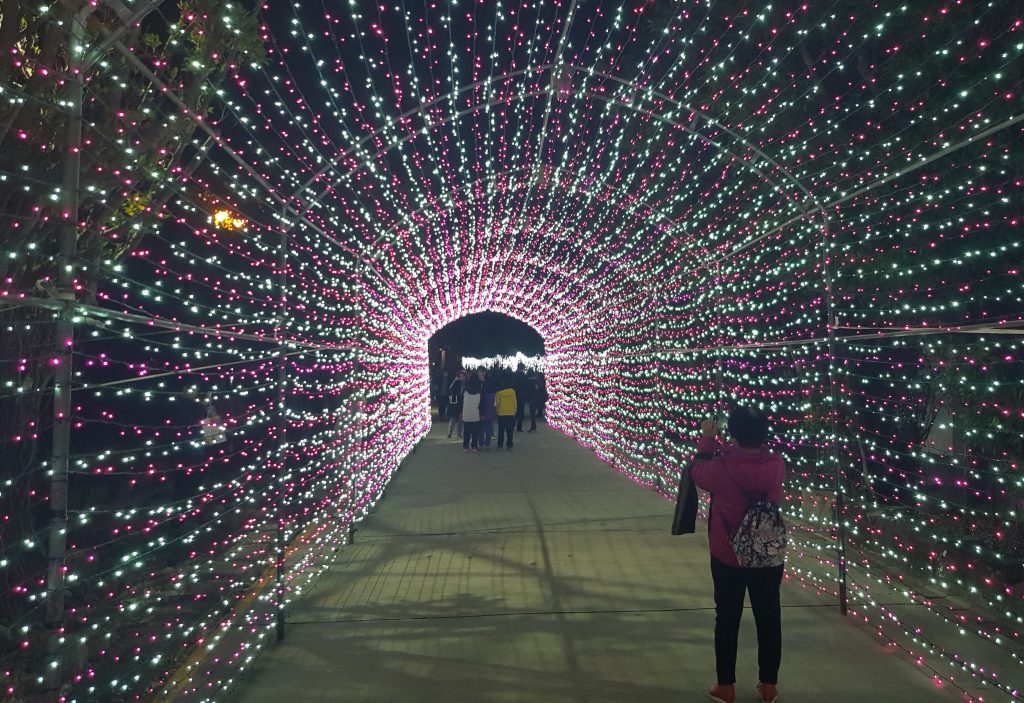 Website
N/A
2023 Dates
Mid November until 1st January
Christmas Lights Location
Danshui Riverside and Old Street areas
Closest MRT: Danshui (end of red line – exit 1)
Related Posts
If you have found the information on this page helpful, please take a minute to share this post by clicking one of the links below. Your support would be greatly appreciated :)