The Yuppy Bookstore Cafe, (aka Art Reading Cafe) is a restaurant/cafe that doubles as a live music venue and lecture/film screening room. Found close to Zhongxiao Fuxing MRT on the third floor of a hotel, it really does feel like you're entering into a world of films and literature.
The entrance has been styled to reflect the lobby in Wes Anderson's Grand Budapest Hotel. Certainly one of the best and more unique entrances in Taipei.
Walking into the long main room, you're greeted by the March Hare and many antique furnishings of all shapes and sizes imported from Europe. It's a very impressive room that teems with an opulence and richness rarely matched in Taipei.
Many elegant old lamps, clocks and other strange and wonderful objects adorn all parts of the room.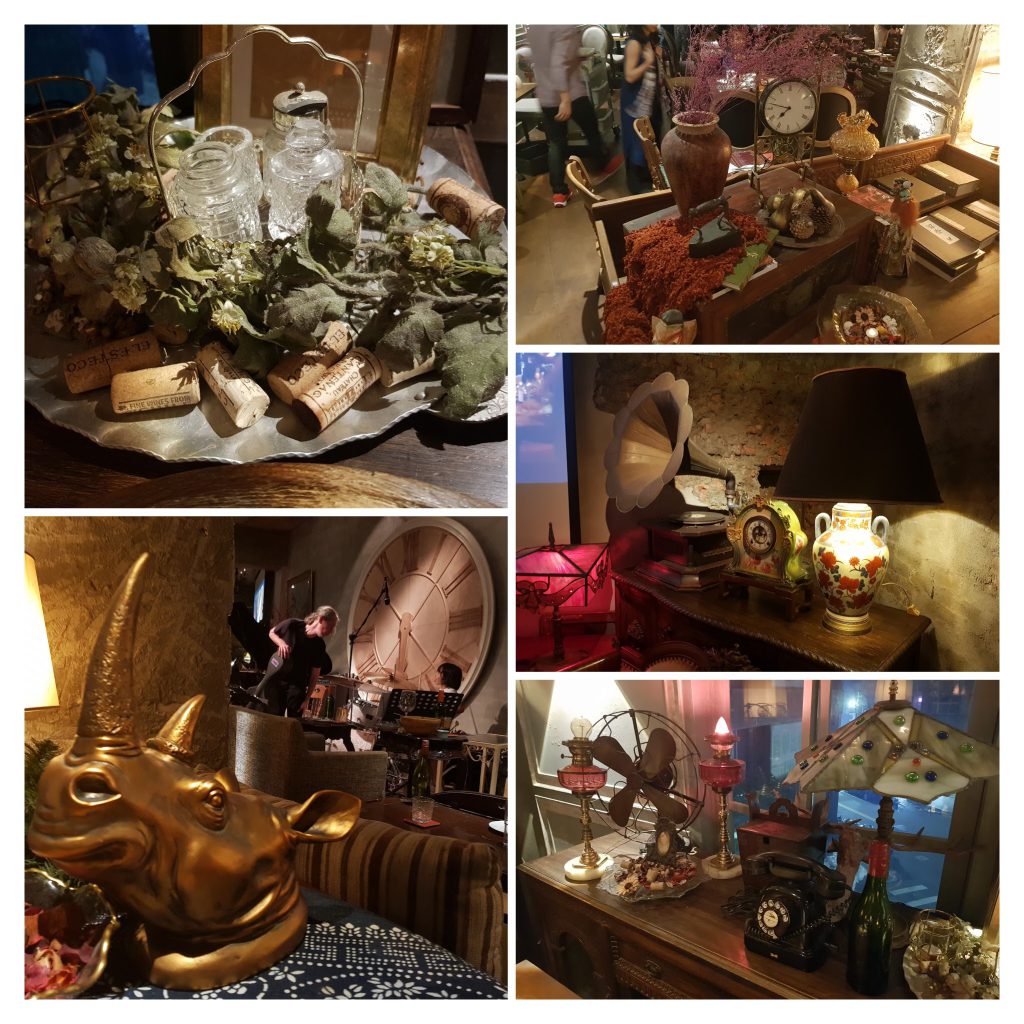 There are events here most nights, with lectures and film screenings, but it's the music you should come here for.
With mainly jazz bands playing, some coming from as far afield as Columbia and France, they attract some of the most talented jazz singers and musicians seen in Taipei.
The sets consist of jazz covers with some original songs thrown in. The three acts we've seen so far were all highly accomplished. The singers adept at many different styles of jazz, and all the musicians were masters of their instruments of choice.
When bands are playing, there's an entrance fee of around NT$400 each, and each person will also need to spend at least NT$400 on food and/or drinks. The food isn't the reason you should come here though. The pasta dishes we had were very hit and miss, although the seafood and Thai curry pastas were perfectly acceptable.
There are many wines available to drink. We're not really wine drinkers, but luckily they also have a great selection of Belgian beers.
You must arrive at 18:00 sharp to order and consume your meals before the acts start at around 19:30. The stage is obscured from some tables but they do have two large screens with a live feed of the stage.
The music normally lasts for 90 minutes with a break in the middle, and by the end of the night the performers we saw had the entire audience in the palms of their hands.
Booking well ahead is definitely advised, especially if you want a good table and avoid the ones behind the pillars. We've already booked the next act!
Pros
Delightfully decadent room
High class performers
Great selection of Belgian beers
Cons
Food is average at best
Stage not visible from all seats
Price: $$$$
Level of English: Good (English on menu)
Traveller Tips
Upcoming events found here.
Location
Closest MRT: Zhongxiao Fuxing (blue/brown lines – exit 1)
Located Nearby
If you have found the information on this page helpful, please take a minute to share this post by clicking one of the links below. Your support would be greatly appreciated :)