ACME Breakfast Club has now relocated to within the Taipei Performing Arts Center in Shilin, under the new name ACME|Cafe Bar & Restaurant. They are still serving their delicious brunches!
We've been meaning to try the ACME Breakfast Club for some time now, ever since it came under our radar when we saw the delightful looking pictures of their food on Google.
All I can say is, we wish it hadn't taken us so long. The food here tastes every bit as good as it looks!
Located in Ximending, on the third floor of a building tucked away down a side street, we were hoping to book a table here as it's unclear from their website if this is possible.
Unfortunately, no reservations are allowed, and we were told that there's normally a wait.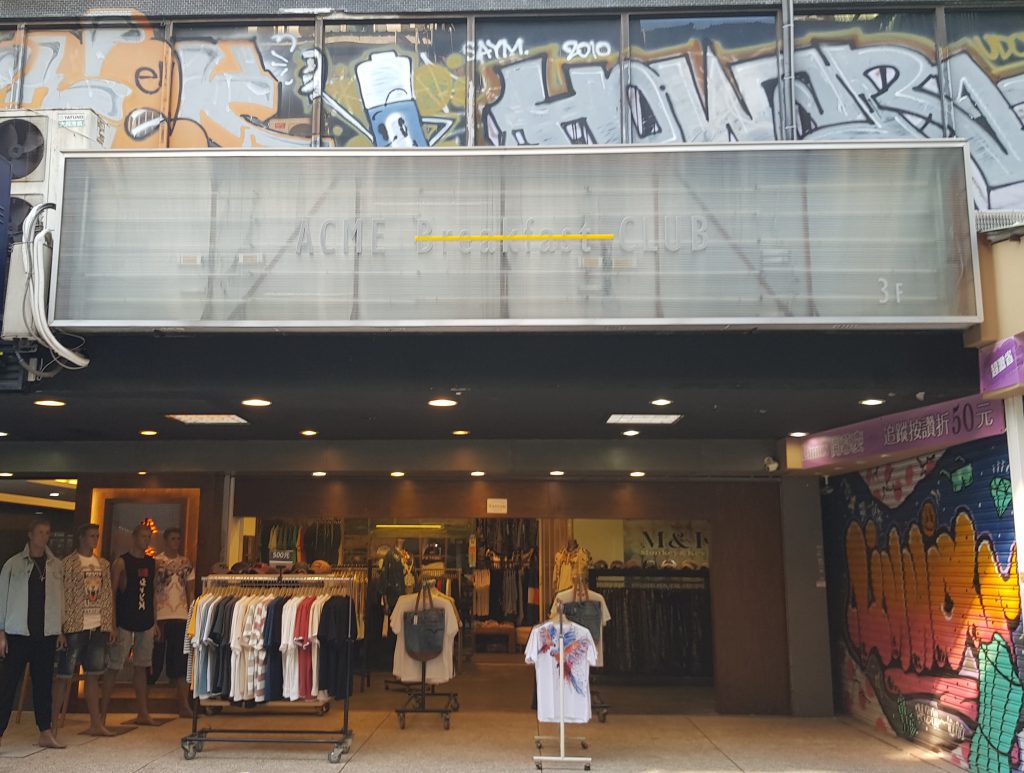 When we arrived (about 13:30), there were two groups in front of us and we were told it would be about a 30 minute wait. We had plenty of time so this wasn't a problem, and it gave us enough time to decide what to have.
Their menu isn't huge, but there are so many inviting dishes it took us the full 30 minutes to choose.
We were going to try their set meal for 2, which includes two meals, fries, desserts and drinks, but this seemed a little too much.
I opted for the Tuna Patties with Eggs Benedict and Smoked Salmon. Boy was I happy with my choice!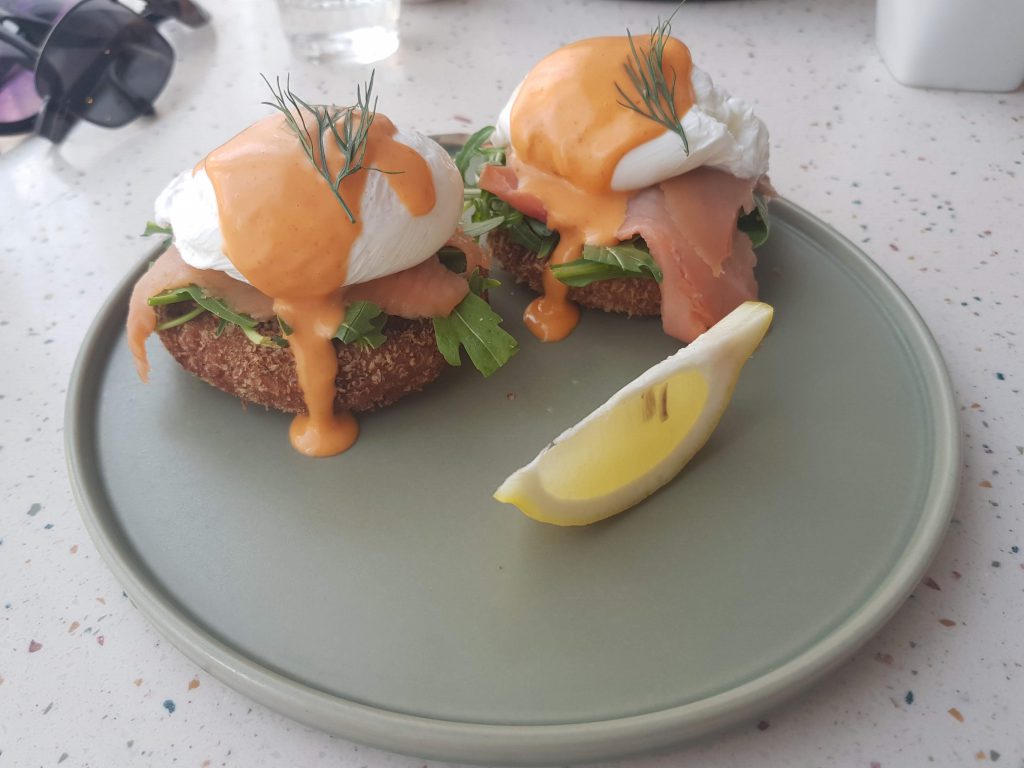 The tuna patties reminded me of fish cakes, crispy on the outside and a soft centre. Combined with the perfectly poached eggs, salmon and Hollandaise sauce, it was by far the best eggs Benedict dish I've had in Taipei. Up there with the best breakfast dishes I've had here.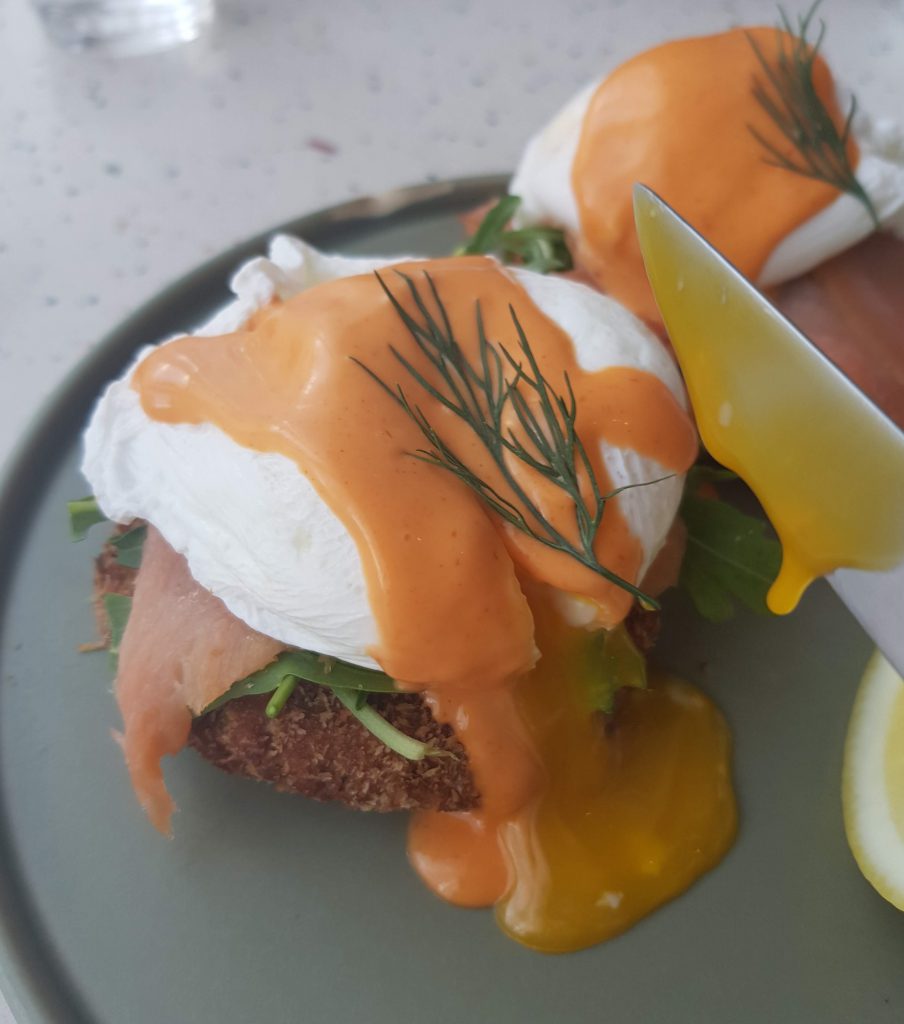 My girlfriend chose the Seared Chicken Breast Salad Bowl. Coming with grilled pumpkin, lettuce, tomatoes, a boiled egg and a pesto sauce, it was another cracker.
The sauce was so good we were going to ask them how it was made. The only ingredient we thought was astray were the raspberries – they really didn't belong here, but just a minor quibble.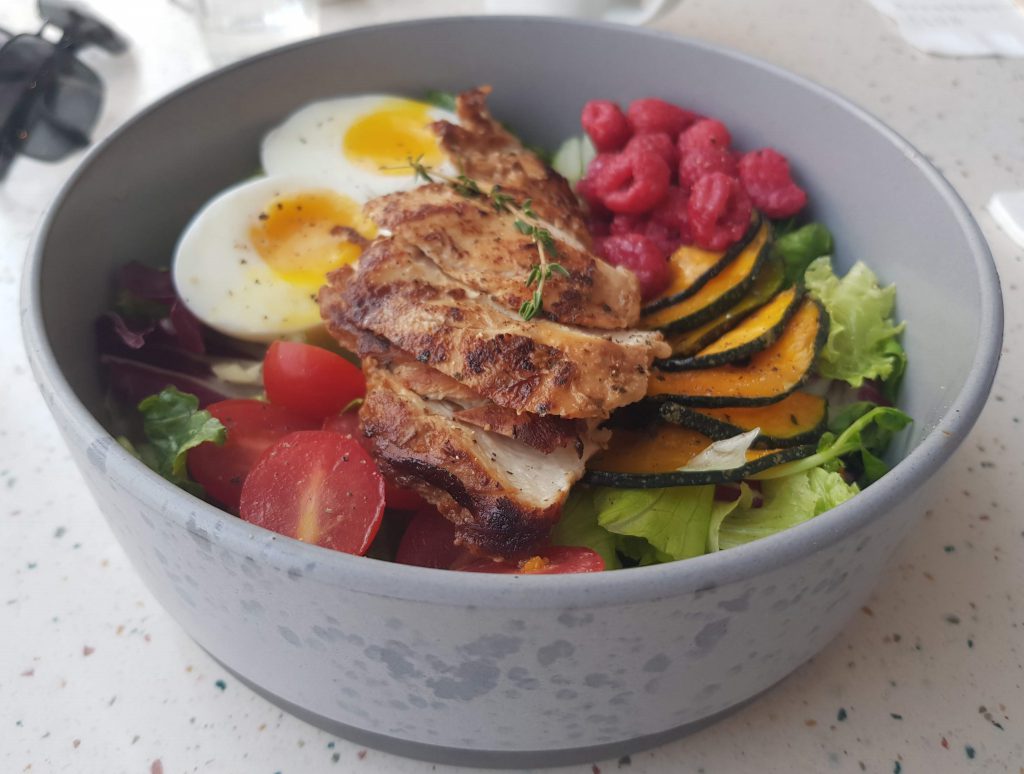 These were the two most expensive items on their menu, at NT$340 each but were totally worth the money!
We have since revisited ACME Breakfast Club to try a couple more of their dishes to see if they could reach the dizzy heights of these.
The Mashed Avocado Toast with Poached Eggs was the one that took my fancy. Another very handsome plate of food, again perfectly executed, with the rich egg yolk coupled with the soft avocado mash and toast a winning combination.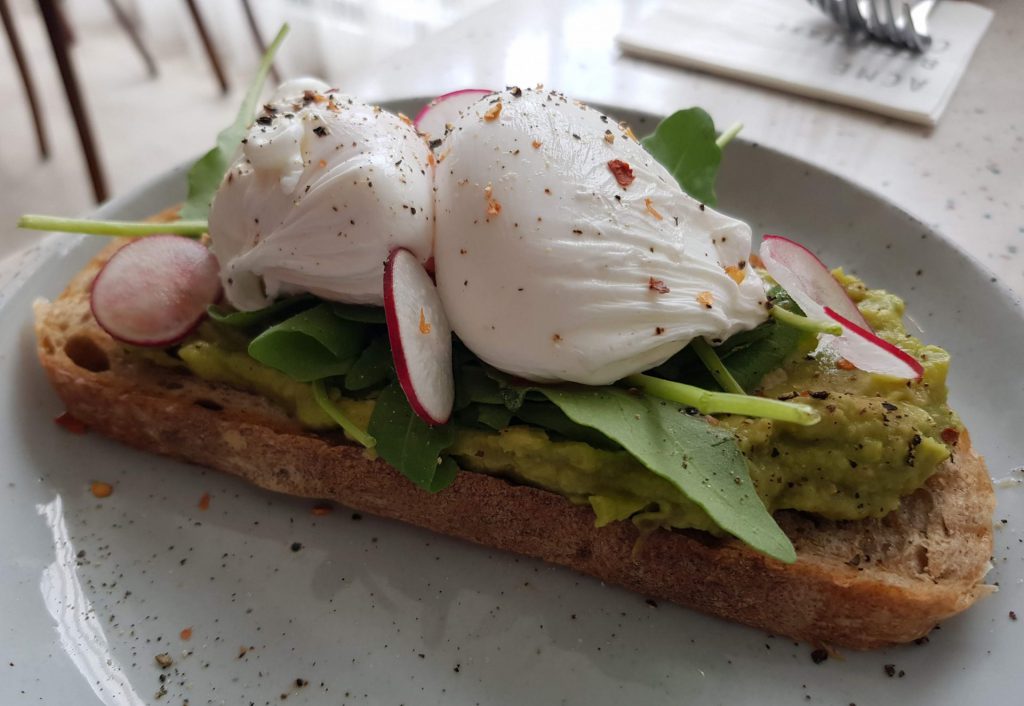 Although their menu is mainly savoury, there are 3 sweet brunch options available. The Acai Smoothie bowl was a tempter, but French Toast with Fresh Figs and Strawberries was the one we chose.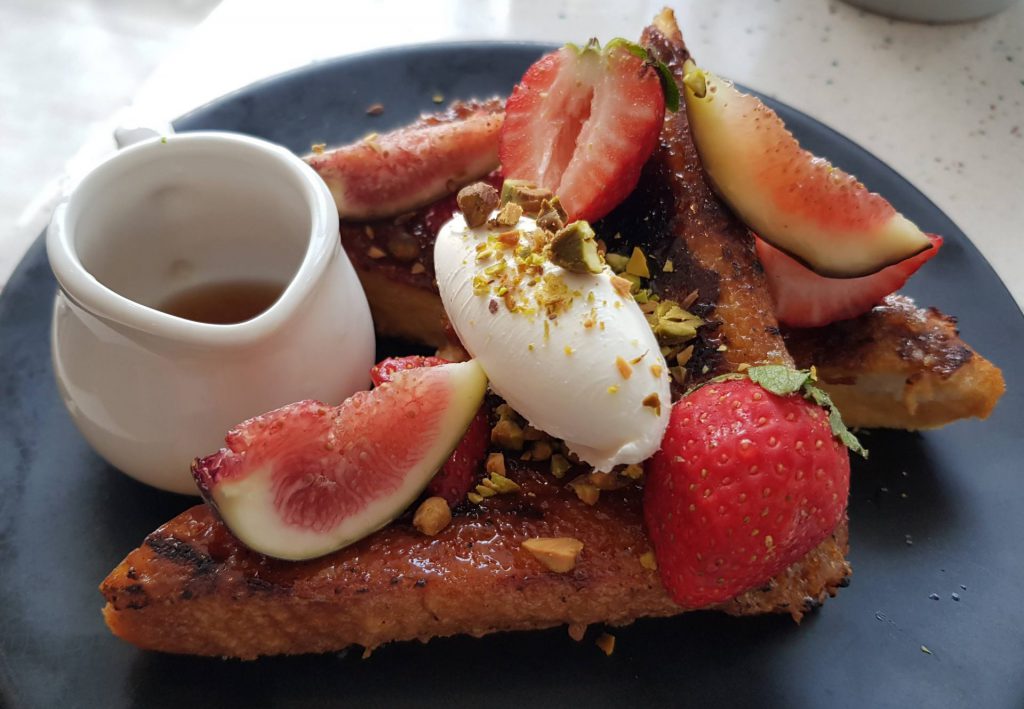 The presentation, like with all the dishes was immaculate. We were really hoping it would taste as good as it looked, and you know what? It did! The best French toast we've tried in Taipei, soft in the middle, slightly crispy on the outside and deliciously sweet. Combined with the syrup and the sweet fruit and a sprinkling of pistachios, it's definitely only for those with a very sweet tooth. But it was a crackerjack!
Since the ACME Breakfast Club is an all day breakfast place, their drinks include alcoholic ones such as beers, ciders, cocktails and wines. These all look very tempting but it was too early.
We went for the Hot Ginger Sugar Latte and Mixed Berries Yogurt Smoothie. Juices, teas, milk shakes and others are available. My smoothie was smooth and fruity, and the latte had a hint of ginger (maybe we were looking for more of a kick?).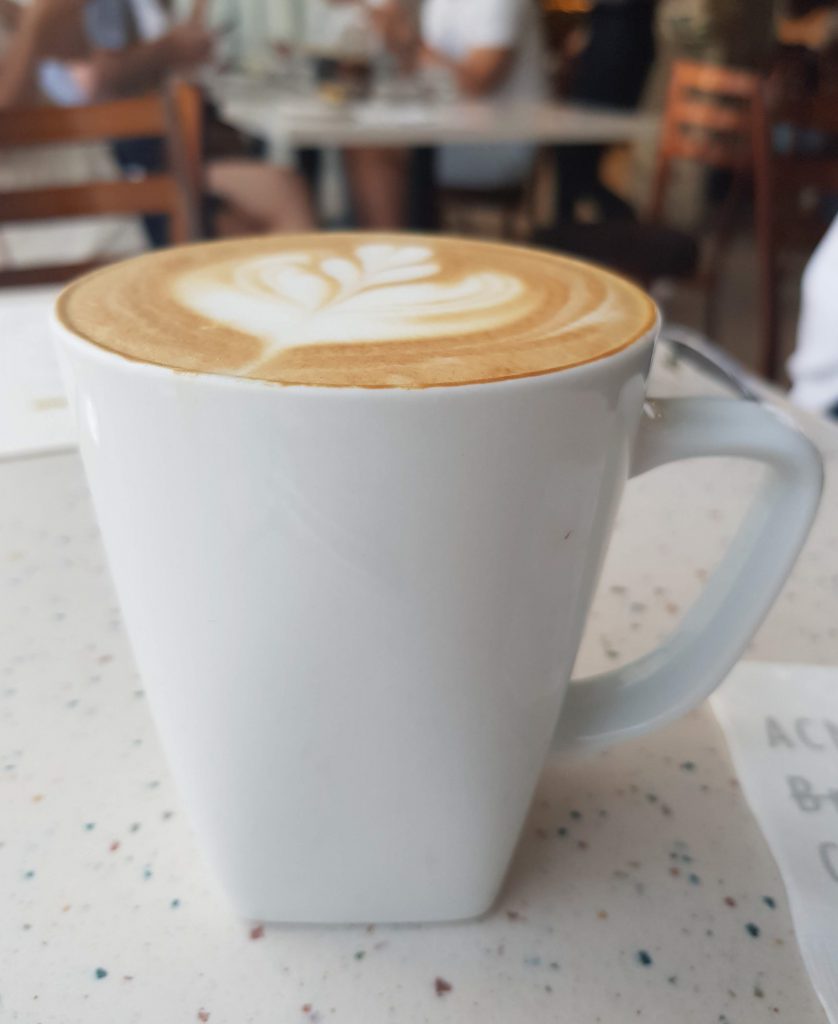 All the ingredients at the ACME Breakfast Club are internationally sourced. We saw that they used some of the best Greek yogurt for the smoothie, and it was clear from our meals that the produce was all top grade.
Like I said, we've already been back here since and will no doubt be coming a few more times to give most things on their menu a try, and maybe even try a couple of their alcoholic drinks.
ACME Breakfast Club is up there with the very best brunches we've had in Taipei, and is a club you should definitely join!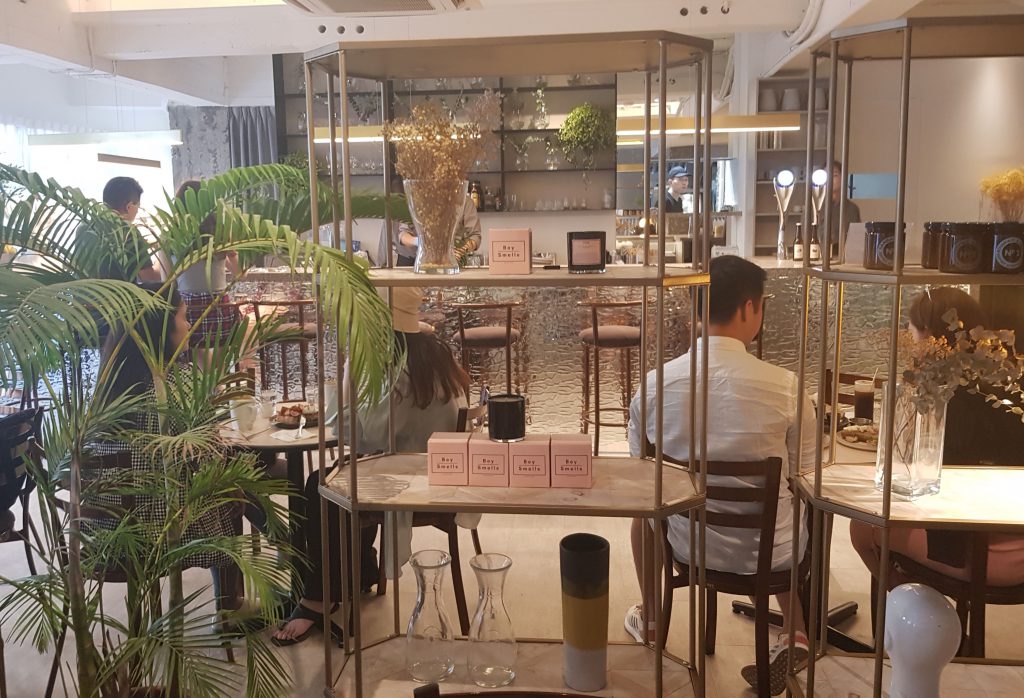 Pros
Food tastes as good as it looks
Airy and inviting room
Price: $$$
Level of English: Excellent (English on menu)
Traveller Tips
Try their set menus for 2 or 4 people (see menu section).
Closed on Tuesdays
ACME Breakfast Club Location
Closest MRT: Jiantan – Red line (exit 1)
Located Nearby
If you have found the information on this page helpful, please take a minute to share this post by clicking one of the links below. Your support would be greatly appreciated :)