Perfect For
Shopping
Restaurants
Bars and Clubs
Walking
---
Overview
If you want to spend the whole day shopping, by far the best area to visit in Taipei is the Xinyi shopping district next to Taipei 101. The district now has the highest density of shopping malls in the world, with no less than 14 malls.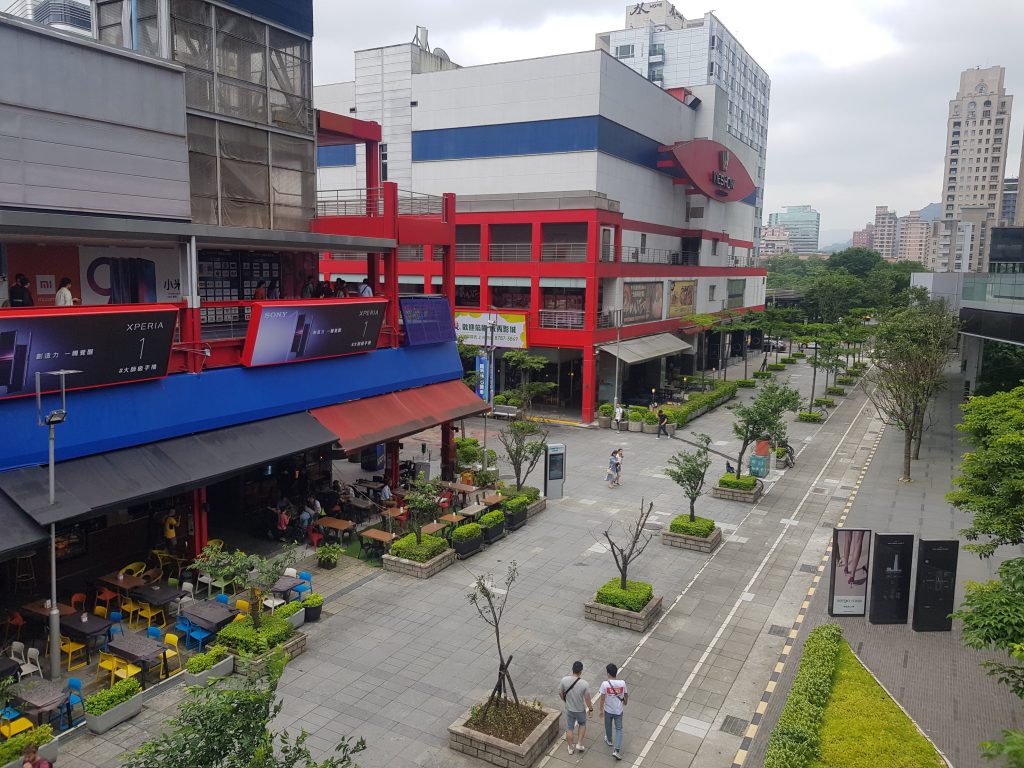 Additionally, there's no shortage of restaurants, bars and clubs in the district. It is however one of the most expensive places to shop and dine in Taipei, although there are still bargains to be had. I have been here dozens of times, and I still get lost. It can be quite daunting if you don't know your way around.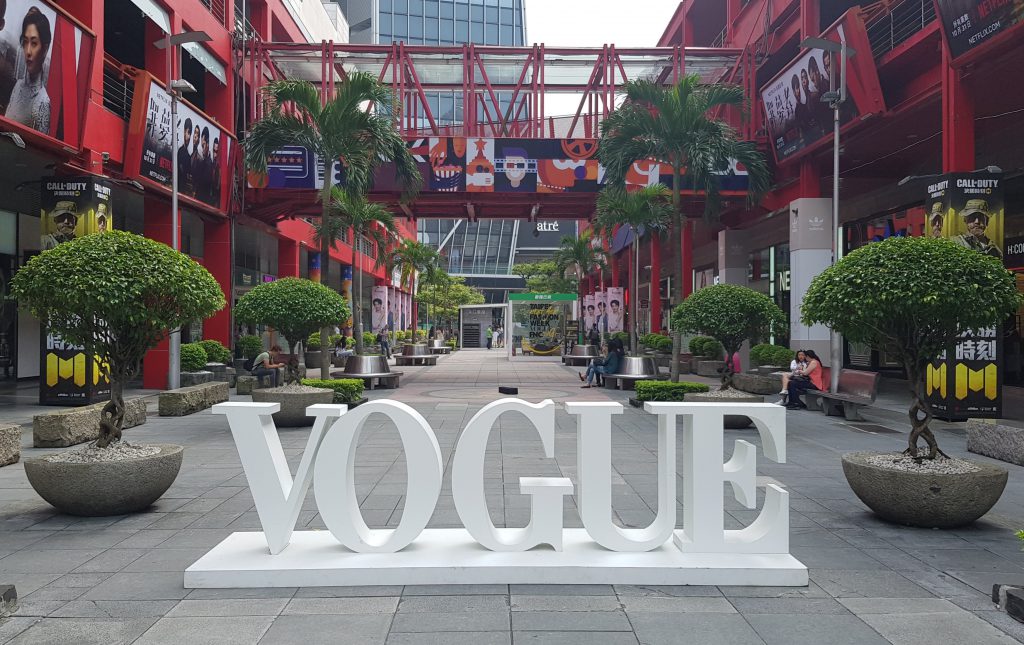 You can choose your starting point from either the south, at the Taipei 101 MRT station (red line) or the north, at the City Hall MRT station (blue line).
There are walkways above or below ground connecting the entire 1km area, and most of it is pedestrianised.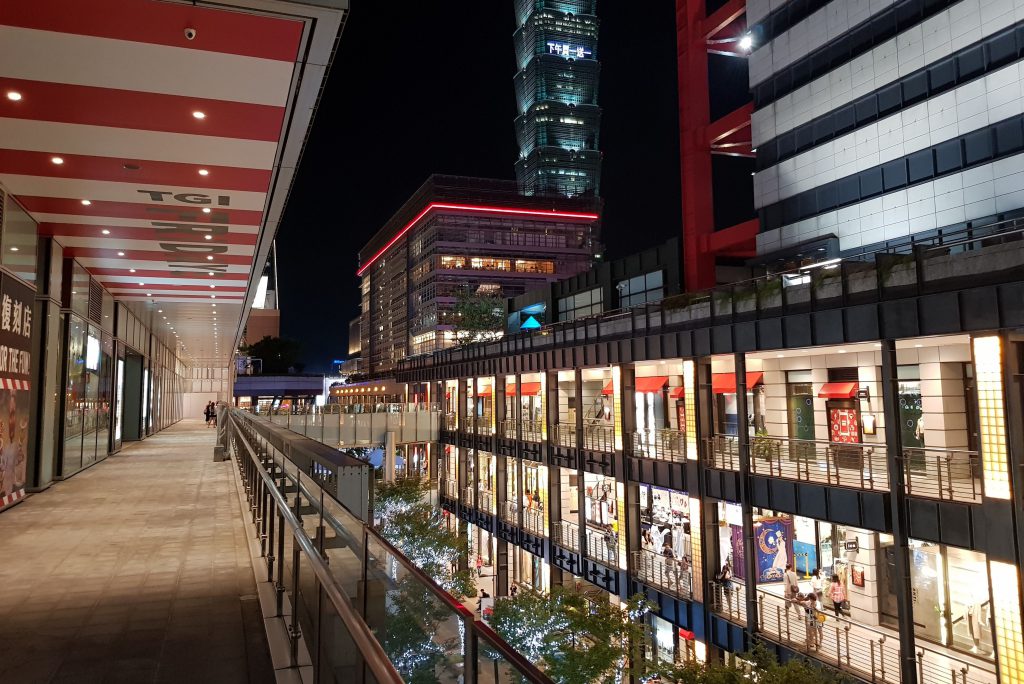 The best time to visit the Xinyi Shopping District is during a weekend evening, as it's a lot more vibrant and there are loads of street performers. Also, the district looks beautiful when it is lit up.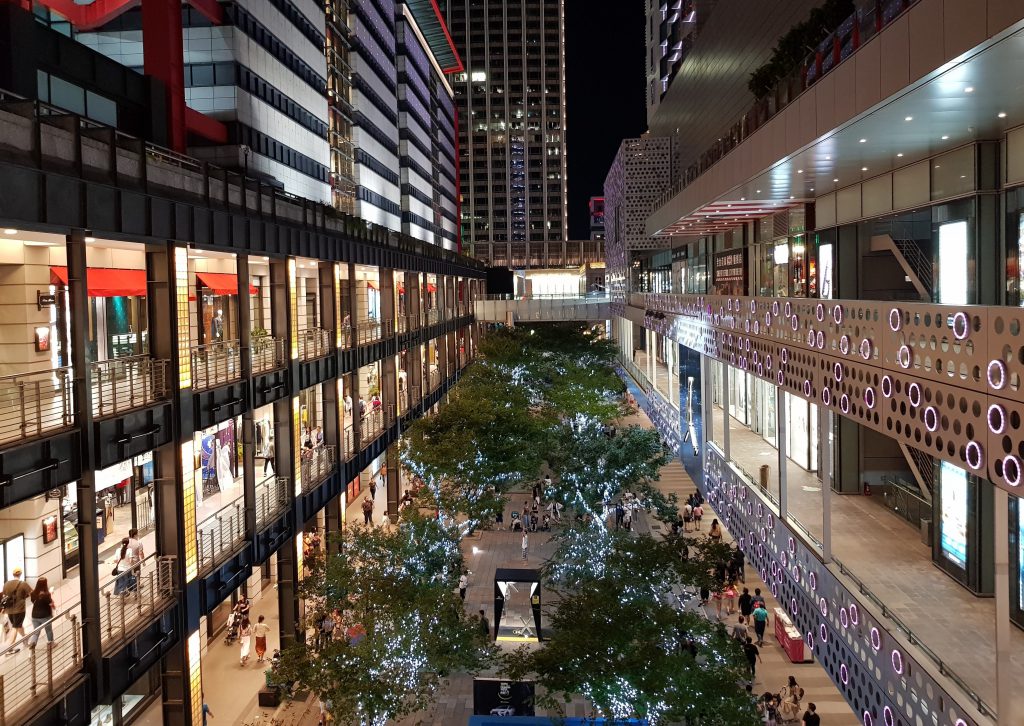 ---
Map
---
Xinyi Shopping Malls
The shopping malls located in the Xinyi shopping district are (from South to North):
* Recommended; ** Essential
Mall
Floors
Food Hall
Features
Shops
Location
Taipei 101 **
6
B1
Din Tai Fung
VAT Refund Desk
High-end
Mid-range
here
Breeze Nanshi **
12
B1 & B2
Outdoor Terrace
VR Ride
Sky restaurants on 46F – 48F
Original Shops
here
ATT for Fun *
10
2F
Cinema
VR
Nightclubs
Youth
here
NEO 19
5
–
Nightclubs
Cigar Bar
Sports
here
Shin Kong A9
11
–
Tax Refund Desk on B1
High-end
here
Shin Kong A11 *
8
B2
Tesla
Legacy Max
Mixture
here
Shin Kong A13
9
–
Din Tai Fung
Nice dining area on 3F
Mixture
here
Breeze Songgao
6
–
NBA Store
Sports
Fashion
here
Shin Kong A8
9
B2
Slide
Kids area on roof
Mixture
Kids
here
Bellavita *
5
B2
Lux mall
Designer
here
Shin Kong A4
8
B2
Din Tai Fung
Mixture
here
Eslite **
8
B2
Bookstore
Books
Music
Gifts
here
Breeze Xinyi
8
–
Sky restaurants on 45F – 47F
Homewear
Mixture
here
Uni-UStyle
6
B2
Outdoor Area on 2F
Starbucks flagship store
Mixture
here
Some malls also have Tax Refund Desks which can be used to claim 5% back on purchases over NT$2,000.
Probably the only store not located inside a mall is Apple's new ultra-modern flagship store.
Click here for my full guide on the Ximending Shopping District
---
Food & Drink
Most of the malls have their own food courts (see table above), and there are restaurants, cafes and bars found inside the malls – a few with outdoor seating.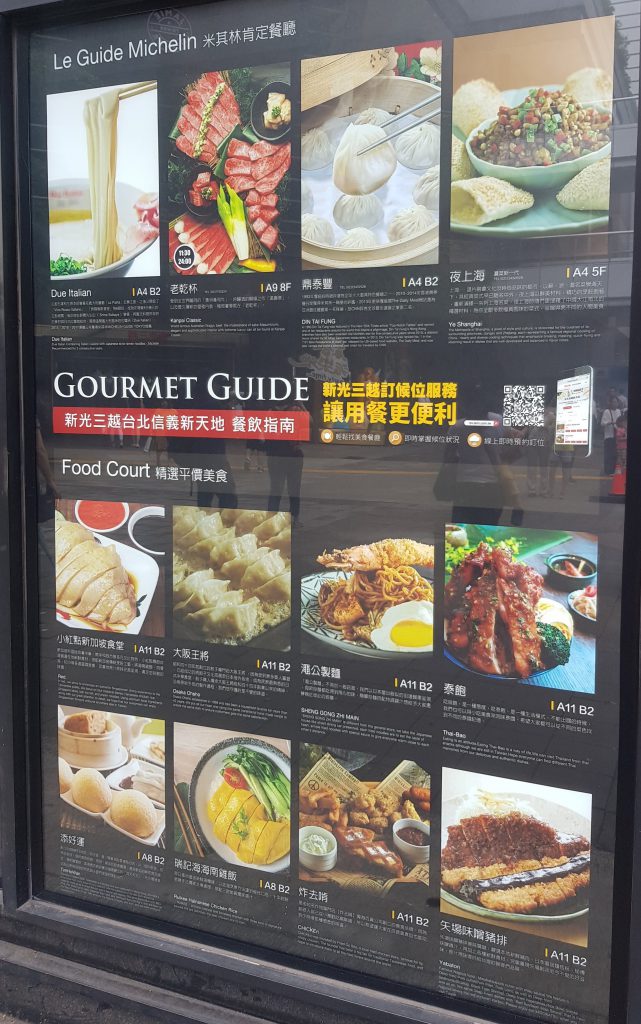 Food Courts are a good choice if you're not sure what to eat or if you're on a budget. You'll mainly find Asian food in these, but they're cheap and usually a good standard.
The Taipei 101, Eslite and Shin Kong A11 food malls are my personal favourites, although the Bellavita mall also has some great places (albeit slightly more expensive).
The most recent mall to open in December 2019, the Shin Kong A13 also has a nice dining area on 3F.
If you want to try some Taiwanese food, then I would recommend going to Din Tai Fung, the world renowned restaurant chain.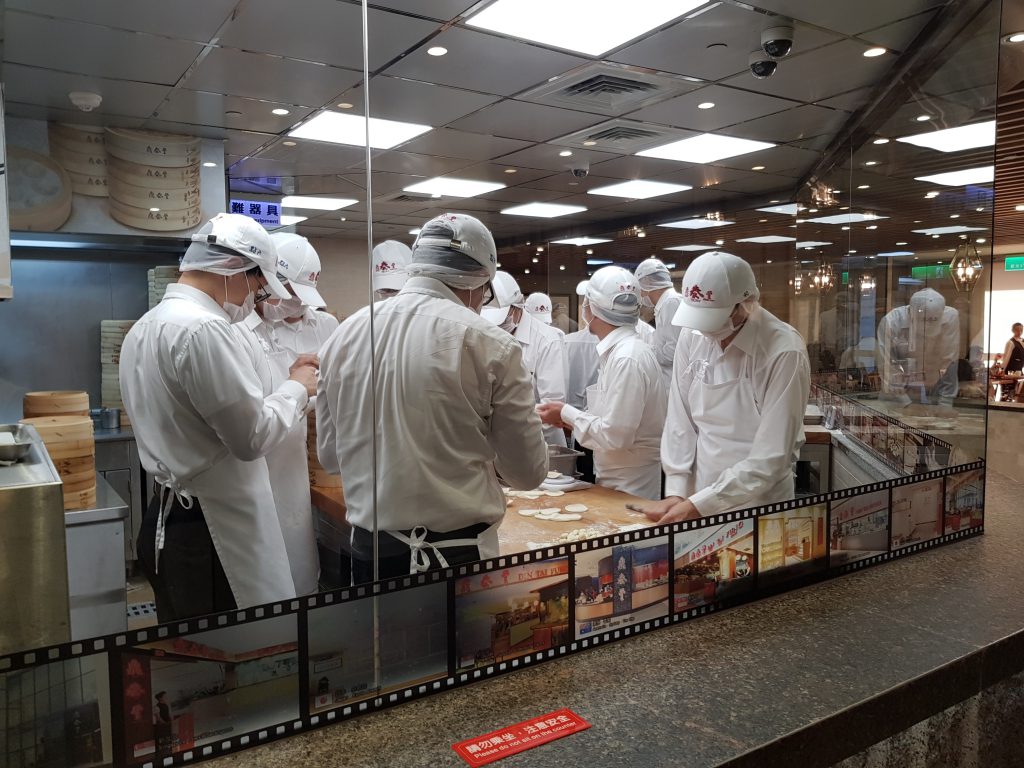 There are now three located in this area – one in the basement of the Taipei 101 mall, and the other 2 located inside the Shin Kong Mitsukoshi A4 & A13 malls. These branches are usually less busy than the 101 branch.
If you're here early and looking for some breakfast/brunch, look no further than The Diner – one of the best breakfast spots in Taipei, located within the ATT For Fun mall.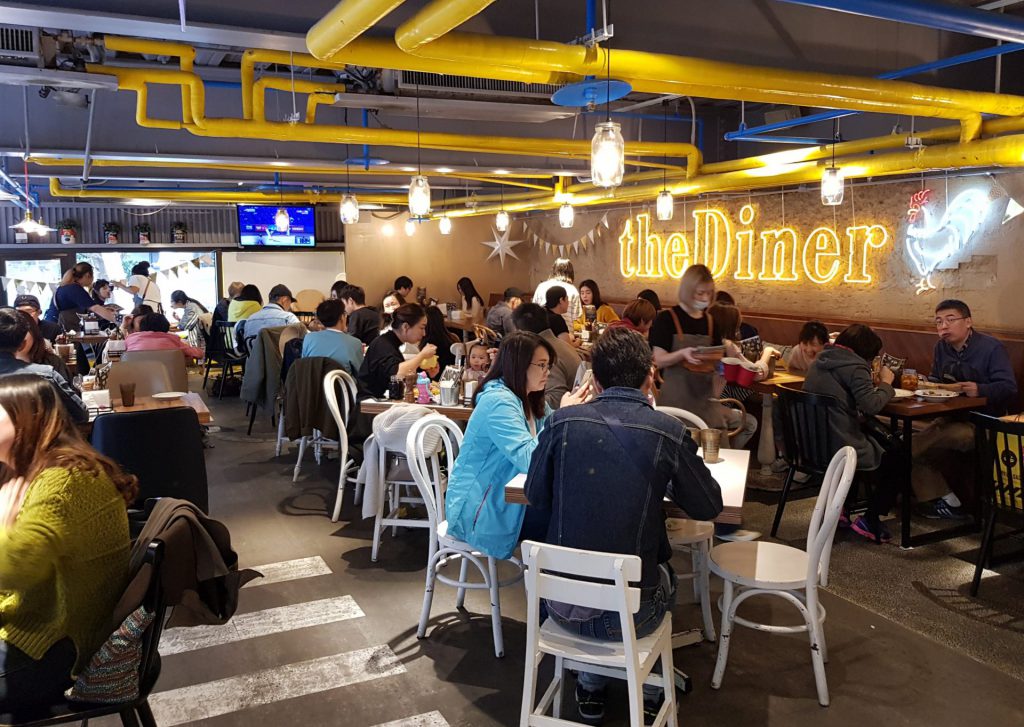 If you're in need of something to cool you down, then Ice Monster serves traditional Taiwanese shaved ice desserts. I would also recommend KaiKai Dessert, which serves delicious Hong Kong-style sweet soups that can be found on the Michelin Guide.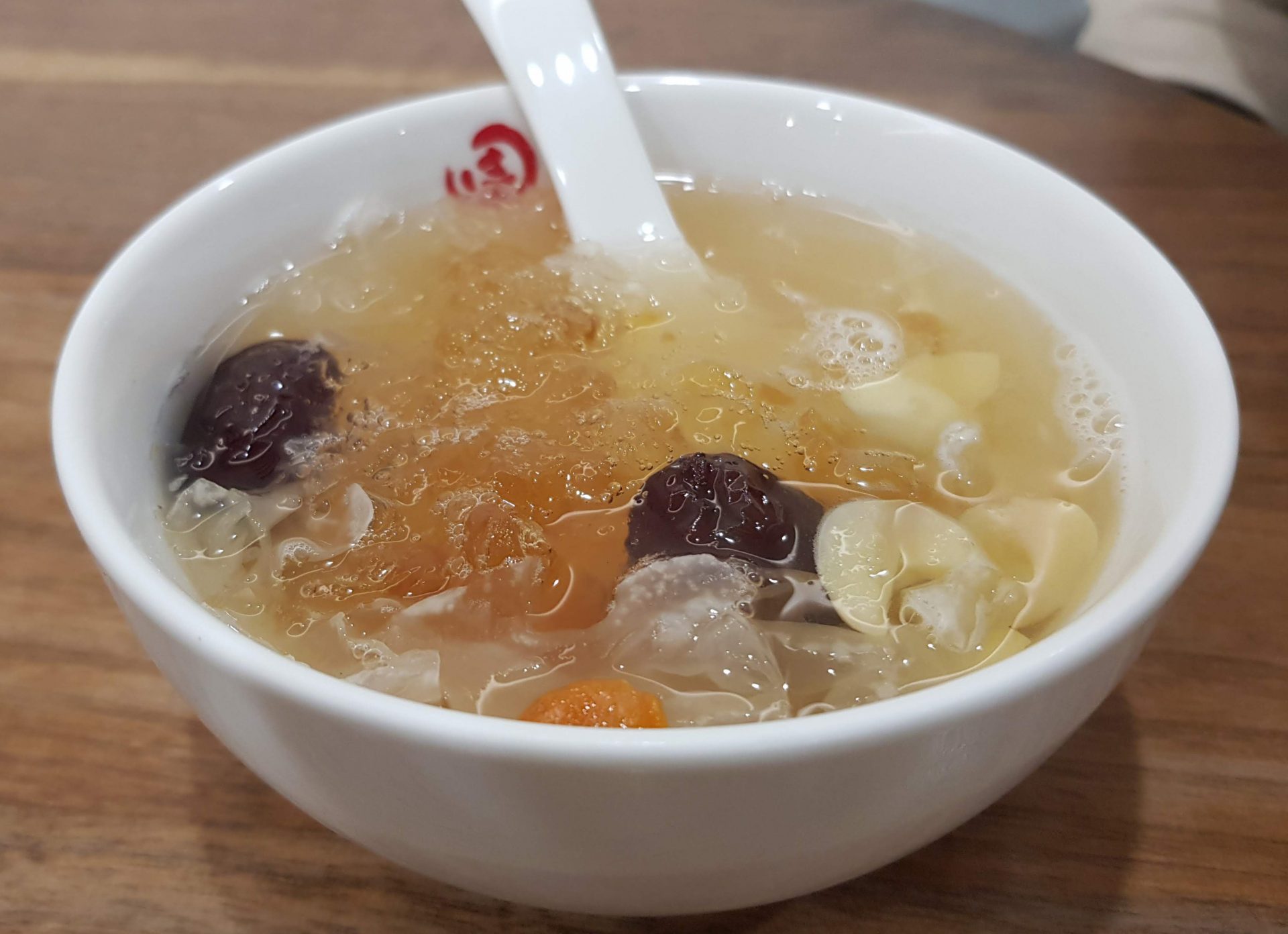 Many restaurant chains can be found here, including Jamie's Italian, Miacucina (for vegetarians), Gordon Biersch, Texas Roadhouse and TGI Fridays Songgao which is a really cool retro version of their chain with a different menu to the other branches found in the city.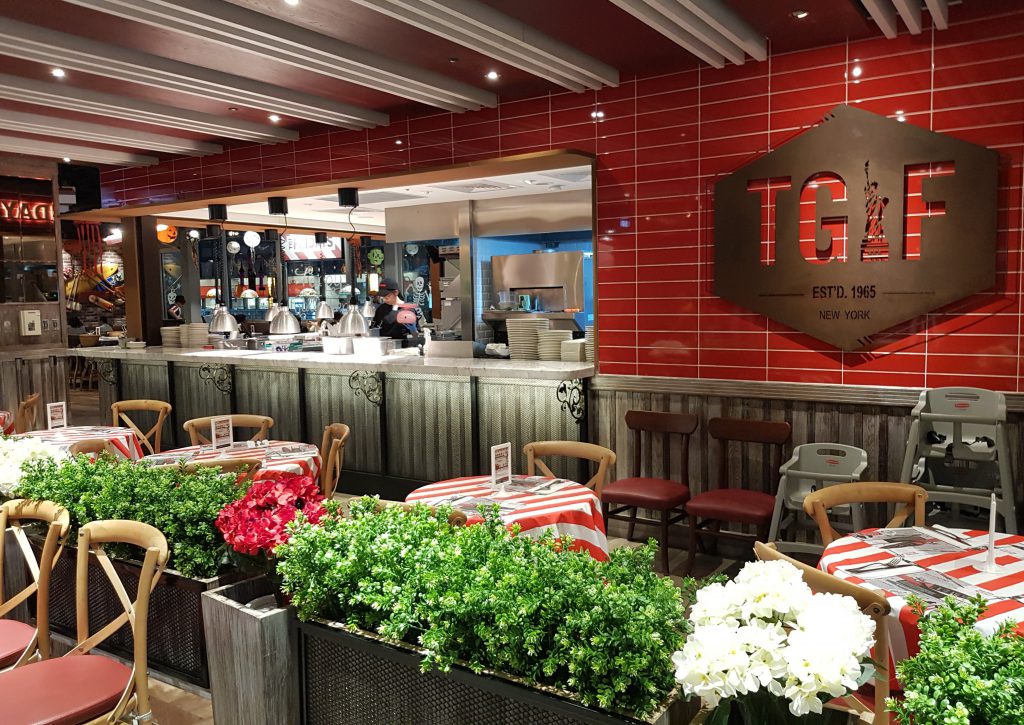 A large cluster of restaurants can be found near the ATT for Fun mall, some with outdoor seating including Lobster Foods, which also serves a great pint of Guinness.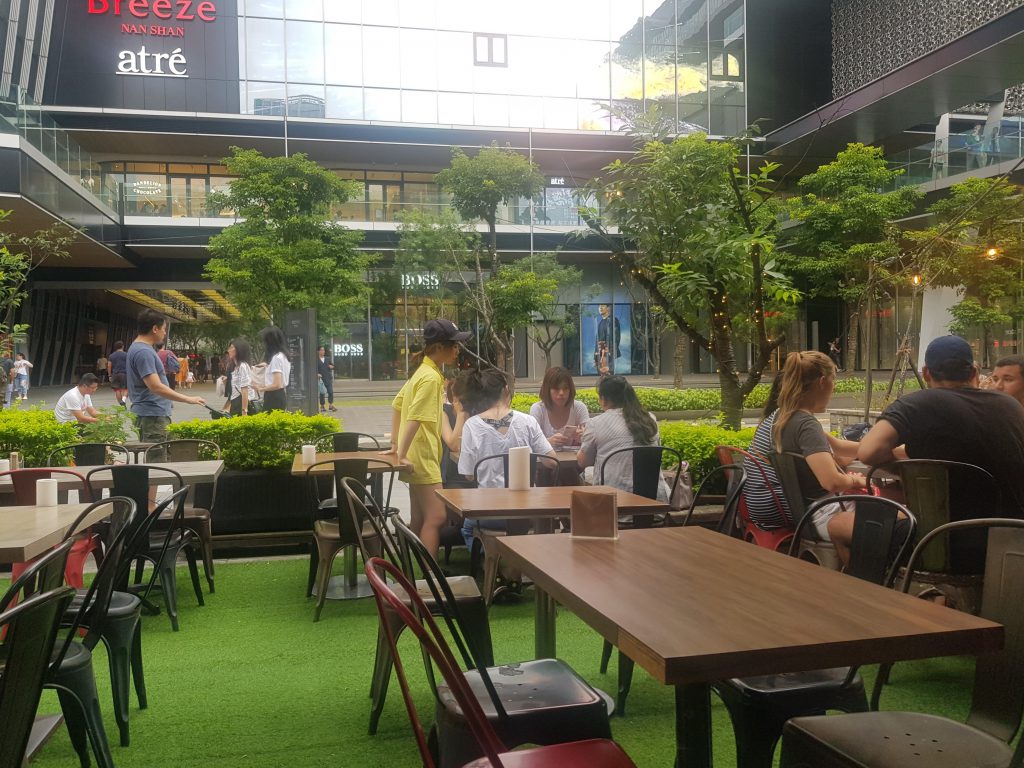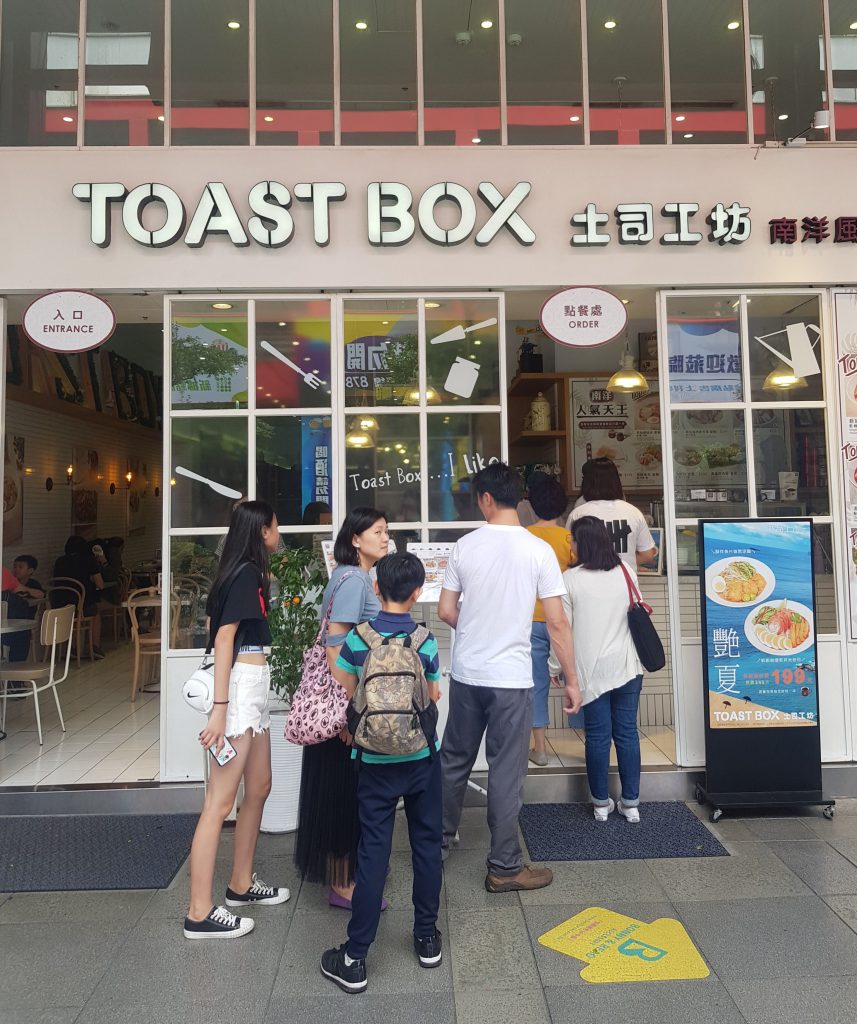 Drink
For a nice refreshing Taiwanese ale, then Landmark Taihu serves some great craft ales, otherwise Tap Bistro Zhangmen offers fantastic views of Taipei 101 from a rooftop.
Click image to read about both
Found on the 10th floor of the ATT for Fun mall is Frank, one of the best clubs in Taipei with a fantastic rooftop bar, although it has a dress code and does get very busy at weekends. Located within the W Taipei hotel is the excellent Woobar, mixing some of the best cocktails in Taipei.
---
Entertainment
If you've not visited it, then the Taipei 101 Observation Deck has spectacular views. If possible, try to time your visit an hour before sunset.
If you're travelling with kids, then the ATT for Fun mall is the best place to take them. Found within is Vie Show, is one of the best cinemas in Taipei. Most of the shops here are also aimed at kids and teenagers, plus there's VR+ room found on the first floor towards the east and an arcade near the food hall on 2F.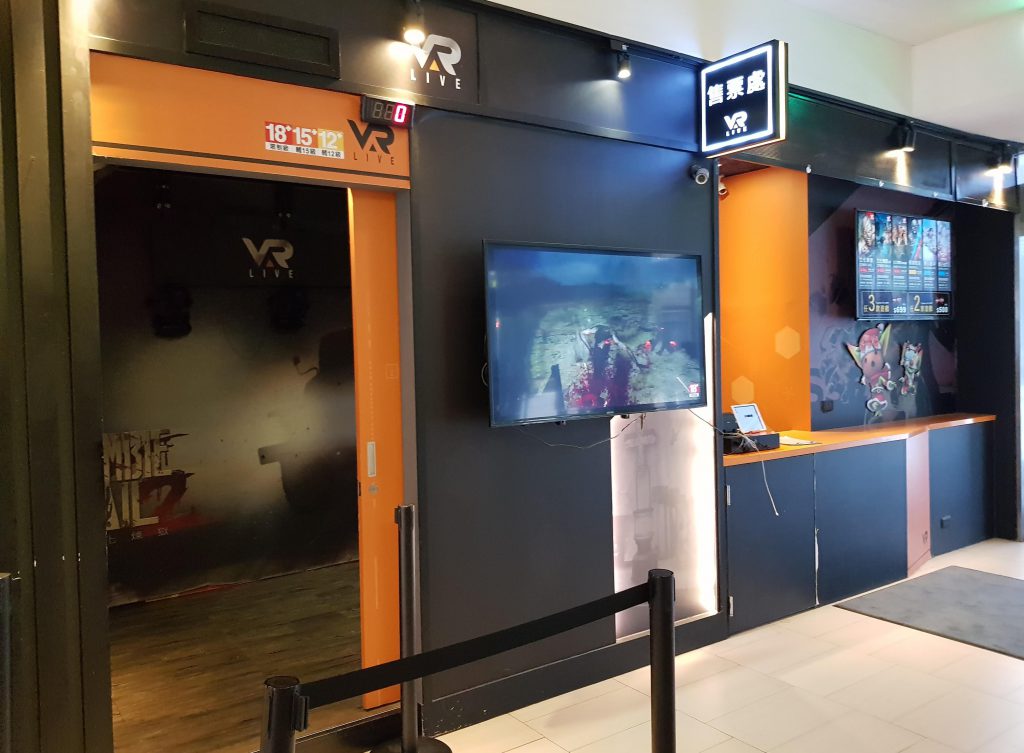 There's another virtual reality ride of sorts found in the southern Breeze Centre. i-Ride Taipei is a fantastic 5D experience that takes you on a journey over Taiwan or the USA.
There are also a few street performers and artists situated around Xinyi Shopping District, and if you're visiting over the weekend there are many markets and other promotional events.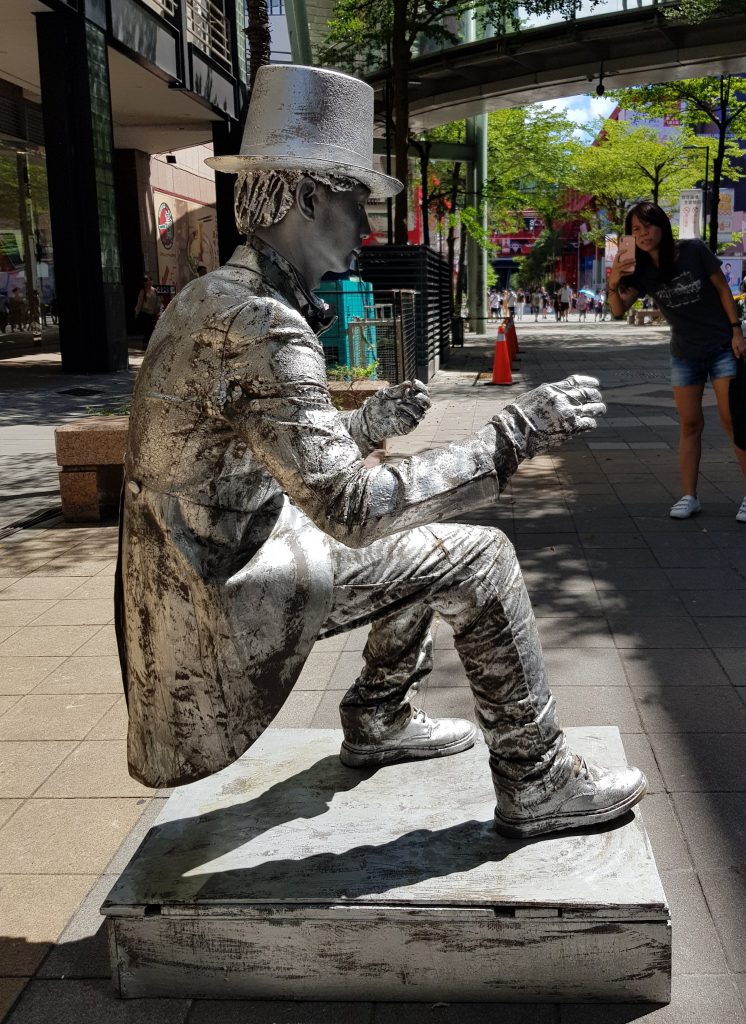 In the centre of the district is the Xiangti Avenue Plaza. There will often be a stage erected here over the weekend, where they'll be live musical performances or even events like B-Boy competitions.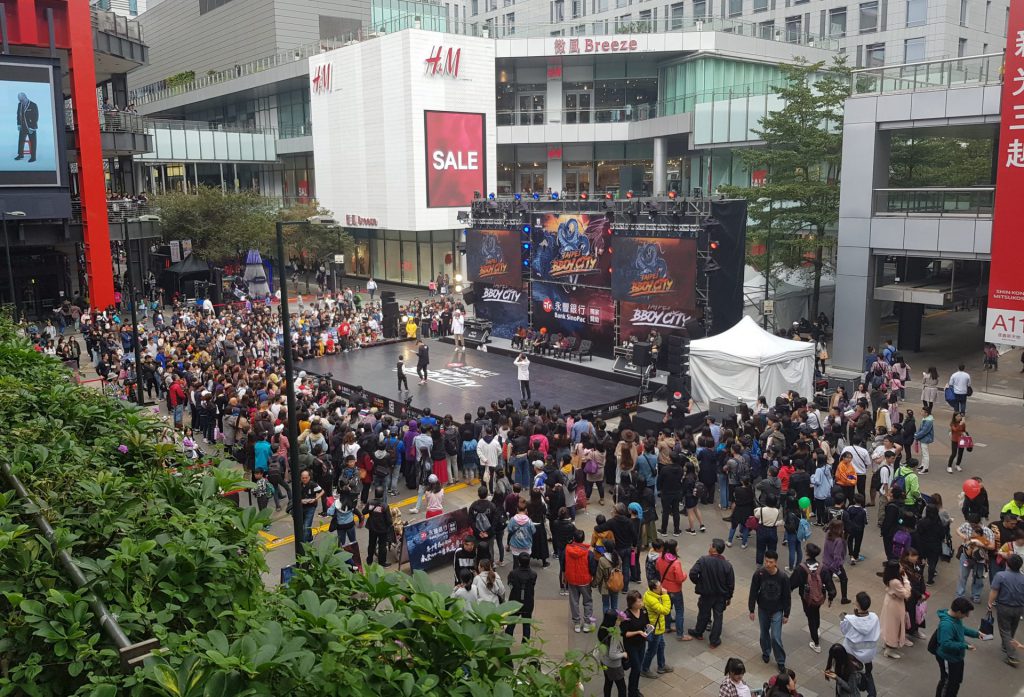 ---
The Xinyi Shopping District is a great place to shop and dine, with plenty of things to keep most people happy, it's also one of the best areas to visit while it's raining as you can explore most of the area without exposing yourself to the elements.
Since there are so many shopping malls, it never feels overcrowded like areas such as Ximending, although you may need to queue for popular restaurants.
---
Opening Hours
The general opening hours of all the malls are:
11:00 – 21:30 (extended to 22:00 on weekends)
If you find yourself in a mall at the start or end of the day, it is customary for all staff to stand and bow to everyone.
---
Places of Interest
If you have found the information on this page helpful, please take a minute to share this post by clicking one of the links below. Your support would be greatly appreciated :)