If you love seafood, then Addiction Aquatic Development is the place in Taipei to visit.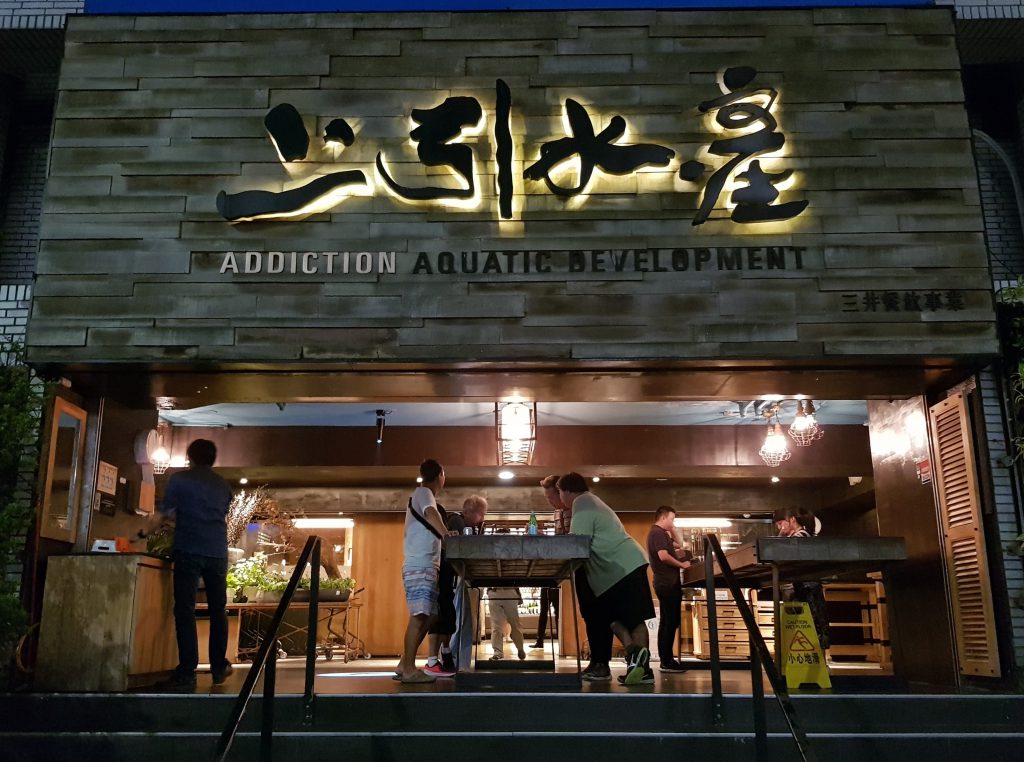 The largest fish market in the city also doubles as the ultimate seafood experience. With several restaurants, an aquamarine and a small but fantastic supermarket, walking around the well designed contemporary areas will certainly give you a sense of anticipation of what's to come.
There are six seafood restaurants found in Addiction Aquatic Development:
The Charcoal Grill
Tresors de la Mer
The Hot Pot
The Sushi Bar
The Seafood Bar
The Seafood Snacks
Only the Hot Pot and Tresors de la Mer restaurants can be reserved beforehand.
The main restaurant is the Charcoal Grill, which is set within a large covered outdoor area.
The space has been very well thought out, and has a large screen showing old movies such as Charlie Chaplain.
The waiters here will show you around the huge selection of seafood. If you find something that takes your fancy, they tell you how it will be cooked before you order it. With so much variety on offer, it's easy to get carried away.
As the restaurant name suggests, most of the seafood is char-grilled, but some crustaceans will need to be boiled.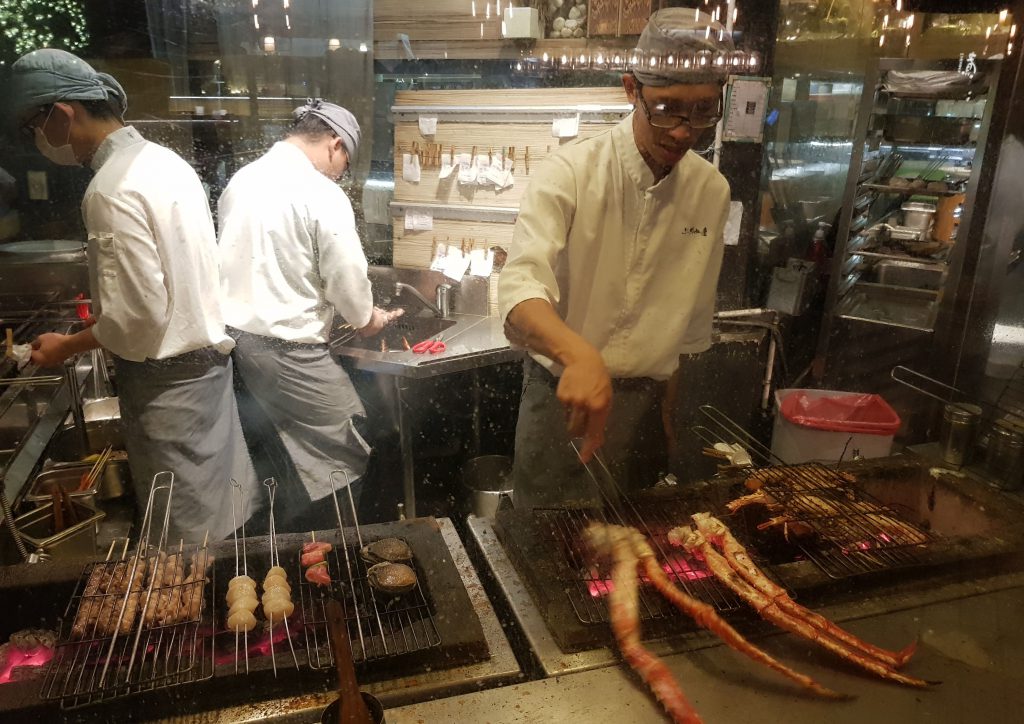 To accompany the seafood, they have a wide selection of vegetables and meats. As much as I enjoy a surf and turf, it felt slightly wrong to get meat in a fish market so we just opted for vegetables.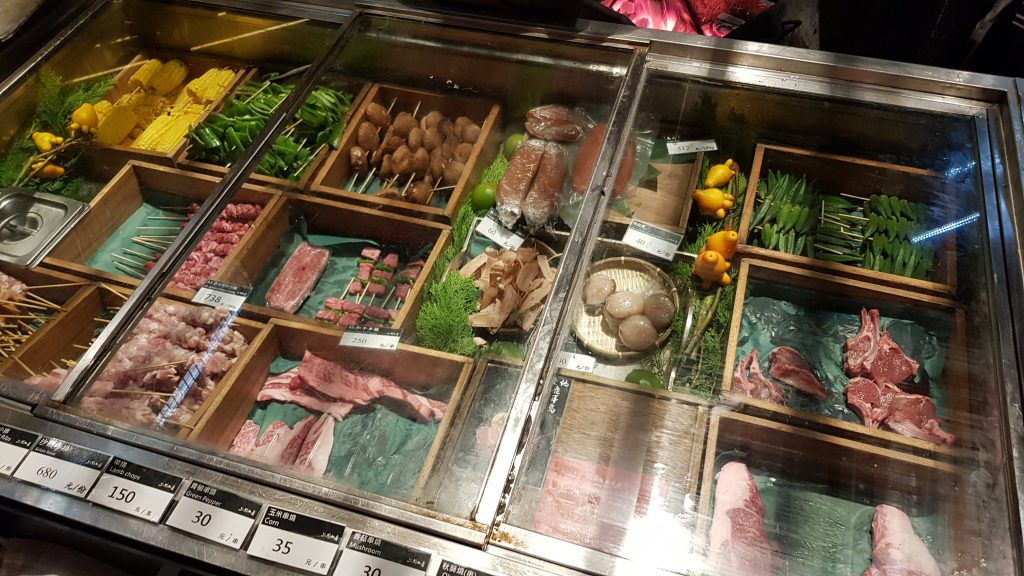 The food will be cooked and the waiters will periodically take it to one of the pre-heated bowls on your table. Our vegetables arrived first, with the sweetcorn, ocra, mushrooms and peppers all juicy and delicious.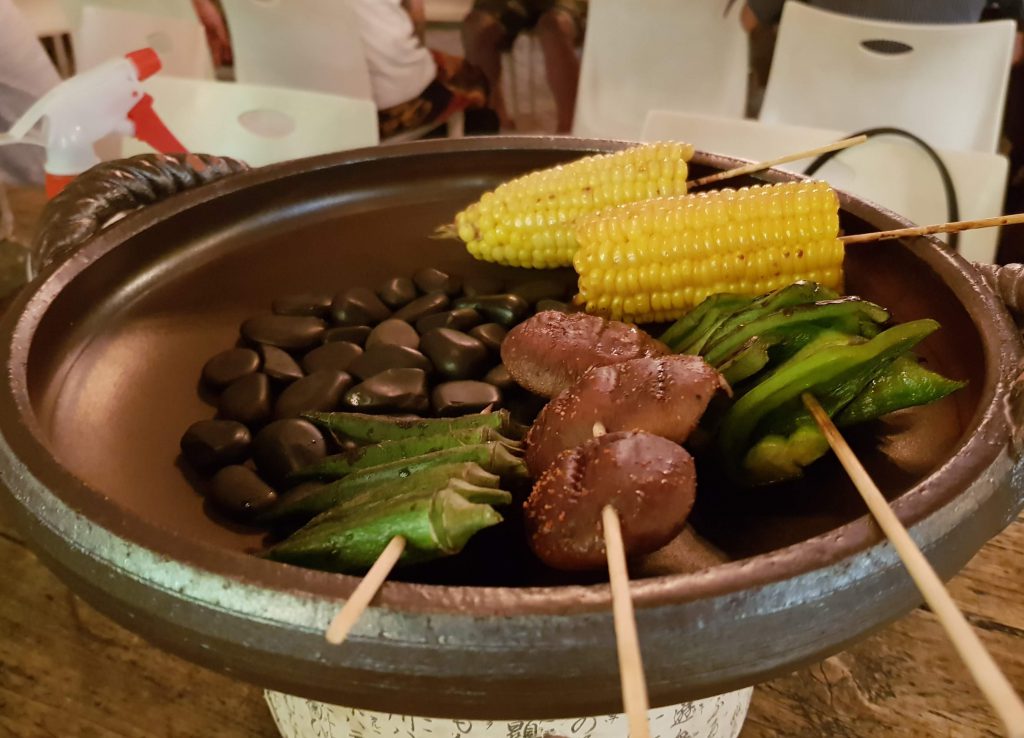 The seafood dishes we chose were the crab, which was boiled in garlic, onion and sake.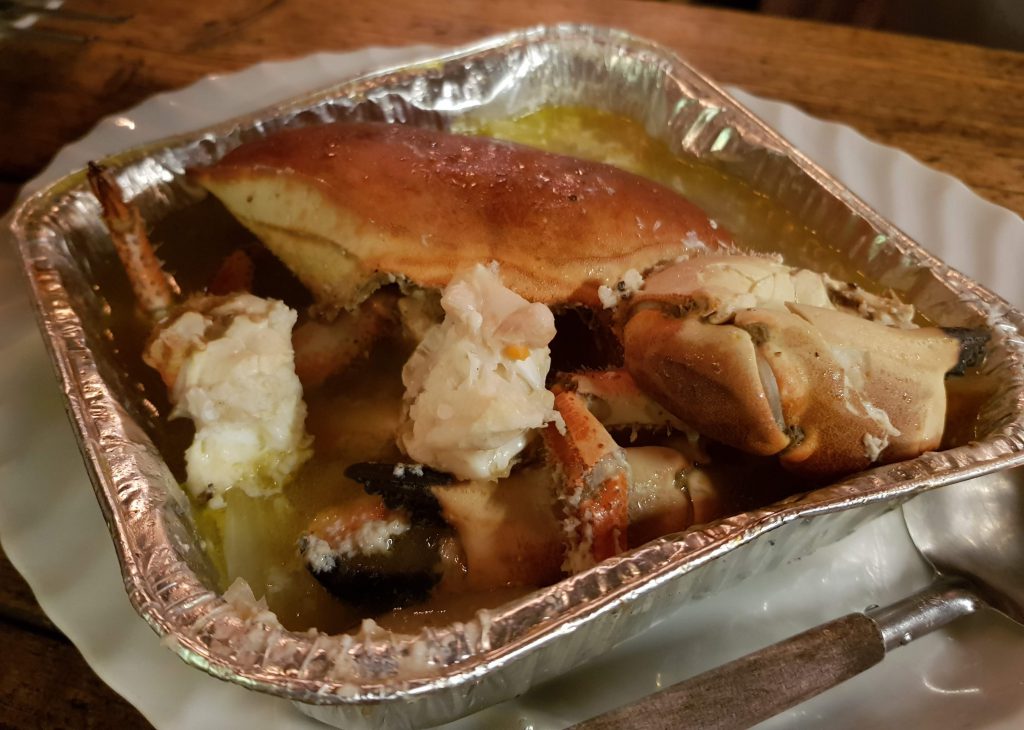 Will also tried the Argentinean Shrimp, scallops and red snapper, which I've never tried before but was succulent and perfectly well cooked, just like everything else.
The only criticism is perhaps we would have liked the vegetables to arrive with the fish, but all in all it was delicious.
There's also a bar on the site, selling cocktails and some very nice beers. The Maisels Weisse, a German beer which tasted more like a Belgian ale was so nice we even purchased a couple of bottles from the supermarket.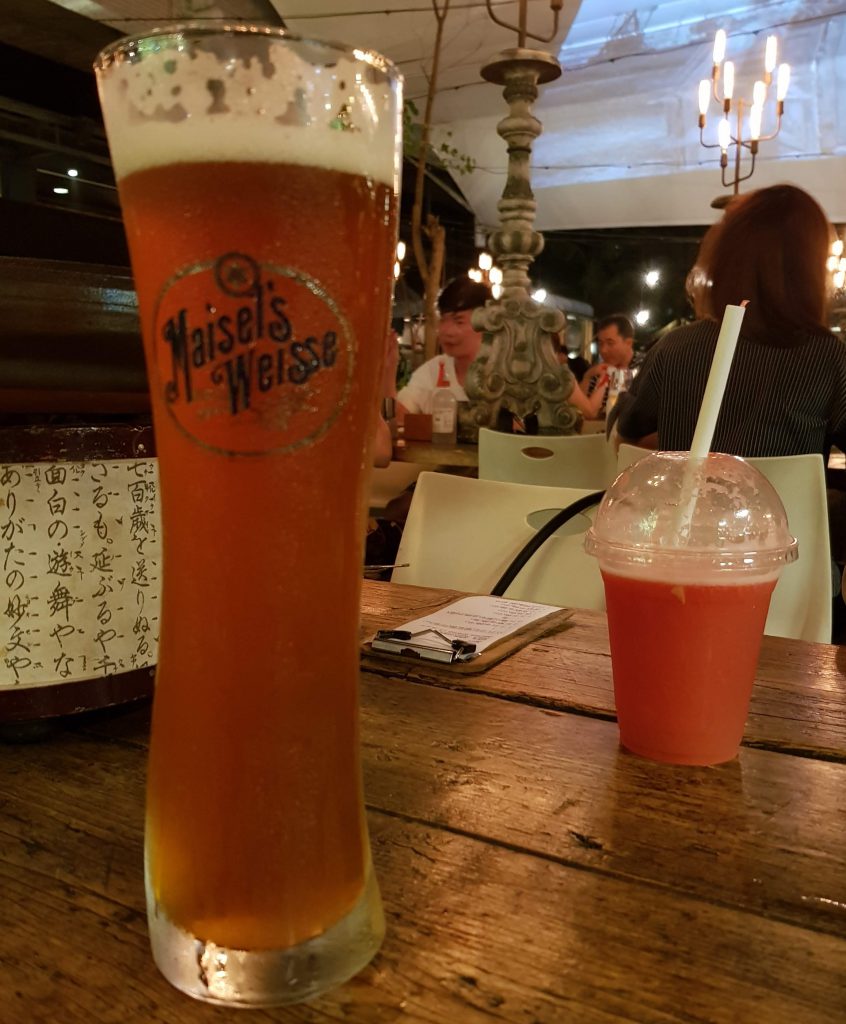 The cost of everything was in excess of NT$2,000, so it's probably only a place you should visit for special occasions, but well worth the money. Everything at Addiction Aquatic Development is cash only, although there is a cash machine should you forget to bring some.
We've yet to try the other restaurants here, but we had a walk around and they all look highly promising. Tresors de la Mer is slightly more upmarket and can select your seafood to be cooked or have it sashimi style.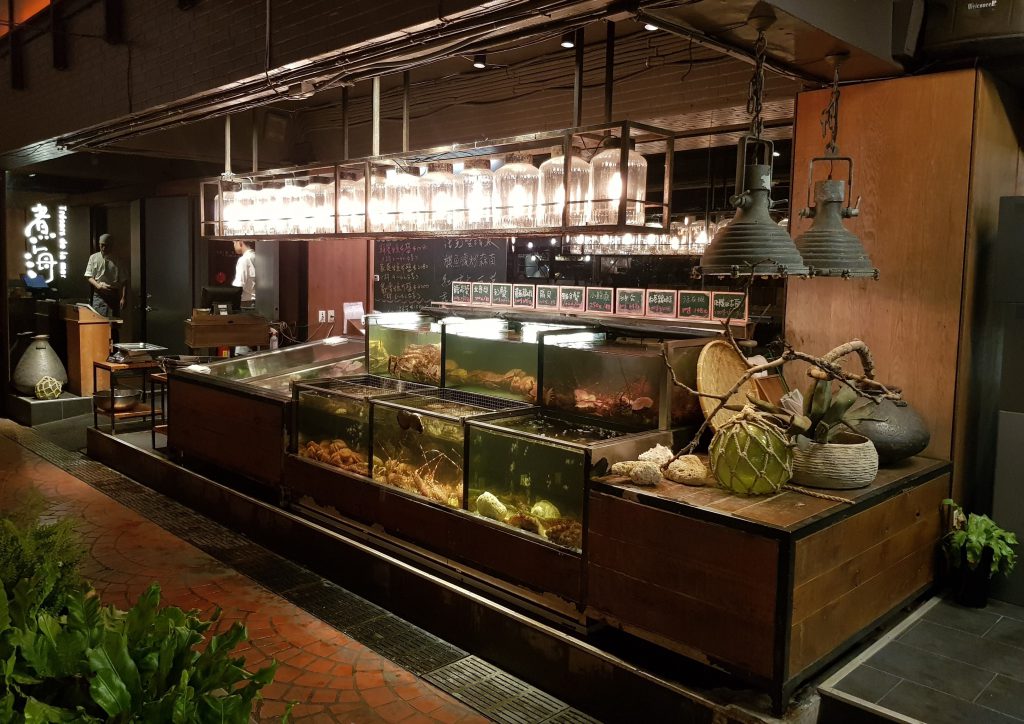 The hot pot restaurant is on the second floor, while the rest of the restaurants are standing only. The sushi and seafood bars were all packed, and waiting is likely here but the prices are very competitive, especially considering how fresh the seafood is.
Another option for food here is the aquamarine. You can walk around the large area packed to the brim with crustaceans and fish, choose what you like and they'll have it cooked for you.
It's cheaper than the char-grill restaurant and is a great option if you don't mind standing next to one of the tables outside.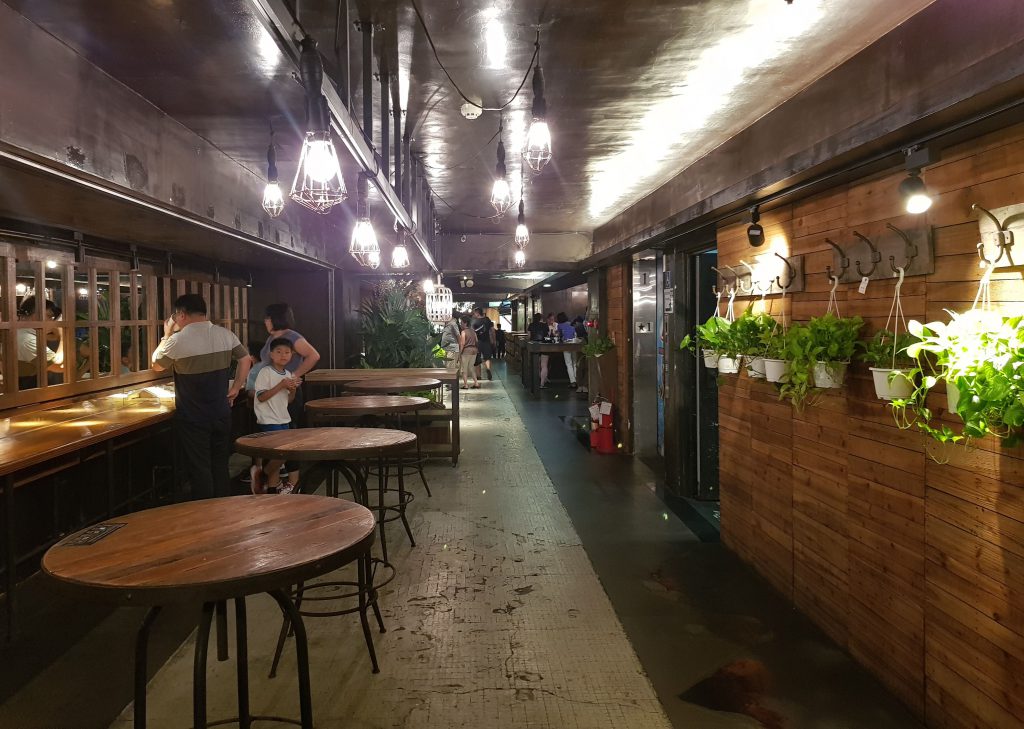 It's also worth a look around the supermarket. Of course there's plenty of seafood you can buy, but there's also a great selection of cheap vegetables, drinks, flowers and many more produce.
Addiction Aquatic Development is a unique eating experience in Taipei and offers something for all lovers of seafood. It's a bit of a walk from the closest MRT station but it's a walk you can use to your advantage, to walk off some of the food in your belly!
Pros
Best seafood in Taipei
Huge choice
Great area to dine
Cons
Cost can quickly add up
Not close to any MRT station
Price: $$$
Level of English: Very Good
Traveller Tips
Everything here is cash only
Addiction Aquatic Development Location
A 15 minute walk from either Zhongshan Junior High School MRT Station (brown line – exit 1) or Xingtian Temple MRT Station (orange line – exit 2)
Alternatively take one of these city buses:
49, 74, 642, 643, 286, 542
If you have found the information on this page helpful, please take a minute to share this post by clicking one of the links below. Your support would be greatly appreciated :)