Din Tai Fung is undoubtedly the most respected and famous restaurant chain Taiwan has exported. With some of their restaurants garnering Michelin stars, it's easy to see why.
Their signature dish, xiaolongbao is a must try, although there are many other sumptuous dishes begging to be devoured, including noodles, soups, buns, stir-fries, dumplings and a selection of seasonal vegetables.
Din Tai Fung's food is precise, refined, and delicious.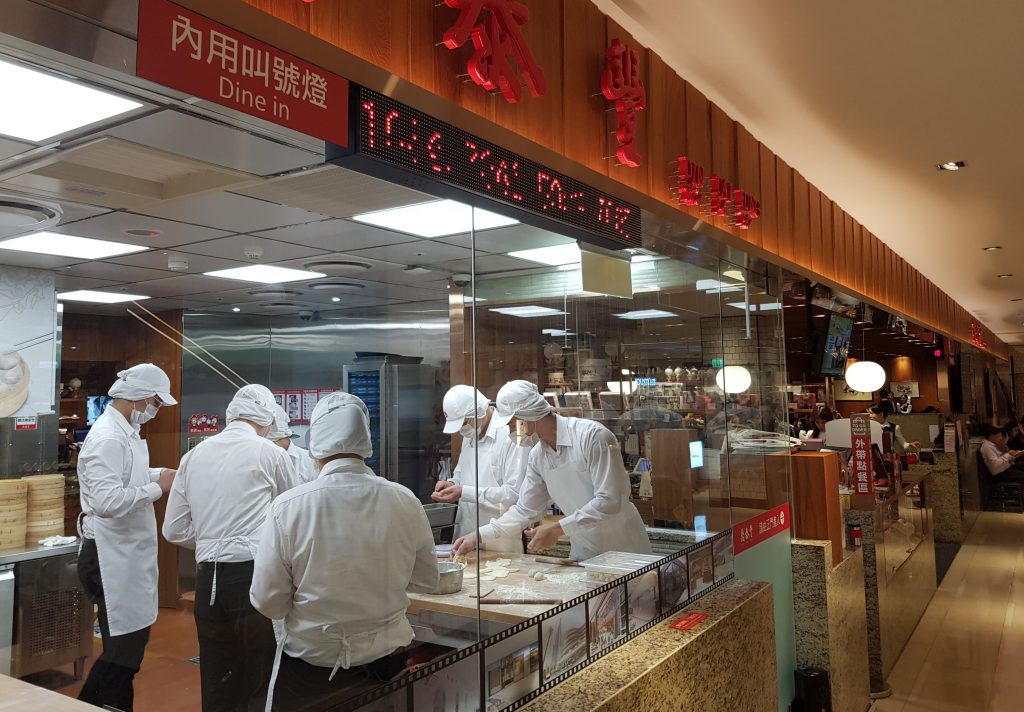 There are several branches of Din Tai Fung found in Taipei – most of these are located in the food hall basements of shopping malls.
Their three-storey original flagship branch, located just off the famous Yongkang Street, and the newest Xinsheng branch located just over the road from this are the only branches not found in malls. The Xinyi shopping district now has 3 branches, including the very popular Taipei 101 branch.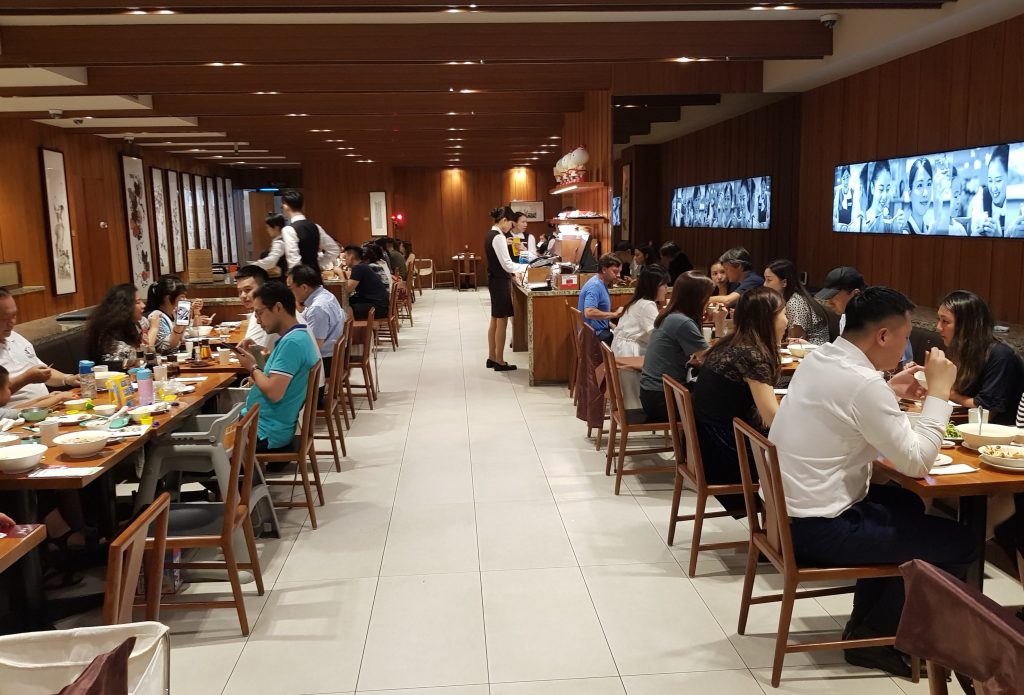 ---
How to Avoid the Queues at Din Tai Fung
Din Tai Fung do not allow table reservations.
This, coupled with the restaurants being some of the most popular in the city, can make it tricky to get a table. Queue waiting times often exceed 60 minutes, with over 90 minutes not uncommon during weekends.
If you want to avoid the worst queue times, visit during Monday to Thursday, and try to go just outside lunch/dinner hours.
Another great option is to order a set menu from Klook. This will allow you to skip the queue, and will also allow you to sample many of their dishes. See the Klook Set Menu section below.
If you visit their Waiting Time website page, or download the Din Tai Fung app (iOS / Android), you can view the approximate waiting times for all branches. I would recommend checking these before visiting, as some branches can become so busy during peak periods that they will stop accepting new customers.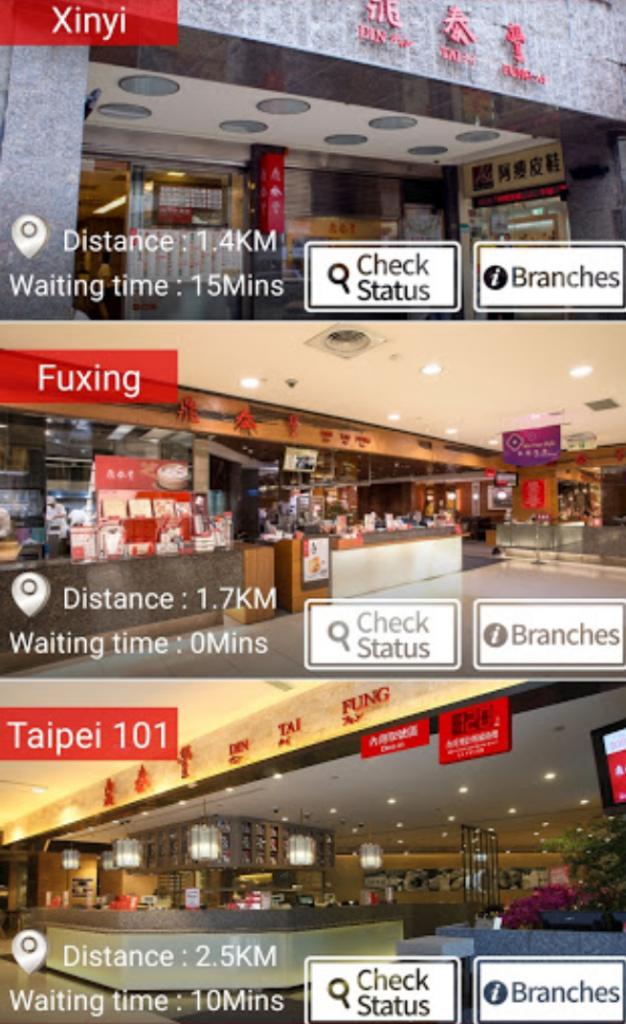 These are all the Din Tai Fung branches found within Taipei. Branch names below match those on the website/app, and you can click the links for their locations.
See locations section at the end of this post for a map of all Din Tai Fung locations
The original Yongkang restaurant (actually called Xinyi on the app as it's situated on Xinyi Road) and Taipei 101 branches are normally the busiest. The Xinyi branch is the only restaurant that can be found in the Michelin Guide, although all restaurants have a similar high standard of service and food however, so it doesn't really matter which one you choose.
Din Tai Fung have a first-come-first-served ticketing service at each entrance. They will give you a number and you must wait outside until they call yours.
There is a different number for each table size (1-2 people, 3-4 people, 6 or more), and an electronic display will show the latest number for each queue. The number will actually be called in your local language, which is a nice touch.
You can also use the app/website to view the latest number. Very useful if you need to wait a long time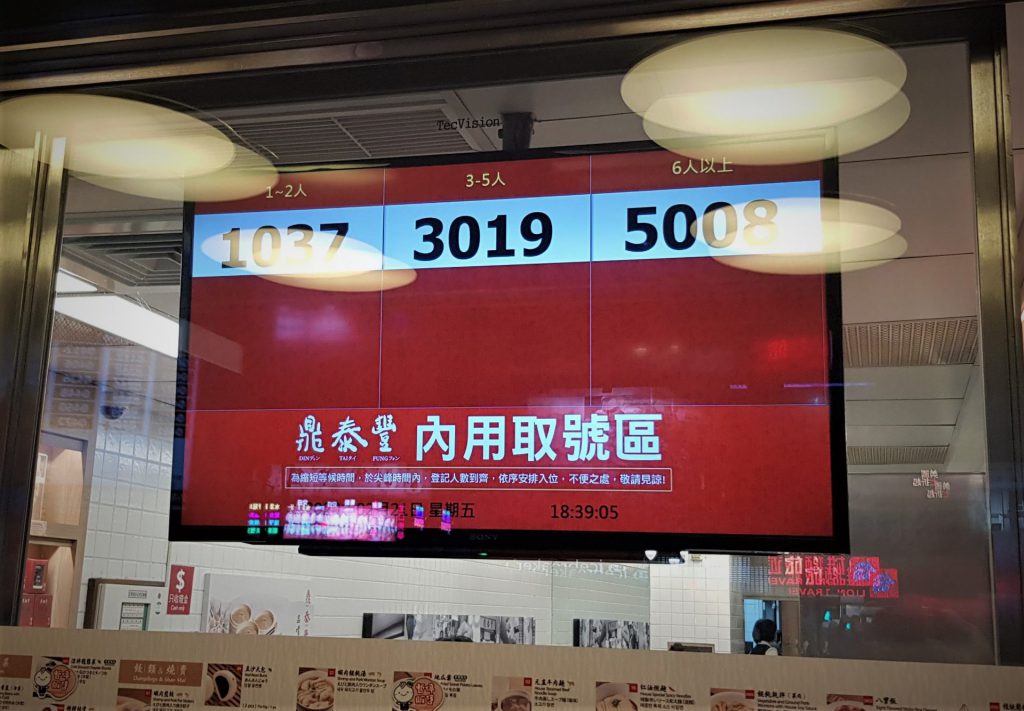 If you have to wait a while, they will give you a menu, also in English if you prefer.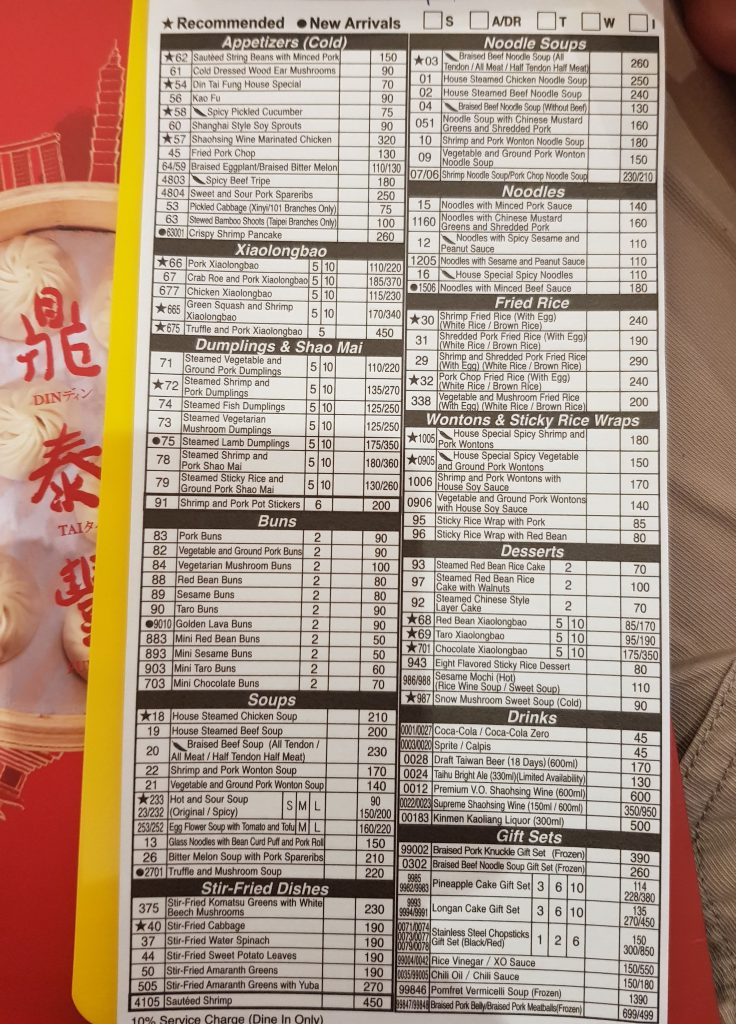 You can ask for a menu with pictures too, as it can be difficult to decipher what everything means. See Menu section below to view the picture menu.
---
What to Order at Din Tai Fung
Now comes the trickiest part. Actually attempting to chose between the many fantastic dishes on the menu.
There are starred items on the menu to help you decide.
The first choice though is easy. Xiaolongbao is their signature dish, and a must try. The only decisions here are, whether you want 5 or 10, and which filling you prefer – pork, crab, chicken or shrimp.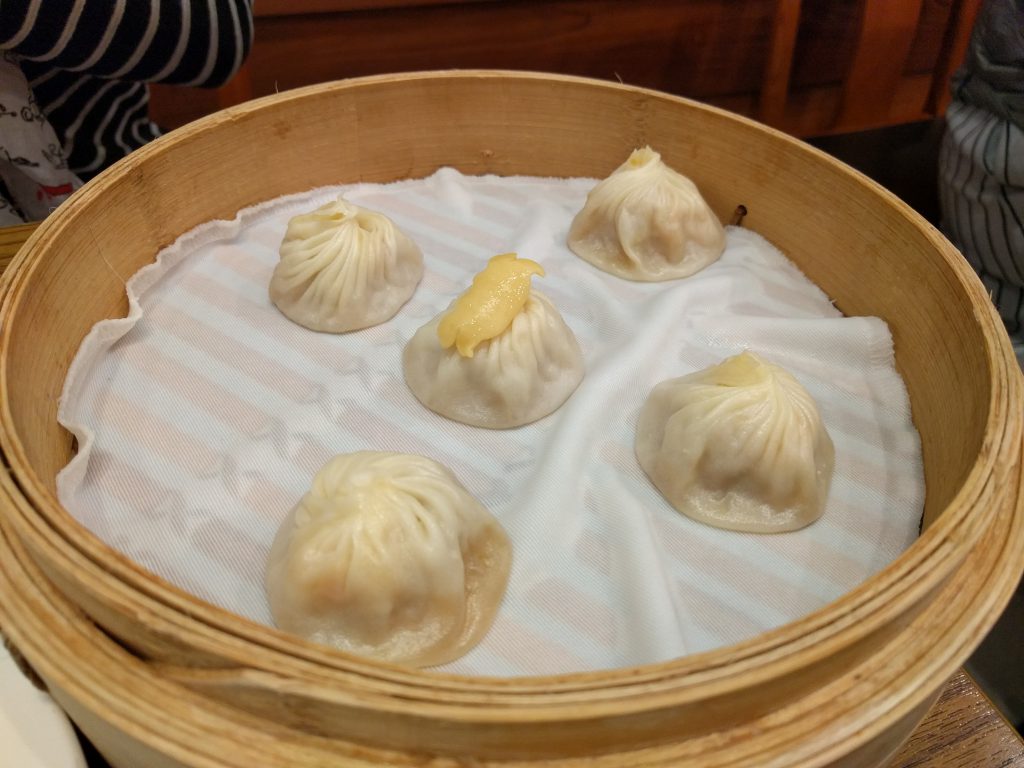 Each dumpling is hand-crafted by order. Their surgical skills can be seen by anyone, as they are on public display through a window as you're waiting. Known as soup dumplings, they're not actually contained within a soup, but rather the soup is inside the dumplings – which is why there is a special method for eating these.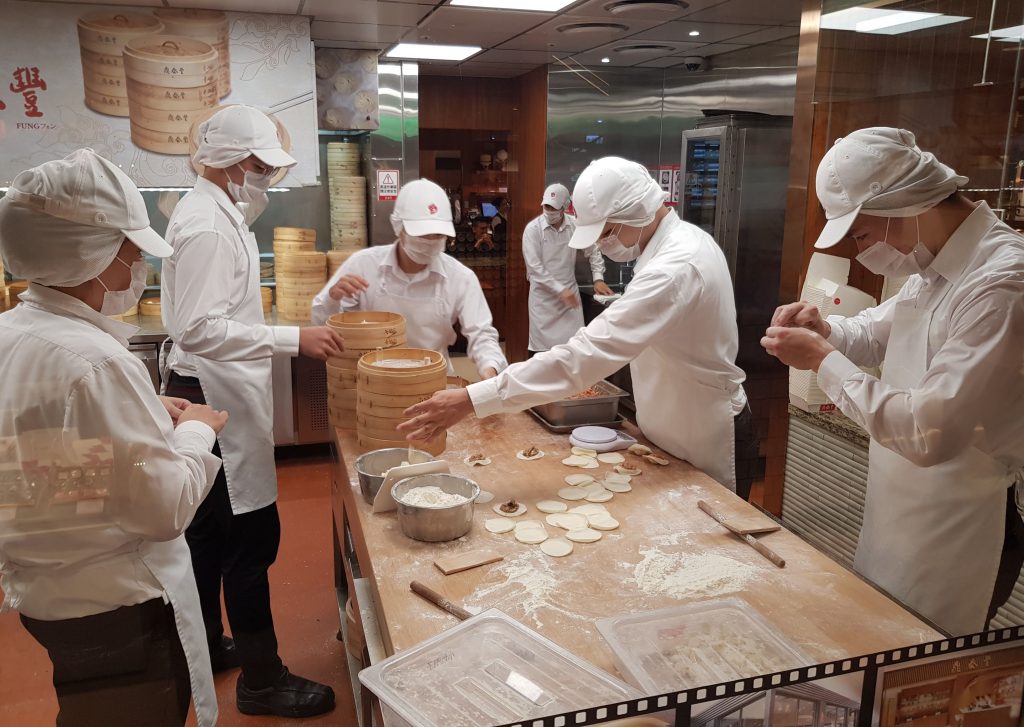 We always go for one of their fried rice dishes too. Shrimp Fried Rice and Pork Chop Fried Rice are our favourites. The pork is one of their star dishes, and with reason. The egg fried rice, with it's beautiful golden-yellow colour, coupled with the succulent pork chop, is a dish to be savoured.
You must also try their Stir-fried vegetable dishes, which will change depending on the season. Cabbage and Water Spinach are usually the ones we go for.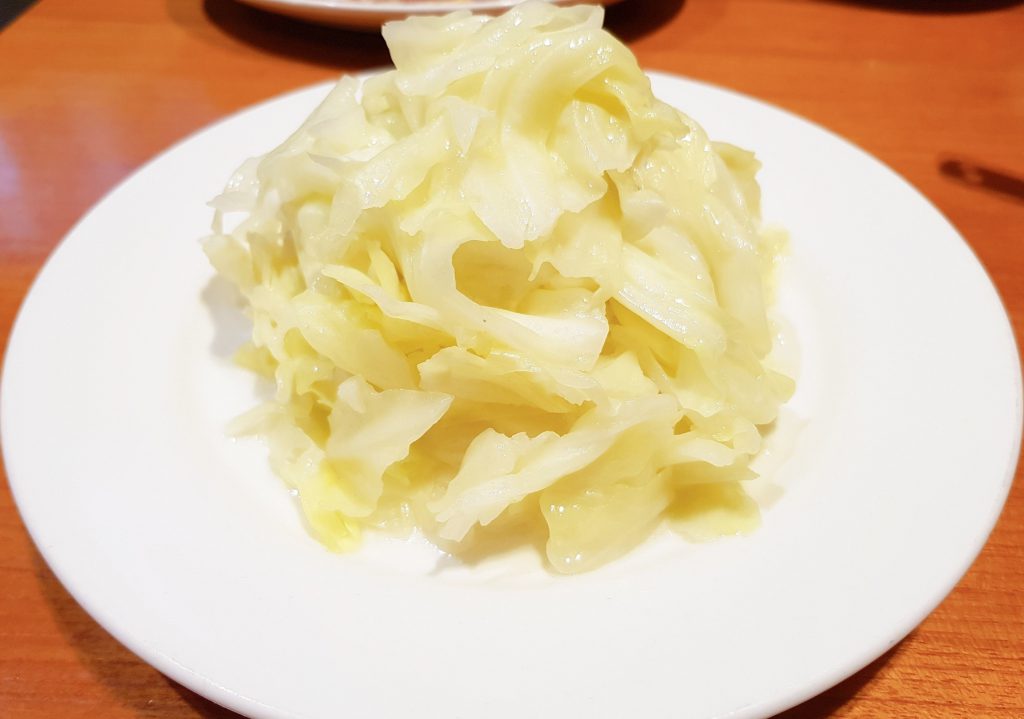 Another dish we often find too nice to resist are the Spicy Shrimp and Pork Wontons, which come smothered in a spicy sauce. They're slippery little things, but if you do manage to get one on your mouth, they are nothing short of sensational. Ensure you mix well before consuming.
Room for one more dish maybe? The Hot and Sour Soup, which comes in three sizes, and in original or spicy flavour. A small spicy one seemed perfect here. The soup is thick and very sour, filled with strands of soft tofu and chewy wood-ear mushrooms, which I have to admit I wasn't a fan of at first, but they've grown on me.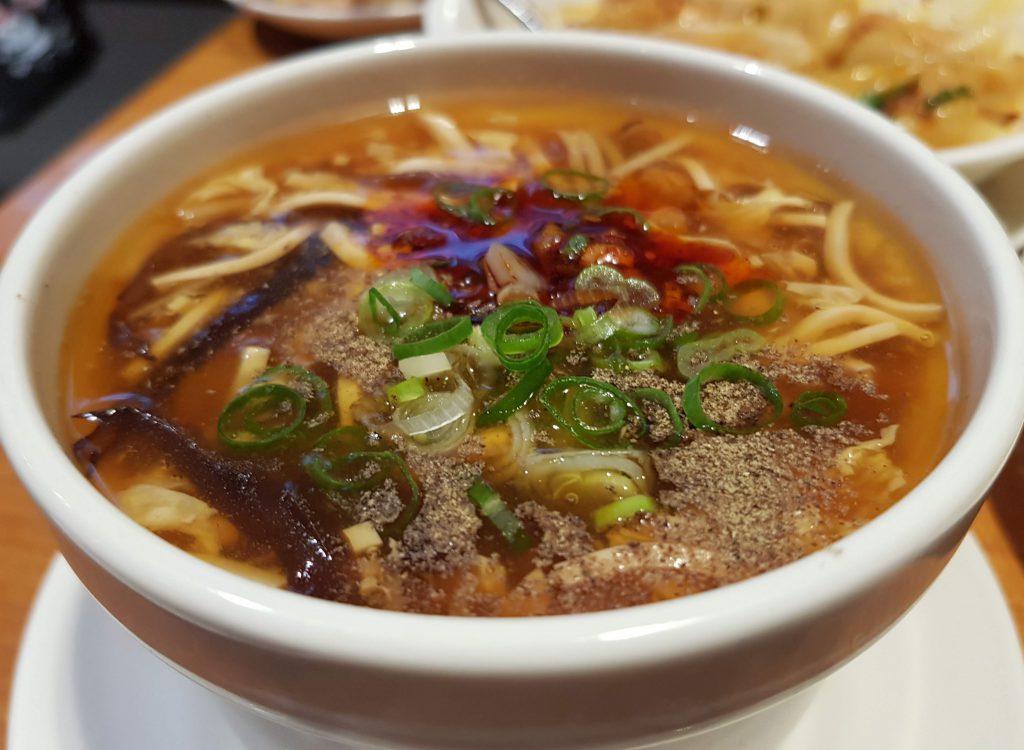 If you're still hungry, you could try one of their xiaolongbao desserts, filled with either red beans, taro or chocolate. These come in portions of either 5 or 10, so if there's only two of you, I would recommend trying the Steamed Red Bean Rice Cakes instead, as these come in pairs.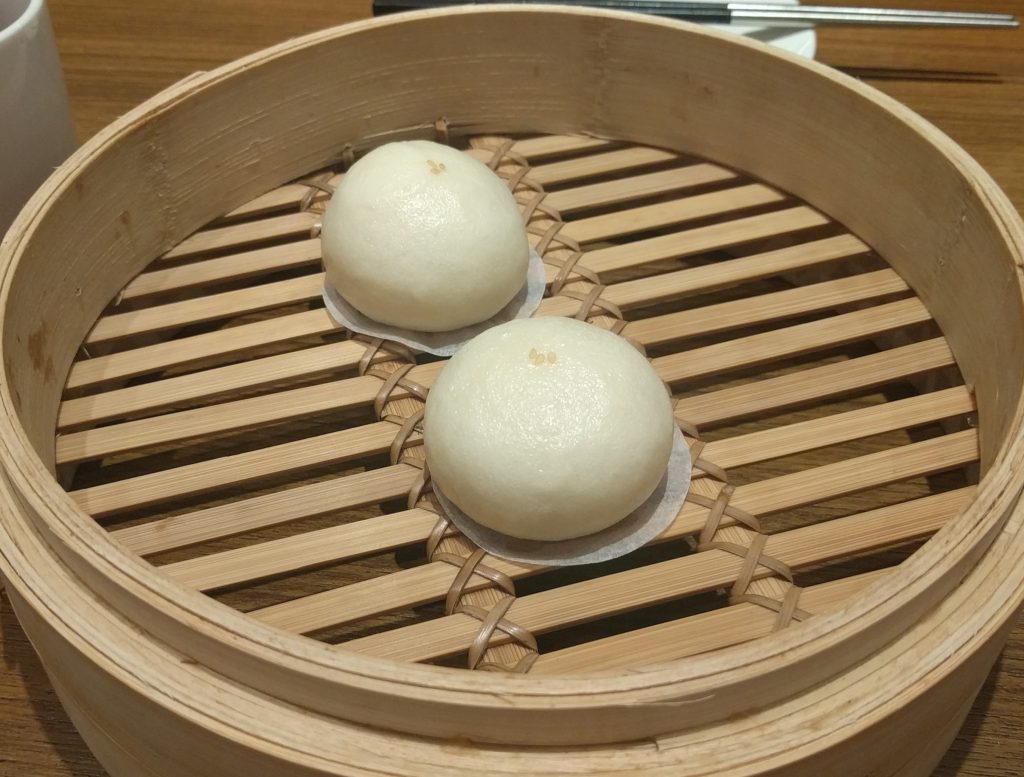 You can also buy drinks at Din Tai Fung, but we always just have the delicious free tea that will be regularly topped up while you eat.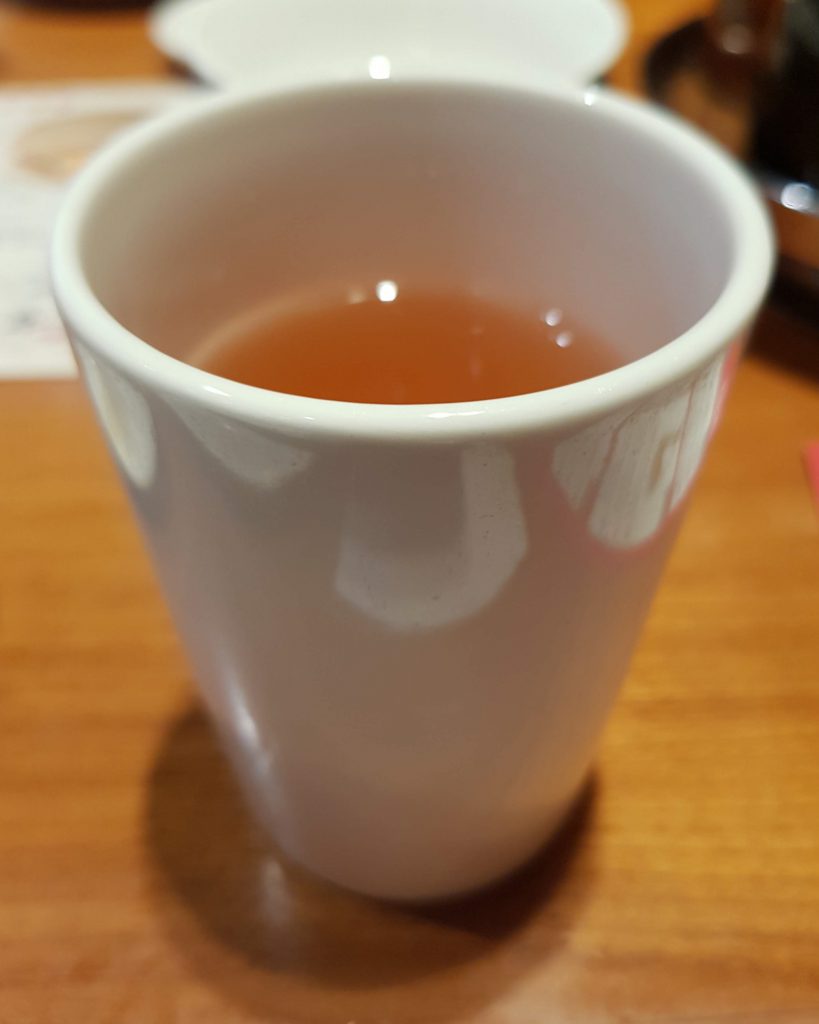 ---
How to Eat Xiaolongbao
There is an art to consuming Xiaolongbao correctly. Din Tai Fung will give you a step-by-step guide to help.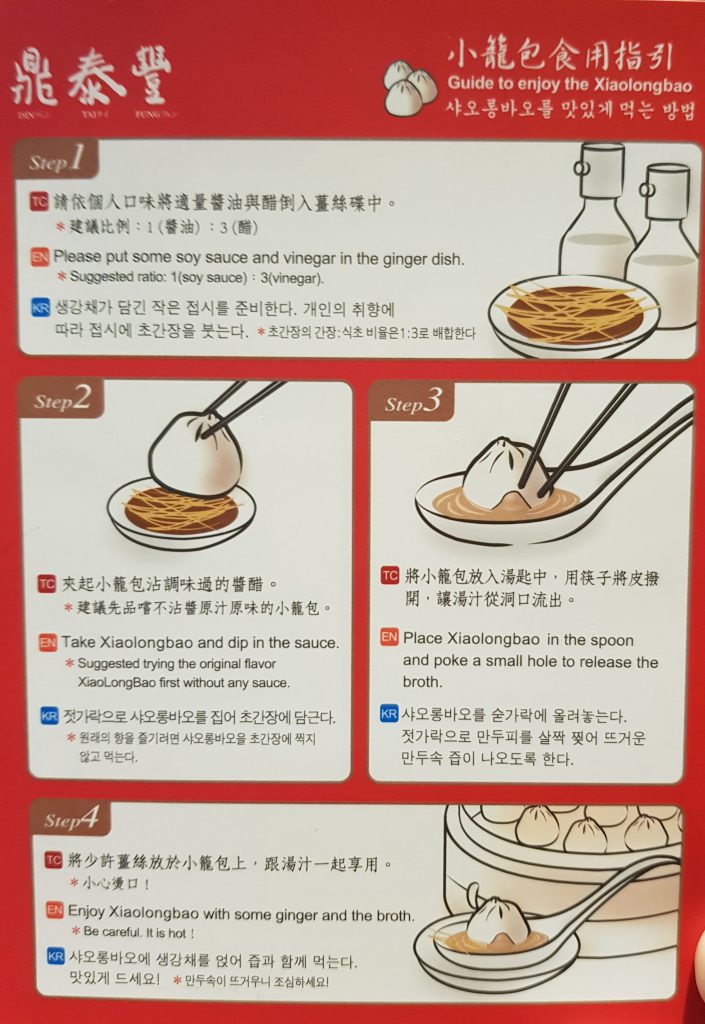 Fill your dish with 3 parts vineger, 1 part soy
Dip xiaolongbao in dish
Place xiaolongbao on spoon and poke a small hole in it
Add some strands of ginger and consume
---
Menu
Klook Set Menu
For first time visitors to Din Tai Fung, a great option is to order one of their set menus. These give you a taster of many different dishes, including a wide selection of single dumplings.
This is only available at the A13 and Taipei 101 branches, but will allow you to skip the queue. Seeing as these are the busiest branches, it's the most convenient way to dine at these.
There are two sets you can purchase, both costing NT$800 per person
Set A
4 pcs Xiao Long Bao
1 pc Steamed Vegetable and Ground Pork Dumpling
1 pc Steamed Shrimp and Pork Dumplings
1 pc Steamed Fish Dumplings
1 pc Steamed Shrimp and Pork Shao Mai
Stir-Fried Vegetables (Shared)
Shredded Pork Fried Rice with Egg (Shared)
Hot and Sour Soup (Shared)
1 pc Red Bean Xiao Long Bao
Set B
4 pcs Pork Xiao Long Bao
1 pc Steamed Vegetarian Mushroom Dumplings
1 pc Chicken Xiao Long Bao
1 pc Steamed Fish Dumplings
1 pc Steamed Shrimp and Pork Shao Mai
Stir-Fried Vegetables (Shared)
Shredded Pork Fried Rice with Egg (Shared)
Hot and Sour Soup (Shared)
1 pc Taro Xiao Long Bao
You just need to select a date and branch for you visit, and you can go anytime it is open during that day and avoid the queue!
You can also purchase a Din Tai Fung meal voucher along with a guided tour of Taipei 101, Raohe Night Market and the Songshan Ciyou Temple.
Summary
Service here is exceptional, and considering the quality of the food, it really is outstanding value. You'll typically pay just over NT$1,400, which will easily satisfy the hunger of 2 people.
We have been to Din Tai Fung on many occasions now, and on every single visit, the consistent high standard of the dishes has been second to none. It's not only our favourite restaurant in Taiwan, but it's also up there with our favourites from around the world.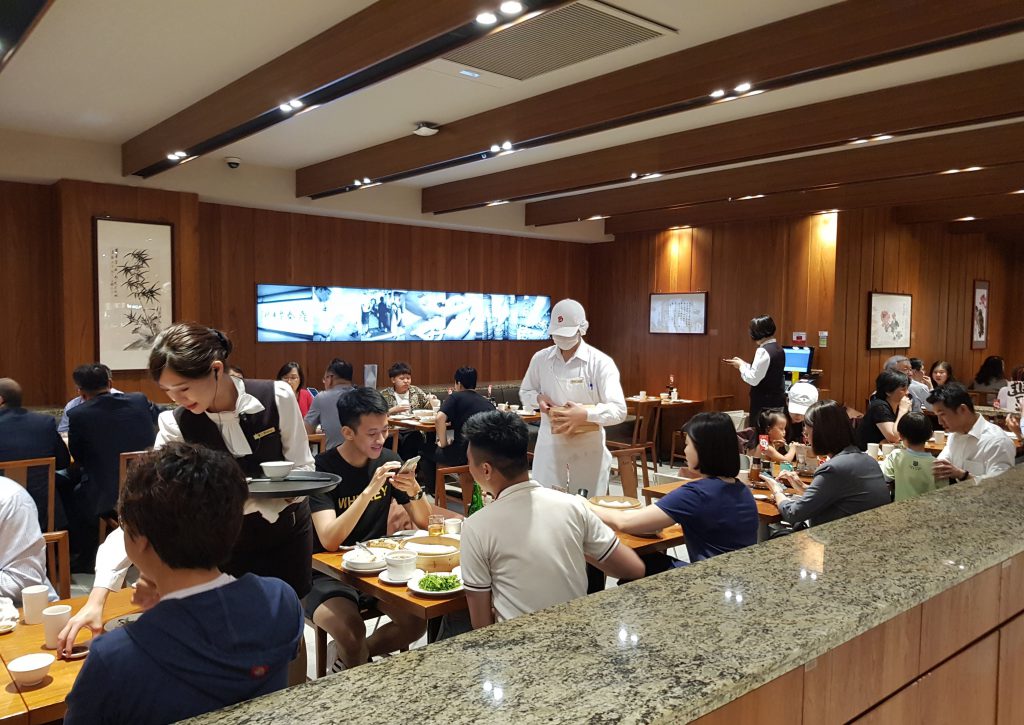 Pros
Delicious food
Exceptional service
Many locations
Price: $$$
Level of English: Very good (English menu available)
Traveller Tips
Visit their website first to view waiting times.
The best times to visit are during a weekday, either morning (pre 11.30am) or mid-afternoon (between 3pm – 4.30pm), where you'll usually only need to wait 5 – 10 mins, or if you're lucky, you can walk straight in!
Din Tai Fung will even accept payments in some foreign currencies, and also credit cards.
Din Tai Fung Locations
Click on a marker to see each branch name. Names match those on the waiting website