FuMu has a split personality. By day, the 'Mama' side serves breakfasts which cater to both western and eastern tastes. By night, the 'Dada' side takes over as it becomes more of a bar.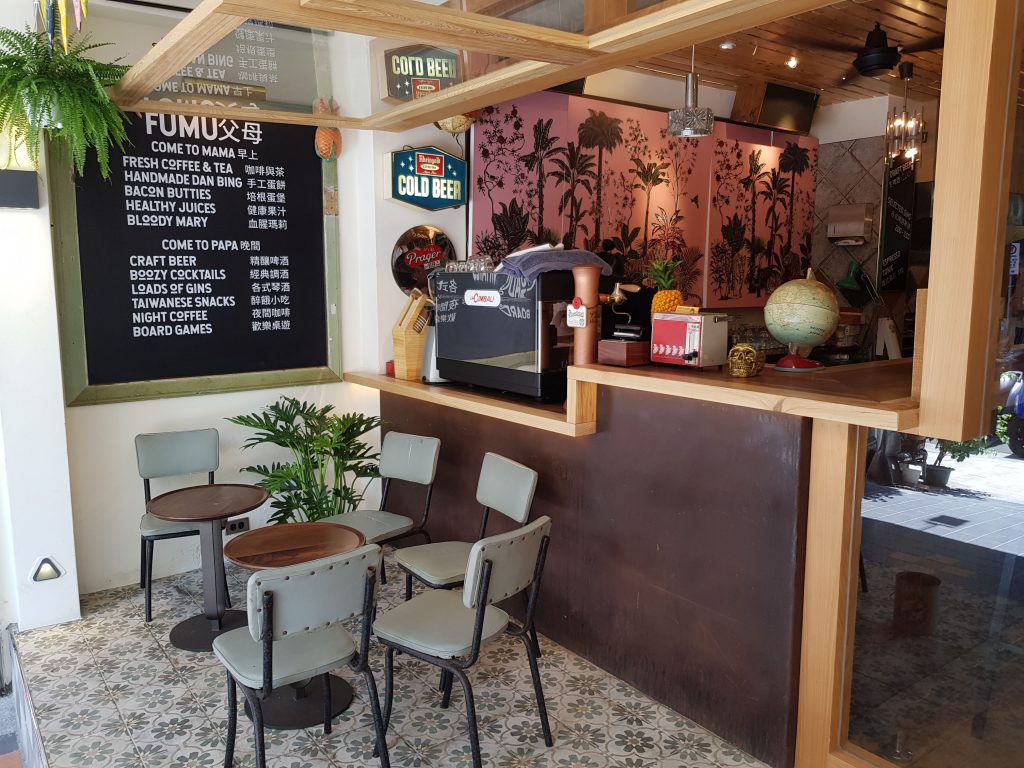 As we really fancied a breakfast, we went in the morning to see what Mama could serve up.
We really liked the layout of the restaurant. It has a nice summery vibe, with the walls covered in retro posters, and wooden panelling on the walls, floor and ceiling. I usually tend to avoid the subject of Toilets. Many of Taipei's restaurants can sometimes leave a lot to be desired, but the ones here are spotless and smell fresh.
They have an excellent sound system here too, and the 80's tunes they've picked adds to the vibe. With the likes of Tears for Fears, Madness, Duran Duran, OMD and Fleetwood Mac, FuMu plays some of the best music I've heard in any Taipei restaurant!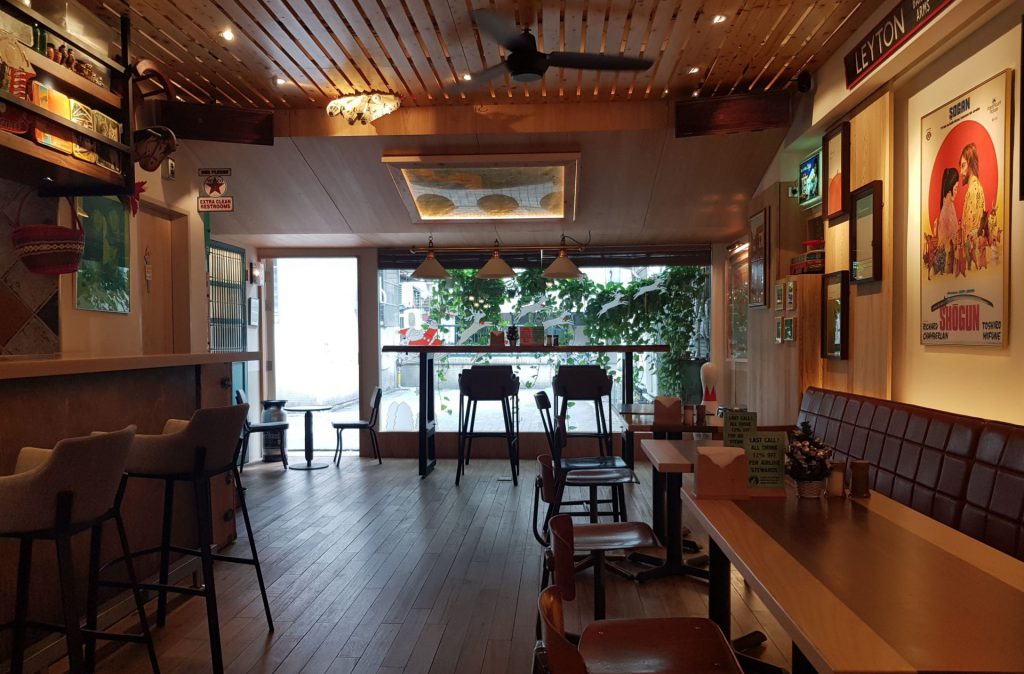 FuMu's menu has a lot of very tempting breakfast dishes. However, I came for the full English breakfast, of which they have two choices. The standard or the jumbo. Both come with toast, fried egg, grilled tomato, baked beans, sausage, mushroom and bacon. The jumbo comes with an extra sausage and egg, hash browns and black tea/coffee.
I chose the standard English Breakfast and was extremely pleased with what came out.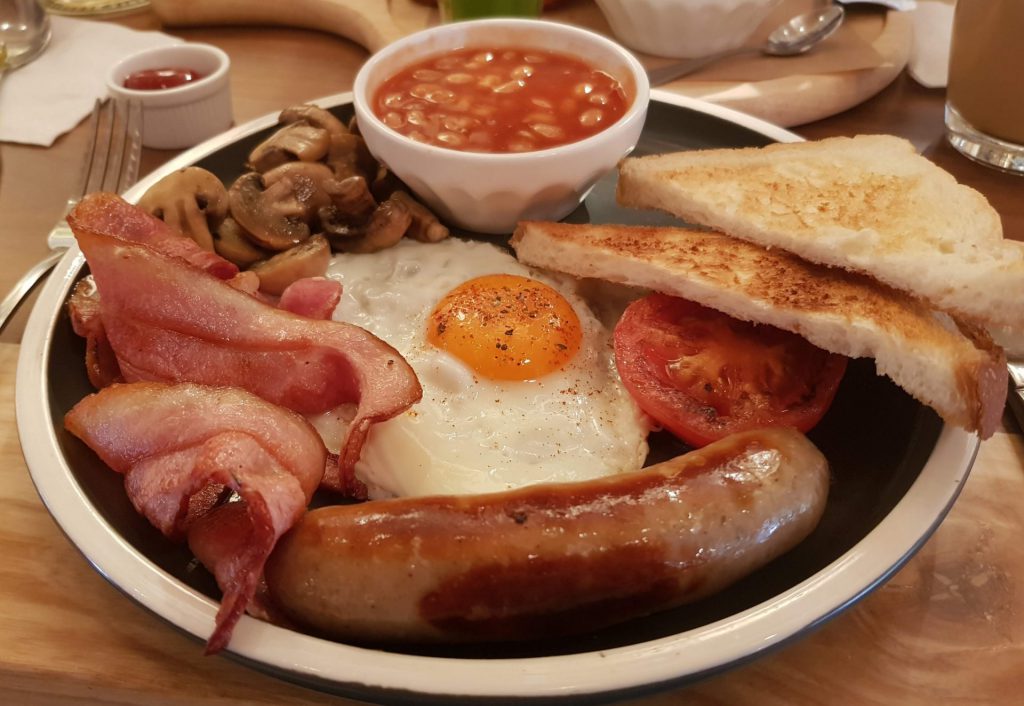 It looked exactly like many I've had in the UK, and came with a good helping of baked beans. But looks aren't everything…it's the taste that really matters.
It didn't disappoint.
I'm sure the chef/owner must have lived in the UK for some time (they are Taiwanese), as I couldn't fault this in any way. In fact, it was better than most I've tried in the UK too. At only NT$200, we thought it was very, very well priced.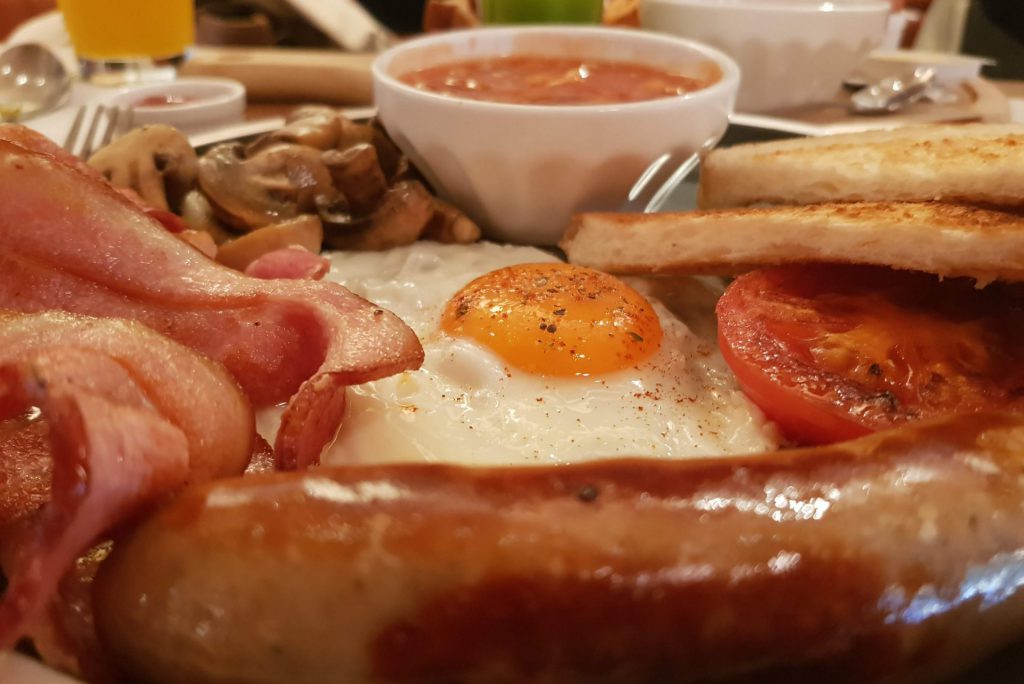 I will have to come back to try the jumbo version too!
The Mama's Breakfast Board is another dish we had to try, as it comes with egg 'n' soldiers, which is something I've not eaten since moving to Taipei. It also comes with asparagus, grilled tomato, a mixed berry smoothie, hash browns and a green juice shot (which was kale).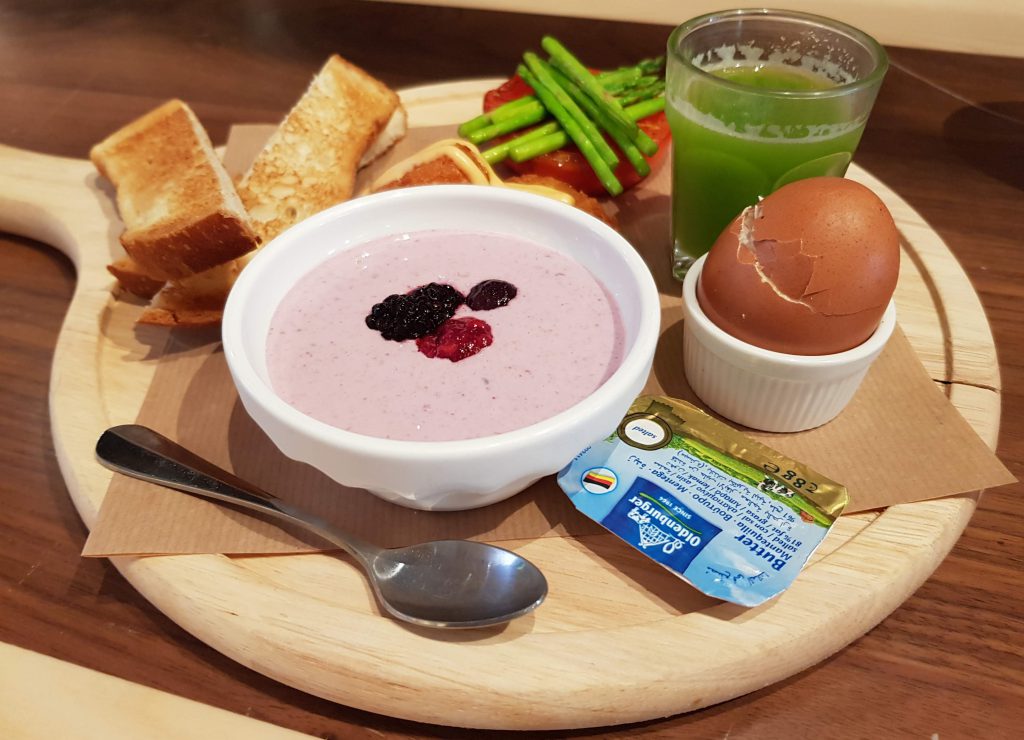 The egg was cooked to perfection, and coupled with the toast fingers, butter and some salt, it really was a blast from the past. The hash browns and smoothie, which turned out to be more of a yogurt than drink, were also excellent. The cost of all this? Only NT$150, which if you ask me, is an absolute bargain!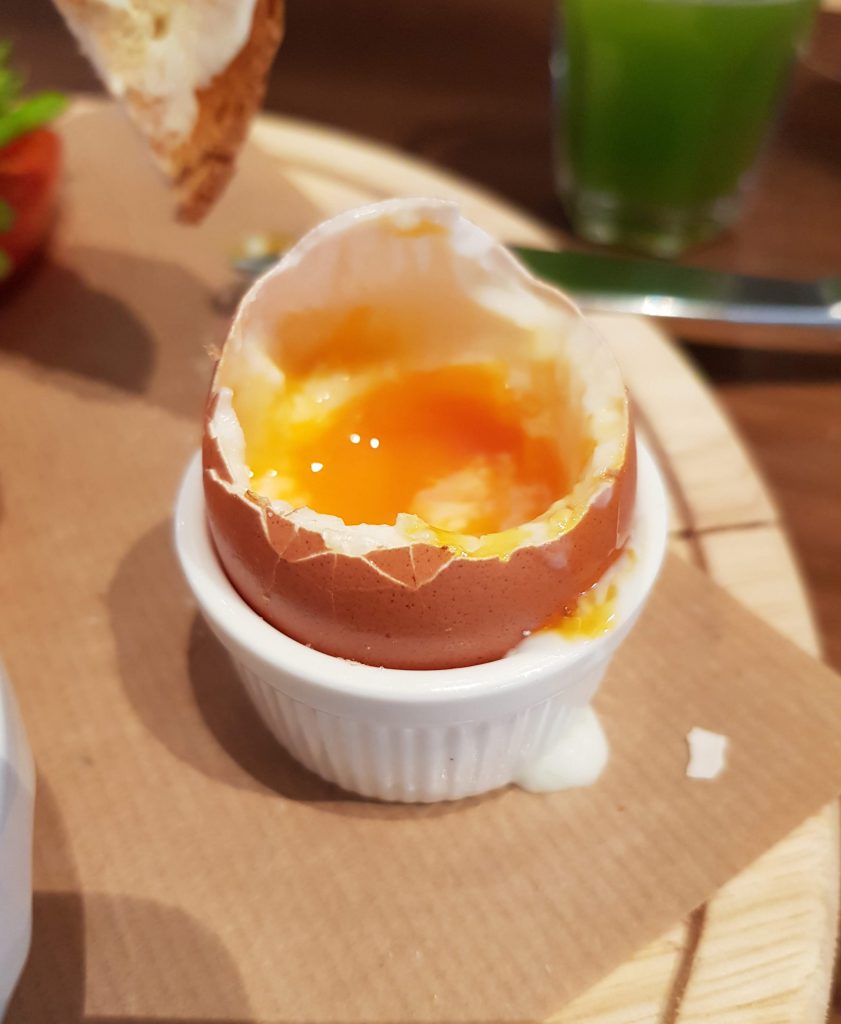 Another breakfast item we rarely see in Taipei are breakfast butties. Fumu has bacon and Sausage Butties (with a choice of either breakfast or chorizo sausages). Seeing as it was breakfast, we chose the former.
The butties also contain fried onion and peppers, and mustard. The butty tasted great – just like the sausages back home – and the chips were crispy and delicious too.
Fumu even has sausage rolls, which is another thing I have rarely (if ever) seen in Taipei. These come on their own (NT$100 each), or as a set with baken beans and two eggs. Another thing to add to my 'to eat' list.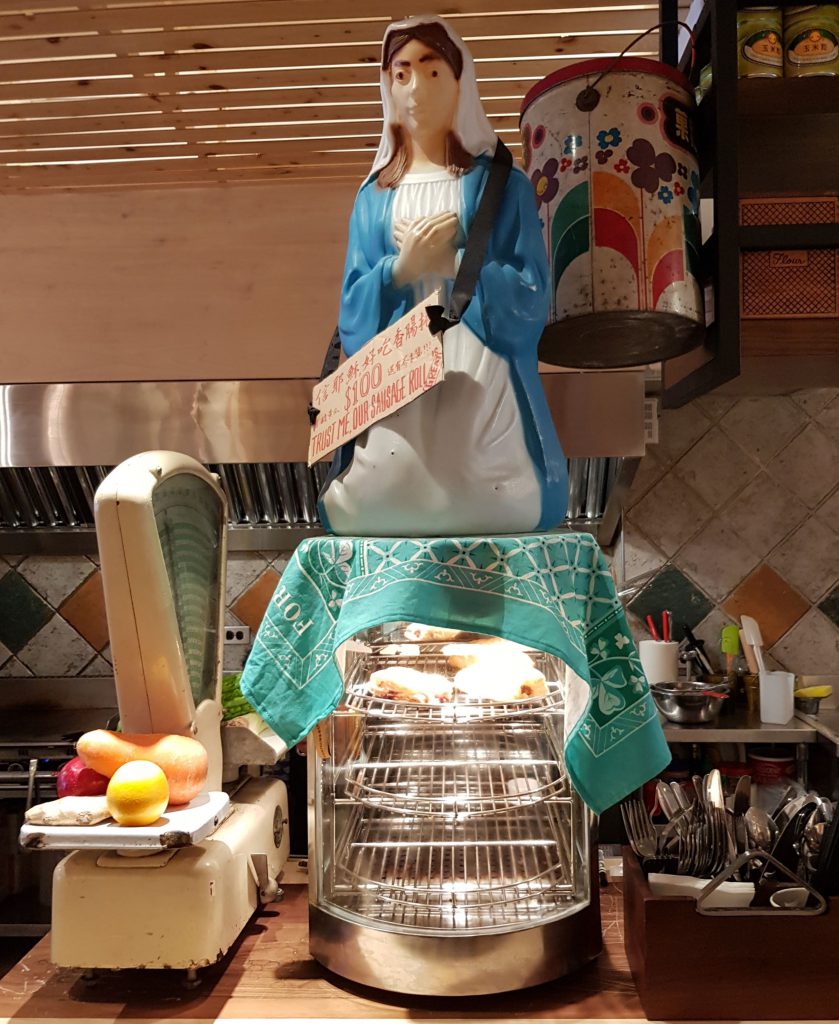 If you prefer to try a more traditional breakfast, Fumu make an excellent with Dan Bing (Taiwanese breakfast pancakes) along with turnip cake and a hash brown.
The Dan Bing comes with a choice of fillings, including tuna, bacon, and cheese. This also comes with a pot of tea, all for only NT$150.
Drinks-wise, there's the usual mix of espresso coffees and teas, while their fab orange juice is freshly squeezed and comes in an extra large glass. Or if you prefer some hair-of-the-dog, there are bloody Marys and espresso martinis available.
Another great thing about FuMu is that they have no 10% service charge, so what-you-see-is-what-you-pay-for!
I have a feeling that FuMu is going to become a regular breakfast place of ours, as it's fairly centrally located, great value, and above all, serves the most authentic English style breakfasts in Taipei!
Pros
Great western breakfasts
Good value
Nice toilets
Price: $$
Level of English: Good (English on menu)
Traveller Tips
There are two English Breakfasts available. One jumbo and one normal sized.
FuMu Location
Closest MRT: Nanjing Fuxing Station (green/brown lines – exit 3)
Located Nearby
If you have found the information on this page helpful, please take a minute to share this post by clicking one of the links below. Your support would be greatly appreciated :)