Perfect For
Walking and relaxing
Historical buildings
Gifts and snacks
Sunset
Located in the Northern area of New Taipei City and about an hour MRT ride from the centre, Tamsui (or Danshui as it's sometimes known) is situated along the Tamsui river and it a great place to come to escape the city and enjoy the views of the river.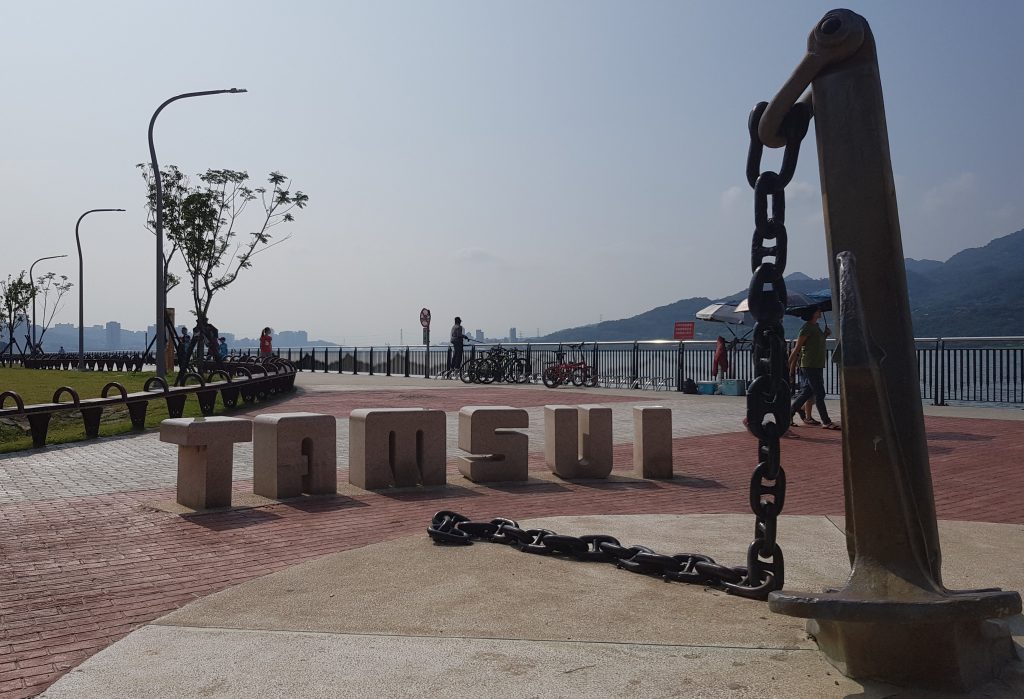 Having lived in Tamsui for a year, I became very familiar with the area, and so I've used my 'local knowledge' to write this guide.
---
The 1.5 km riverside walk along Tamsui Old Street between the MRT station and Fort San Domingo is a perfect way to spend a sunny afternoon.
The riverside walk is packed with food stands, gift shops, arcades and restaurants offering great views of the river and Bali, the township on the other side of the banks.
If you venture just away from the riverbank, there are many gift shops, restaurants and a small night market found on the streets parallel to the Old Street.
---
Ferry
A ferry service is available from Tamsui to Bali and Fisherman's Wharf.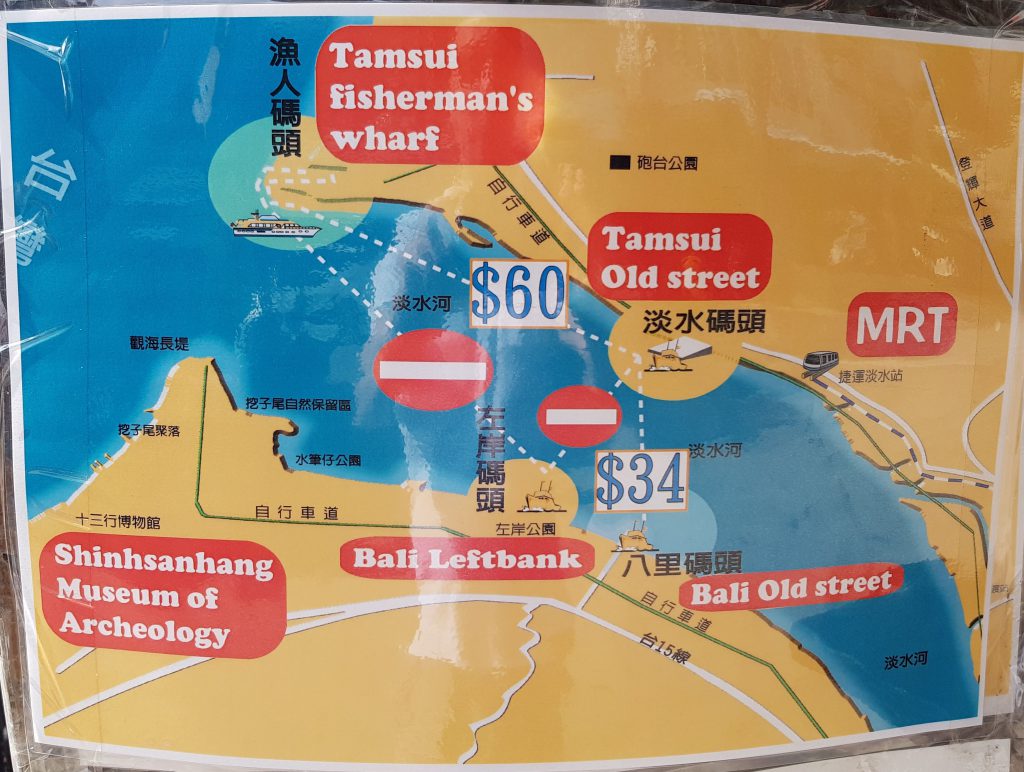 The harbour for the ferry service is located halfway along the old street from the MRT (see my map at the top).
Tickets can be purchased from one of the booths next to the harbour with cash or your Easycard.
Tamsui to Bali ferry
Opening Times
07:00 – 20:00 on weekdays
07:00 – 21:00 on weekends
Journey Time
7 to 10 mins
Frequency
10 – 15 mins on weekdays
3 – 5 mins on weekends
Cost (NT$)
Adult: 23 single / 45 return
Child: 12 single / 24 return
Tamsui to Fisherman's Wharf ferry
Opening Times
11:00 – 20:00 on weekdays
11:00 – 21:00 on weekends
Journey Time
12 to 15 mins
Frequency
20 – 30 mins on weekdays
10 – 15 mins on weekends
Cost (NT$)
Adult: 60 single
Child: 30 single
Bali shares many similarities to Tamsui, as it also has an old street and riverside walk. The Shihsanhang Museum of Archaeology can also be found in Bali, although you would need to take a bus or taxi to reach it.
See below for details on Fisherman's Wharf.
A return trip to Fisherman's Wharf, and entry to the museum are both available as part of the Taipei Fun Pass.
---
Places of Interest
Fisherman's Wharf
Fisherman's Wharf is located at the mouth of the Tamsui river, about 3km from Tamsui Old Street. There are two main attractions here – Lover's Bridge and Lover's Tower.
The tower is a relatively new addition which I've not experienced, but it's a 100m high revolving tower that offers great views of the area. It costs around NT$200, with a discount for Easycards.
There are also quite a few restaurants in Fisherman's Wharf, some with live bands playing.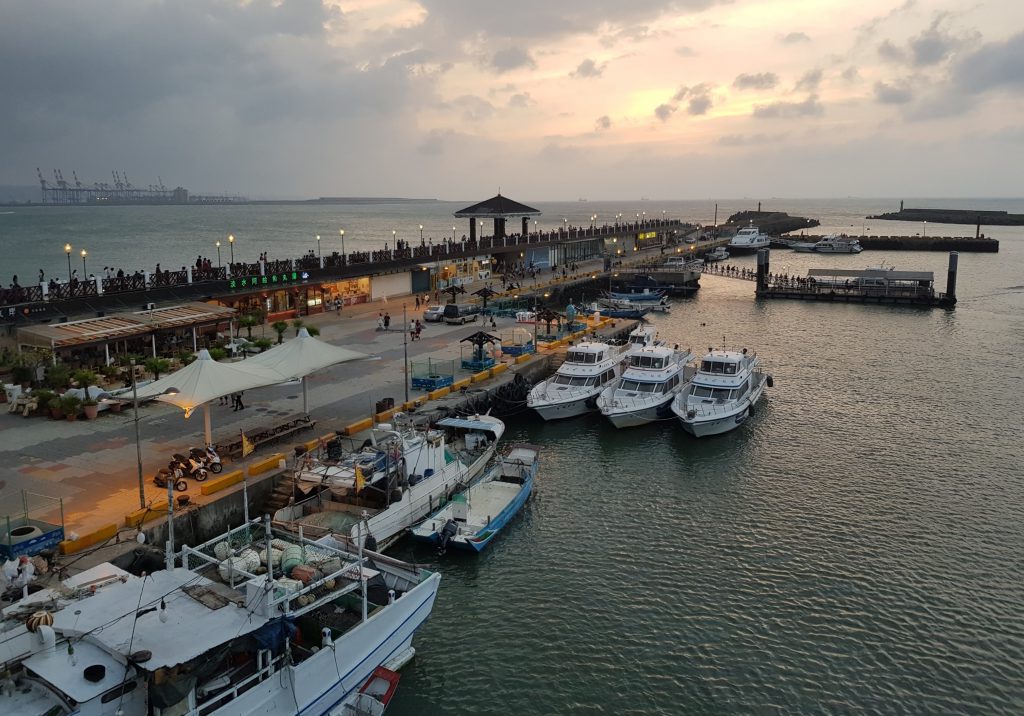 Taking the ferry to Fisherman's Wharf is the best option, although you could cycle for 15 minutes along the riverside instead.
Fort San Domingo
If you're spending most of the day in Tamsui, then I would recommend visiting Fort San Domingo, an impressive hilltop Spanish fort.
For NT$80, you gain entry to this and several buildings of historical significance (all marked in red on the map at the top). Opening times for each building do vary, so please read my post on Fort San Domingo for further details.
Cloud Gate Theatre
This one is only for theatre or dance enthusiasts.
Cloud Gate are Taiwan's internationally acclaimed contemporary dance group, and they'll sometimes play in their theatre in Tamsui.
Definitely worth checking to see if they are performing!
---
Food & Drink
There are many food options available at Tamsui, especially seafood, with many stands selling fried squid, shrimp and cuttlefish.
There are dozens of stall and restaurants located down Tamsui Old Street, while the small night market close to the MRT also has an abundance of food and drink stands.
If you prefer to dine somewhere slightly more fancy, then the best restaurant along the riverbank has to be La Villa Danshui, a superb Italian with a great outdoor seating area.
If this is too busy, there is another Italian next door called Monini which is a good second choice. For vegetarians, there's a lovely place near Tamsui Old Street called Between Tea House.
BritShake, set up by a British expat, serves quite authentic British food including scones, pies and fish & chips.
Ice cream is a popular snack in the summer, with a number of stalls selling extra tall ones that you need to be quick to eat. The Turkish ice cream stand near the harbour has a nice comedy routine for anyone attempting to buy one.
---
Sunset
The one thing you absolutely must witness in Tamsui is the sunset!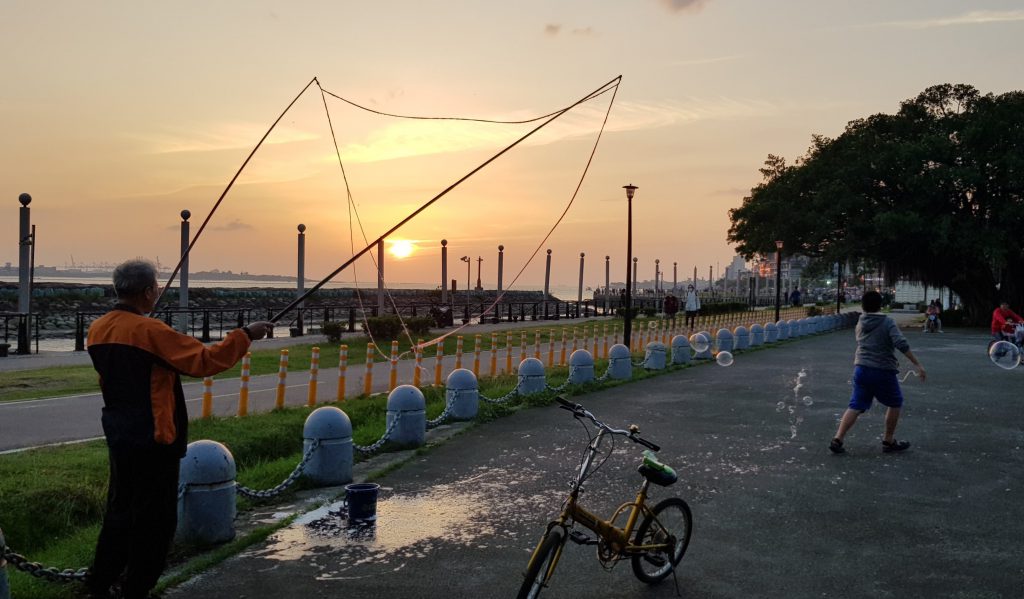 The riverbank will become packed with locals and tourists all vying for the optimal spot to take pictures, of not only one of the most beautiful sunsets in Taiwan, but one of the best we've ever seen.
Tamsui Sunset Times
Summer: Between 18:00 and 18:45
Winter: Between 17:00 and 18:00
If you can, grab one of the riverside seats at the Water Front restaurant. The best spot to watch the sunset from – with a nice cold drink!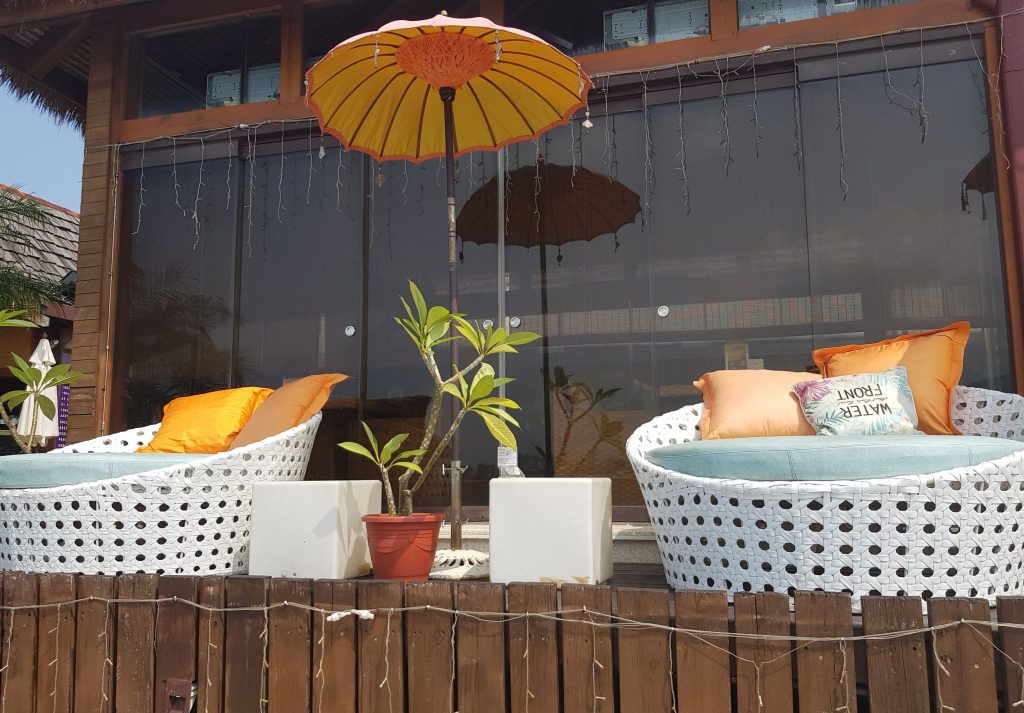 ---
Many of the locals come here at weekends and during holidays, so consequently it does get extremely busy during these periods. I would recommend visiting Tamsui during the week, especially if you want to visit the buildings near the fort, as most are closed over the weekend.
Virtual Tour
Tamsui Location
Closest MRT: Tamsui Station (end of red line – exit 1)

Tamsui Places of Interest