With two stations right next to Taipei Zoo, the Maokong Gondola is a fantastic cable car ride which terminates at Maokong, a mountainside township known for producing some of the best tea in Taiwan.
The Maokong Gondola ride will be closed for annual maintenance from 6 – 21 June 2023
The gondola also stops at Zhinan Temple, a beautiful temple set on the mountainside. Both Zhinan and Maokong offer unparalleled views of the city of Taipei, including Taipei 101 (as does the gondola ride itself).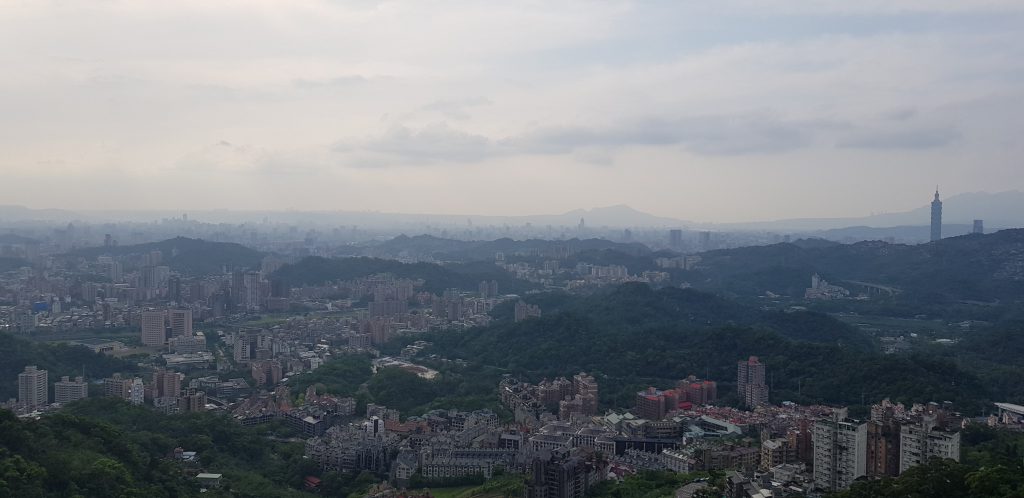 I have compiled some useful tips on the best days to go, how to save money, and tips if you intend to travel after a visit to the zoo.
Please refer to the Prices, Opening Times and Traveller Tips sections below.
The first thing you should do however, is check if the gondolas are operating. Adverse weather or maintenance could affect the ride.
At just over 4 km in length, a full single trip takes around 25 minutes and includes four main stations: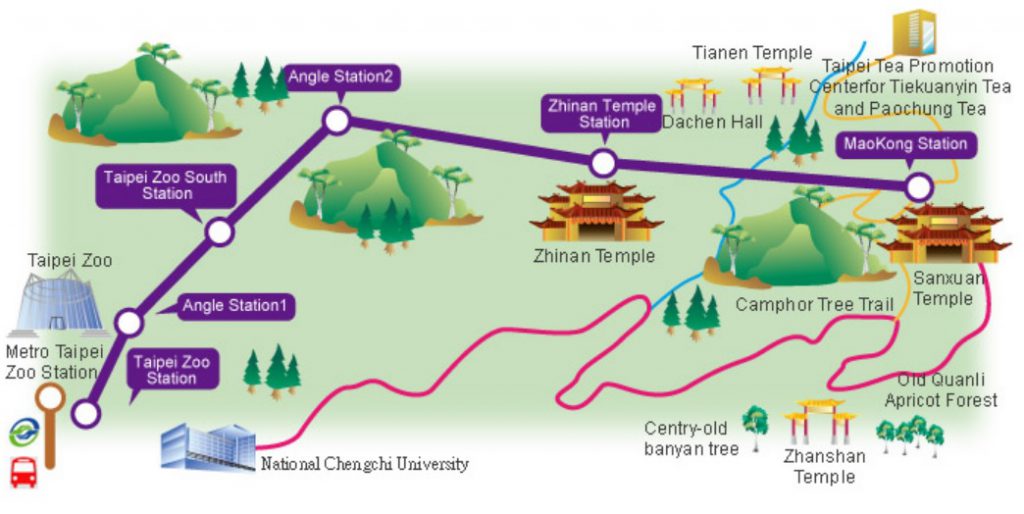 To pay for the gondola, you could purchase a ticket from one of the machines. However, it's best to pay with your Easycard. Not only is it easier (you just need to swipe your card to enter), but these also offer discounted travel on weekdays (see Prices section).
Tip: If you're low on credit on your Easycard, you can top it up at the booth just before the turnstiles.
---
Crystal Cabins
The Eyes of Maokong Gondola, otherwise known as Crystal Cabins, are specially reinforced glass-bottomed cable cars with almost 360 degree visibility.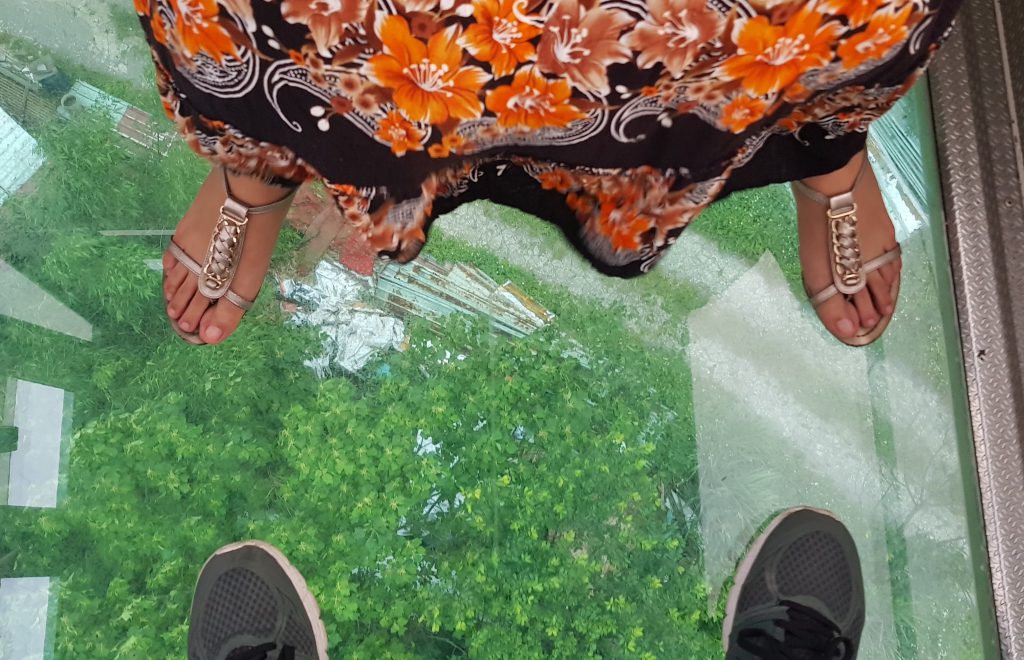 To catch one of these, you'll need to queue in the special Crystal Cabins line. Since there are only 31 crystal cabins in total, they only arrive every 3 minutes or so, and consequently you may need to wait for over 30 minutes during busy periods.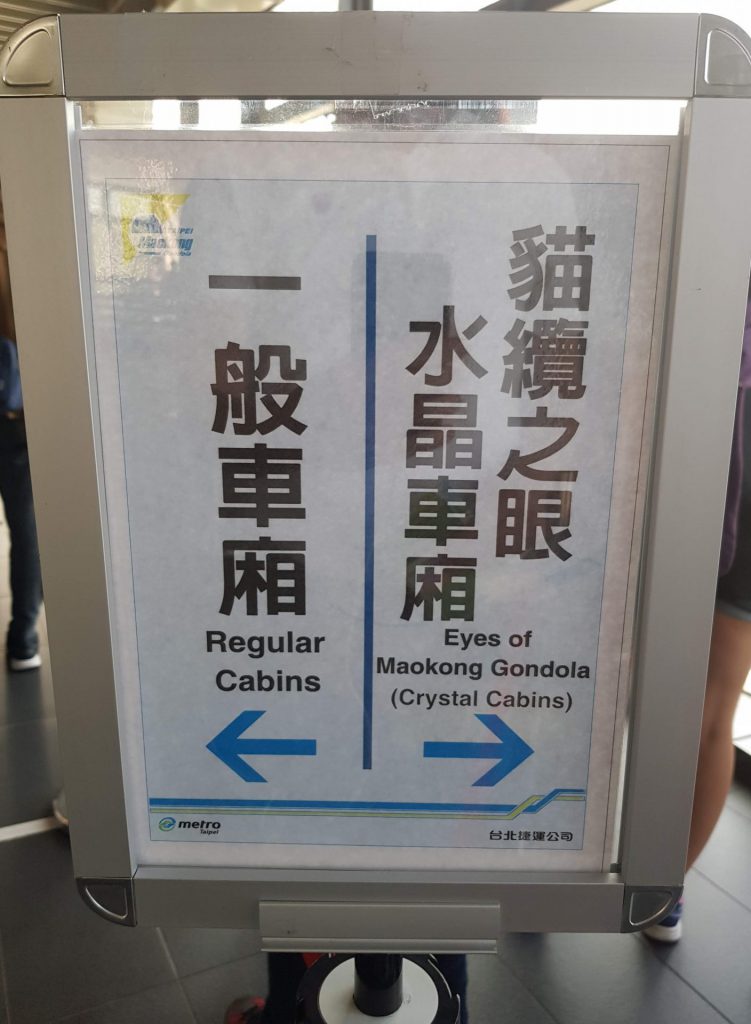 The crystal cabins also only allow 5 passengers (as opposed to the standard cabins which allow 8 passengers).
Tip: Arrive early to avoid queuing for a crystal cabin!
---
Zhinan Temple
Zhinan Temple, also known as Xiangong Temple, combines Daoism, Buddism and Confucianism, and is one of the most sacred Daoist temples in Taiwan.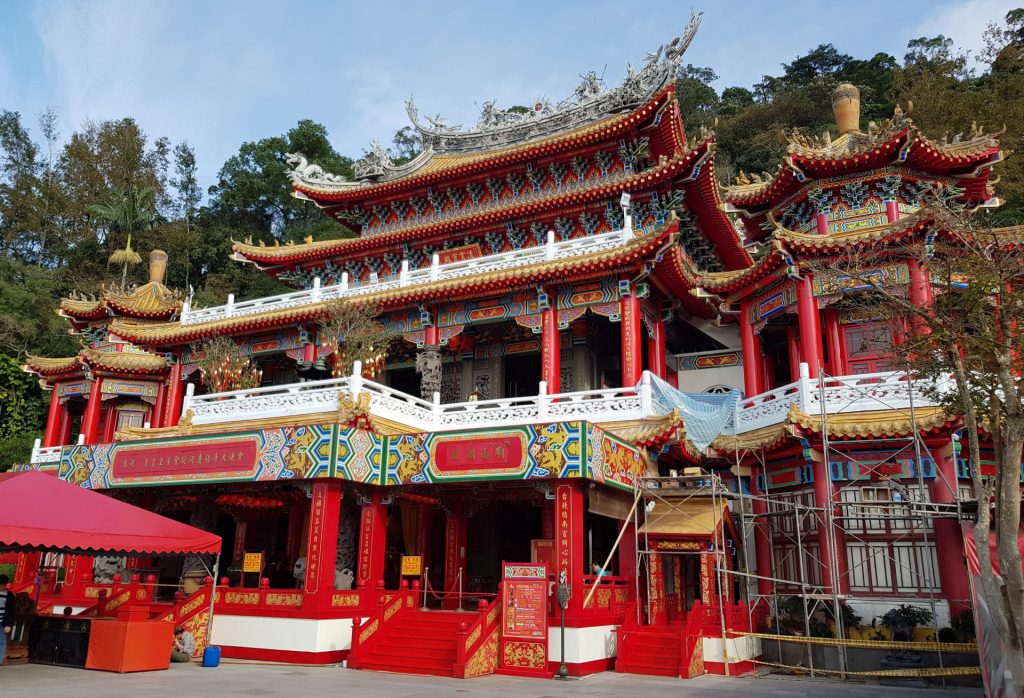 When you arrive at Zhinan Temple Station, you'll need to take a left after exiting the turnstile and walk for about 5 minutes (it's not well signed). You'll walk past many offerings hanging on the trees and bushes, asking the Gods for health, prosperity and other good fortune.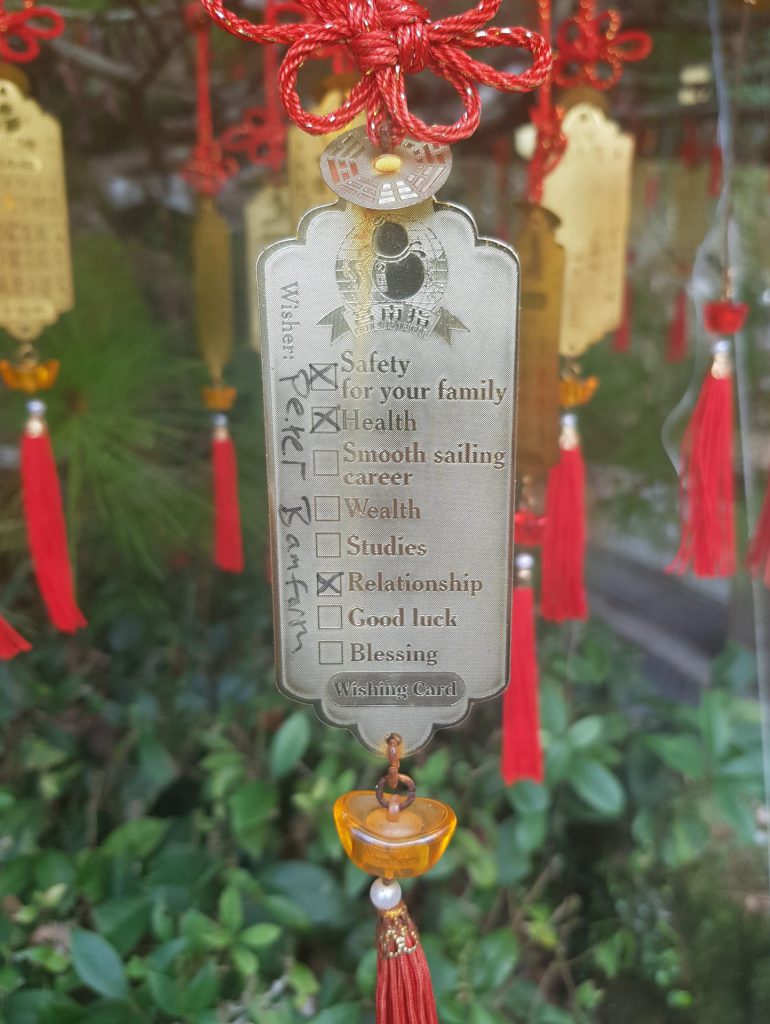 The temple faces the city, and the views from here are fantastic. You can even use one of the telescopic lenses for a NT$10 coin.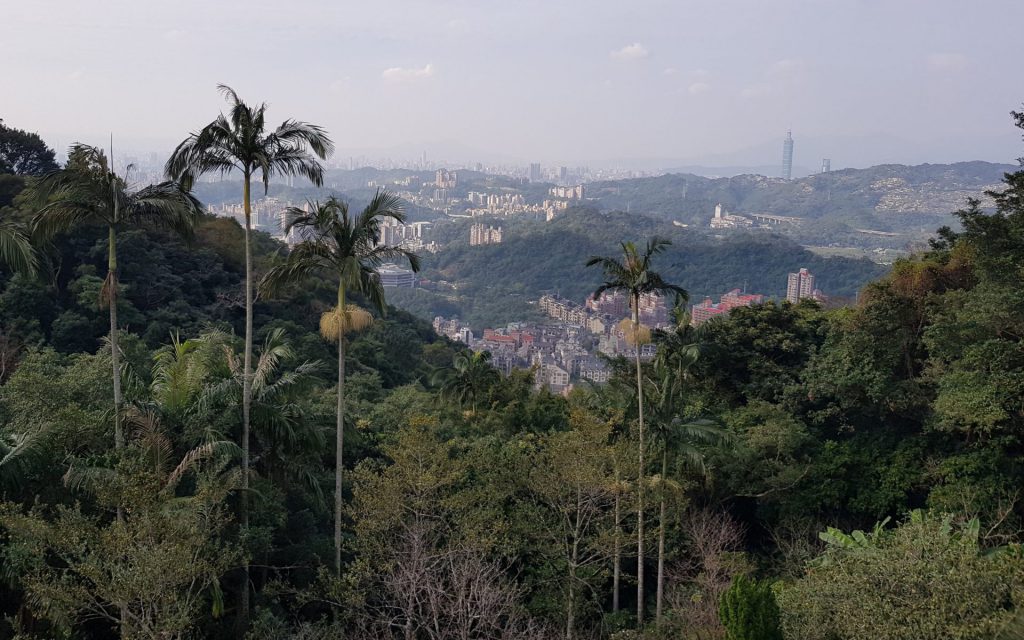 You're free to walk inside the temple, just be respectful and quiet. The main chamber is one of the most beautiful and ornate I have seen.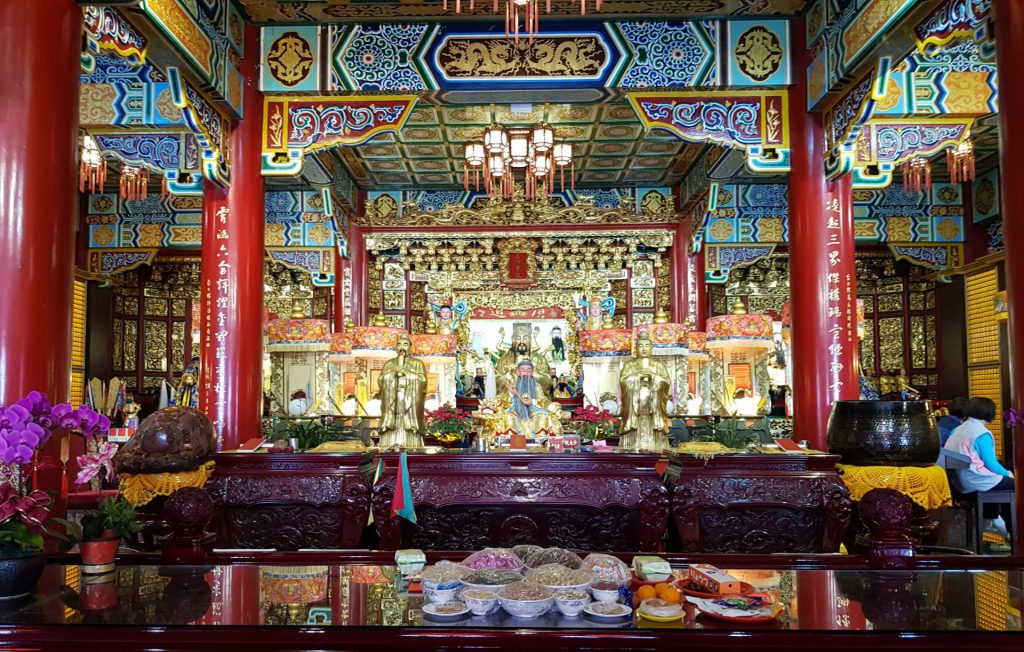 There are also walkways around the side of the cliff that take you to other areas with equally great views.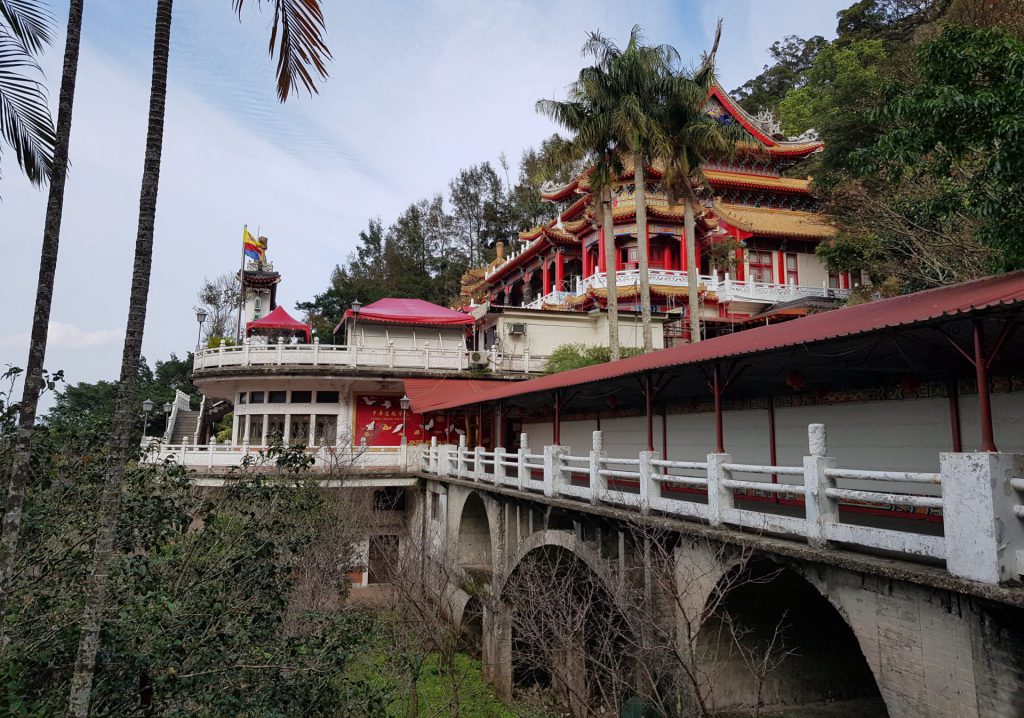 On the other side of the gondola station is the Zhinan Scenic Spot, a beautiful chamber with a dragon water feature. Next to this is the Chen Yang-Chun Art Gallery, featuring artwork by the renowned watercolour artist Chen Yang-Chun.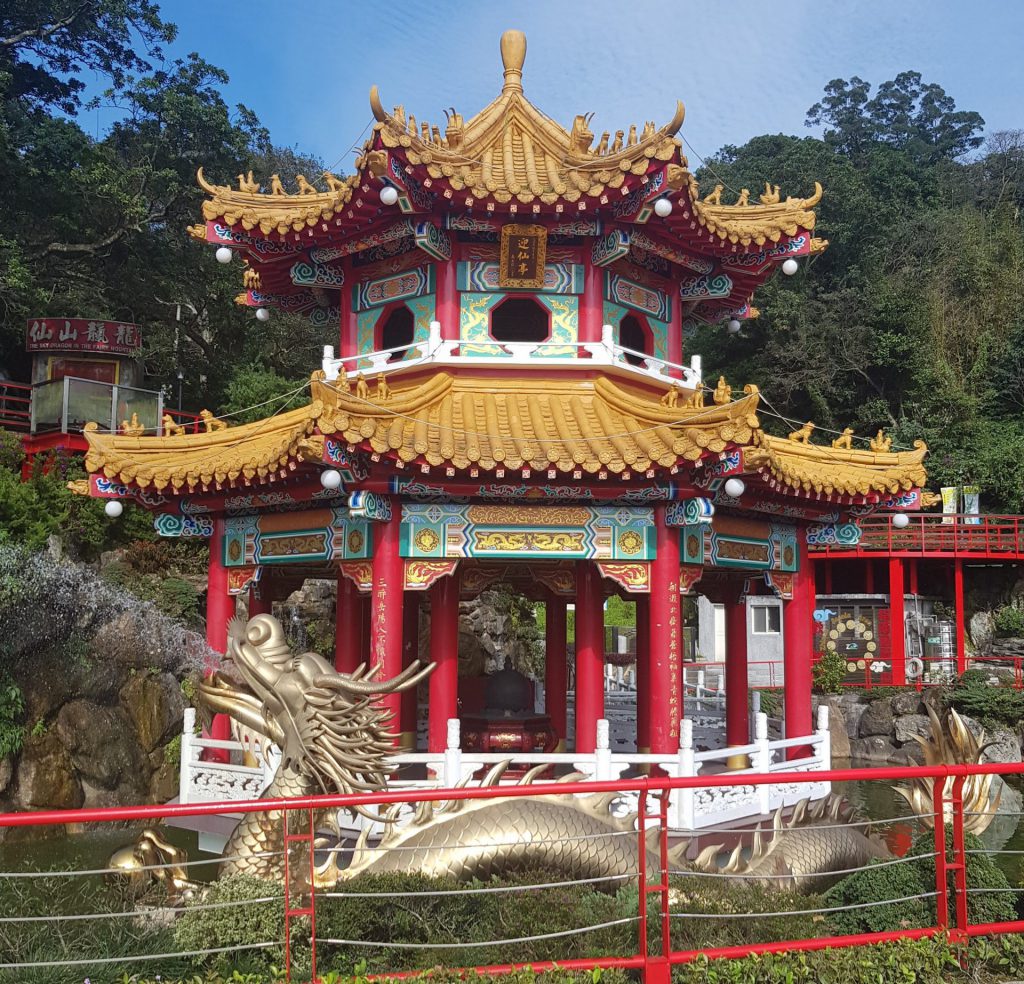 If you have your walking boots on, there are also some hiking trails leading even higher up the mountain.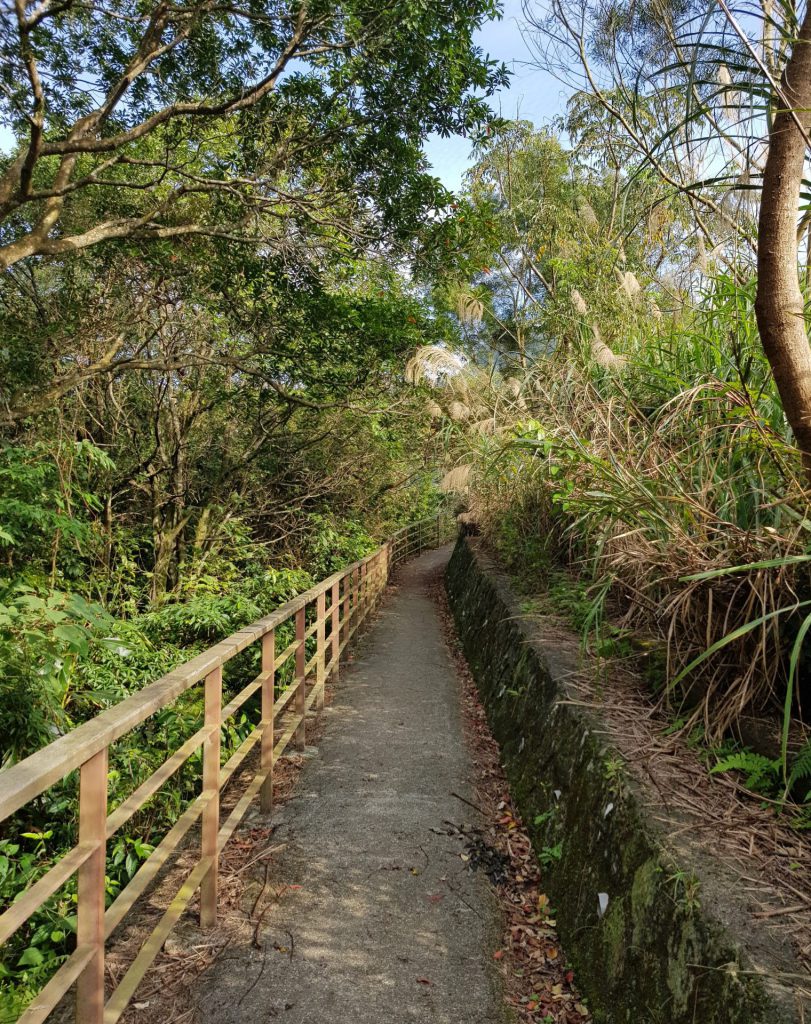 When you arrive back at the gondola station, make sure you go to platform 1 for Maokong.
---
Maokong
Maokong is a tea-lovers paradise. A beautiful mountainside scenic area with an abundance of tea houses serving many varieties of refined teas.
After you arrive in Maokong, you have a few options. You could take a bus or taxi to another location in Maokong (see Bus Routes & Times section).
Alternatively, the road outside the station splits into three directions.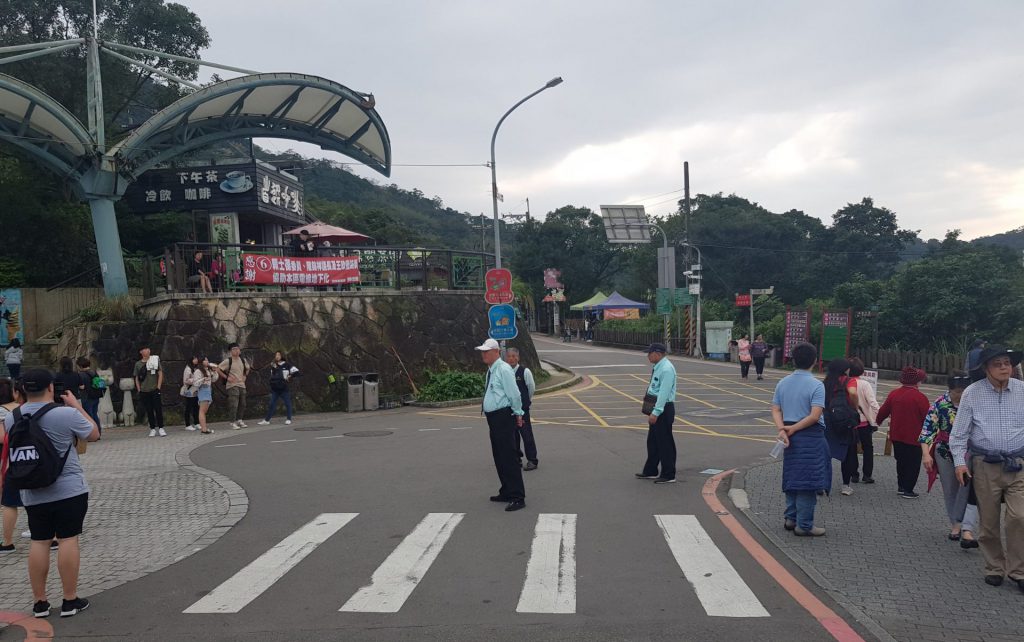 Don't bother going right, down the hill, as it only leads to a couple of tea houses.
Going Straight On has a few shops and tea houses, and some great views of the city.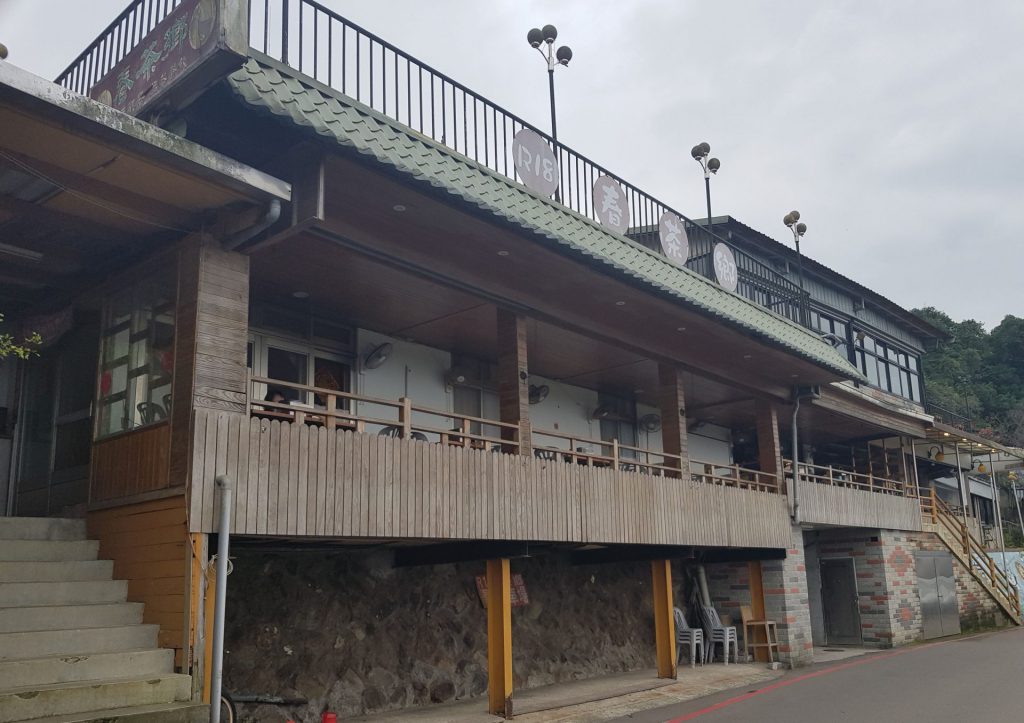 This way also leads to the Zhangshu Trail. The entrance to this isn't obvious, but it's the first right, just past this old charcoal kiln (it looks like a driveway but this leads to the trail). The trail will take you to Zhangshan Temple, and is about 1.4 km long.
This is especially worthwhile if you're visiting during the Spring months, as the fields here will be golden-yellow due to the blooming lupine flowers.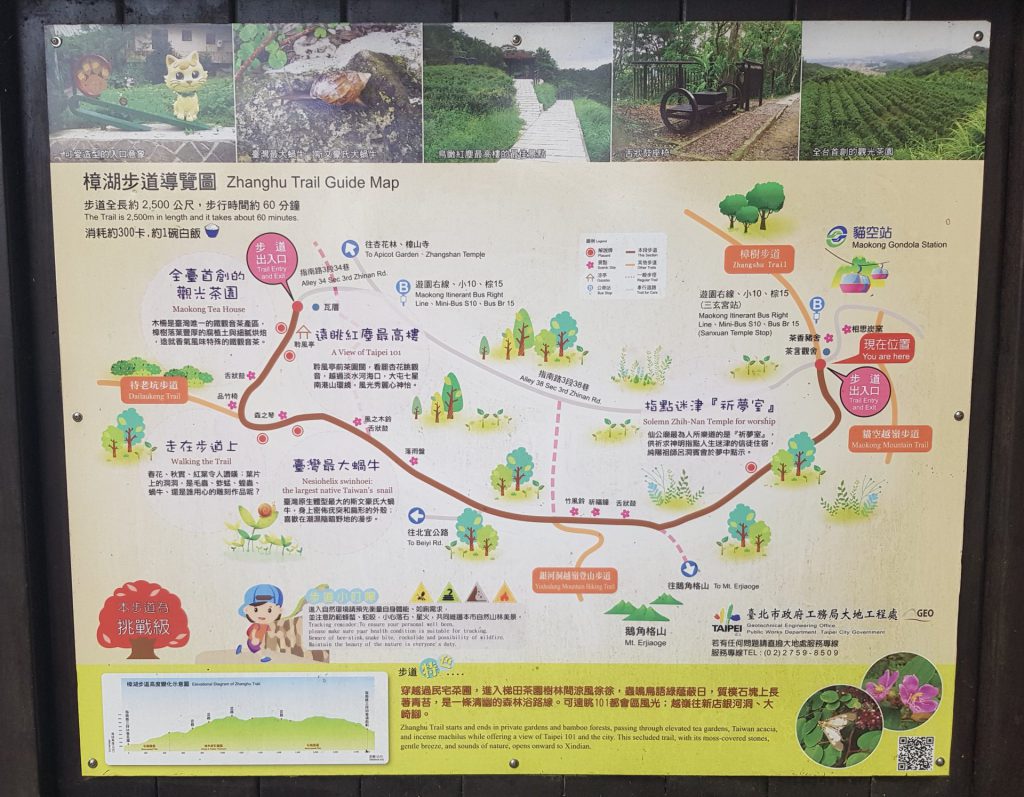 Going Left outside the station will take you past a few local food places, then about 300 meters around the corner, you'll see the majority of the tea houses, all of them with fantastic views.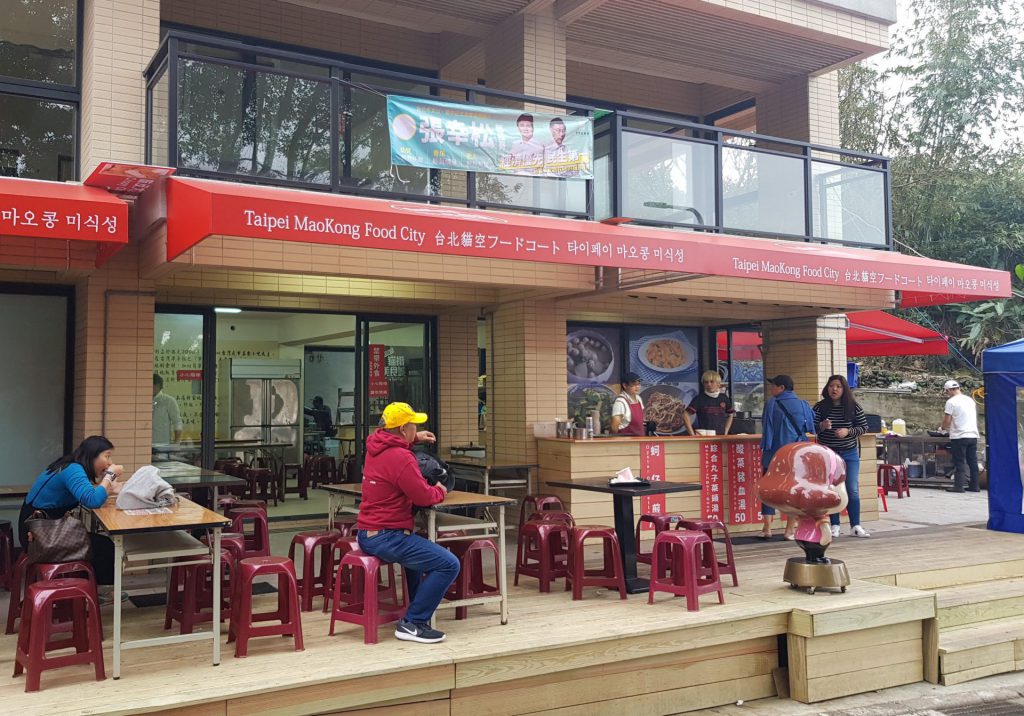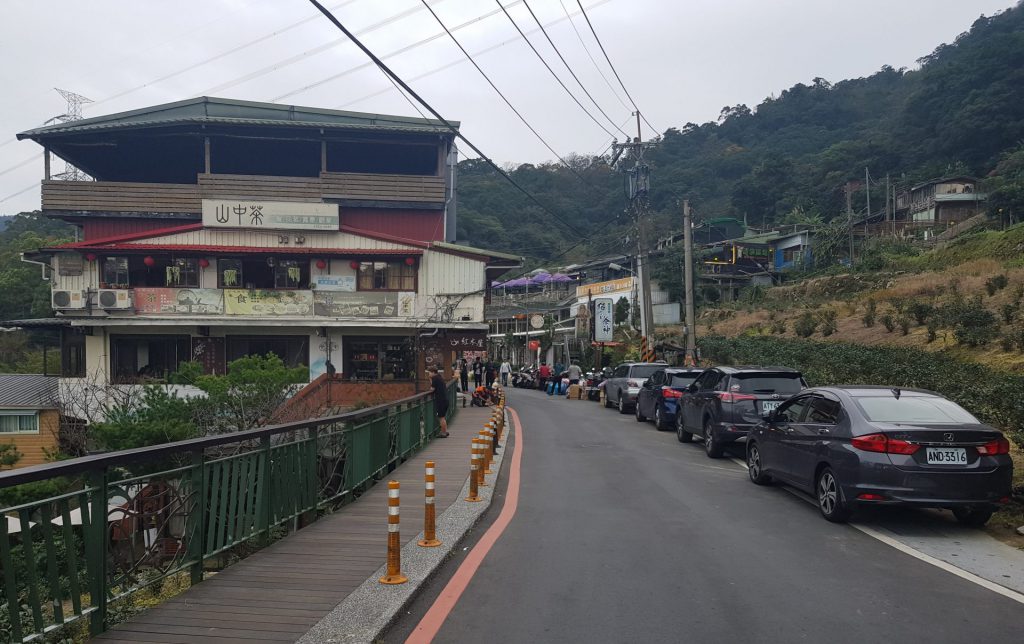 This is probably the best area to try one of Maokong's famous teas. Either the Muzha Tieguanyin or Wenshan Pouchong are the ones you should try.
If you continue about another 500 meters along this road, you will find the Taipei Tea Promotion Centre, a museum detailing the history of tea in Maokong.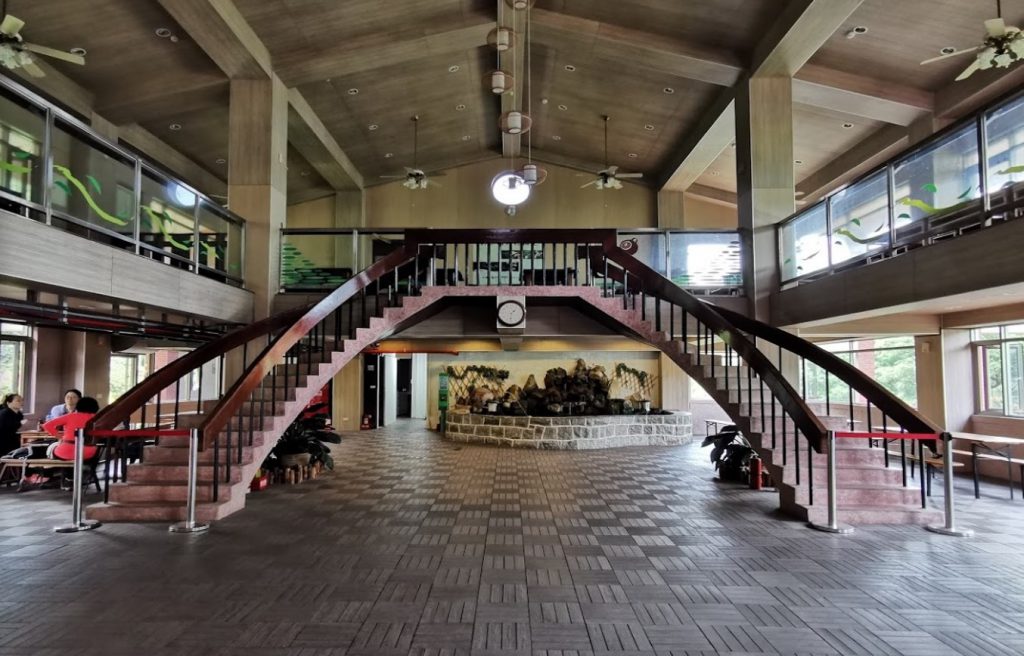 There is also a bus service that runs from the car park here back to Zhinan Temple Station. This stops at other attractions along the way.
Bus Routes & Times
There are 2 bus routes in the Maokong area. The bus stops for each of these are located:
Outside Maokong Gondola Station
Taipei Tea Promotion Centre Car Park
Both these take different routes, with the second one travelling back to the Zhinan Temple Gondola Station.
If you used your Easycard for the gondola, you'll get free bus travel on both of these.
Tip: Make sure you tap your Easycard when getting on and off the bus
Maokong Gondola Bus Route
Maokong Gondola Station
Tianliao Bridge
North Entrance of Camphor Tree Trail
Zhangshan Temple
Telescopic Deck
Apricot Grove
South Entrance of Camphor Tree Trail
Zhanghu Walkway
Maokong Gondola Station
Bus Frequency:
Weekdays: 10 – 15 minutes (off peak 15 – 20 minutes)
Weekends and holidays: 7 – 10 minutes (off peak 10 – 15 minutes)
Running Hours:
Weekdays:
09:00 – 22:30
Weekends and Holidays: 08:30 – 22:30
Taipei Tea Promotion Centre Bus Route
Tea Promotion Center Parking Lot
Maokong Pothole
Mini Skywalk
Pavilion
Yuanshan
Caonan
Zhinan Gondola Station
Bus Frequency:
Regular Intervals
Running Hours:
Weekdays:
09:00 – 20:00
Weekends and Holidays: 08:00 – 20:20
For information on some of these attractions, visit this site.
There are also taxis next to the Maokong Gondola Station. If taking one of these, I would advise to have a map to hand so you can show the driver.
---
Once you're done, it's time to head back to the gondola for the return trip, and again appreciate Taipei city from a distance. If possible, I recommend taking this trip during twilight or dusk, as the city will look beautiful as it transforms from day to night.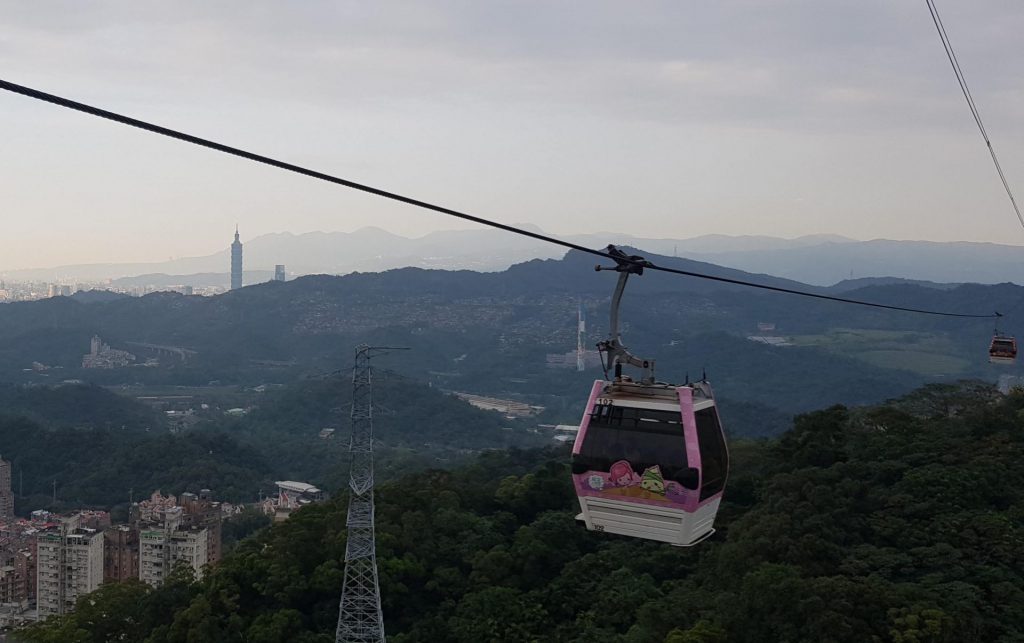 The Maokong Gondola is a great way to get out of the confines of the city for an afternoon and enjoy the serine surroundings of Maokong.
Combining this with a trip to the zoo, or simply spending the entire day in the mountains, is a day well spent!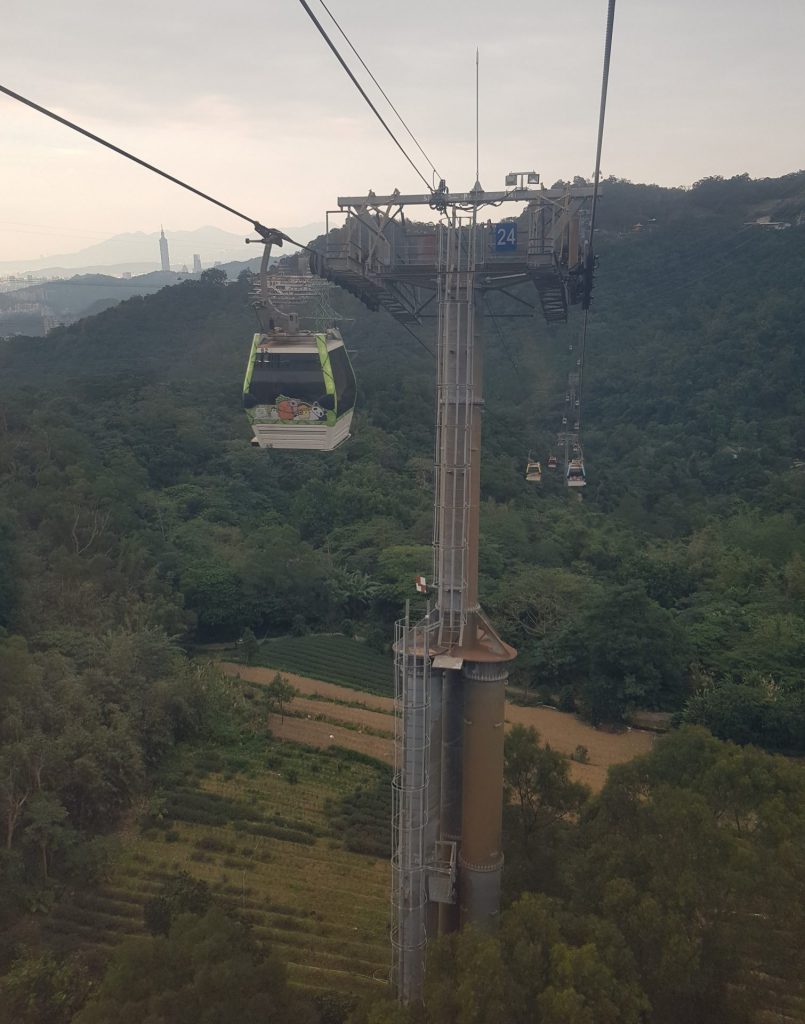 ---
Prices
| | | | |
| --- | --- | --- | --- |
| | 1 Stop | 2 Stops | 3 Stops |
| Single Journey | NT$70 | NT$100 | NT$120 |
| With Easycard (weekdays only) | NT$50 | NT$80 | NT$100 |
Each adult is allowed up to 2 children under 6 for free.
NT$50 discount for children 6-12 and seniors over 65.
Extra NT$20 discount if using your Easycard on the same day as visiting the zoo.
Klook Deals
Maokong Gondola & Zoo Combo Tickets
Gets access to both the Gondola and Zoo for NT$230
Taipei Tea Culture Day Tour
Full tour of Maokong tea plantations including hotel pick-up and drop-off for NT$2700
Taipei Transport Fun Pass
You can also gain access to the Gondola as part of the Taipei Fun Pass for NT$350
---
Opening Times
09:00 to 21:00 (22:00 on Fridays, Saturdays and national holidays)
Closed on Mondays (except first Monday of every month and for national holidays)
Weather permitting!
---
Traveller Tips
If you're catching the Maokong Gondola after a trip to Taipei Zoo, then I would recommend taking the Taipei Zoo South Station, as this is inside the zoo, and you can catch the zoo shuttle train directly to it.
The gondola is cheaper (and much less busy) during weekdays. However, it is usually closed for maintenance on most Mondays (see opening times).
The cable car windows can get quite dirty. If you time your trip after a maintenance day however, they are likely to have just been cleaned!
Using your Easycard will get you extra discounts. Alternatively, Klook have some great deals for the gondola (see above).
Standard cabins allow up to 8 passengers.
The crystal cabins only allow 5 passengers.
The gondola will be closed during severe weather. The information panels in MRT trains will inform you if this is the case. Alternatively, check their website.
---
Location & Getting There
The Maokong Gondola is accessible from the MRT. If you're travelling from Taipei Main Station, just take the Blue line to Zhongxiao Fuxing MRT station and change to the Brown line. Take the MRT that travels south to Taipei Zoo and it's the final stop after a 20 minute ride.
There is a gondola station about a 5 minute walk from exit 2. Alternatively, the Taipei Zoo Gondola South Station is found towards the rear of the zoo, and can be accessed by the zoo shuttle train within the zoo.
Closest MRT: Taipei Zoo (end of brown line – exit 2)
Located Nearby