Pizzeria Oggi serves the most authentic Italian pizza in Taipei. That's not just me saying it – they have an "Italian Napoli Pizza Association Certification", meaning they use the ingredients and process to create authentic Neapolitan pizzas.
Using mozzarella buffalo cheese, Italian top-grade virgin olive oil, homemade fresh tomato sauce and natural sea salt. Most importantly, they use flour imported direct from Italy. To cook the Pizza to the strict standards, they have imported an Italian sloping volcanic rock kiln for each restaurant.
And it really does show in their final product. The pizzas, which come in either 9″ or 12″ sizes, are exactly how they taste in Italy. Thin chewy elastic bases with a crisp crust, the cheese and tomato sauce are divine, and the toppings heavenly.
One option that's not on the menu below lets you choose your base and two pizzas and they'll put half on each side. A very good option if you have difficulty deciding on a pizza, although it is limited to specific pizzas.
Alternatively, you can create your own pizza, choosing from either Napolitano, Romano or Taiwan Wheat dough, Tomato Sauce, Pesto or Cream, and four toppings (two meat, two veg).
Pizzeria Oggi serve calzones, pasta dishes and other mains too although we'll probably never try these as the pizzas are so delicious. We did however opt for a salad to make us feel less guilty about the calories – the Caesar salad with salmon, and very nice it was too.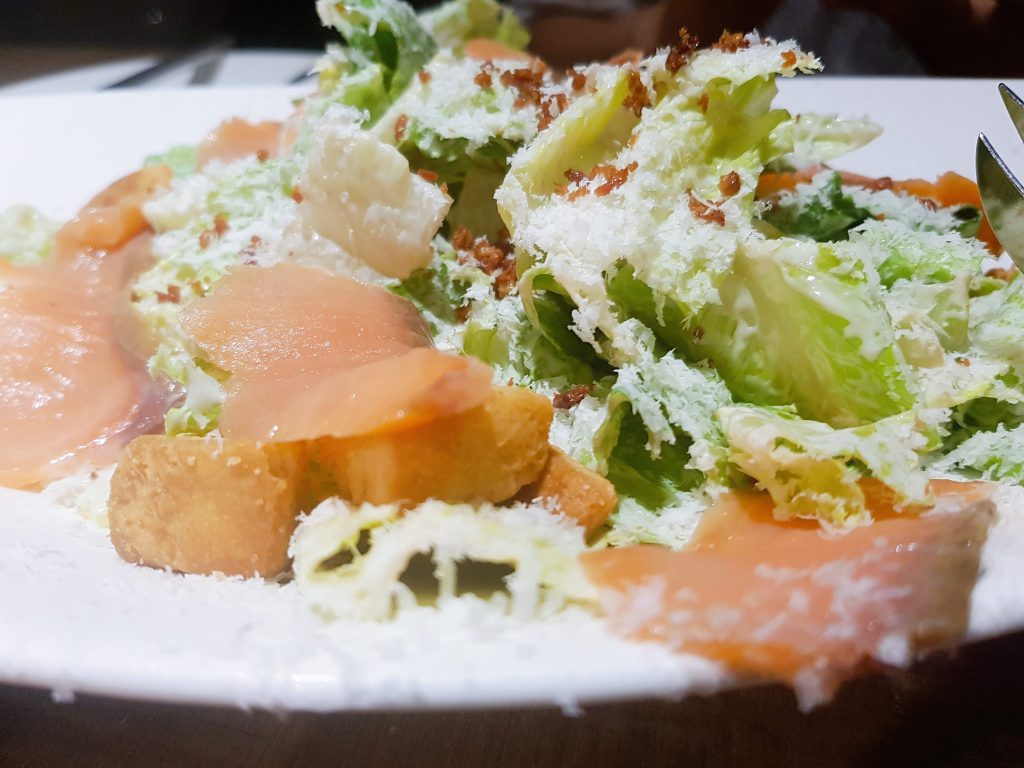 They've done a good job on the interior (at least in the Daan branch we went to). Playing some great Italian/Spanish music that (coupled with the food) really does make you feel like you're dining in the Mediterranean.
Drinks-wise, Pizzeria Oggi have a very good selection of beers, ciders, wines and soft drinks. The Cokes and 7-Ups having unlimited refills.
Will we be returning to Pizzeria Oggi? Heck yes!
Pros
We've not found a more authentic Italian pizza in Taipei
Cons
None of the branches are close to an MRT station
Price: $$$
Level of English: Good (English on menu)
Traveller Tips
If you have difficulty deciding on a pizza, go for the half and half one.
If you add them on Line, you can get 1 point per NT$250 spend. 3 points equates to a free dessert, while 12 points will get you a free pizza!
Free top ups for Coke/Zero Coke/7-Up
Pizzeria Oggi Locations
Daan branch (closest MRT: Xinyi Anhe, red line – exit 2)
Tianmu branch (closest MRT: Zhishan, red line – exit 2)
Songshan branch (closest MRT: Zhongshan Junior High School, brown line – exit 1)
(close to Songshan Airport)
If you have found the information on this page helpful, please take a minute to share this post by clicking one of the links below. Your support would be greatly appreciated :)