The Taipei Astronomical Museum is the best Museum in Taipei for children. Not only does it have three floors full of fun and interactive displays, it also boasts IMAX and 3D theatres, and a unique Cosmic Adventure experience.
The main entrance hall gives you an insight of what to expect. A large hot air balloon that floats to the ceiling aided by controls. One great thing about the museum is that almost all of the information displays include English.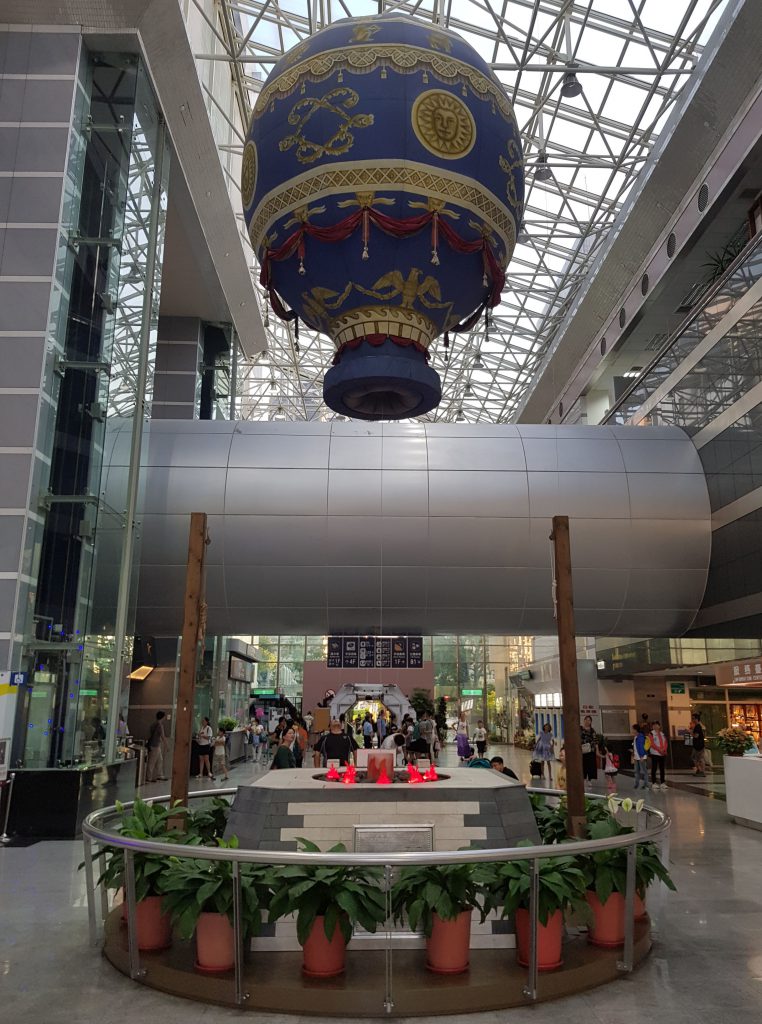 For just NT$40, you gain entry to the Main Exhibition Hall. With three floors featuring every aspect of space exploration. Astronomy, astrophysics, cosmology, Earth and planetary sciences all fully represented.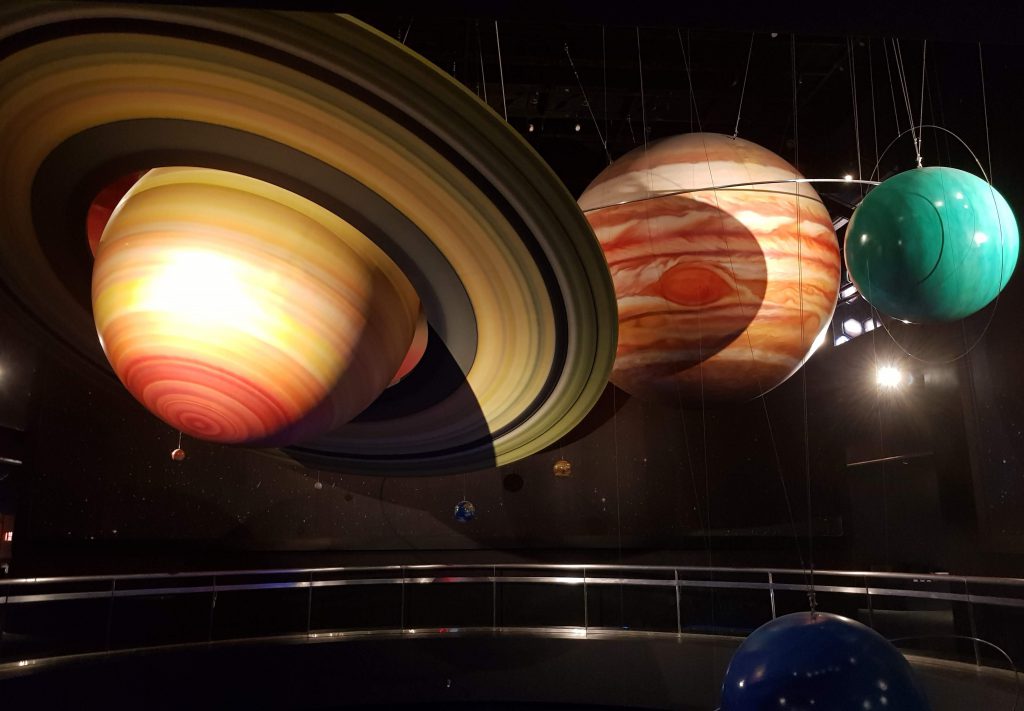 The floors are split up into the following categories:
1st Floor

Kaleidoscope of the Universe
The Earth
Space Exploration

2nd Floor

The Sun, Earth & Moon
The Solar System
Stars
The Milky Way

3rd Floor

Galaxies
The Universe
The Search for Life
Observations
Astronomy in Taiwan
The Space Exploration section is one of the best thought out areas, with many interactive displays showing how problems in zero gravity were overcome, and even includes replica spacesuits.
There's a reconstruction of the lunar module, complete with a camera that displays your face on the helmet of the astronaut.
The Earth section includes a neat spinning representation of our planet, and even a simulated whirlwind.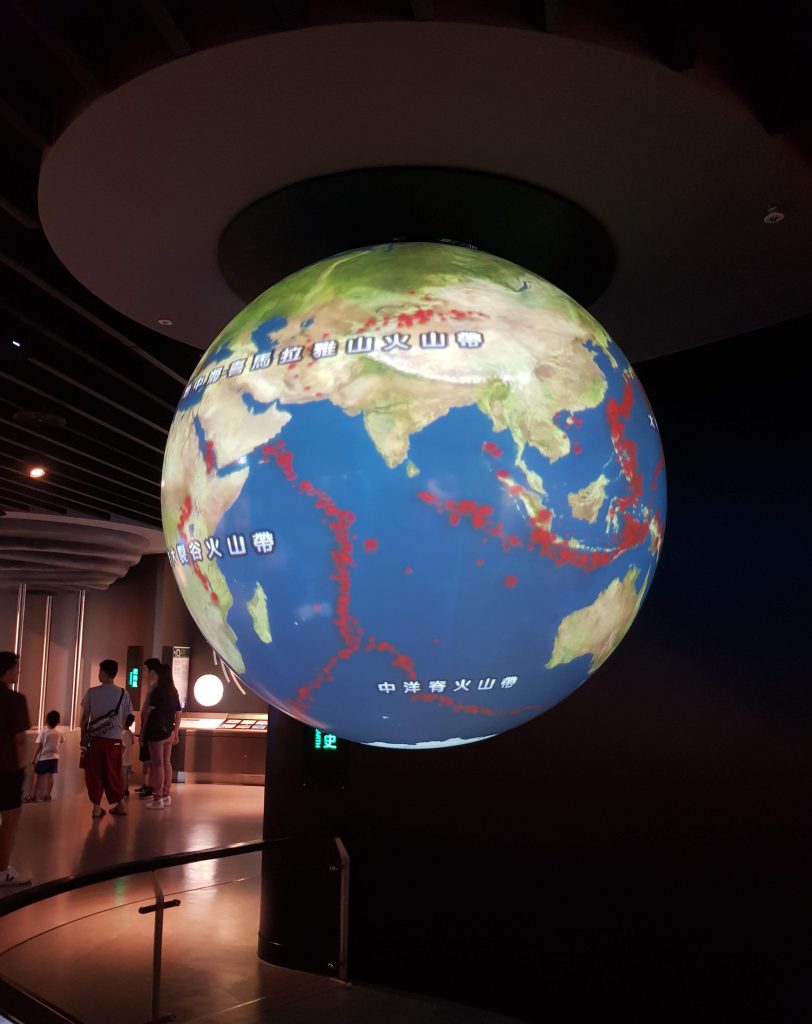 All the sections in the Taipei Astronomical Museum are well designed and include many interactive displays and fun things for kids (and adults) to enjoy. There are well over 100 unique and interesting displays on the three floors.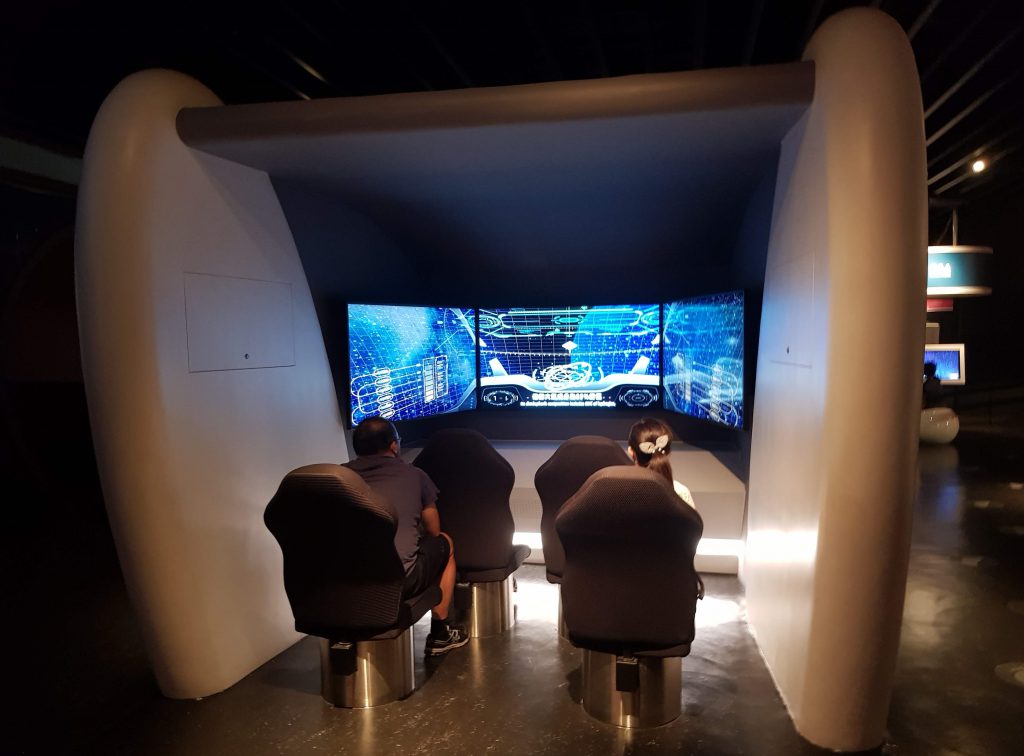 They even have some fallen meteorites.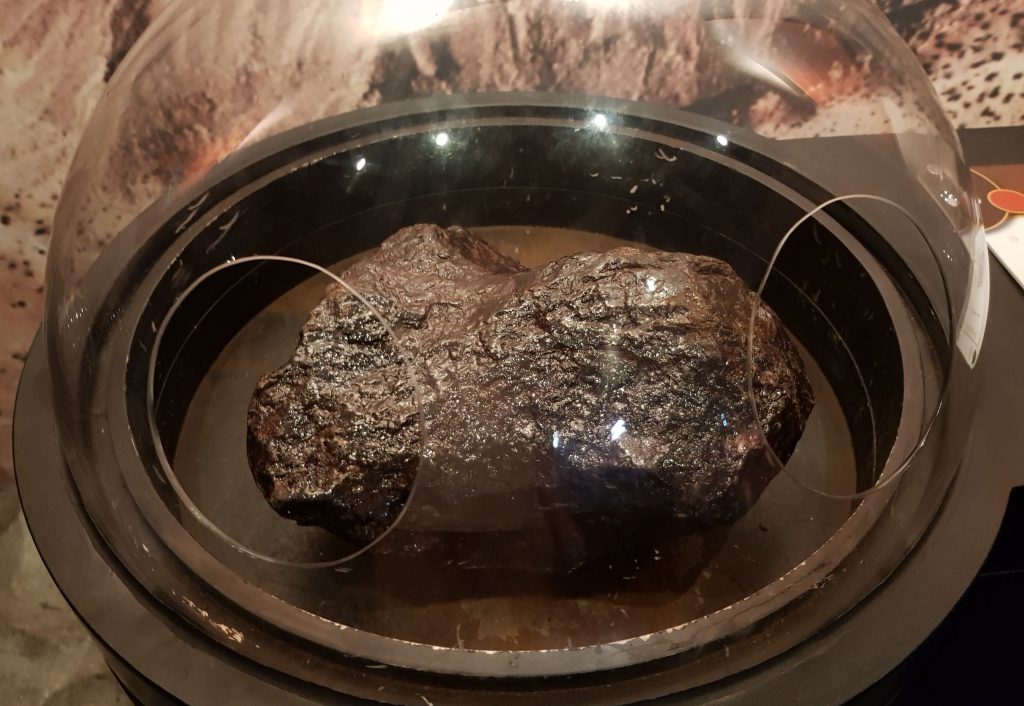 Outside the main exhibition hall, there are a few other activities you can enjoy, although these all cost extra (see Prices section).
On the 4th floor is Cosmic Adventure, which is a simulated adventure for kids to see what it would feel like to be in space, and features aliens and other surprises.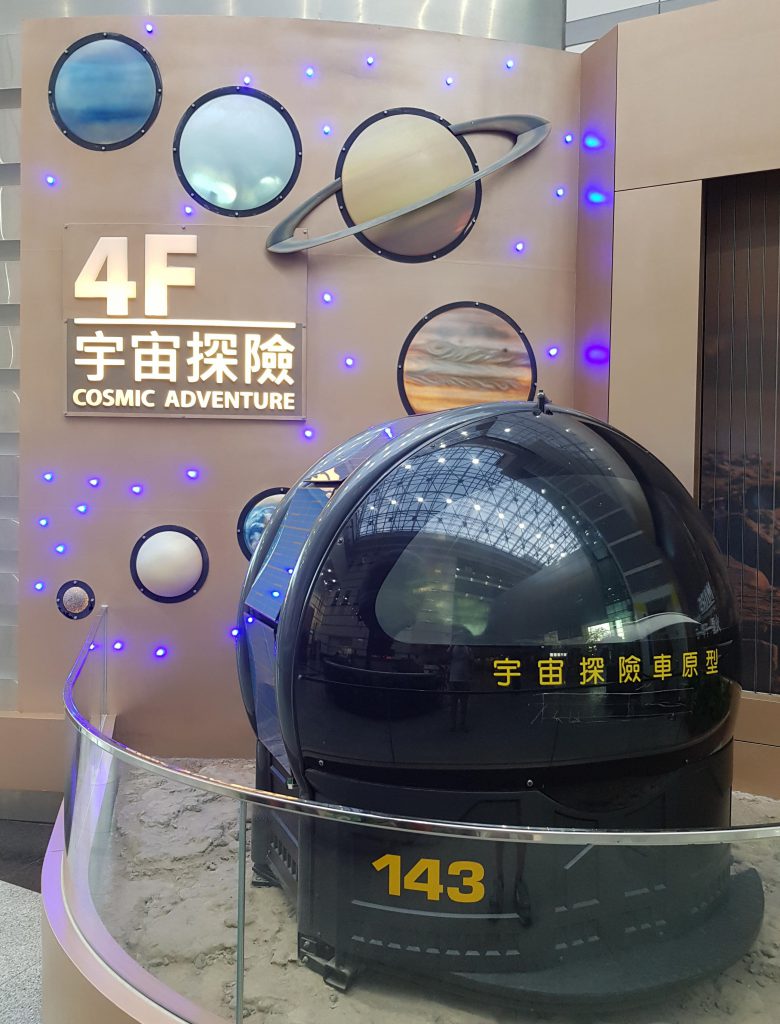 There are two theatres too, one IMAX and one 3D.
The 3D theatre, as of writing, swaps between showing an animation about Leonardo Dan Vinci and a wildlife documentary about Africa.
The 'Cosmic' IMAX includes 'Mars: One Thousand One', a documentary about the issues involved in journeying to Mars.
Both theatres have screenings every hour on the hour from 09:00 until 16:00 (extended to 19:00 on Saturdays)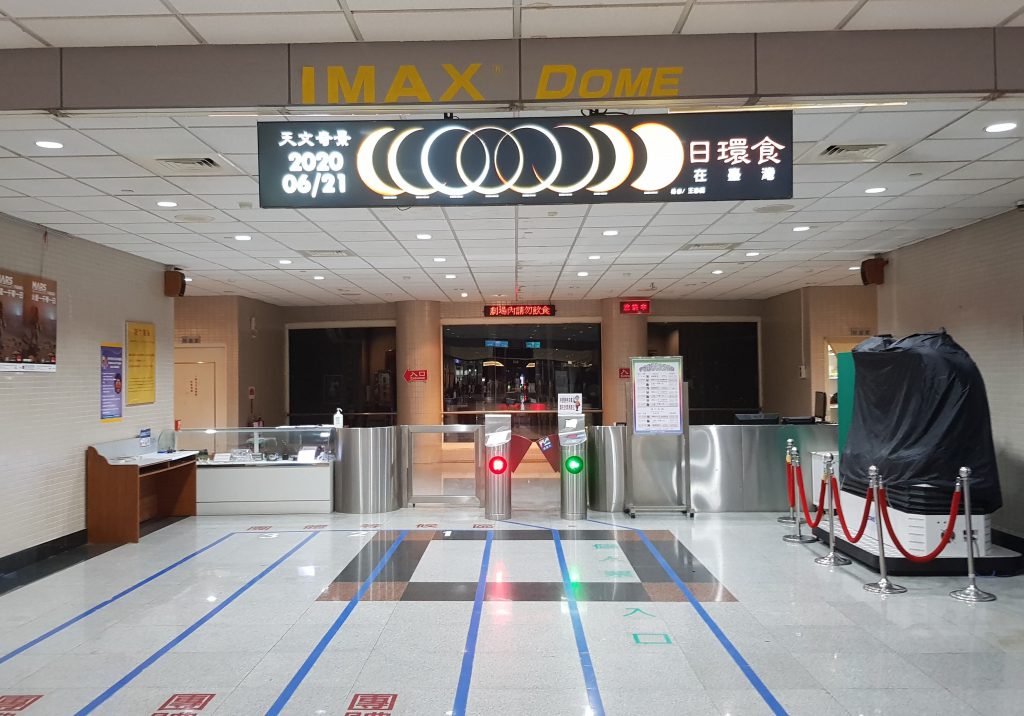 Being an Astronomical Museum, it is also equipped with two telescopes, although the larger of them is not open to the public.
The smaller one is open during the day, but is restricted to viewing sunspots. On Saturday evenings, it can be used to view stars and planets, and can be set to track anything in the night sky.
With the many attractions here, you could spend all day at the Taipei Astronomical Museum.
Pros
Great for kids
Packed with many fun and interactive displays
Cons
Not close to an MRT station
Prices
| | | | |
| --- | --- | --- | --- |
| | Exhibit Halls | Cosmic Adventure | Dome & 3D Theatre |
| General | NT$40 | NT$70 | NT$100 |
| Senior Citizens | NT$20 | NT$35 | NT$50 |
| Preschoolers | Free | NT$35 | NT$50 |
Opening Times
09:00 – 17:00 (extended to 20:00 on Saturdays)
Closed on Mondays and public holidays
Traveller Tips
It's a great area to take children. Both the Taipei Children's Amusement Park and National Taiwan Science Education Center are located within the vicinity.
Come on a Saturday evening to take advantage of the telescope they have.
Taipei Astronomical Museum Location
Closest MRT: Shilin Station (red line – exit 1)
15 minute walk to the museum
Located Nearby
If you have found the information on this page helpful, please take a minute to share this post by clicking one of the links below. Your support would be greatly appreciated :)