The Diner is the oldest western style brunch place in Taipei. With the original branch in Daan, it has since expanded with the addition of three branches, one located in the heart of the Xinyi Shopping District while another is in Nangang near the exhibition centre. The forth branch is in Hsinchu City, quite a way from central Taipei.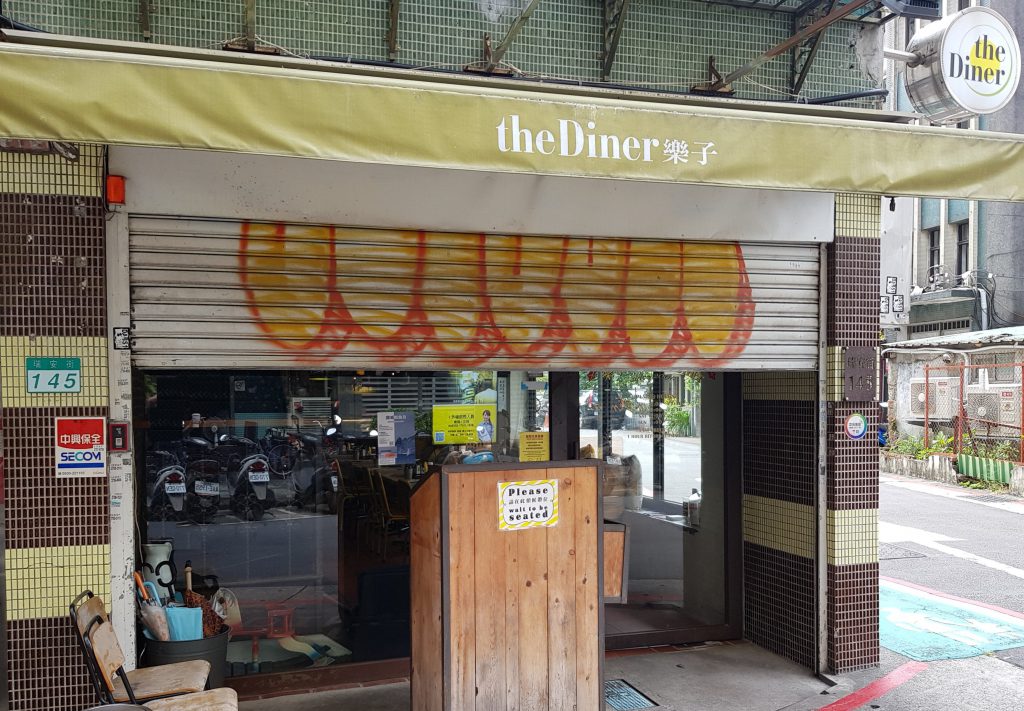 Over the years it has established itself as one of the best brunch spots in Taipei, and consequently you'll often find a large gathering of people waiting to be seated, especially over the weekend mornings at the Daan branch.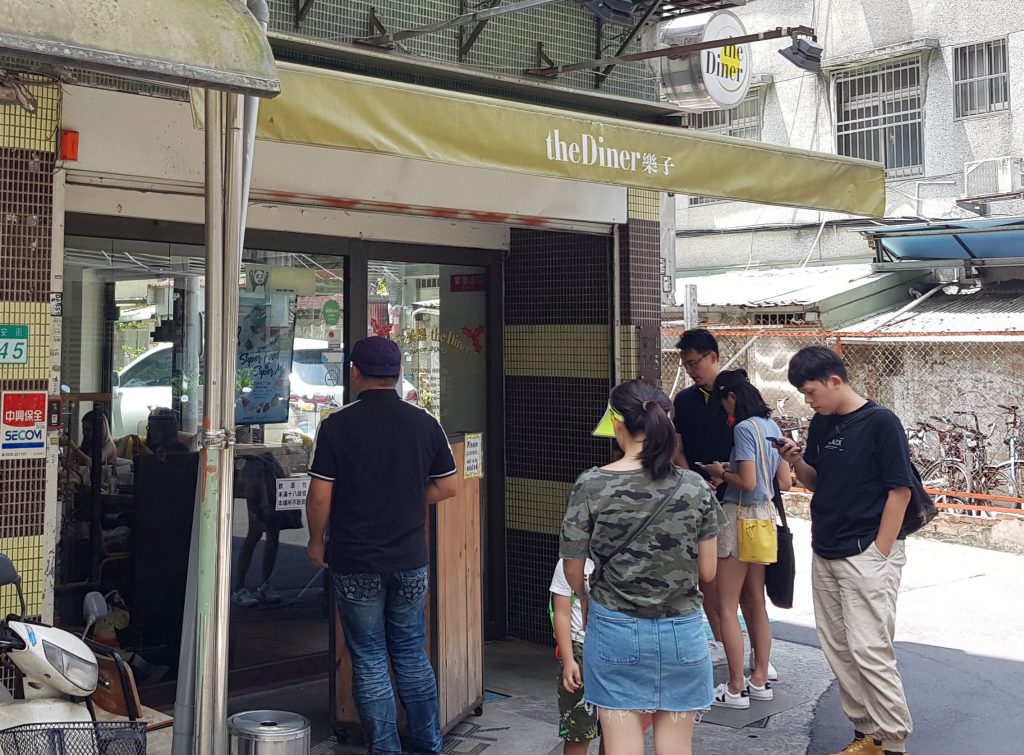 Tables can however be reserved for each branch via Inline (see Traveller's Tips section).
Their brunch menu is quite extensive, with the usual English/Australian style fry-ups, eggs done many ways including omelettes and benedicts, plus more health conscious options like fruit or veg bowls. Or if you're feeling unhealthy, they have American style pancakes with a variety of waist-bulging toppings.
Not on the main menu, we spotted a nice sounding dish from their super-food menu. The Super Perfect Salad with grilled salmon, with roasted nutty couscous, a boiled egg, a nice selection of vegetables and a dijon sauce. A spectacular bowl and a salmon fillet cooked to perfection.
The Smoked Salmon Scrambled Breakfast, with nicely cooked scrambled eggs on an artisan bread, and soft avocado. All the salmon at The Diner is sourced from Norway, and it really does shine.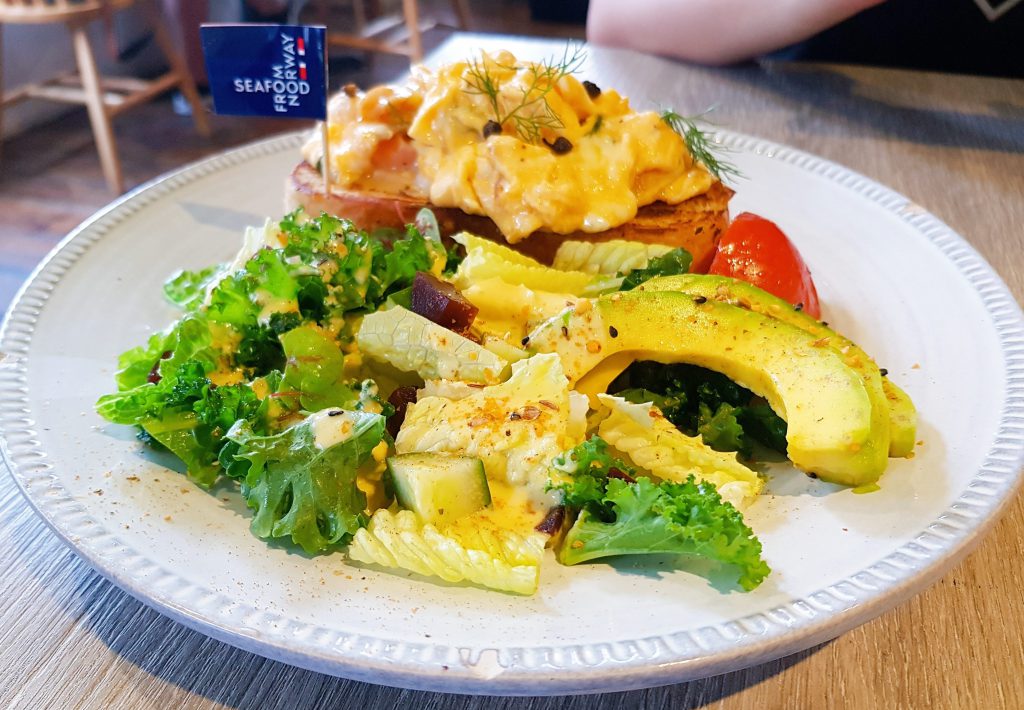 Both dishes amounted to a couple of the best brunches we've had in Taipei.
We've since tried a couple of The Diner's sweet brunch offerings (in the Xinyi branch). The Special K Acai Bowl, a very nicely presented bowl packed with fresh seasonal fruit and mixed nuts, and a side of special K cereal was another great tasting dish.
I was also keen to sample one of their pancakes – The Caramel, Banana and Walnut Pancake, with a small jug of moreish butterscotch sauce. It was much larger than I imagined it to be, and struggled to finish it even though it perfectly sweet and soft.
The drinks are equally excellent. The avocado smoothie and the strawberry yogurt drink both exceeding our expectations. With coffees, teas, milkshakes, fizzy drinks, slushies and freshly squeezed juices also available there's plenty of choices.
Breakfasts are served all day, while they also have a large range of non-brunch food, with salads, sandwiches, pasta and vegetarian options available.
The Diner's burgers, of which you can effectively build-you-own, are absolute beasts (probably too big for my liking). You can even substitute the beef patty for chicken, and swap-out other ingredients to suit your needs.
The Diner also has some smaller plates, of which you can purchase individually for NT$180, or purchase as a set of three for NT$480.
The Fried Mozzarella Sticks, Loaded Potato Skins and Grilled Cheese Fries we tried here were all perfectly adequate, although I much prefer the brunch items here.
The original Daan branch of The Diner is also the best rated, but is a little out of the way from central Taipei.
The interior is well decked out and the service is friendly, although when it's busy it can take a while for your food to arrive.
The Xinyi branch has the most convenient location, found on 1F of ATT for Fun within the Xinyi Shopping District. Although it's a large restaurant, it will still be packed over weekends. The only downside to this branch is that it has no toilets, so you need to trek to the nearby mall.
The Diner, with such a huge menu, will take many visits to get a full understanding of their menu. What we've tried so far has been great, especially their breakfasts/brunches. Service is efficient and they generally speak good English.
Pros
Many brunch options
Food generally delicious
Cons
Will normally need to queue at brunch times
Price: $$$
Level of English: Excellent (English on menu)
Traveller Tips
Click here to reserve a table at their Xinyi branch
Click here to reserve a table at their Daan branch
Click here to reserve a table at their Nangang branch
You can upgrade your meal:
NT$70 – Soup or bottomless drink
NT$140 – Soup or Salad and bottomless drink
NT$200 – Soup or Salad, bottomless drink and dessert
The Diner Locations
Daan branch: Technology Building MRT (brown line – exit 1)
Xinyi branch: Taipei 101 MRT (red line – exit 4)
Nangang branch: Nangang Exhibition Center MRT (blue/brown lines – exit 1)
If you have found the information on this page helpful, please take a minute to share this post by clicking one of the links below. Your support would be greatly appreciated :)