Taipei isn't short on shopping malls, with dozens spread across the city. In fact, the Xinyi Shopping District has the highest density of shopping malls in the world with 14. Three of the malls detailed below can be found in this district, but there are several other malls definitely worth checking out there!
Click here to read about all the best malls in the Xinyi Shopping District
Malls generally open and close late, with usual hours between 11:00-21:30 (22:00 at weekends). It's traditional for staff to stand by their shop and bow to everyone who passes when the mall opens and closes.
Finding food while shopping isn't an issue, as many shopping malls have their own food hall in the basement and restaurants on the lower and upper floors.
Don't forget to take your passport while shopping. You'll need this if you want your 5% VAT rebate on any purchased goods valued over NT$2,000. The Taipei 101 mall, plus all SOGO and Shin Kong malls allow you to get an immediate tax refund to avoid the hassle at the airport.
Taipei 101 Mall (Xinyi)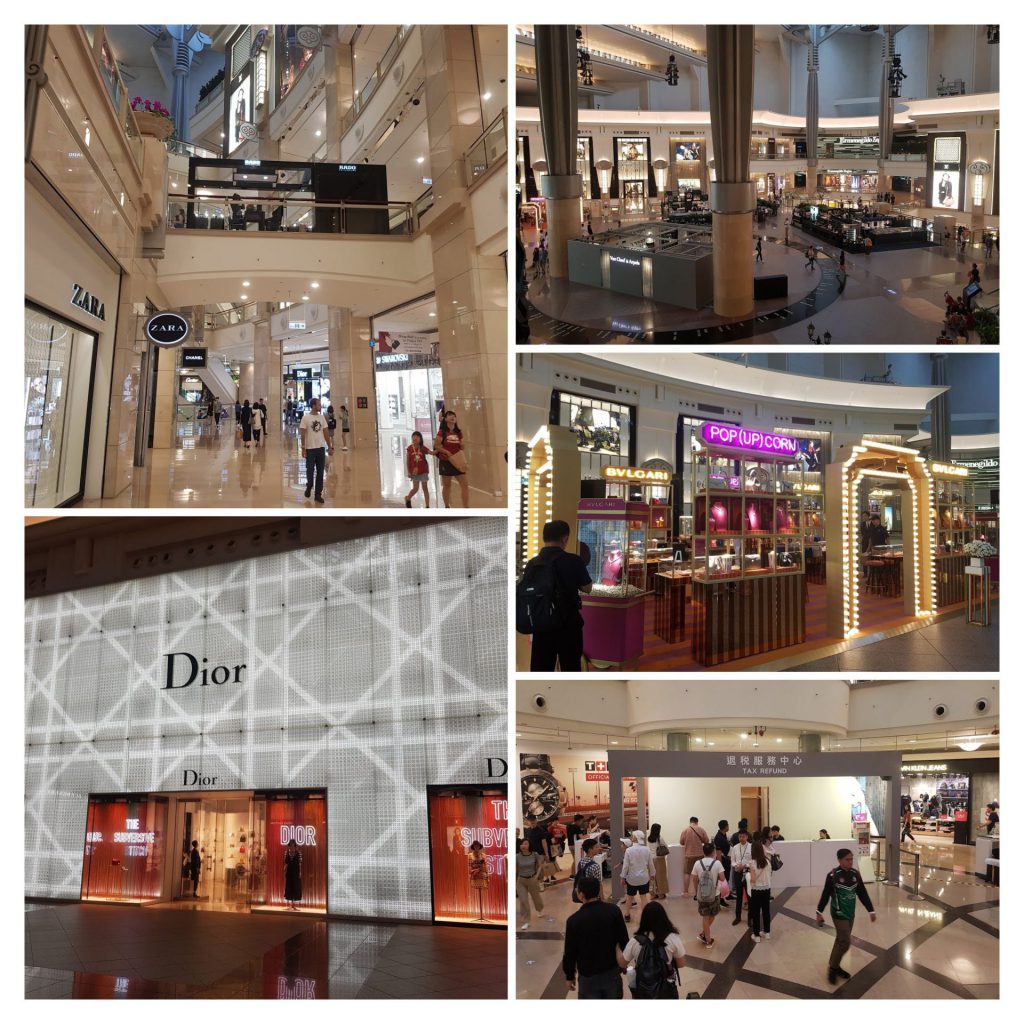 Located within the Xinyi Shopping district, and undoubtedly the most luxurious shopping mall in Taipei, the Taipei 101 mall is housed within the first five floors of the Taipei 101 building.
With many high-end brands to choose from, it also caters for more mid-range shoppers with brands such as H&M and Zara.
The forth floor features a huge open area with cafes and premium shops, with escalators leading to the Taipei 101 tower.
Click here to read more about the Taipei 101 observation deck
There's also a tax refund booth located on the 1st (ground) floor should you spend above NT$2,000.
Best For
---
Breeze NanShan (Xinyi)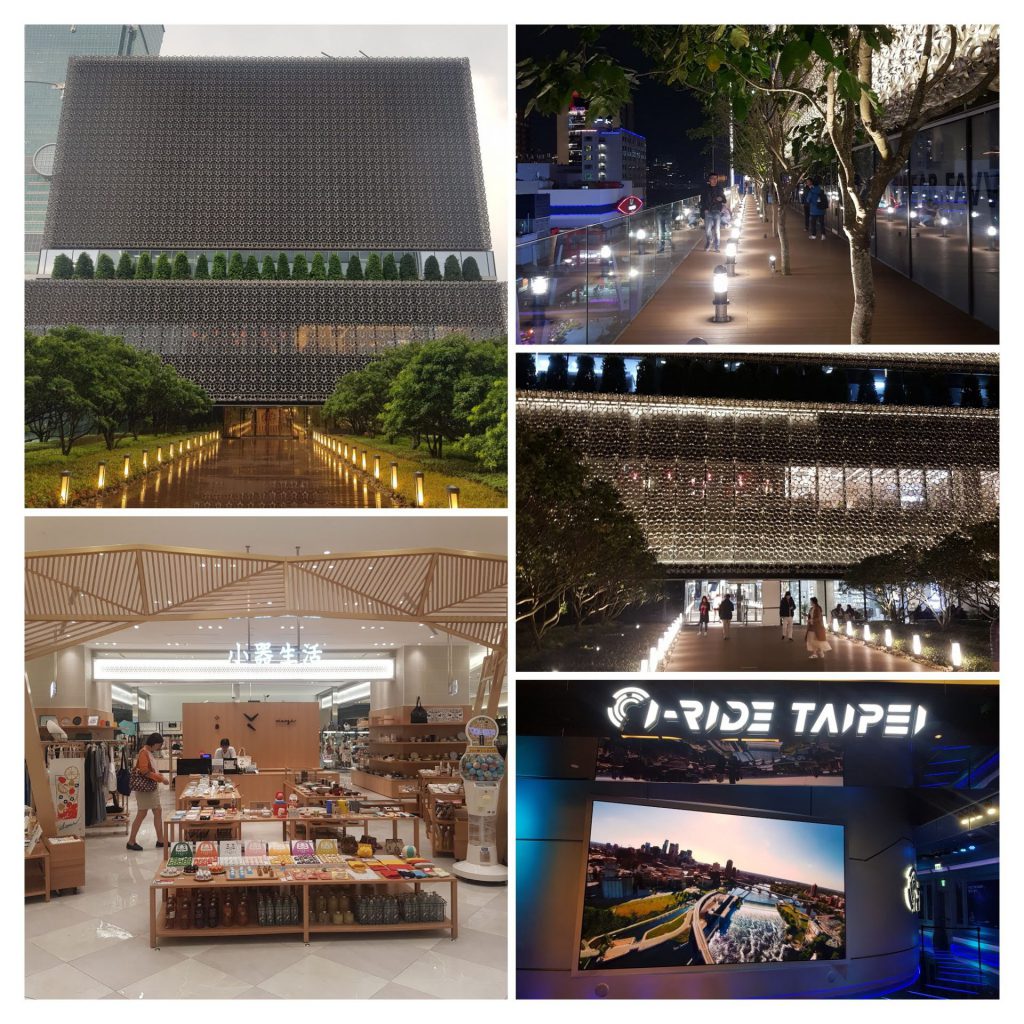 One of the newest shopping malls in Taipei, the Breeze Centre in the southern part of Xinyi Shopping District is also one of the best.
Featuring many shops, restaurants and cafes not found anywhere else in Taipei, this striking building also has an open-air walkway in the third floor that offers great views of Taipei 101 (which is right next door).
The mall also features a nice immersive ride called i-ride, which has a large IMAX-like screen and seating that moves and has wind effects, taking you on a virtual flight over Taiwan or the USA.
Best For
Original shops
Modern interior
---
Related Posts
Eslite (Xinyi)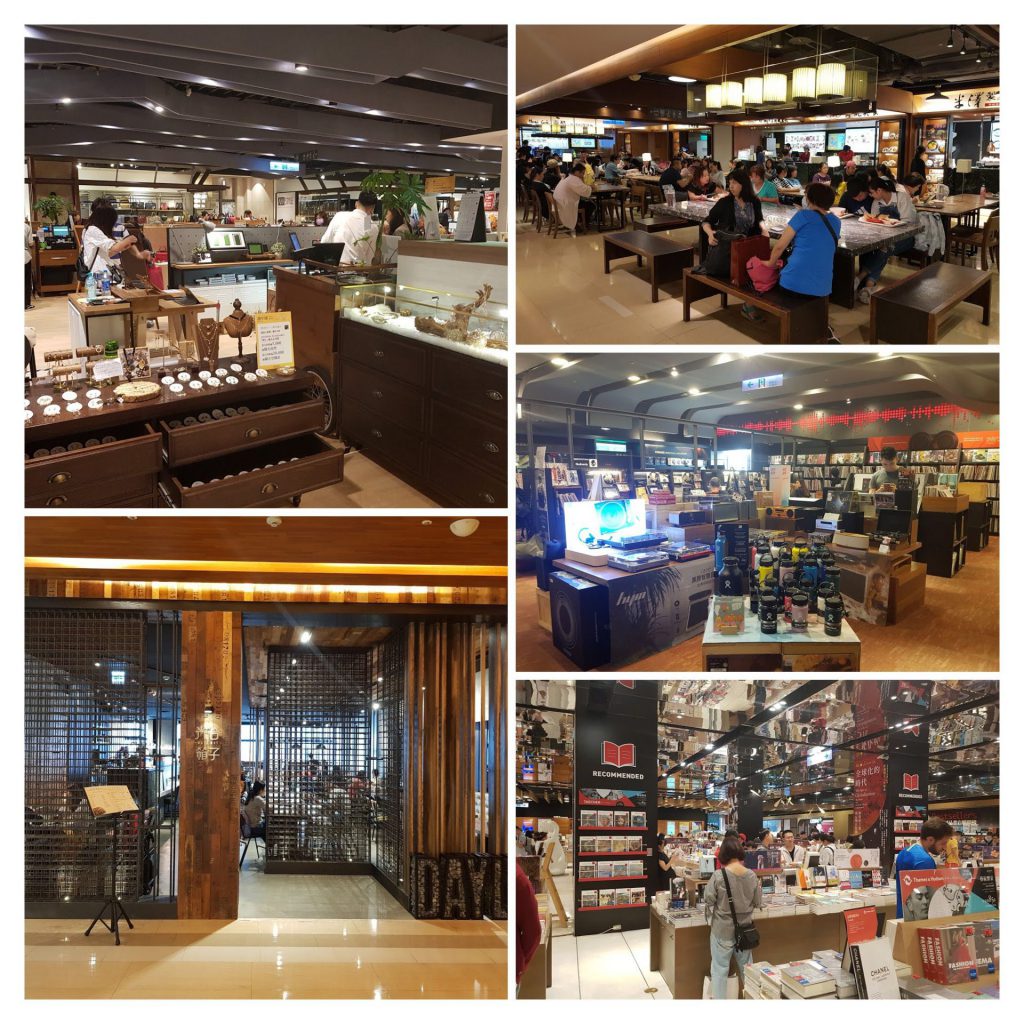 A 'best shopping mall list' wouldn't be complete without an Eslite mall. Most famous for their bookstores, their flagship Xinyi branch is the largest bookstore in Taiwan at 8,000 sq m.
Eslite's motto of "humanity, art, creativity, and life" feeds into their ethos for everything they sell, be it music, crafts, clothes or jewellery. All their malls are well designed and great places to walk around.
Food malls and restaurants found in Eslite are of a high standard too.
Best For
Books
Craft and Design
Food
---
Sogo (Fuxing)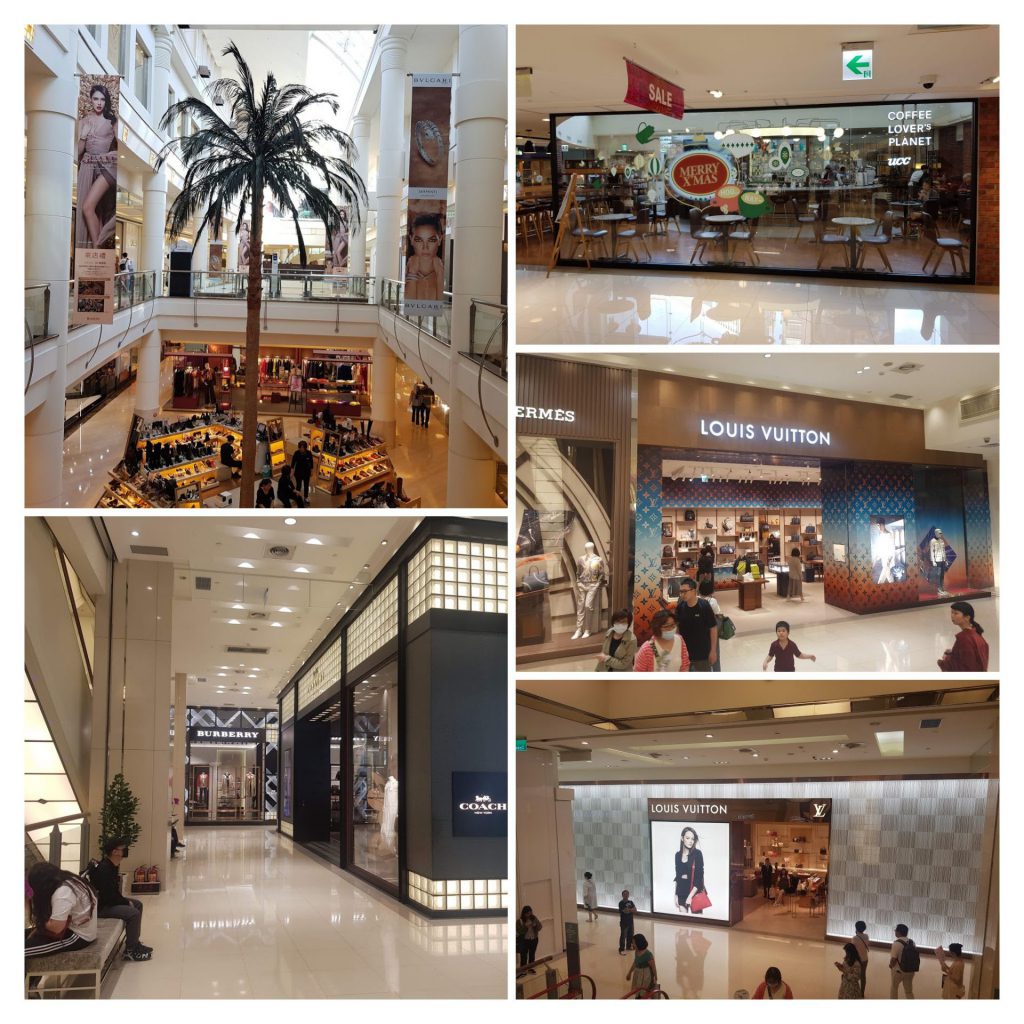 Located right next to Zhongxiao Fuxing MRT, the Sogo mall is a good place for high-end brands that has a popular cosmetics floor and two decent food halls, one with a Din Tai Fung.
It's one of the busier malls in Taipei, especially on weekends, and offers a lot in the way of female shoppers, with many clothing outlets and cosmetics.
The mall is located either side of Fuxing road, and is linked by underground walkways.
If you want to venture outside, the are many shops, restaurants and cafes found to the East of the mall in the Dunhua district. There's also another Sogo mall in this area.
Best For
---
Miramar (Neihu)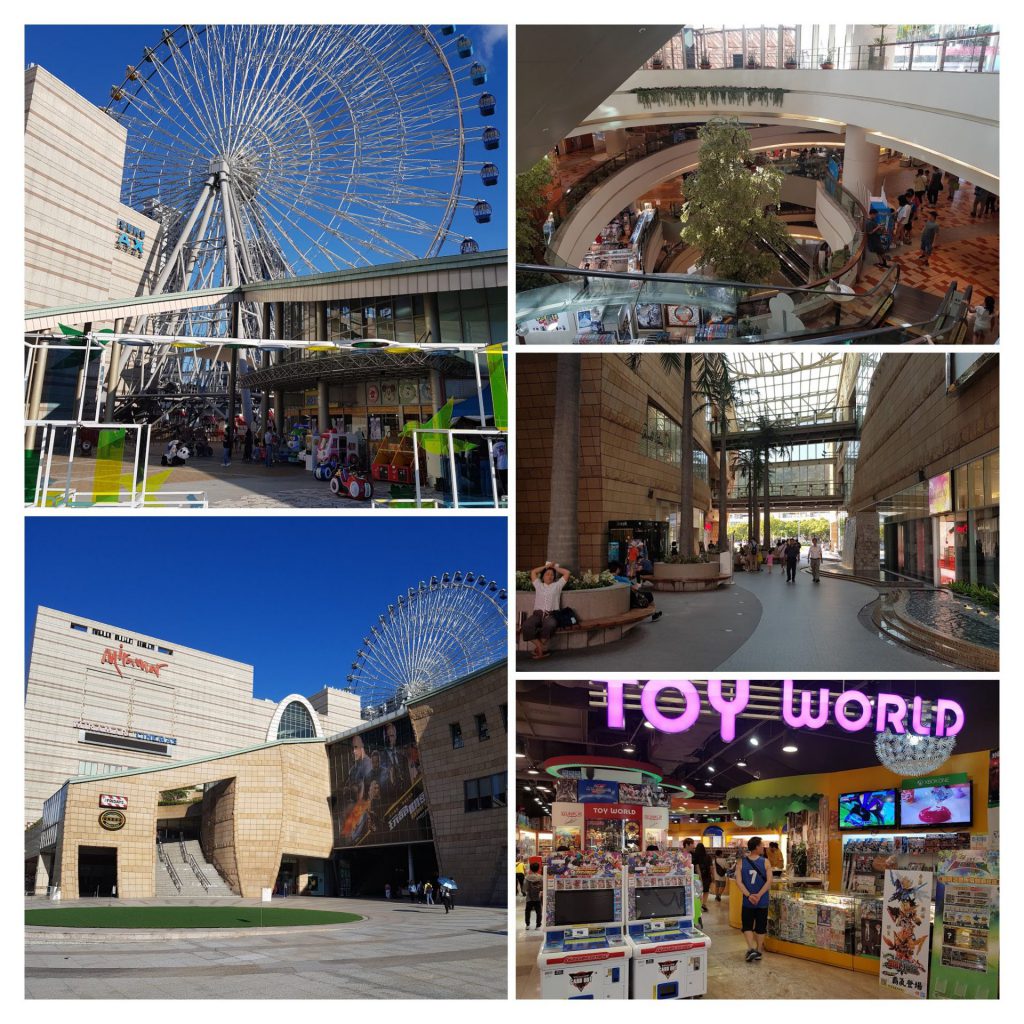 Located on the outskirts of Taipei, Miramar is worth checking out if you're in the area. It's quite easy to spot – just look for the huge Ferris Wheel!
Miramar is the best mall if you have kids, as it includes a large amusement arcade and a great cinema complex with an IMAX screen.
As per all malls, there a huge food hall in the basement, and many other restaurants on the ground and upper floors
Best For
Kids
Something for everyone
---
Q Square (Taipei Main)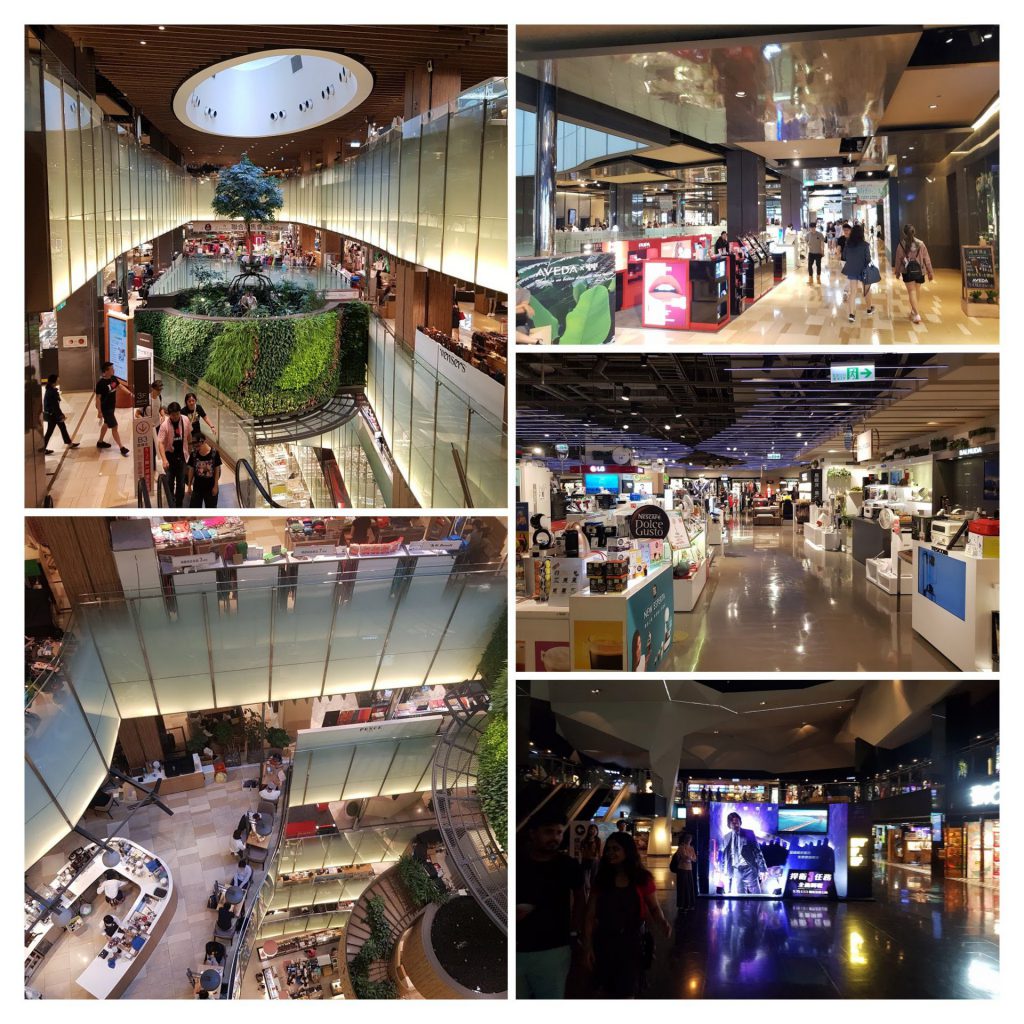 Attached to the Taipei Main station, Q Square is a busy but diverse mall, with shops of all types, from high-end to budget.
Q Square has a large cinema complex on the highest level, and many restaurants on the ground and upper floors. The newly renovated food hall is one of the best in Taipei.
With 7 floors, the lifts usually require a wait, so you'll find the escalators more convenient.
Best For
---
Mega City (Banqiao)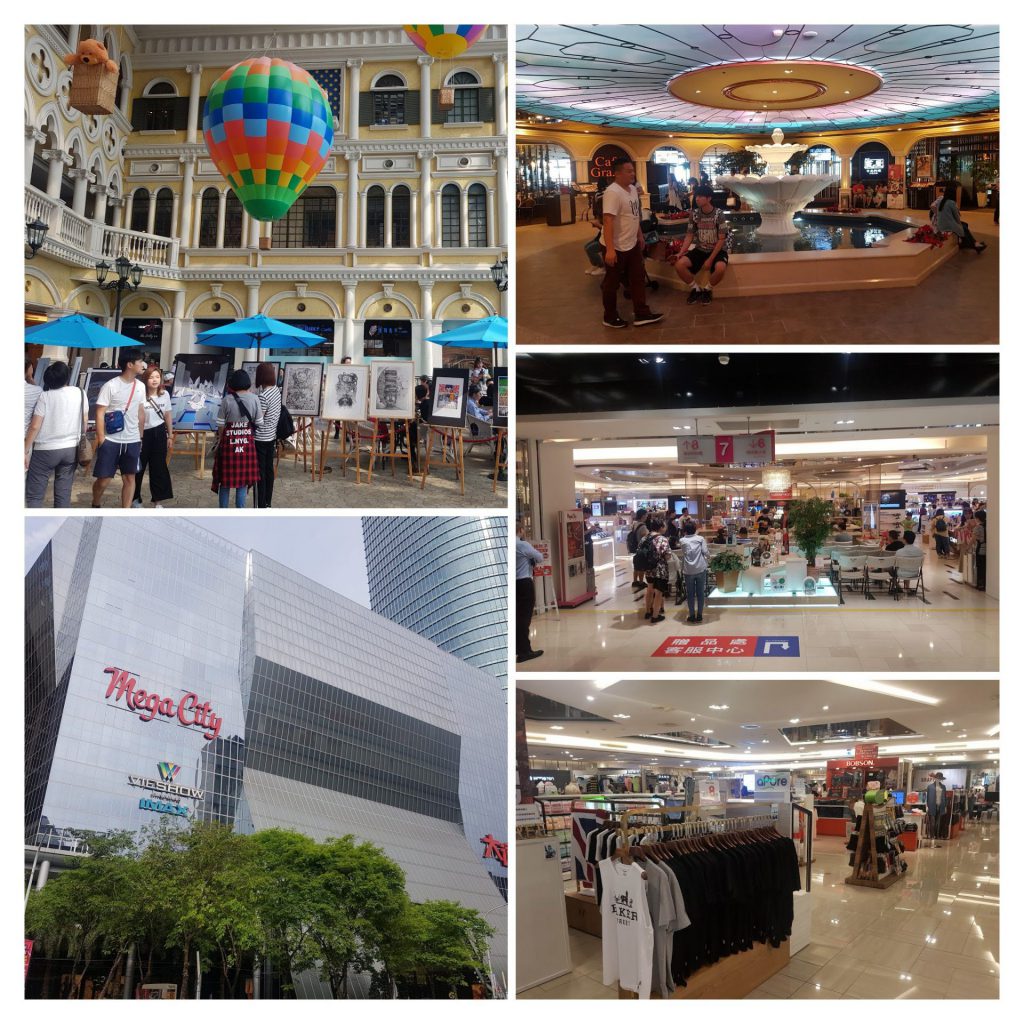 Located a few stops down the blue line in Banqiao, Mega City is a huge mall packed with shops and restaurants, plus an IMAX cinema.
The upper restaurant floor has an Italian themed section with some good restaurants, while the basement has a large food hall with a Din Tai Fung.
With 12 floors, each devoted to selling different products or dining, there's plenty for everyone.
Best For
---
Syntrend (Zhongzheng)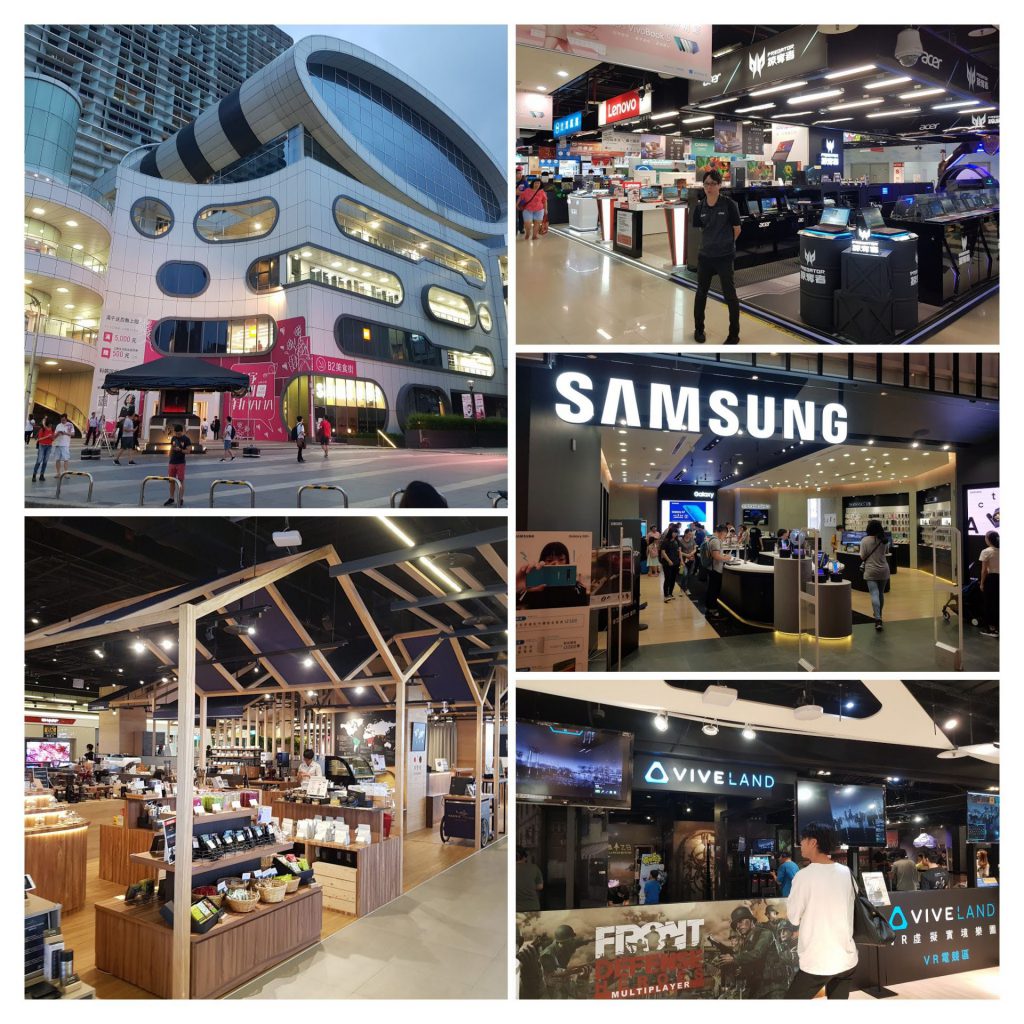 If you're shopping for tech, then look no further than Syntrend. Located in the heart of Taipei's technology district, this futuristic building has several floors dedicated to everything tech related, and has shops for all the top tech brands.
The ground floor will usually have some cool promotional events, and there's a nice VR area that promotes Taiwan's own HTC VIVE headsets. Syntrend sells some nice non-tech gifts too.
Additionally, there's a huge building directly adjacent to Syntrend which has some fantastic tech bargains. In fact, the entire square kilometre area is a technophile's dream.
Best For
---
Locations
If you have found the information on this page helpful, please take a minute to share this post by clicking one of the links below. Your support would be greatly appreciated :)