If you're looking for a really sticky, messy and unhealthy breakfast bite, Golden Flower Grilled Toast is the place to visit.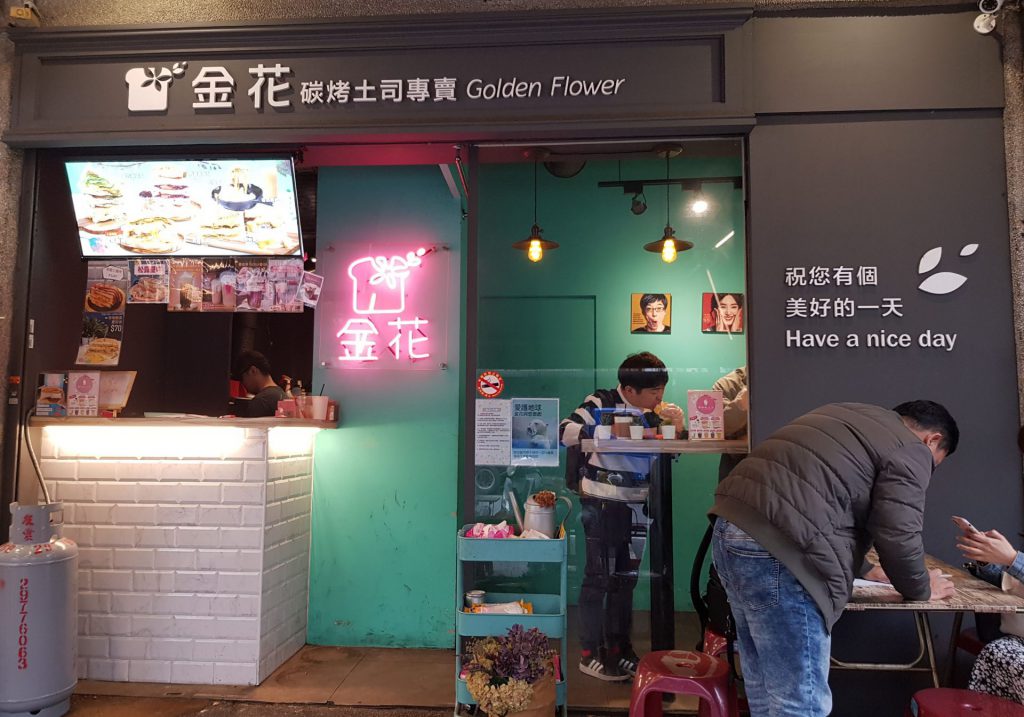 Located directly behind the Outdoor Drinking Area in Ximending, this small breakfast spot specialises in toasted sandwiches, some of which come smothered in melted cheese that will certainly do no favours to your waistline.
The menu above their counter reminds me of an old B-Movie poster – maybe it was Attack of the Giant Cheese Monsters, featuring Gorgonzilla.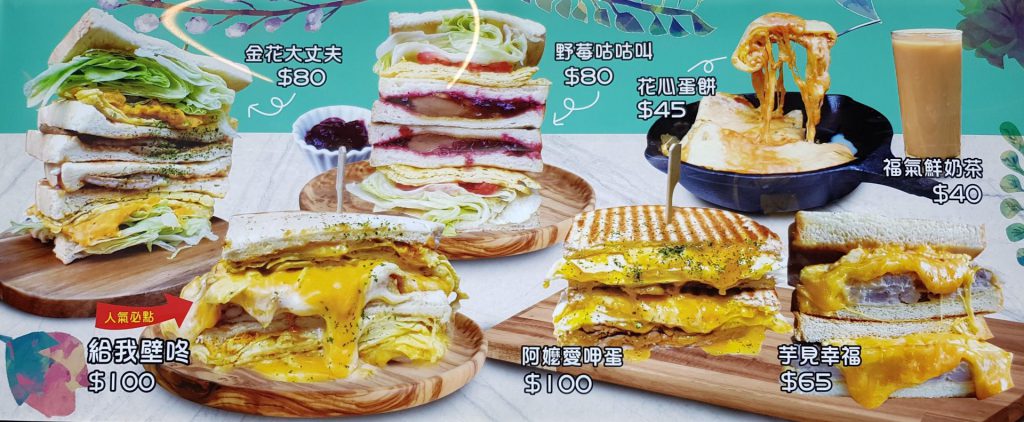 Anyway.
Golden Flower Grilled Toast's menu is a bit confusing. The one they will hand you doesn't seem to have everything, as there were others I noticed above their counter. Being a huge fan of tuna melts, I cast my eyes on the Tuna Fish & Lemon Curd. It didn't look as monstrous as some of the others, and I'm not a huge eater in the morning.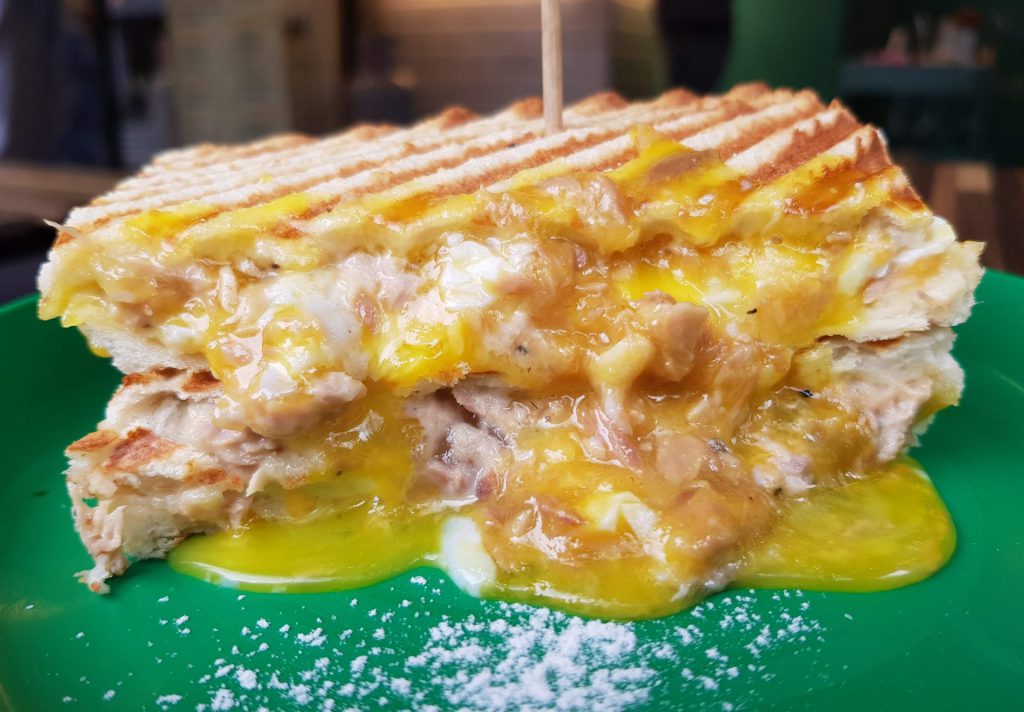 More like a mini-monster. It did look very appetising though, although I didn't have a clue how I was going to eat it. Thankfully, Golden Flower Grilled Toast provide disposable gloves to eat them with, along with plenty of tissues.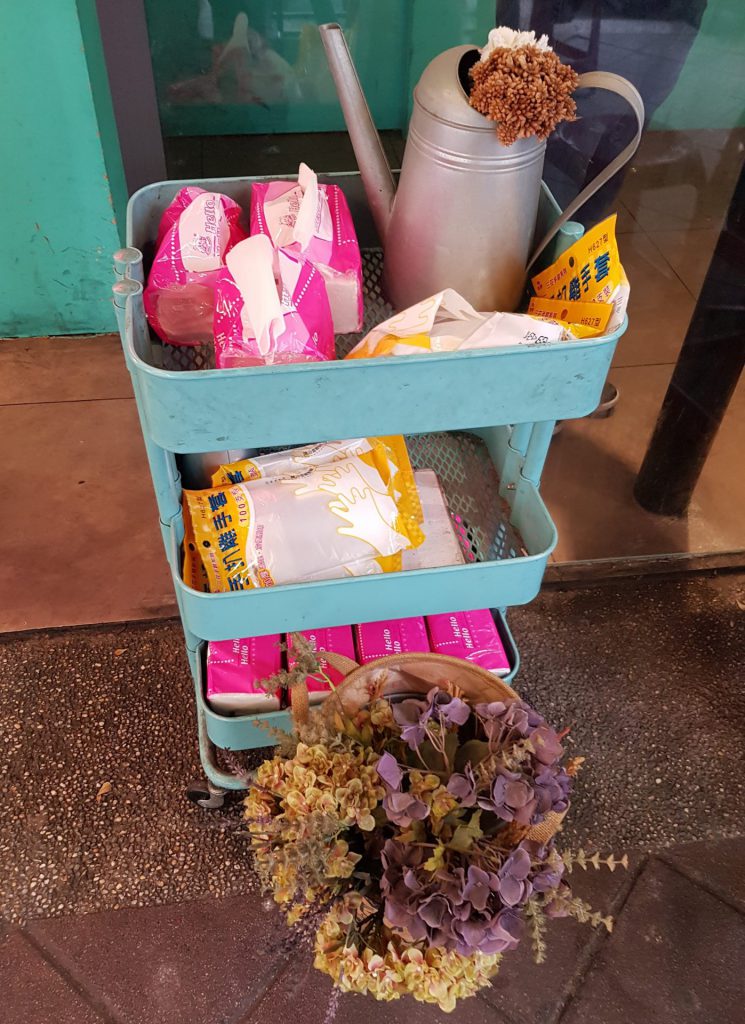 Some of the menu items above the counter aren't translated unfortunately, but the staff are versed enough in English to translate them for you. We pointed to one of the monsters, which I believe was the Pork Floss with Cheese, Egg & Condensed Milk, which came with a sprinkling of seaweed.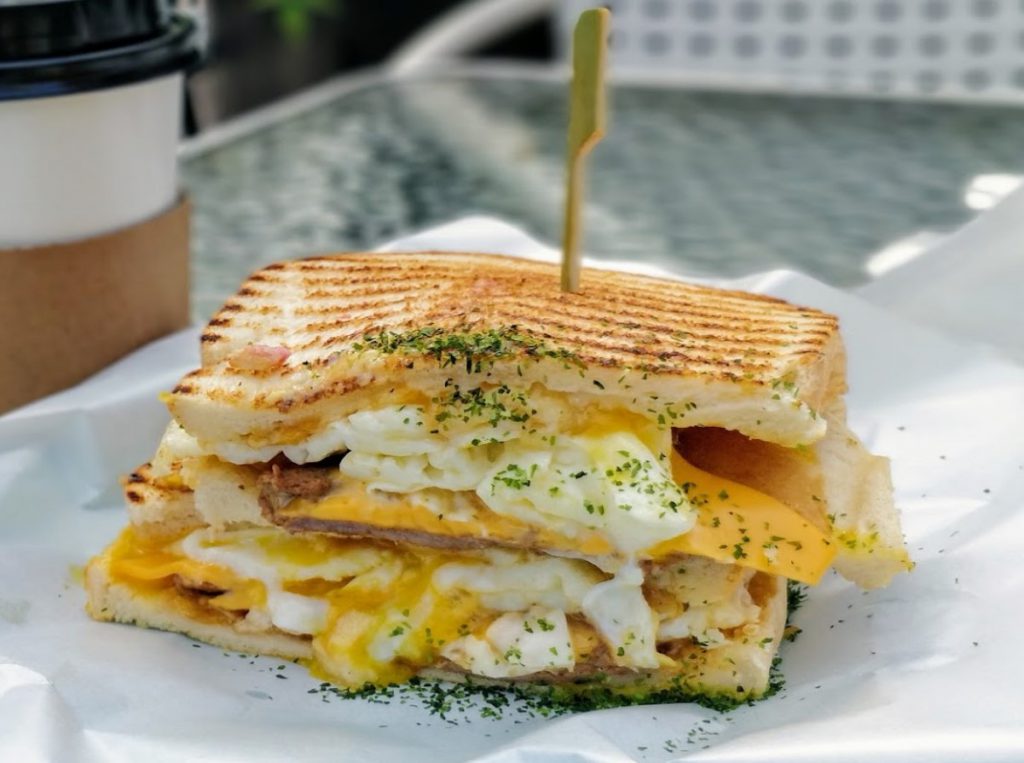 Once we figured out how to eat them, they were both quite delicious. The toast was still crispy and not soggy thankfully, and the filling tasted as good as they looked. The lemon curd in the tuna worked well, and not too overpowering. The pork one was slightly sweet but not too much so.
Golden Flower Grilled Toast also have many not cheesy sandwiches, some of which come with 6 slices of toast and many different fillings. These looked too large for us, but we did try one of their Taiwanese Egg Rolls (known as Dan Bing), which are like savoury crepes. The Tuna Fish Salad Egg Roll was a very decent effort. Not sure why they said there was salad in it though.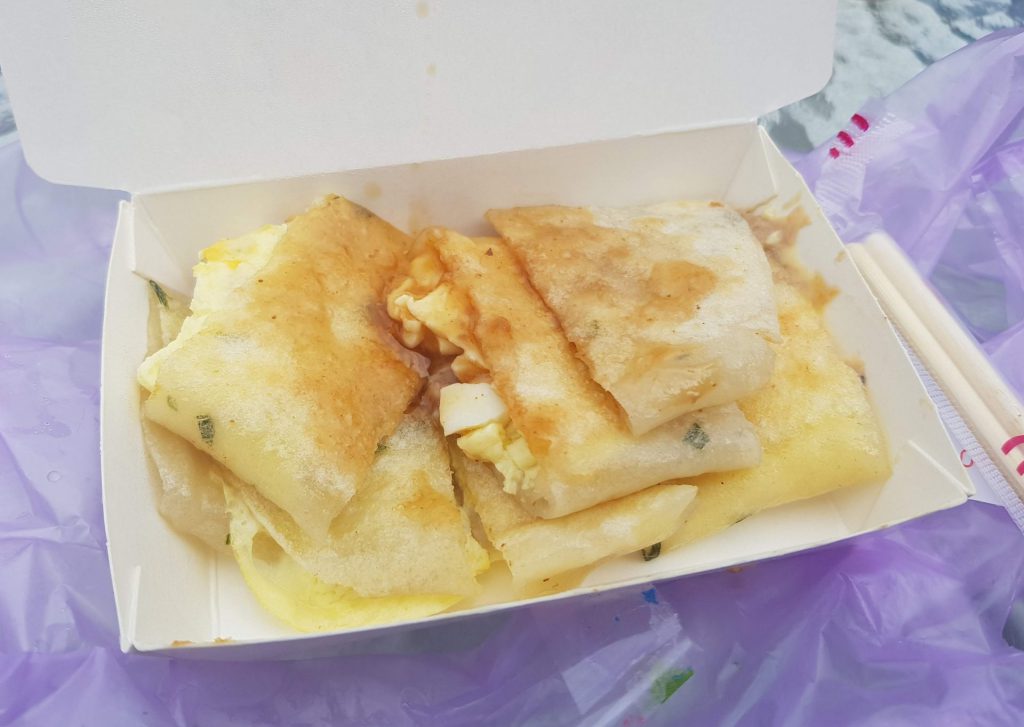 One final confusing thing about Golden Flower Grilled Toast is they also have a tea shop next door but one. If you buy one of the few drinks they have at the grilled toast place, they'll give you a receipt to take to the tea shop to get it.
However, the tea shop has a much wider range of drinks, including bubble teas and milkshakes, so it's best just to buy from directly from there.
There is limited covered outdoor seating here, which does often get filled up. However, the Ximending Outdoor Drinking Area is literally 10 seconds away, and is virtually empty during the day, so you can use these instead.
Although it's a bit difficult to get your head around ordering here, Golden Flower Grilled Toast do serve some delicious toasted treats that will definitely give you the energy needed for a morning of sightseeing.
Menu
Grilled Toast Menu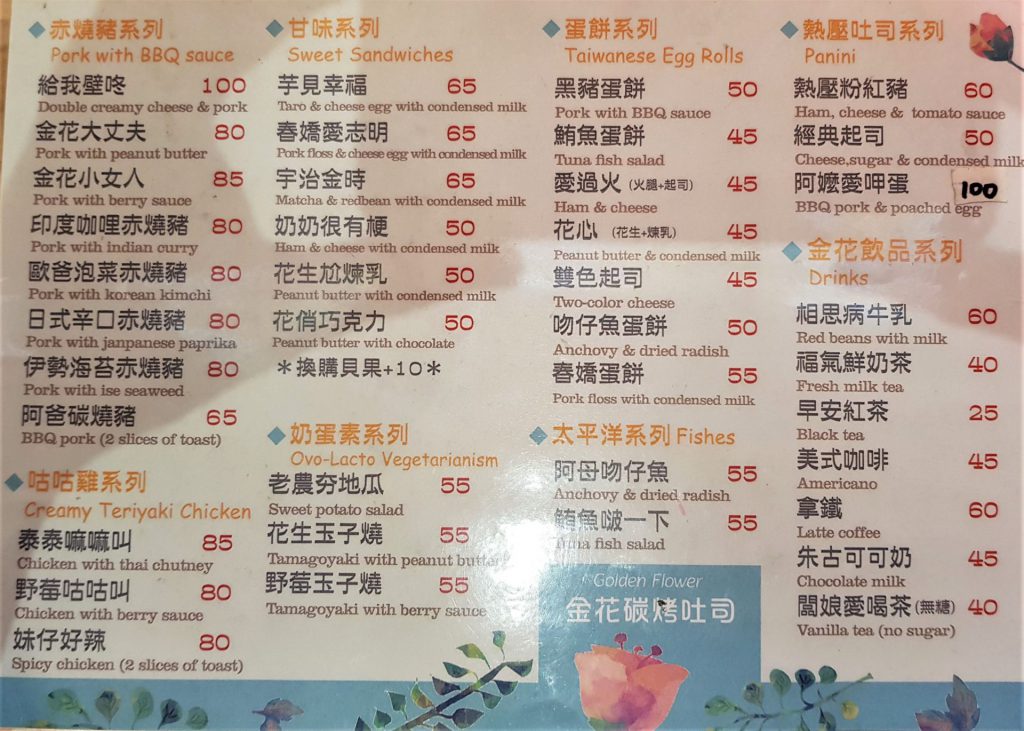 There are more items above the counter however.
Tea Shop Menu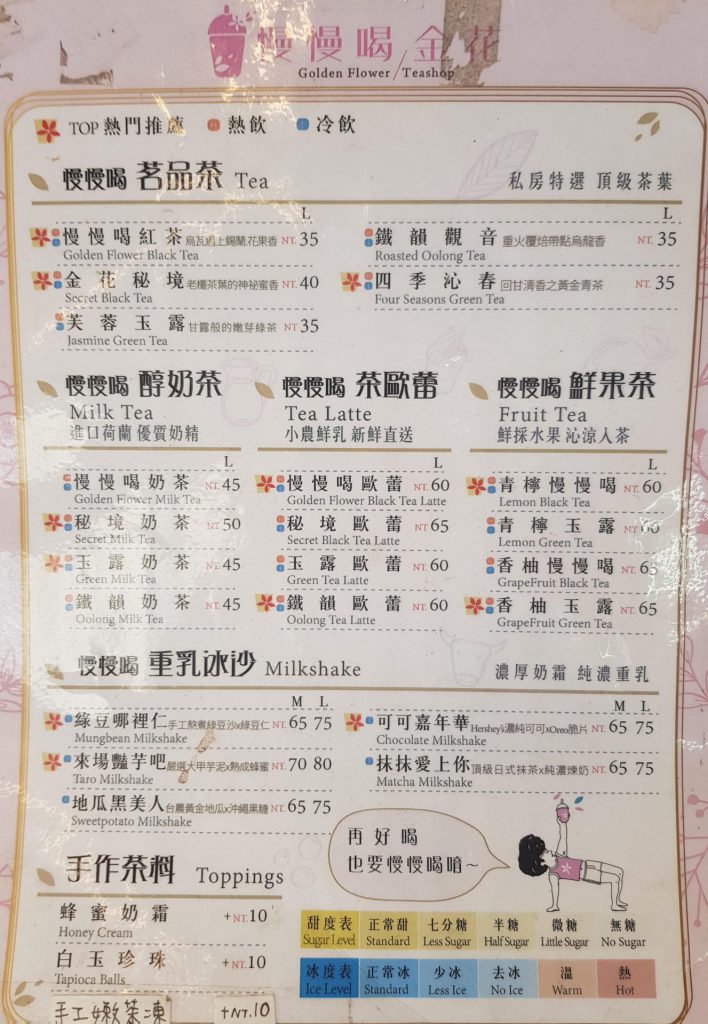 Cons
Very messy
Menu doesn't have all items
Price: $$
Level of English: Ok (English menu available)
Traveller Tips
Make sure you wear their grease-proof gloves!
Extra seating just around the corner in the outdoor drinking area.
Golden Flower Grilled Toast Location
Closest MRT: Ximen (blue/green lines – exit 1)
Can be found directly behind the outdoor drinking area
Located Nearby
If you have found the information on this page helpful, please take a minute to share this post by clicking one of the links below. Your support would be greatly appreciated :)