Taipei's underground public transportation system, the Mass Rapid Transit (MRT) is one of the most reliable and clean public underground services in the world.
Sometimes known as Metro Taipei, it is an efficient and convenient way to get around the city, with trains running frequently and serving a wide area.
The hub of the MRT is Taipei Main Station, a vast complex that connects the MRT to the Airport Express, the Taiwan High Speed Rail (THSR) and the Bus Station.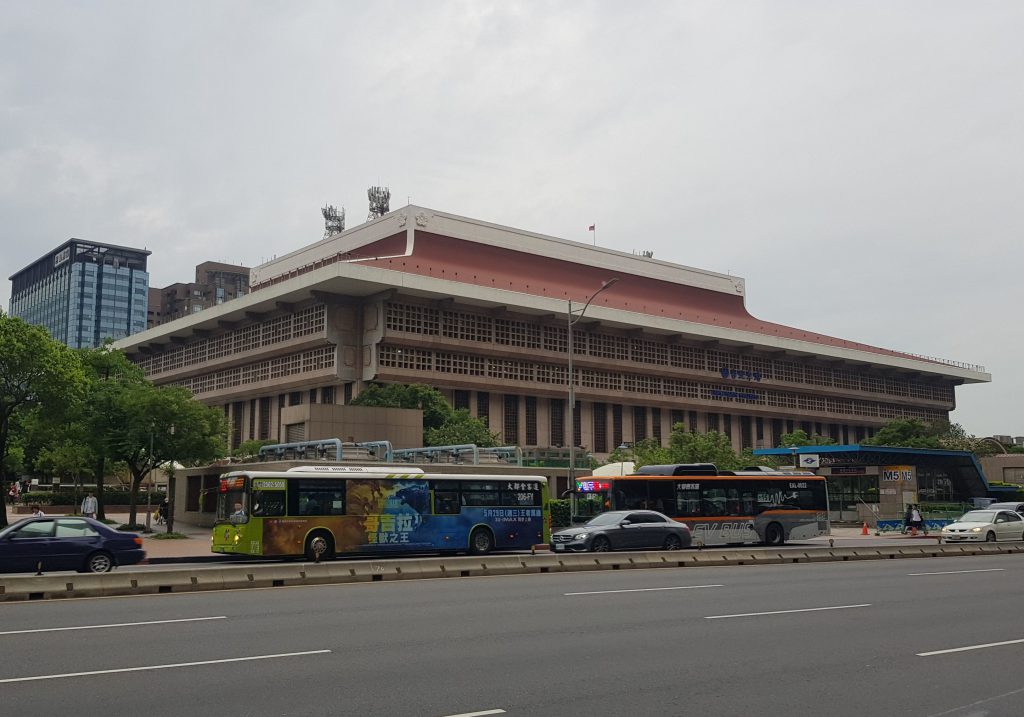 ---
Map of Taipei MRT
I would recommend downloading this free app (Android / iPhone) for a useful map of the underground network on your phone.
Tapping on any MRT station will give you the approximate journey time to each station, and you can change it to show the cost instead.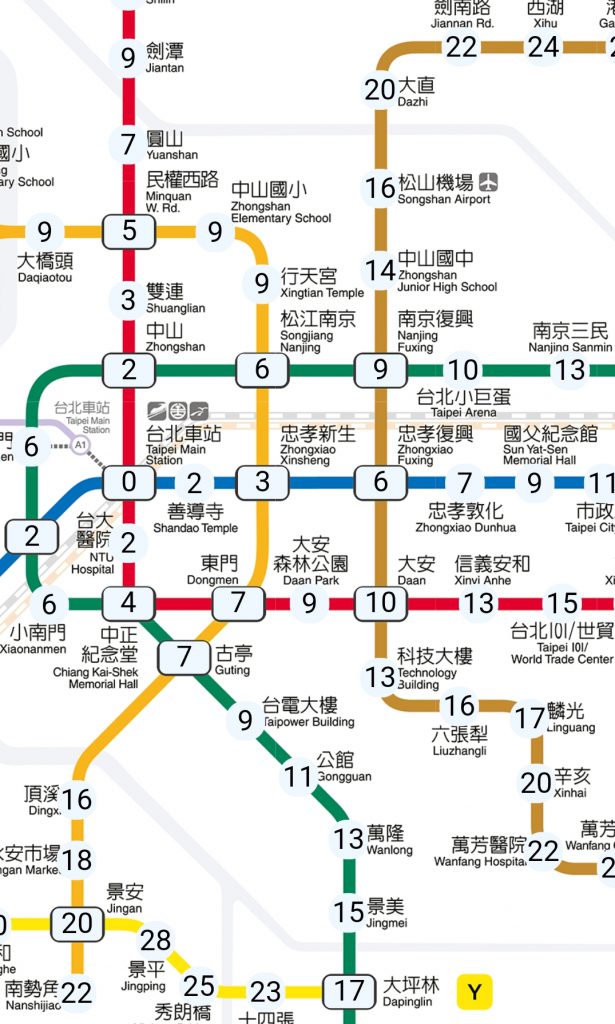 ---
MRT Cost
It is strongly recommended that you purchase an EasyCard, which is the easiest way to gain access to the MRT system, and also offers discounts of between 10% and 30% off fares (percentage based on the number of rides taken during the month).
The MRT has a distance-based fare system, which means that the cost of a ride increases as the distance travelled increases.
| | | |
| --- | --- | --- |
| | Min Price | Max Price |
| Standard Ticket | NT$20 | NT$65 |
Free use of the MRT and other public transportation comes as part of the Taipei Fun Pass
Click here to find out more
The following map shows prices from Nanjing Fuxing MRT station (circled in red).

For all rides within central Taipei you'll only ever pay NT$20 to NT$30 – with an EasyCard that's only NT$16 and NT$24.
Children under the age of 6 or below 115cm can travel for free (with a paying adult). Your child must walk immediately in front of you when walking through the payment turnstiles.
---
MRT Operating Times & Frequency
The Taipei MRT operates from 06:00 to midnight every day, although at some stations trains can depart up to 1 hour after midnight.
Click here to find the first and last train departures from each station

Select the station name from the drop-down menu
Train Frequency
| | | | |
| --- | --- | --- | --- |
| | Peak Hours | Off-Peak Hours | After 23:00 |
| Mon to Fri | 2 – 4 mins | 4 -10 mins | 10 – 15 mins |
| Sat, Sun & Holidays | – | 4 -10 mins | 10 – 15 mins |
Peak hours are between 07:00 – 09:00 and 17:00 – 19:30 during weekdays only.
Trains will allow between 25 & 50 seconds for people to board.
---
MRT Lines
There are six MRT lines, all colour-coded for clarity.
Selected stations listed below are where you'll find many of Taipei's popular attractions.
Tap on a link to find out more about each attraction

Early terminal stations in brackets
Terminal Stations
Tamsui
(Beitou)
Xiangshan
(Daan)
The Tamsui-Xinyi (RED) Line is one of the busiest lines on the MRT. It passes through Taipei Main Station and is the line closest to Taipei 101. It travels the furthest distance from central Taipei, to the beautiful northern districts of Tamsui and Beitou.
---
Terminal Stations
Taipei Nangang Exhibition Center
Dingpu
(Far Eastern Hospital)
The Bannan (BLUE) Line is another busy line as it travels through the heart of the city and past many top attractions.
---

Terminal Stations
Songshan
Xindian
(Taipower Building)
The Songshan-Xindian (GREEN) Line is not as busy as the red or blue lines but has a few attractions close to MRT stations.
---

| | | |
| --- | --- | --- |
| Terminal Stations | Huilong | Nanshijiao |
| | Luzhou | Nanshijiao |
The Zhonghe-Xinlu (ORANGE) Line forks into two lines on the outskirts of Taipei. However, you will probably only ever need to use 6 or 7 stations that run through the centre of the city.
---

| | | |
| --- | --- | --- |
| Terminal Stations | Taipei Zoo | Taipei Nangang Exhibition Center |
The Wenhu (BROWN) Line is the only line in central Taipei that's elevated above ground. When changing to or from the brown line, it will consequently take you longer to walk between the two lines.
---

| | | |
| --- | --- | --- |
| Terminal Stations | New Taipei Industrial Park | Dapinglin |
The Circular (YELLOW) Line is the newest line and is used largely by commuters so you'll probably never use this line.
---
---
How to Use the MRT
Use the MRT app to see which MRT line(s) you need to travel on, and if you will need to transfer at another station
Ensure you have your EasyCard at hand and it has enough credit for your journey
If the MRT station has multiple lines, ensure you are entering through the correct turnstile first
Tap your EasyCard on the right-side of the turnstile to enter
Ensure you know which direction you want to travel
When choosing your direction to travel, you will need to know the name of the terminal station. For instance, if travelling on the red line, the terminal stations are Tamshui and Xiangshan, so ensure you pick the appropriate direction to travel.
Be aware that trains will sometimes terminate before they reach the end of the line, so watch the displays to see the name of the terminal station. If you do accidentally get on a train that terminates early, you simply need to get off and catch the next train.
I have added the terminal stations and where trains can terminate early to the MRT Lines section above
Wait within one of the designated areas until the train arrives
Do not sit on the dark blue seating inside the train unless you fit the criteria (see Restrictions section below)
The trains get very busy during peak commuting hours so expect to be crammed in at times.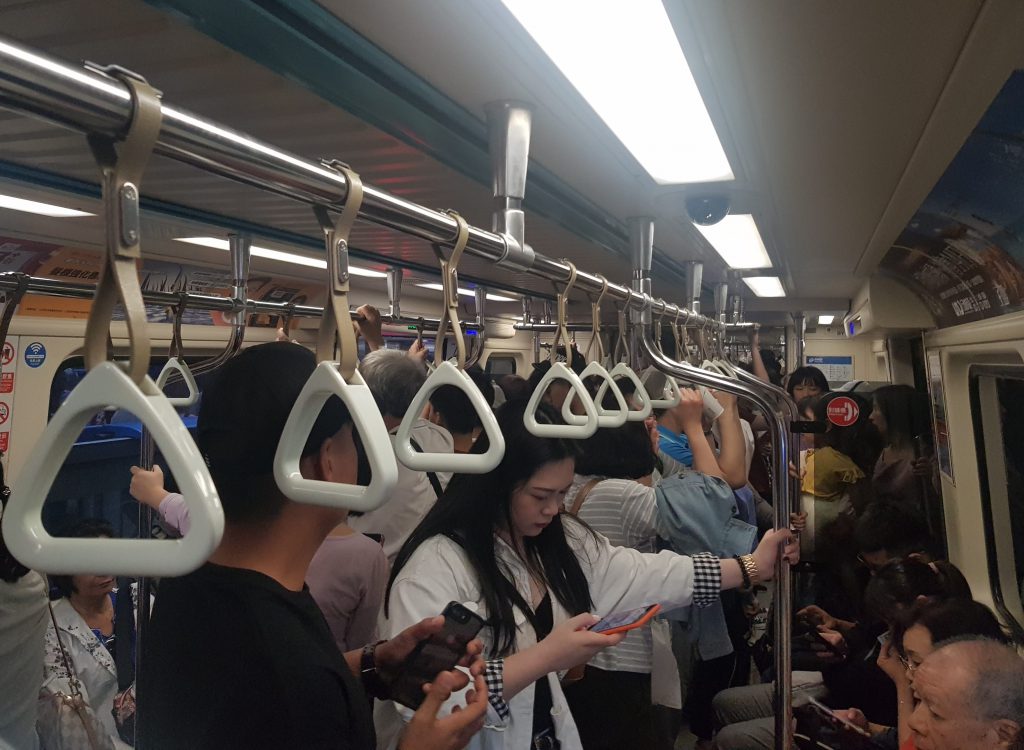 There are electronic displays on every train that will display the next station and destination station, and an English announcement will tell you the next station before it arrives there
Alight the train and locate the appropriate exit. There will be 3 information maps to help you (see MRT Stations section below for a picture of these)
Use your EasyCard again at the turnstile to exit.
The turnstile will play a tune as you swipe your card. It will play a different tune if your EasyCard is running low on credit.
Transfering between MRT Lines
You will sometimes need to use multiple MRT lines for your journey.
You simply need to alight at the station you are changing and then locate the next line. This can be done without needing to exit the MRT system, so you will not be charged extra.
There are some stations where the other line is situated directly opposite your line, so you can sometimes transfer in a matter of seconds.
For instance, the Chiang-Kai Shek Memorial Hall station has RED (south) and GREEN (south) lines, RED (north) and GREEN (north) lines opposite each other.
---
MRT Stations
All maps and notices have English wording, and there are English announcements on all trains.
Look out for the following sign when trying to locate an MRT station entrance.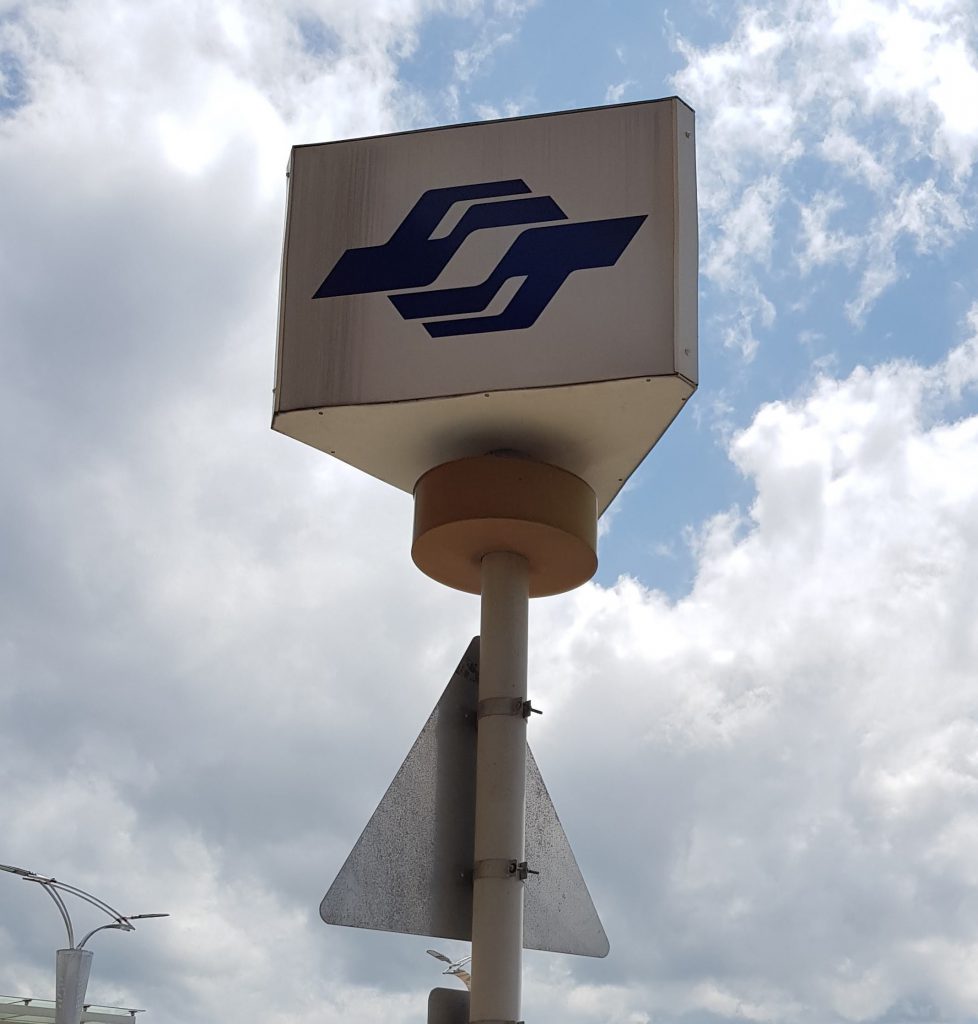 All MRT stations have machines for topping up your EasyCard and MRT information desks which can also be used to top-up your card.
Most stations will have public toilets, and will often have other facilities such as baby-changing rooms. Toilets are sometimes situated within the paid areas but you can enter and exit the area free of charge if you're only using the toilet.
Additionally, each MRT station is equipped with facilities for disabled passengers, and access from the train to the street in a wheelchair is possible from every station.
Click here to see all available services and facilities at each station

Select the station name from the drop-down menu
All MRT stations have three information maps showing you the best exit to take when leaving. The maps don't always point north however, which can be confusing.
All of my posts will tell you the appropriate exit to take for every attraction
Throughout the MRT stations are lockers should you wish to secure any belongings for a few hours. They cost either NT$10 or NT$20 per hour depending on the size of the locker you need.
You can pay for the lockers with cash or EasyCard.
Most MRT stations also have free WiFi available. Simply connect to TPE-Free on you phone.
---
Restrictions on Taipei MRT
There is strictly no eating, drinking or chewing gum once you've entered through a turnstile (not even water)
The dark blue seating is reserved for the elderly, disabled or pregnant passengers. You will receive many disapproving expressions from other passengers if you sit on these but don't fit this criteria
Always stand on the right when using escalators.
Taking Bicycles on the MRT
It is possible to take your bike with you on the MRT. However, there are some restrictions in place:
You can only enter and exit from certain stations
You may only use the MRT during weekends & holidays, or between 10:00 – 16:00 or after 22:00 during weekdays
Click here to see all the stations you are allowed to take a bike
There are extra wide turnstiles you can take your bike through when entering the MRT.
---
If you have found the information on this page helpful, please take a minute to share this post. Your support would be greatly appreciated :)