Perfect For
Food Stands & Restaurants
Shopping and Gifts
Street Art & Performers
Bars
Cinemas
Tattoos and Body Piercing
---
Ximending, located in the Wanhua District of Taipei, is a popular shopping and entertainment district known for its vibrant atmosphere and diverse offerings. It is often compared to Tokyo's Harajuku or New York's Times Square, and is a hub of youth culture and fashion. The area is home to numerous boutiques, restaurants, cafes, bars, cinemas, and tattoo parlours.
One of the most iconic features of Ximending is its pedestrianized streets, which are filled with colourful neon lights, street art, street performers, and bustling crowds.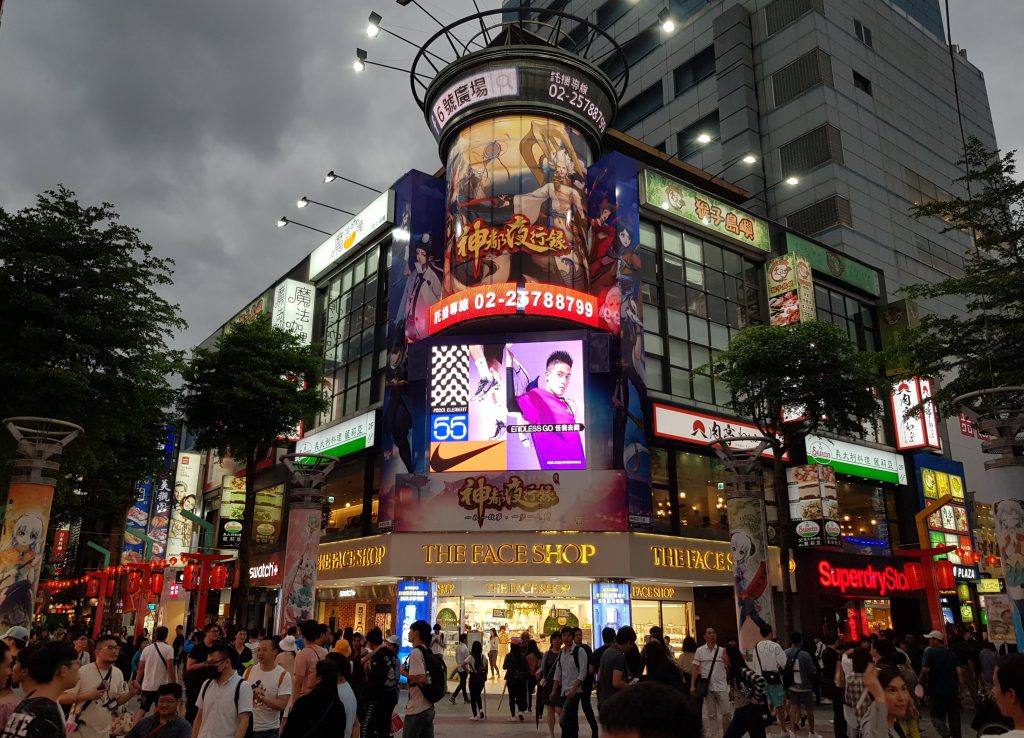 In addition to shopping and dining, visitors can also enjoy a variety of entertainment options, such as karaoke bars, video game arcades, and live music venues. Ximending is also a hub for Taiwanese street fashion, with many shops selling original clothing items.
With so much choice available, it can be overwhelming to know where to visit, and what to eat and drink. All my recommended places can be located on the map at the end of this post.
---
Even though the streets are mainly pedestrian only, Ximending does get very busy, especially during weekend evenings, so I would recommend coming during a week night when it will still be vibrant but you'll be able to walk around more freely.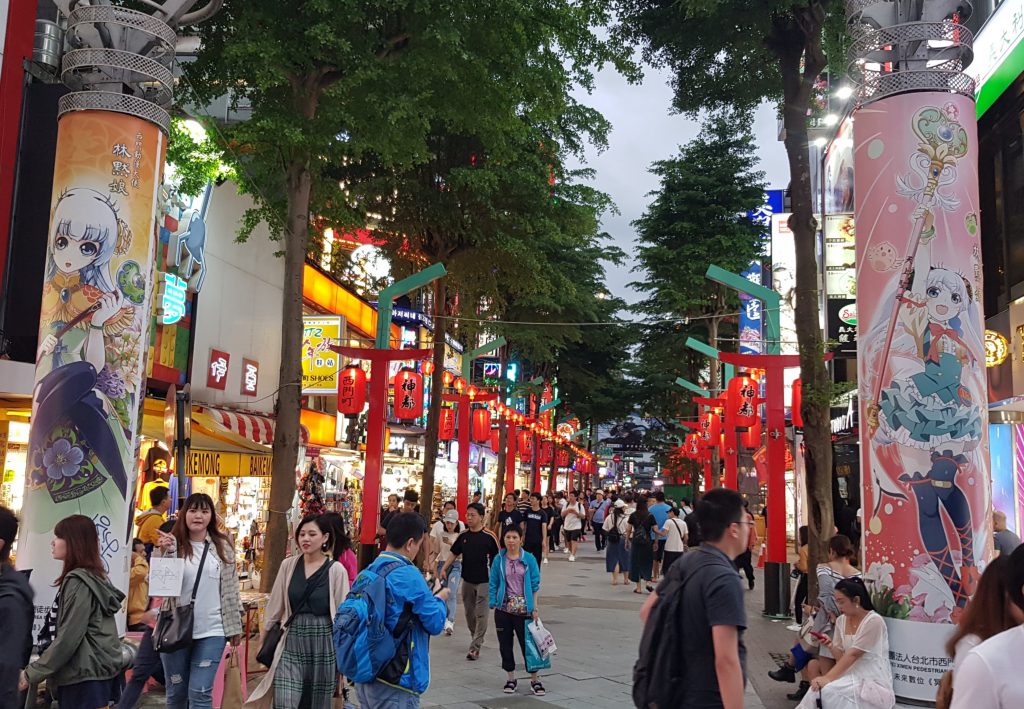 ---
Food
There are an abundance of food stalls and restaurants found throughout Ximending. These are just a few I would recommend.
Food Stands
One of the most famous food stands in Taipei is Ay Chung Flour Rice Noodles. Serving bowls of wet noodles mixed with pig intestines, they're delicious, although not for the faint of heart.
If you prefer something slightly more safe, then I'd also recommend Prince Cheese Jacket Potatoes, serving very cheesy deep-fried spuds with a variety of toppings. Timeout sells delicious Danish style hot dogs – perfect for kids who are too wimpy to try Asian food!
Click an image to read about each
Another food stand that's extremely popular is the Torched Beef Dice. Juicy cuts of beef which are seared with a blow torch, giving them a char-grilled barbecue taste while still retaining their juiciness.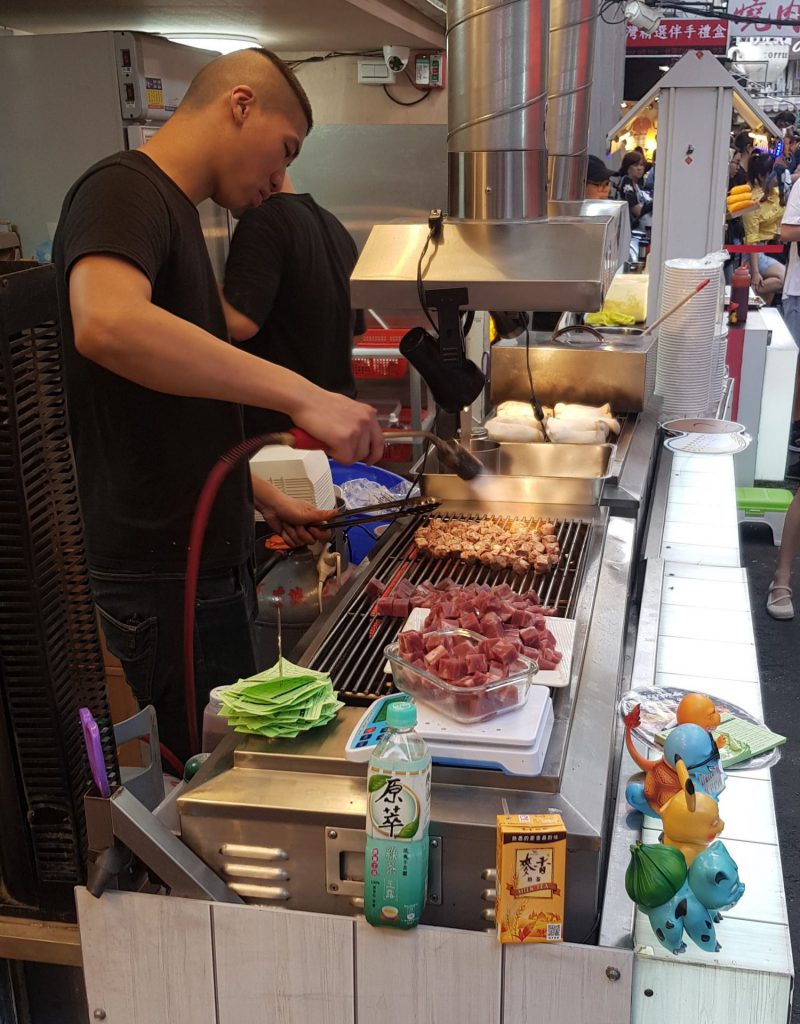 If you're walking around and you suddenly smell something quite foul, chances are you've stumbled across the Stinky Tofu stand. Gas masks are required while eating!
Another food place that travels around the Ximending area is the Mochi stand. These delightful gooey sweet snacks come covered with peanut powder or sesame and are simply delicious (and thankfully not smelly!).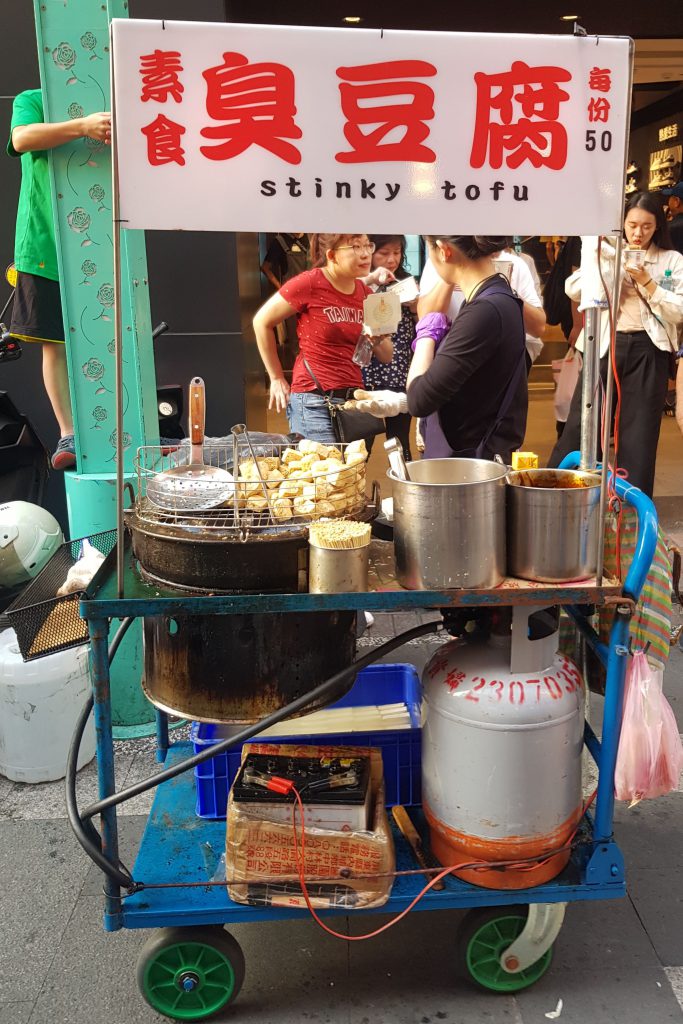 With these both being wandering food stands, you may need to seek them out, although they are often found near Ay Chung Flour Rice Noodles (taking advantages of the large gatherings of people there).
Breakfast
If you're here in the morning, one breakfast place worth visiting if you're feeling extra indulgent is Golden Flower Grilled Toast. They sell very messy but highly satisfying sandwiches and toasties.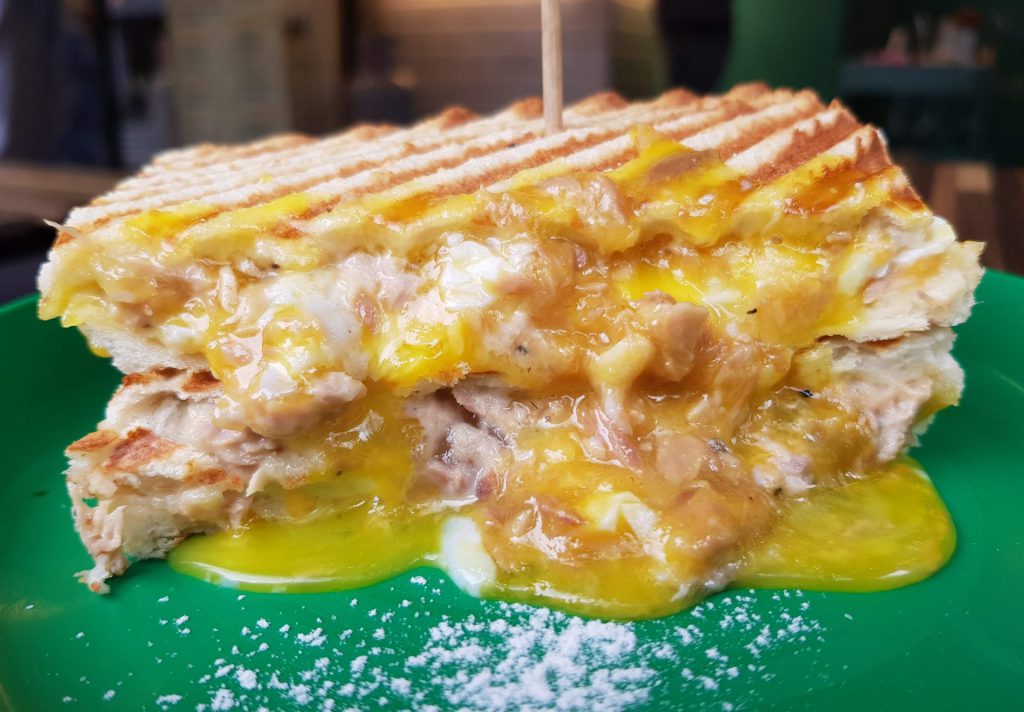 If you're looking for a more traditional Taiwanese breakfast, then Yong He Soy Milk serves Chinese donuts, turnip cake and soy milk, which can be purchased as a sweet drink or savoury soup.
Desserts
Ximending is one of the best areas in Taipei to try one of Taiwan's most popular desserts – shaved ice. Probably the best place to try one here is Ximen Mango Shaved Ice. It's best to try one in the summer – not only to cool you down, but also when mangoes are in season here. Many other fruits are also available however.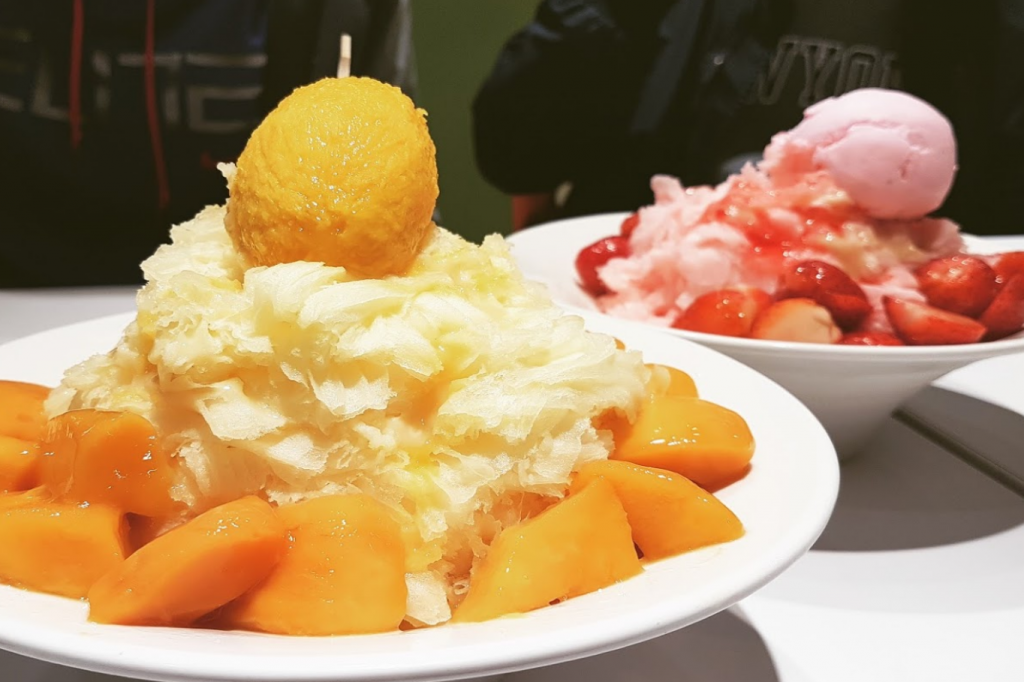 Mammy Pancake serves some of the best bubble waffles in Taipei, and have even made it into the Michelin Street Food Guide for the last 4 years in a row. The bubbles come in many different flavours, and are crispy on the outside, while being soft and fluffy on the inside. Exactly how they should be! This isn't on Google Maps but can be found on the Cinema Street!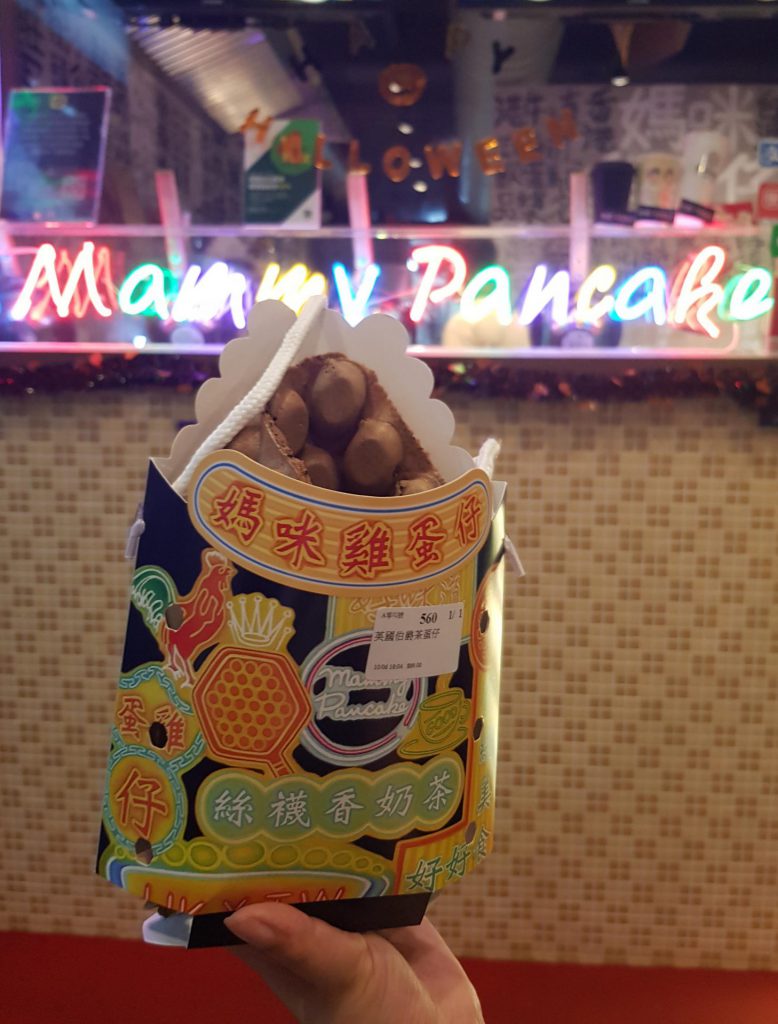 If you're looking for a more westernised dessert place, then Mr Brownie (found near the Red House) serves many varieties of brownies. Easily the best in Taipei.
---
---
Drink
While there are many cafes in Ximending, it's the bubble teas and bars that really stand out here, so I'm just going to focus on these.
Bubble Tea
No one. I mean no one should leave Ximending without trying a bubble tea first. Not only is it the cheapest place in Taipei to try them, but there are dozens of tea shops found here. Picking one that's a class above the rest however, is difficult.
Actually, one of the first bubble tea places you'll probably walk past is also one of the best. Unfortunately, it's also one of the most popular too. Xing Fu Tung will often have a huge queue extending from it, but their teas are very very nice, especially their brown sugar bubble tea with added cream!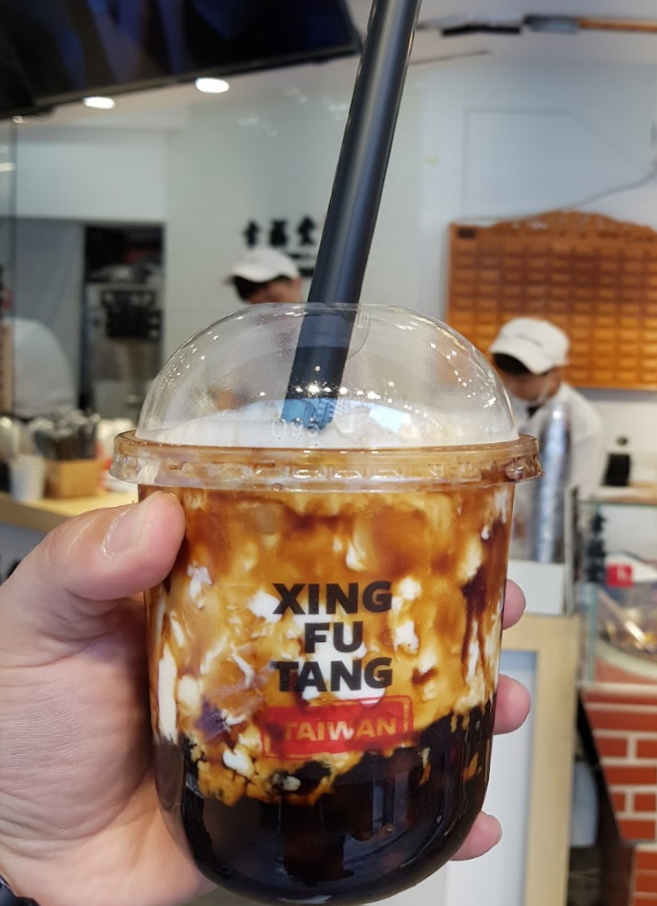 If you simply can't be bothered to wait half an hour or so, then you'll find much smaller queues at Sharetea. They have a large choice of flavours and also offer both small and large bubbles.
You can also substitute the tapioca bubbles for other things such as grass jellies, coconut jelly, and even pudding (a popular Taiwanese dessert)!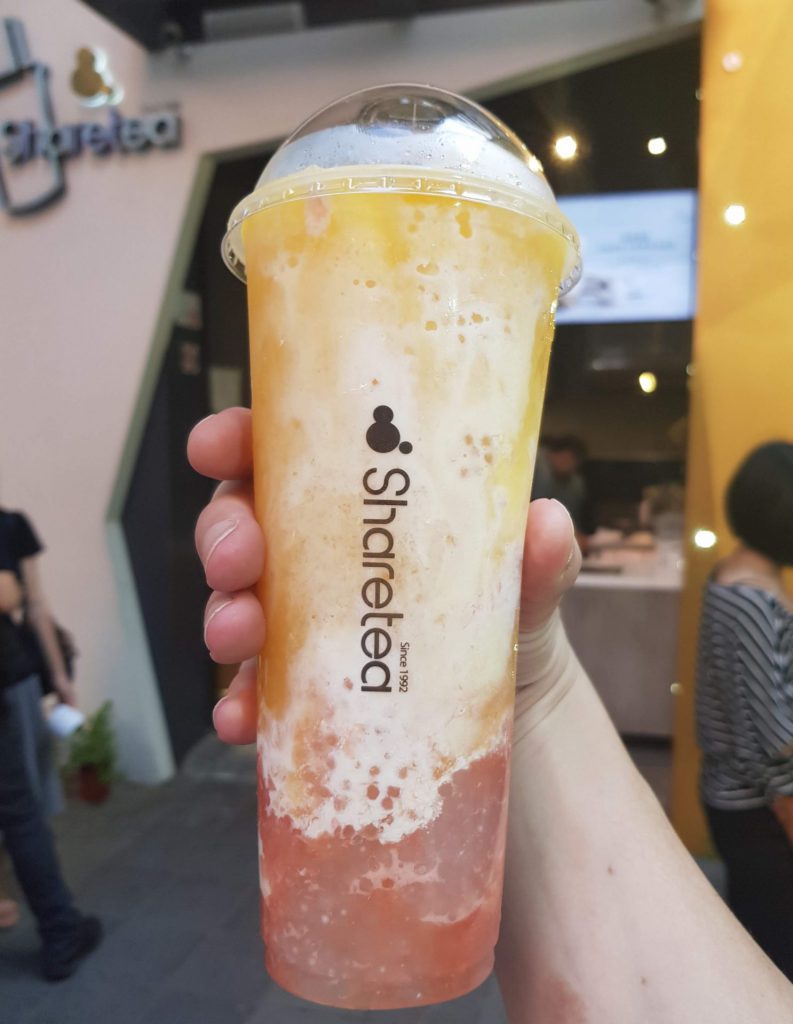 Another tea shop that's very popular with the locals is Tiger Sugar. They have both warm and cold versions of their brown sugar bubble teas, perfect for either summer or winter.
Bars
If you're looking to enjoy a drink or two in the open air, then there's no better place in Ximending than the Ximen Outdoor Drinking Area. Located directly behind the Red House, there are a number of bars with a shared outdoor seating area. It's very popular with the LGBT community, but of course anyone is welcome.
The best bar to visit if you're looking for some craft ales is Driftwood. Run by the Taiwanese brewery Taihu, it's a nice environment to enjoy one of their very fine craft ales.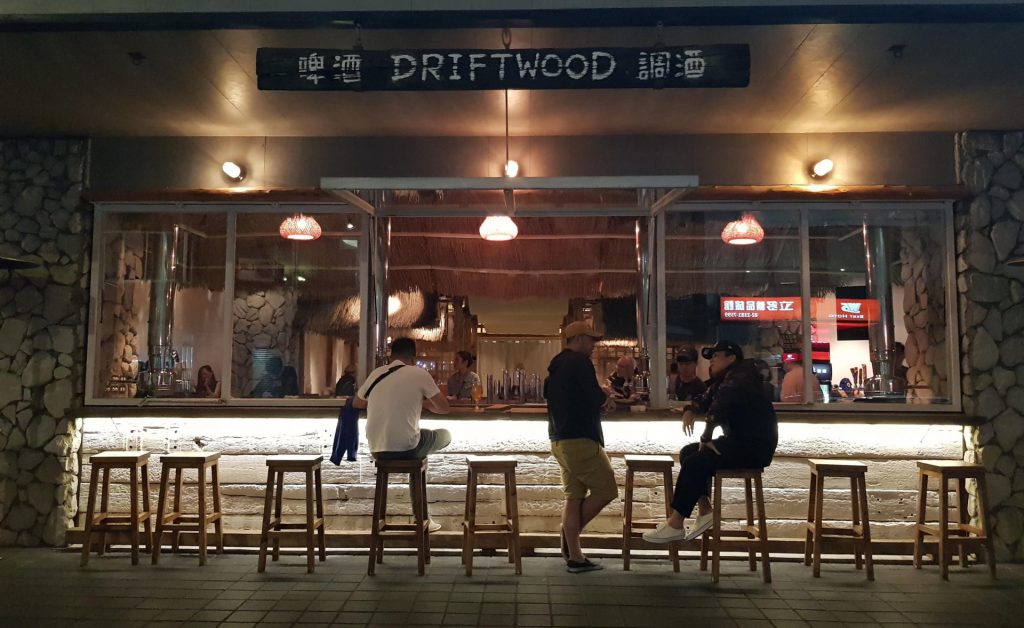 One of the coolest bars in not only Ximending, but the whole of Taipei is Hanko 60, a speakeasy cocktail bar disguised as a cinema. It may be difficult to find, but it's worth seeking out for the highly original cocktails they serve, such as the one hidden within a bag of popcorn!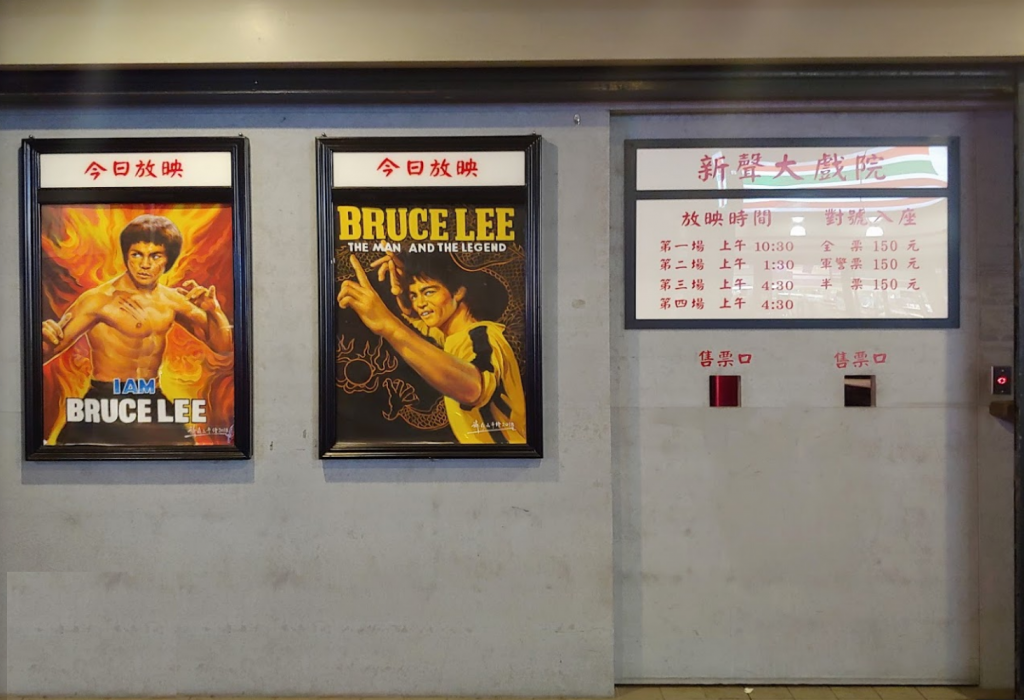 Another small bar I would recommend in Ximinding is the Ximen Beer Bar, while if you're after some refined cocktails, look no further that the Geography Bar. The drinks are exotic and elegant with a taste to match.
---
Entertainment
The vibrant streets around Ximending offer many ways to entertain.
Cinemas
If you're looking to see a movie, you've come to the right place – there are no less than 7 cinemas all located within a single square kilometre, the best of which are:
Ambassador – huge screen that includes DBox seating which moves/vibrates
In89 – including luxurious seating that reclines
The majority of the cinemas can be found down Cinema Street. I don't think I've ever seen so many cinemas in one street.
Street Art
The best street art in Taipei can be found in Ximending. With over 25 unique pieces, from large murals to sprayed huts, there are some surprisingly good creations on show.
The street art is mainly hidden away down side-alleys in Ximending, so I've created a map to show you where the main ones are. It's definitely worth spending an hour or so exploring these alleys.
Click on a marker to see the art for each location.
Of course, street art is an ever-changing medium, so some of these will no doubt be different by the time you view them!
Street Performers
Some of the best street performers in Taipei can also be found in Ximending, showing off their dancing skills or musical talent. Large crowds will often gather to witness the spectacles.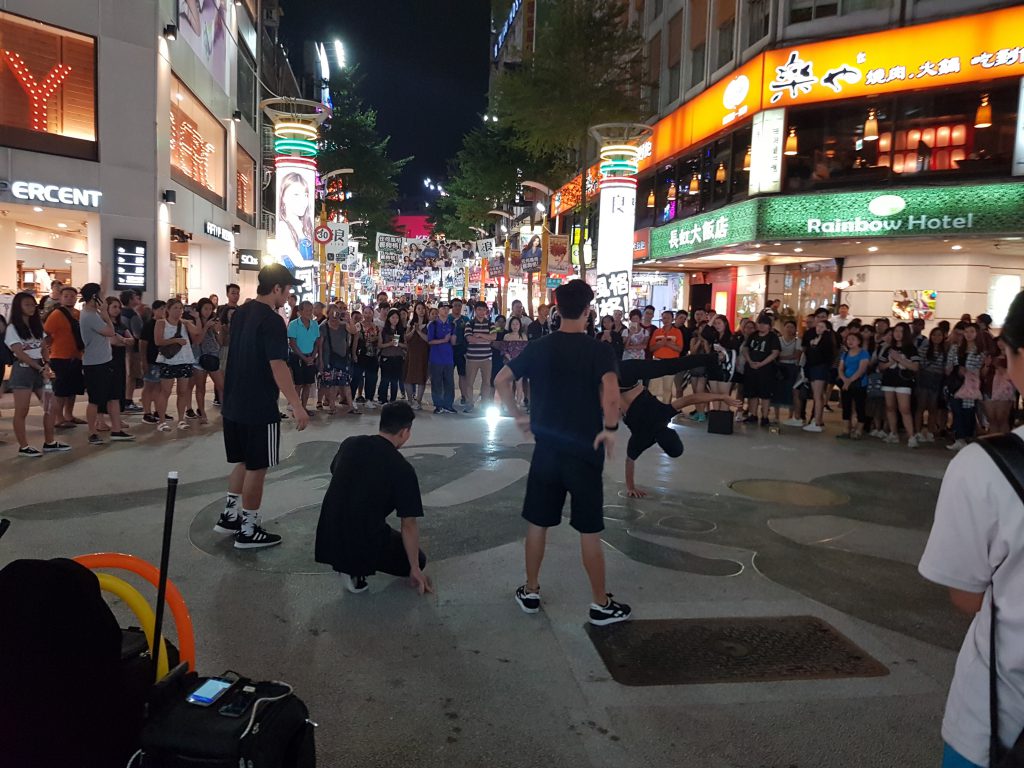 There are some amazing artists here too, who'll create bespoke pieces made with only spray cans and some stencils. If you particularly like one, you can even purchase it – if someone else doesn't beat you to it!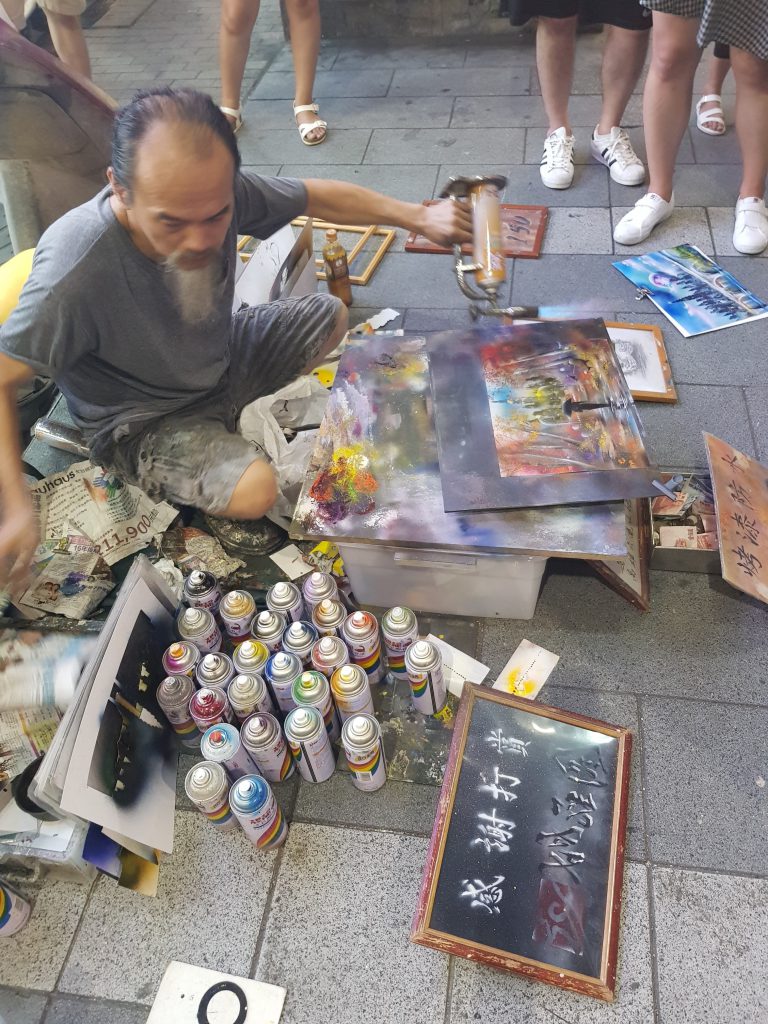 VR & Arcades
Ximending is awash with arcade machines. In particular, Taiwan seems to have an obsession with 'grab' machines. You know, those impossible games where you have to hook a prize from a claw that has about as much grip as a grandma.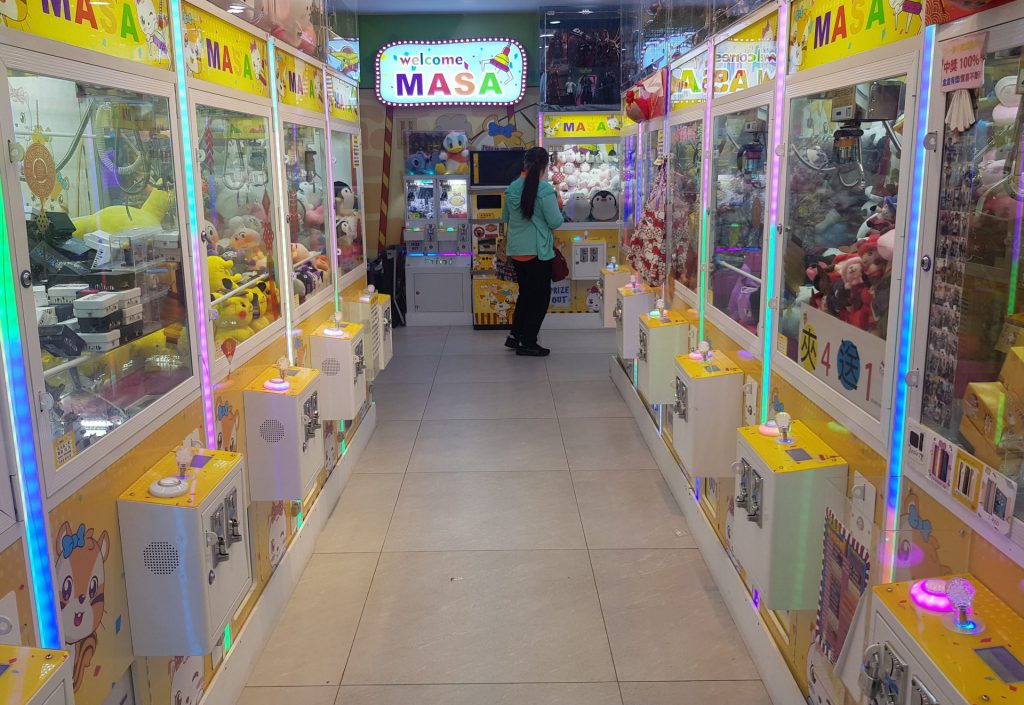 There's also a Virtual Reality game found in Ximen. VAR Live lets you fight as a ninja or shoot zombies.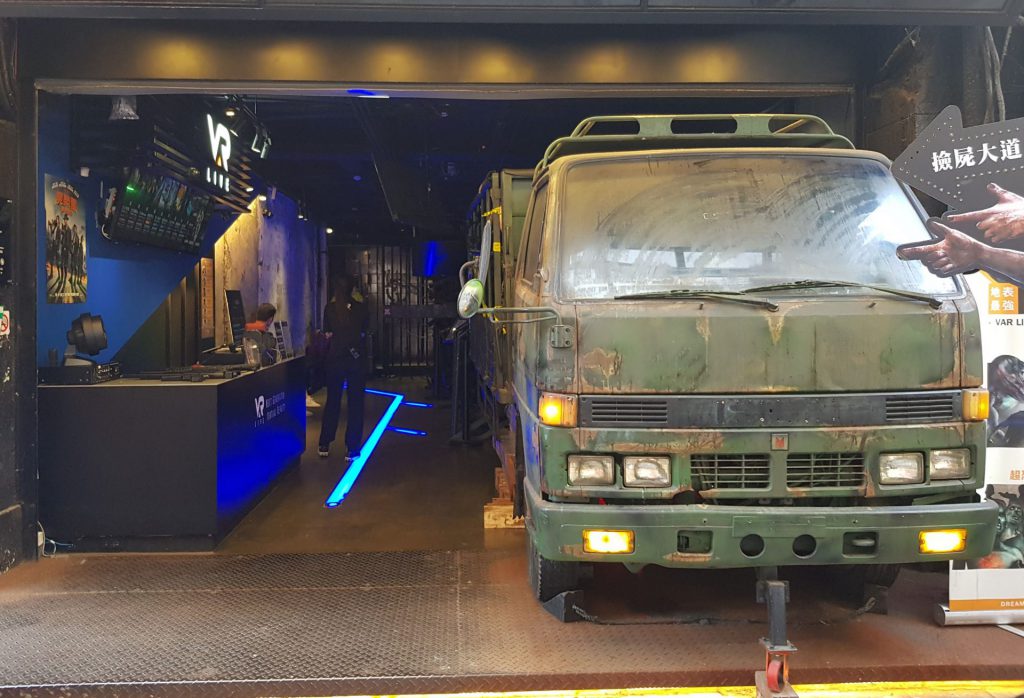 ---
Shops
Since Ximending is known as the youth shopping district, you can imagine there are many shops here, mainly aimed at the younger generation.
Red House
Maybe adding the Red House to the shopping section is doing this building a disservice. The Red House is a beautiful octagonal building that is worth visiting in it's own right. Found within it are some of the best crafts you will find anywhere in Taipei.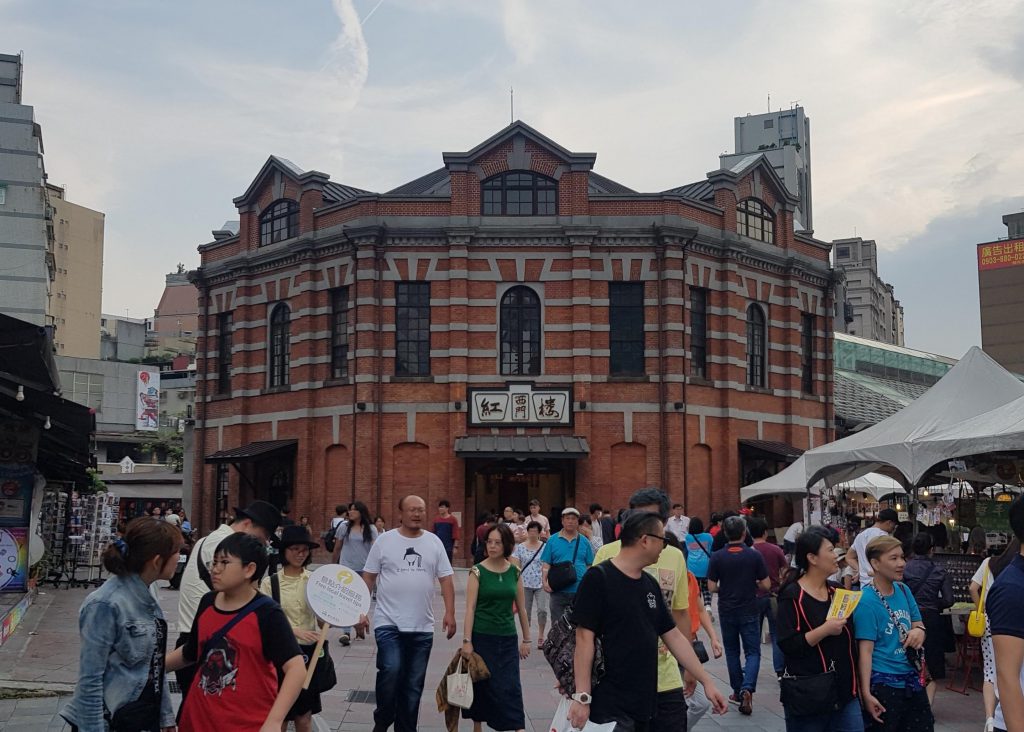 If you're visiting over the weekend, you'll also find many market stalls selling yet more fine gifts.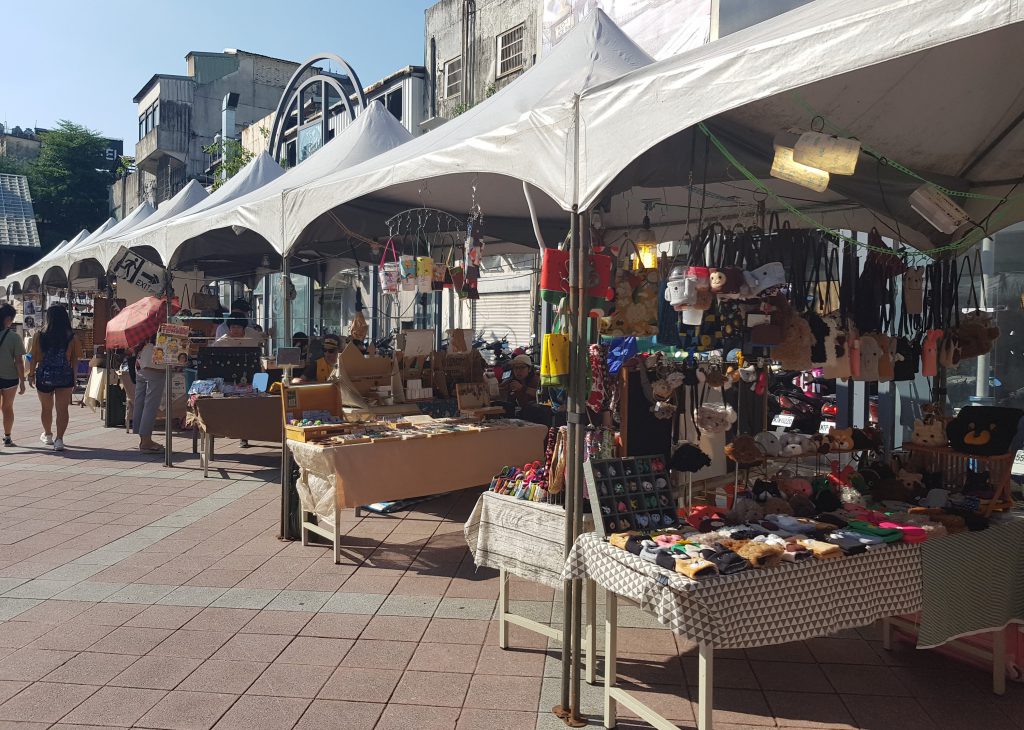 Boutique Shops
While there are many large branded shops along the main streets in Ximending, the best and most original shops can be found down the smaller alleys.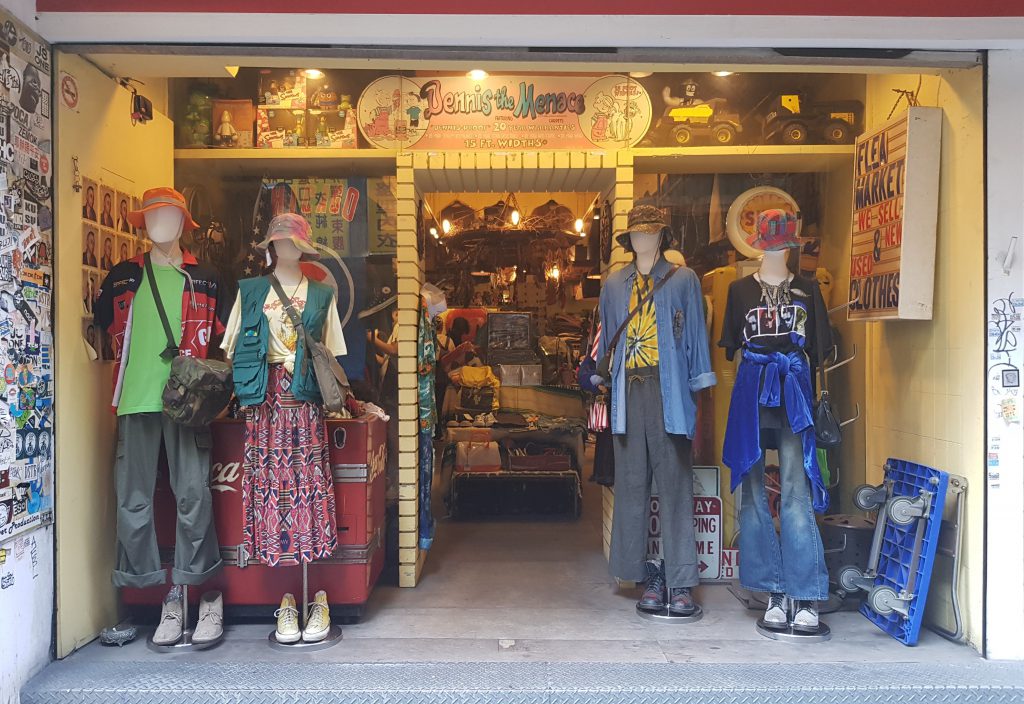 The vast majority are fashion related, but others including gift and accessory shops can be found.
Tattoo Street
Ximending is the place to come if you want a tattoo or some body piercing done. There are a number of well respected establishments down Tattoo Street offering both.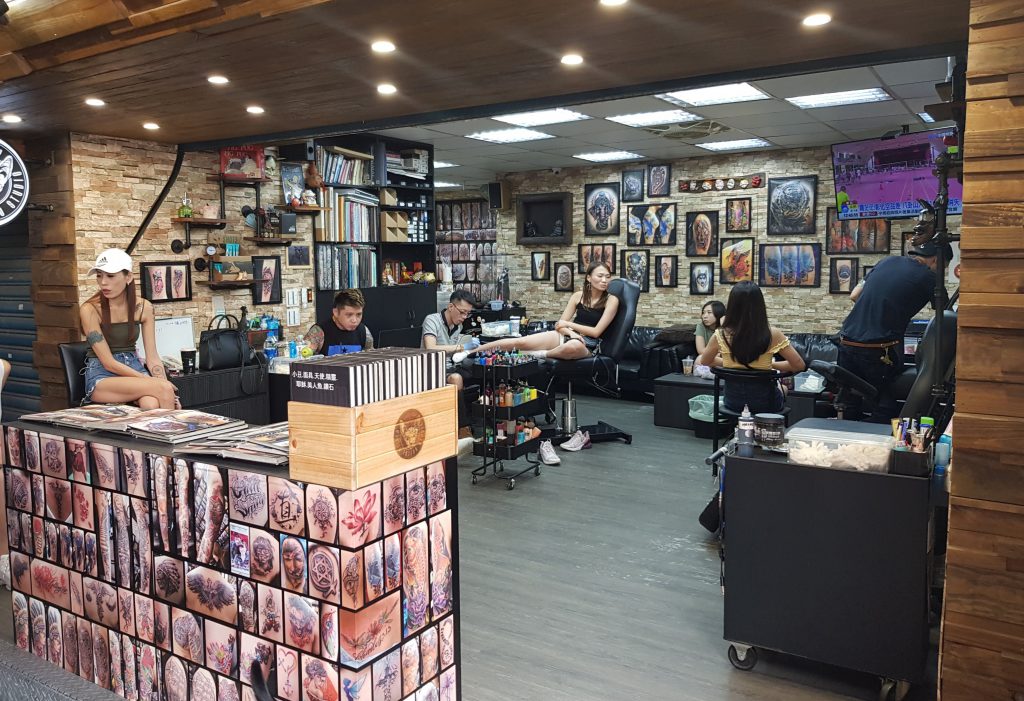 While I can't really call myself an expert on either, many people do recommend coming here.
Ximending is a must-visit destination for anyone looking to experience the vibrant and youthful culture of Taipei.
---
Virtual Tour
Ximending Map
Closest MRT: Ximen Station (blue/green lines – exit 6)

Ximending Places of Interest