Whether you're looking for a quick bite to eat or somewhere nice to dine, there are some nice options in Taipei for a lunchtime meal.
Lunch is also a good time to try some of the more popular restaurants, since they're generally less busy (at least during weekdays), while others offer some good deals during lunchtime.
My suggestions below include child-friendly meals and those suitable for vegetarians.
---
Food Courts
Food courts are usually my first choice for lunch. With dozens of malls spread across the city, you're never too far away from one, and almost all malls have food courts found on one of the basement levels.
Serving mainly Asian cuisine, each food stand will have a menu next to their counter so you can just point if there's a language barrier. They'll give you a buzzer which usually takes around 5 minutes – that should give you ample time to find a seat (although some malls do become very busy during peak lunch hours).
Prices range from around NT$140 to NT$220 and the meals are generally very tasty.
There are loads of options for drinks and desserts, and there are also a few restaurants including sushi belts found in these.
My favourite food courts are Q Square, Shin Kong A13 (probably the only court above ground), Taipei 101, and all Eslite malls have excellent courts.
---
Quick Lunch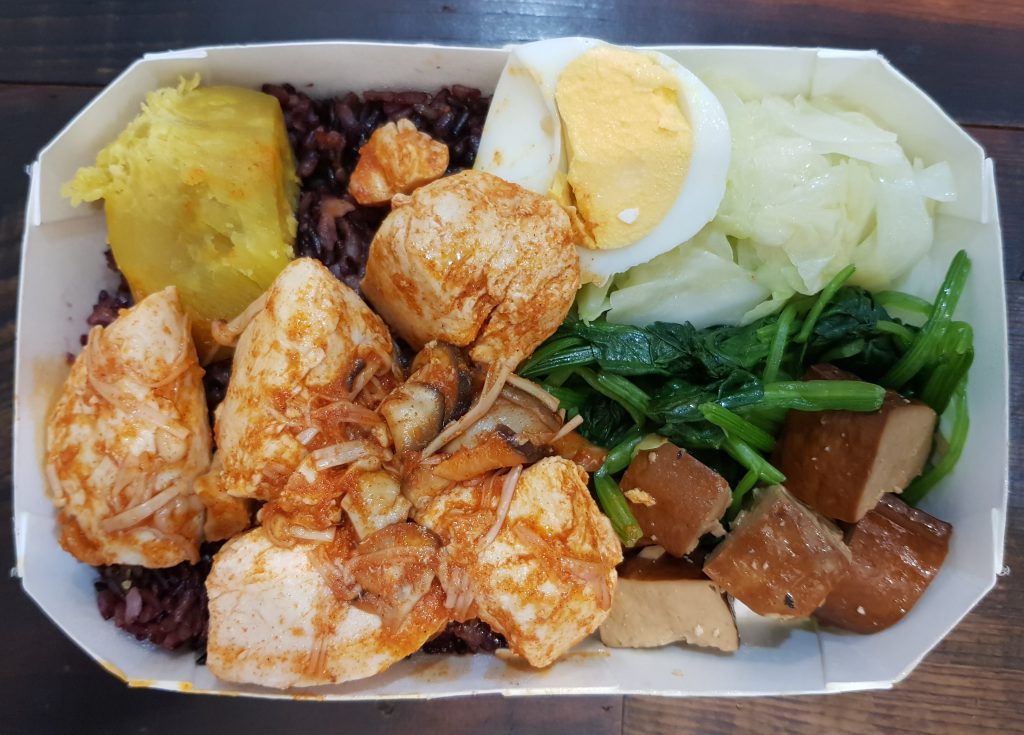 Aside from the food courts, Taipei has a plethora of small places for a quick yet hearty meal.
Miss Energy have a few branches dotted around the city which offer delicious, healthy yet filling bento boxes. These are only open between 11:00 – 14:00 and closed over the weekend.
There are also some nice Hawaiian Poke places that serve up some tasty yet healthy bowls with either sashimi or cooked meal/fish. My favourites are Haloa Poke and Yu Poke.
Very Thai Noodles specialise in Thai/Vietnamese inspired ramen dishes while offering dry noodles and rice dishes too. Service here is fast, and the bowls are consistently delicious.
If you're after a lunchtime sandwich, Liquid Bread Company make some of the best in Taipei, using bread baked from the excellent PureBread bakery.
---
American Restaurant Chain Deals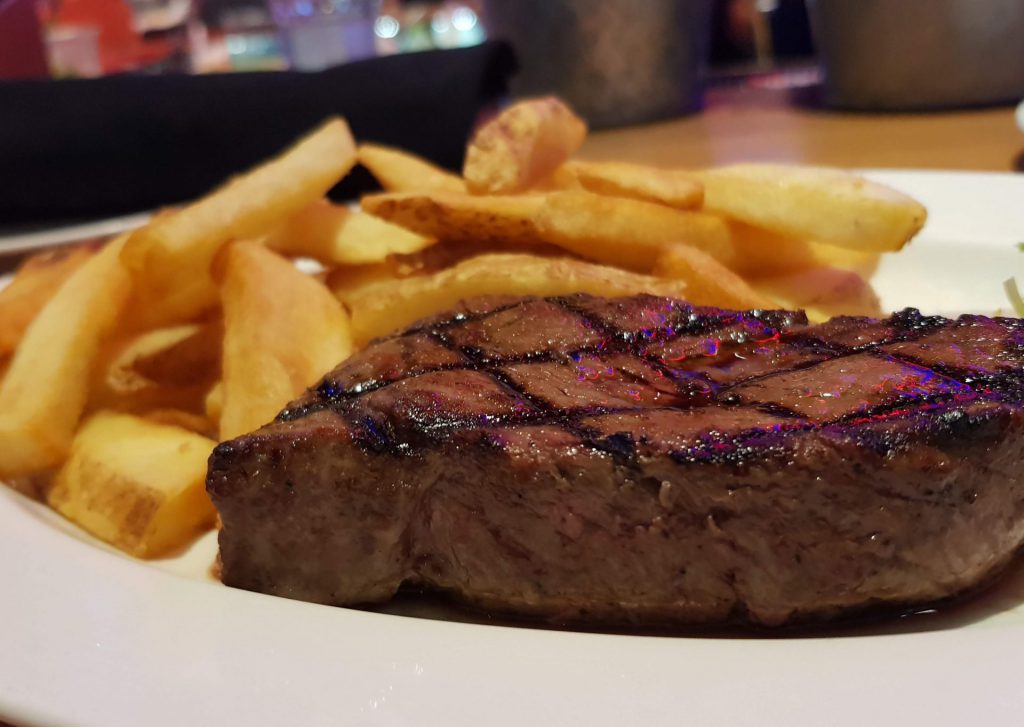 These American restaurant chains offer discounts and deals during lunchtime to attract customers:
The deals usually include discounted menu items or combo meal/drink deals. While these deals can be good value, it's worth noting that these restaurants tend to be on the pricier side. However, the quality of the food, including both savoury and sweet dishes, is generally excellent.
One particularly unique TGI Fridays can be found in the Breeze Songgao mall in Xinyi, which has a retro style and serves different food from other branches. There is also a nice Texas Roadhouse located next to this. Another TGI Fridays branch, which has outdoor seating, can be found near the City Hall MRT station.
---
IKEA Canteen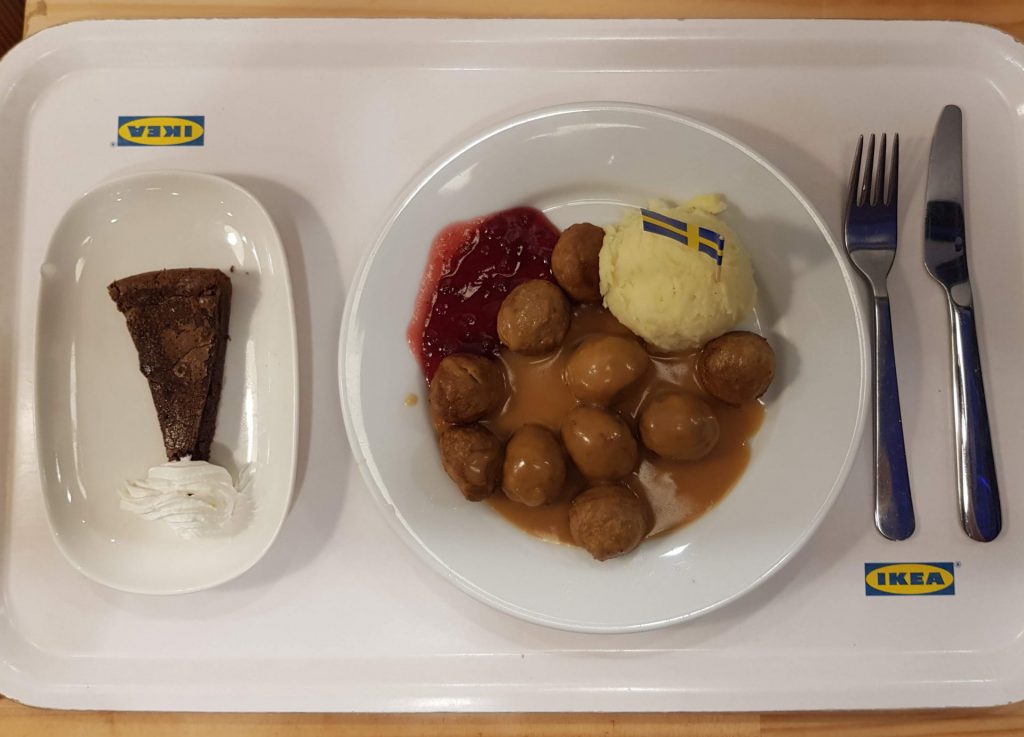 Whenever I'm craving some western food but don't want to pay a small fortune, the IKEA canteen is usually my first port-of-call.
Much like any IKEA found throughout the world, the canteen serves a variety of western-style dishes including their famously delicious Swedish meatballs.
Prices here are in-line with western IKEAs and there are plenty of seating and standing options, although it can become rather crowded during peak lunch hours, especially at the weekend.
---
Fast Food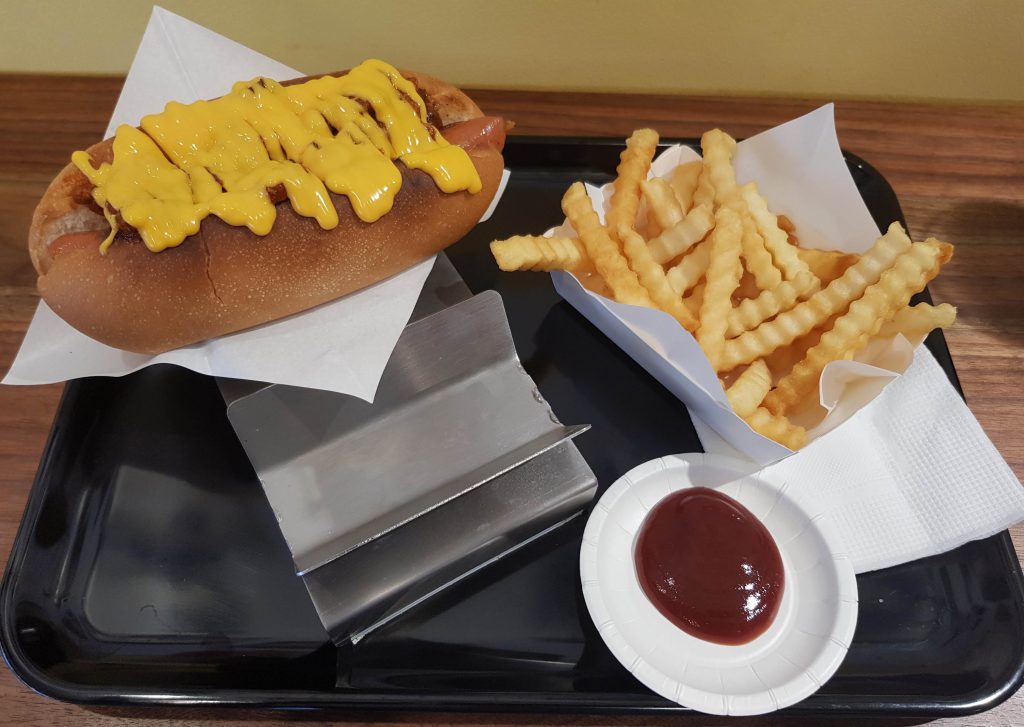 Apart from the usual western fast food chains such as McDonalds, Burger King and KFC, there are some decent Japanese fast food restaurants including Mos Burger, which has some burger buns made from compacted rice instead of bread.
If you're in the mood for hot dogs, Timeout and Jimmy's hotdogs both offer a variety of Danish-style hot dogs that can be purchased individually or as part of a meal deal. Both restaurants have a nice selection of hot dogs to choose from.
---
Din Tai Fung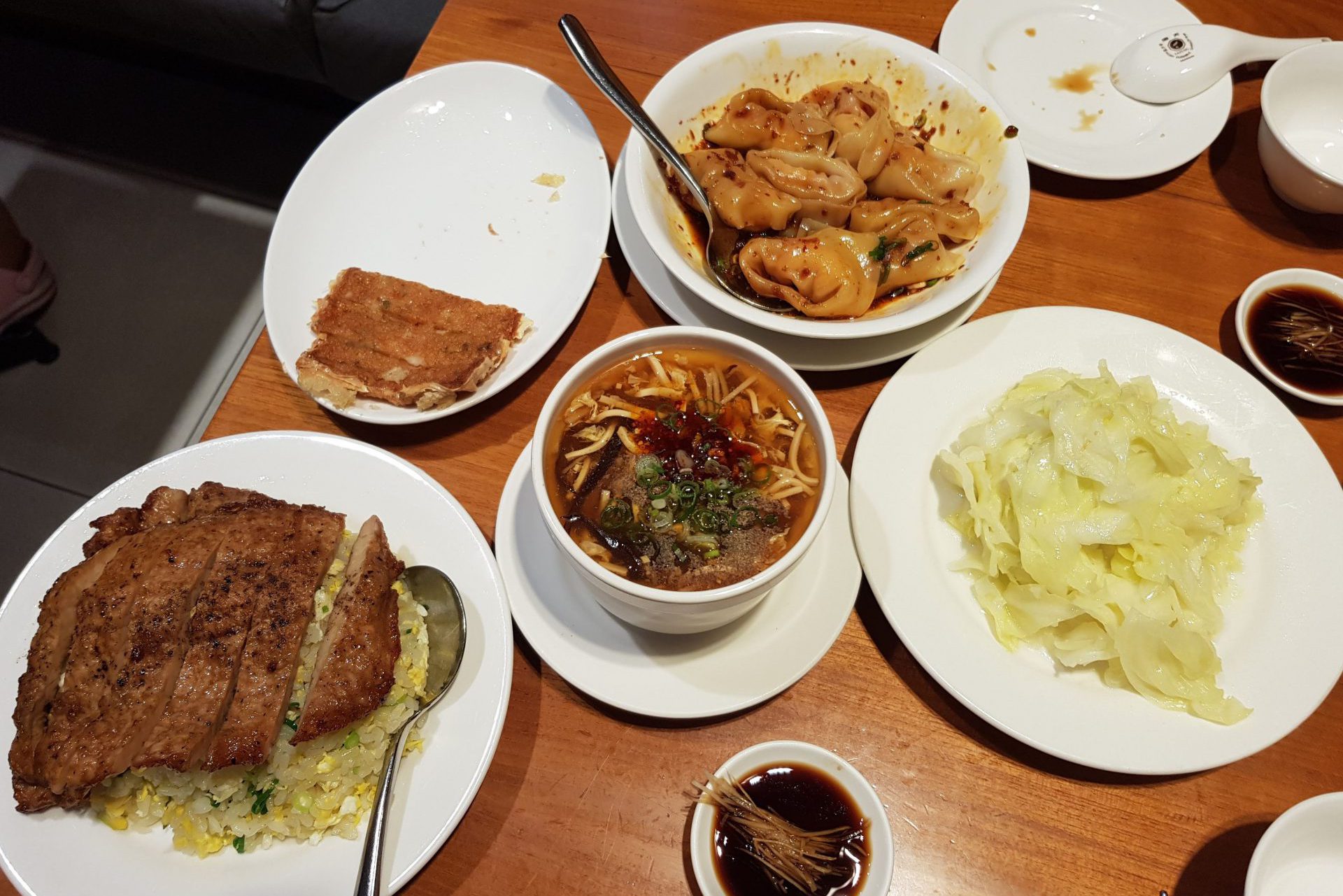 Taiwan's own Din Tai Fung has a few branches in Taipei, although these can all get very busy. However, lunchtimes are normally much less crowded than dinner, so it's a good opportunity to sample some of their exquisite dishes including their famous xiaolongbao.
You can view the waiting times for each branch on their website, which I would advise doing before you visit one – see my post for further details.
---
---
Pub Lunch
If you're seeking some pub grub, there are two places I would recommend.
Redpoint Brewing Co. Taproom serve some of the nicest western food in Taipei, while also having a great selection of craft ales on tap.
Brass Monkey's menu is extensive and varied, and the food here is well-portioned and usually excellent.
---
Buffet Lunch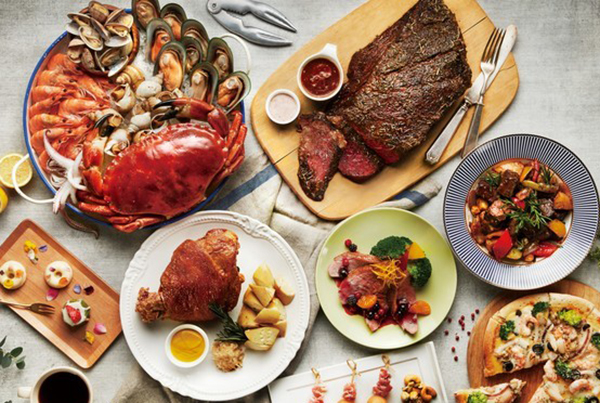 Eatogether offers a buffet-style dining experience where customers can choose from a variety of dishes including appetizers, main courses, sides, and desserts.
With multiple locations around the city, they offer a range of cuisines including international and local options, so it's a good choice for those with big appetites or for people who want to try a variety of dishes.
Vouchers for these can be purchased on Klook for either weekdays or weekends (which cost slightly more) with dining hours between 11:30-14:00.
---
---
Hip Restaurant Chains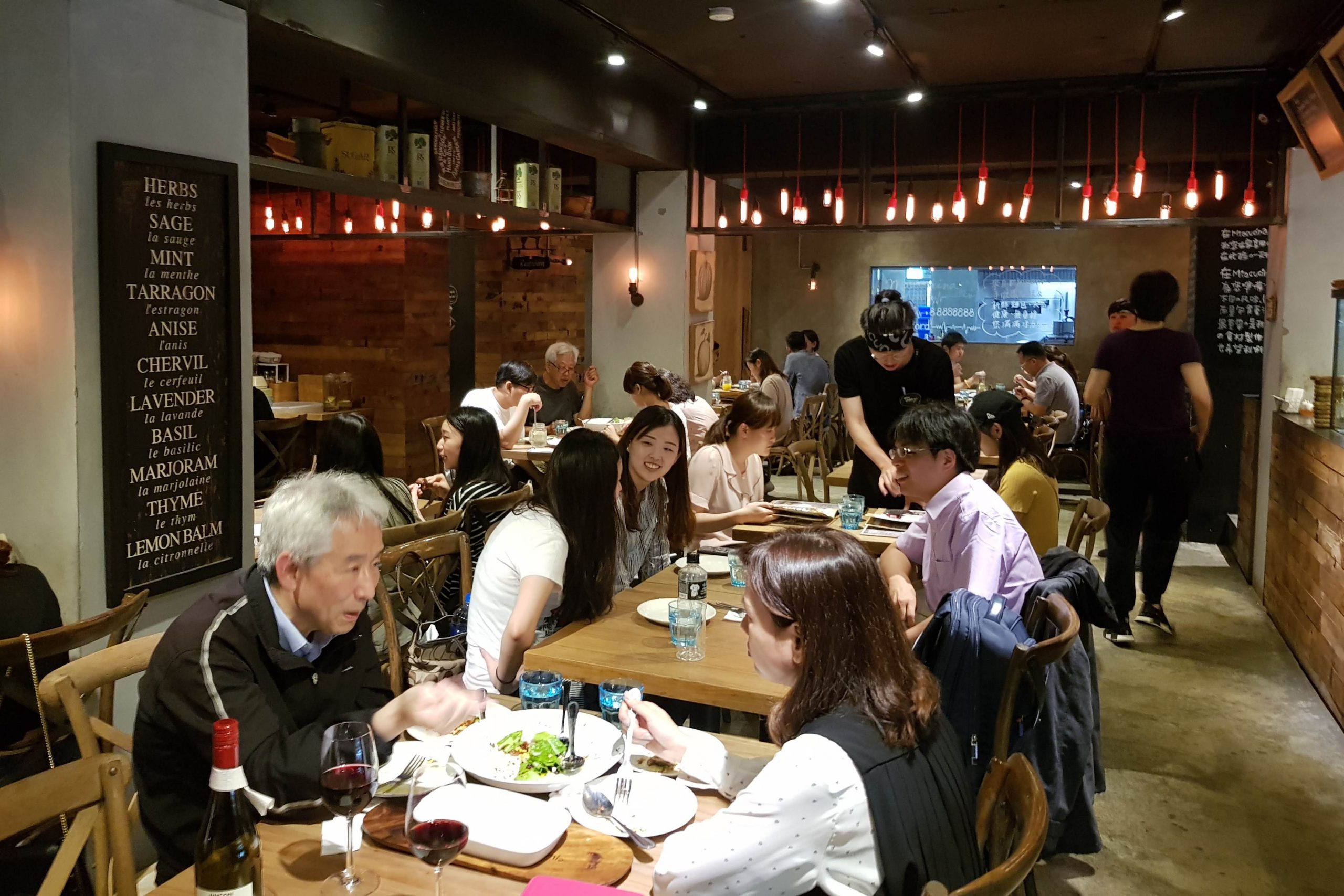 For vegetarians, Miacucina has several branches in Taipei and has probably the most extensive vegetarian menu found anywhere. This includes Open Sandwiches, Soups, Mini Platters, Salads, 'Budda' Bowls, Pasta, Burgers, Panini and Flatbreads. All the branches are modern-looking and nice places to dine.
Toasteria have two branches, one next to Yongkang Street and one in the heart of the Daan district, and an equally large menu including Panini, Pasta, Arabic (hummus/pitta, shakshuka), Cheese Tables and Salads.
Gonna is a cool Mediterranean restaurant with a large menu consisting of healthy and not-so-healthy meals, categorised as Greens & Grains, Good Protein, Panini & Burger, Hearty Pasta and Snacks.
Finally, The Diner serves breakfast, brunch and lunch meals all day and makes some of the best burgers in Taipei. There are 3 branches found in Taipei.
All these restaurants have extensive drinks menus, including a large wine list.
---
Local Places
Lunch is a good time to visit some of the more popular local restaurants in Taipei, since they're generally less busy then.
Jin Feng Braised Pork Rice is one of the most popular in the city, since their Braised Pork Rice dishes, vegetables, tofu and soups are all delicious.
Yong Kang Beef Noodles, found near the famous Yongkang Street, is usually much less busy for lunch than dinner, and offers many dishes including their famous beef noodles.
Finally, Ay Chung Flour Rice Noodles is a very popular food stand in Ximending which serves wet bowls of rice noodles mixed with pig intestines, which tastes much nicer than they sound.
Other Topics
If you have found the information on this page helpful, please take a minute to share this post by clicking one of the links below. Your support would be greatly appreciated :)